The winter sniffles are big business: sales of cold treatments and decongestants have surged by £12.5m in the past year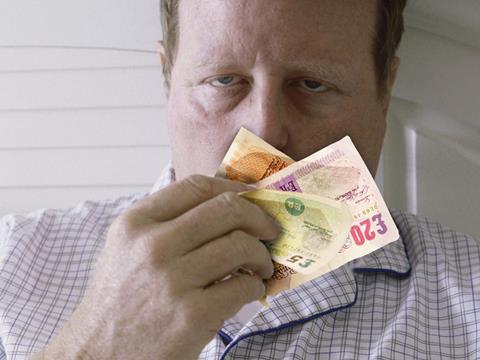 Sales of nearly a third of a billion pounds are nothing to be sniffed at. Particularly when the market in question is clipping along at a growth rate of 4.4% on volumes up 0.4% [Kantar Worldpanel 52 w/e 19 June 2017].

Winter remedies have had a year in the sun, with all but one of the four big sectors in value growth and cold & flu treatments and decongestants in particularly fine fettle. Has Britain been struck down with the bug from hell or is something else driving growth?
It's partly down to the weather, with shopper numbers boosted last winter by a particularly inclement period. "Sales of decongestants peaked in December, when temperatures dropped, and remained high during the coldest months of the season," explains Kantar analyst Stephanie Feilletti.
So growth is partly down to our ailing health (cold & flu incidences spike in periods of cold weather). But that's not all. With the NHS discouraging cold sufferers from visiting GPs to prevent the spread of bugs, more people are self treating with over the counter drugs. Growth in pricier multi symptom remedies and a fall in deals are also pushing prices up.

That's despite the fact own label is stealing share of the sector, with sales up 9% to £56.5m on volumes up 11.2%. Brands, meanwhile, have seen 3.4% growth to £257.5m on volumes down 2%. By far the strongest performing brand is GSK's Day & Night Nurse, which has seen value sales surge by 9.7% on volumes down slightly. Reckitt Benckiser's Lemsip, meanwhile, fell 2.9% in value and 8.1% in volume [IRI 52 w/e 15 July 2017].
"If you are going to the fixture and are ill, price comes quite low down the decision hierarchy"
The Nurses brand has stitched up its branded rivals and kept own label at bay, partly by investing in promotional space in pharmacies. "Two in five shopping trips in this market are emergency purchases, and if you are going to the fixture and you are ill, price comes quite low down the decision hierarchy," says GSK marketing manager for respiratory Andy Mahoney.

"It's behind strength, format and brand. Own label has its place. Obviously different people have different needs. The important thing is to have a balanced approach, as research shows 32% of shoppers are looking for a strong, efficacious solution."

One factor that's driving growth in own label, particularly in cold & flu treatments, is the success of Asda and Tesco's capsules, which typically carry higher prices than standard tablets. Multi symptom product sales are also up as part of a wider move to convenience, as consumers prefer to buy one product for everything.
Winter remedies category snapshot
Decongestants
In decongestants, brands are still holding their own, thanks in no small part to NPD, says Kantar's Feilletti. "Otrivine sprays have propelled the market and Calpol's Vapour Plug NPD has driven growth among famililes," she says. "Tesco and Morrisons have encouraged shoppers to buy more expensive packs, whilst Boots has failed to capitalise on the growth of decongestants this year, suffering shopper losses."

With the NHS claiming the common cold and flu costs it £370m a year, it is encouraging sufferers to take their care into their own hands, driving up sales. "With increased pressure on GP surgeries, consumers are being advised to self-medicate - especially seasonal illnesses," says Nikki Banwell, brand manager for decongestant brand Olbas. "Consumers are turning more to grocery, the biggest channel with 44.3% of value sales, according to IRI. The market is becoming less dependent on price promotions, with a 4.2% reduction in volume of product sold as a result of offers or sales incentives."
"The market is becoming less dependent on price promotions with a 4.2% fall in offer volume"
This is driving prices up, with Kantar's analysis suggesting that average prices have risen 3.7% in the past year and IRI putting inflation at 4.5%. "This has been driven by fewer and shallower price mechanics in favour of everyday low prices," says Alice Bamford, OTC brand manager at Teva UK, which distributes Vicks.

With decongestants in growth, Vicks was the second best performing of the big brands in winter remedies, with sales up 6.9% to £23m [IRI]. Marketing investment helped alongside strong demand for decongestants and firmer prices, with a clear correlation between big brand performance and media spending [Ebiquity].

Investment by big brands in traditional media space grew 7.6% to £17.7m. "Brands are focusing on key peaks," says Dan Williams, commercial strategy & implementation director at Perrigo, which markets Bronchostop. Nevertheless, according to Ebiquity, Day & Night Nurse was the biggest spender, with traditional media spend up 39% to £5.9m. Vicks went up 58% to £2.2m. Cough specialist Covonia posted the biggest increase, up 110% to £1.3m.
"Many c-stores still stock a range of cough medicines out of touch with today's market"
Covonia forecasts growth in free-from cough liquids such as sugar-free and alcohol-free. It also sees grocery independents as an opportunity, due to their lack of ranging and planogramming insight. "Many convenience retailers still stock a range of cough medicines that is out of touch with today's market, so it is no surprise the channel lags behind," says Ed Round, Covonia marketing manager.
Cough lozenges
Sales of cough lozenges, the fourth most important segment of the market, fell marginally last year but there are bright spots. "We've had our best performance since 2000," says Martin Stimson, area business manager for Fisherman's Friend in the UK. Partly this is due to an extended cold and flu season. "We can also give ourselves some credit for coming up with a high-impact campaign," he says, pointing to the ongoing TV tie-up with English tenor Alfie Boe.

New flavours helped too. Among other cough lozenges is Wrigley's Lockets, with the Wrigley medicated confectionery portfolio worth £8.4m, 9.9% of the category. Meanwhile, Jakemans, the second biggest menthol confectionery brand in IRI figures, has developed a twin pack of its Throat & Chest stick packs for wholesalers, to capitalise on a trend for on-the-go remedies.

"Consumers are purchasing in multipacks to save time and ensure they have the remedies available when required," says Jakemans brand manager Elizabeth Hughes-Gapper. "This introduction enables retailers to encourage upselling, while offering better value for money to consumers."

On-the-go consumers are also turning to cough brand Bronchostop, which claims its pastille sales grew by more than 10% last winter . "Retailers that focused on providing out-of-home remedies, such as pastilles, achieved stronger growth than their competitors," says Williams at Perrigo, adding all-in-one products are another valuable option for retailers looking to grow. "They typically have a much more premium price."