Ahh… the sweet smell of success. As the price war hots up and deflation tightens its grip, grocery prices are tumbling. Yet in the household sector, some are still cleaning up, with the top three performers up an impressive £38.7m [IRI 52 w/e 28 November 2015].

Who are these brands? How are they managing to grow as other parts of the category, particularly the increasingly commoditised paper products sector, have seen value go down the drain? And what can be learned from the champions of the household sector?

Fabric conditioners have contributed £53.4m to category growth of £100.3m [Kantar Worldpanel 52 w/e 8 November 2015], with value sales up 14.4% on volumes up 6.2%. That makes conditioners the best performing household sub sector by a long shot.

That's not all. Our 2016 Top Products Survey [19 December 2015] revealed fabric conditioners had undergone the greatest rise in average prices of the year, defying the deflationary climate that continues to make life a misery for Britain's supermarkets.

The year's heads of household in terms of growth are Comfort and Lenor. The former has put an extra £14m through the tills [IRI]; the latter is up £13.6m. In detergents, Persil is up an impressive £11.1m. In all cases, the growth is thanks chiefly to canny innovation.

The 2014 launch of Lenor Unstoppables has single-handedly created the new 'fragrance boosters' sector. "There is no doubt that the UK consumer loves scent in this category and this is the cornerstone of the growth," says P&G commercial director Ian Morley.

What's more, Unstoppables' contribution is mostly incremental: 80% of people who buy the product use it on top of a liquid fabric conditioner, says P&G. "Laundry is a fixed consumption category, so the only way to grow value is to persuade consumers of the benefits of using product forms that deliver great results but at a higher price," adds Morley.

Now others are having a crack at the nascent market. SNG Commercial will soon release a fragrance-booster product to compete with Unstoppables. Like P&G's product, its Senses Shots are beads that are put into the wash to fragrance the load. Unlike Unstoppables, whose fragrances differ from those used in the core Lenor range, Senses Shots' scents will match those available in the Senses fabric conditioner range.

This makes better sense, argues Simon Gunter, MD of SNG, which in 2013 launched the Senses fabric conditioner range and Muvo laundry detergent: "Fragrance engineering is important and there is a big difference between a run-of-the-mill product and one that has well-sourced fragrances."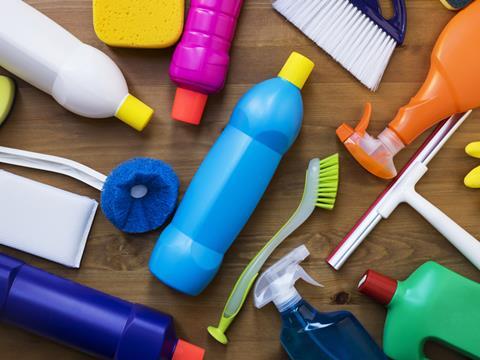 Household's overall growth is ahead of total grocery at 0.3% and driven by fabric conditioners, growing more than eight times as fast at 14.4%.
Growth of the category is driven by own label (4.8%) rather than branded (0.5%) and by fabric conditioners in particular (14.4%). This can partly be ascribed to strong NPD this year such as Lenor Unstoppables and Comfort Intense.
In contrast, aircare (-1.6% ) and household cleaners (-0.5%), two sectors having driven category growth between 2013-2014, have declined.
Average price has risen by only 0.01p, driven by own label. Fabric conditioner has bucked this trend by increasing prices by 15p year on year as it gets shoppers to trade up.
Brands still dominate the household category at 70% value share, but own label is growing fast, driven by the discounters (especially Aldi), with the main sectors in growth fabric conditioner (19.9%), laundry (7.5%), toilet roll (7.2%) and autodish (7.1%). On the other hand, only fabric conditioner (13.5%) and kitchen roll (5.6%) are stimulating branded value.
Camille Streicher, Kantar Worldpanel
Fragrance
The development of new fragrances is cited by most of the major players in conditioners as a key priority. Take Ecover UK, owner of high-end eco brand Method, which has recently appointed an in-house fragrance expert to help develop its range of scents. "Fragrance is really important for consumers, who often use it as an indicator of how clean something is," says Josie Harfield, head of sales strategy and category management.

Unilever, meanwhile, has just added a sensitive-skin version to its Comfort Intense portfolio of ultra-concentrated fabric conditioners, which has grown partly on the back of the development of new fragrances. "After the successful results seen in 2015, we are keen to extend the format," says senior brand manager Fernanda Tubini-Roberts. "Comfort Pure Ultra Concentrate is designed to tap the sensitive market, with its ground-breaking technology providing incredible softness from the tiny 15ml dose."

Such developments will be crucial if growth is to be maintained. "Fabric conditioner NPD has driven value growth his year," says Claire Whalley-Livesey, UK head of category at own-label supplier McBride. She says that a new premium tier is being created within fabric conditioners. "Scent has always been number one in terms of consumer criteria," she observes. "Both brands and private label are becoming more experimental in fragrances."

The same thing is happening in detergents, where 1.9% growth on volumes up 1.5% [Kantar] is being driven by a combination of new scents and concentrated formats. P&G's approach has focused on liquitabs (capsules), which it launched with Ariel in 2013 and has now extended to Bold, Daz and Fairy. Morley explains the commercial logic: "The average dose of laundry powder is 14p, where the average dose of a liquitab product is 20p."

Unilever, meanwhile, is launching a Sensations range of its Surf laundry detergent, with the emphasis on scents (Golden Blossom, Delicate Moonflower and Enchanting Dahlia). "We know that fragrance is a key driver for consumers in the laundry market," says brand manager Michelle Kimber. "The Surf Sensations range taps the oriental fragrance trend, which we have seen to be really popular in the fine fragrance segment."

A few years ago the expectation was that washing powder would decline as capsules and liquids advanced. But it holds its own, accounting for a third of all laundry detergents [Kantar], overtrades among older consumers, and is considered by many shoppers to offer better value. Gunter says SNG recently added powder to its Muvo range, reversing its initial decision, because "the brand was paying a heavy price for ruling it out".

As innovation drives up prices in the laundry sector, it's more of a mixed picture in the rest of the household category. Price deflation, driven by own label, has hit household cleaners where, despite volume growth of 2.5%, sales value slipped by 0.5% Kantar]. In contrast, the dishwasher (autodish) subcategory is performing well, with value sales rising 2.6% on volumes up 2.1% [Kantar].

"Growth of the dishwasher category is driven by two key things: strong growth of the dishwasher additives segment as more consumers include them in their dishwashing routine, and growth in e-commerce and discounter channels," says Helen Powell, marketing director of Finish, the UK's top dishwasher brand.
Conditioners freshened up by NPD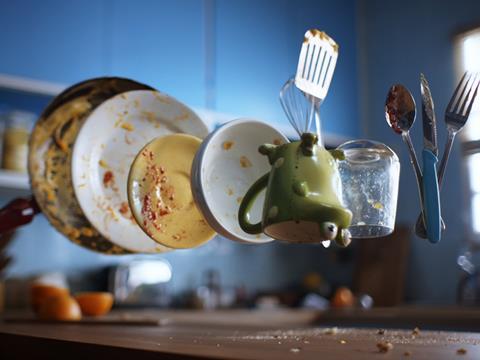 Fabric conditioner brands have been the star performers in household, with Lenor and Comfort the best performers.
Lenor Unstoppables has "created a £30m business in the UK in just 18 months by inventing a new usage occasion" says Ian Morley, P&G commercial director for Northern Europe. The launch was backed by almost £5m on TV over the past 12 months.
Unilever splashed out £5m on its launch of Comfort Intense.
Value sales for top dishwashing detergent Finish rose 2.9%, boosted by its Dishes campaign (pictured), which urged us to love our dishwashers.
Auto dishwash
'Additives' includes dishwasher cleaner, salt, freshener and other products that take care of the dishwasher rather than the dishes. Powell says there is plenty of scope for growth for products such as Finish Dishwasher Cleaner, as 64% of autodish shoppers do not buy products to clean their machines [Nielsen Homescan 52 w/e 20 May 2015].

If only such opportunities existed for the beleaguered paper products sector, where prices are falling in toilet roll, facial tissues and kitchen paper. Value is lagging behind strong volume growth thanks to lower prices, partly the result of more branded goods being sold on promotion and increasing competition from discounters and high-street retailers such as Wilko. Own label is driving both volumes and value in toilet roll and facial tissues, where brands are in decline, but the picture is the other way round in kitchen roll.
Branded loo roll sales go down the pan
A whopping £23.3m has been wiped off paper products, with Andrex, Velvet and Kleenex the biggest casualties.
Kimberly-Clark is fighting back with efforts to raise the status of loo roll and tissues over that of a commodity. Hence the Kleenex: Someone Needs One campaign to promote the sharing of tissues and Andrex TV ads featuring kids talking about how they feel after using the paper.
Cushelle is flying, thanks partly to an on-pack Good Housekeeping Reader Recommended accreditation. That it's 5p a roll cheaper than Andrex shouldn't be overlooked either.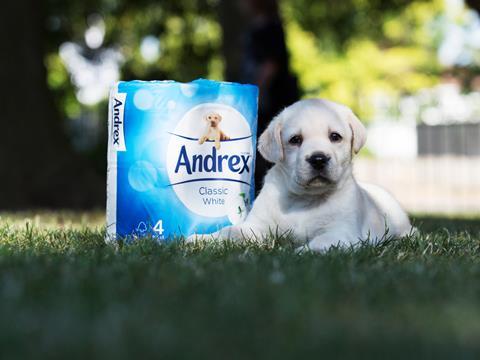 Paper products
In toilet roll, which accounts for two-thirds of the total £1.78bn sales of the three product lines, own label increased value sales by 7.2% on volumes up 6% while branded value sales fell 2.1% on volumes down 1.9% [Kantar]. Own-label NPD - such as Tesco Luxury Soft 24 Rolls and Asda's moist toilet tissue three-pack - has played a role here, according to Nielsen.

The two biggest toilet paper brands both suffered big falls, with Andrex value sales down 8.5% on volumes down 7.5% [IRI] - despite a revamp and big publicity campaign - while Velvet's value sales fell 9.9% on volumes down 8.5%. "Andrex did dip in the first half, but was in growth in the second half - we are back in growth," says Karel Van Der Mandele, marketing director for UK family care at Andrex owner Kimberly-Clark.

In a bid to maintain the recovery, Andrex is to launch an "improved" version of its Andrex Puppies on a Roll (which features embossed images of the brand's iconic canine logo), which will be renamed Andrex Gentle Clean, and packs will carry an endorsement from the British Skin Foundation.

Another opportunity is moist tissue paper. According to Van Der Mandele, penetration of most tissue paper rose from 18.4% at the end of 2014 to 20.5% at the end of November 2015, with Andrex's Washlets accounting for about two thirds of the total.

It's standard loo roll that's crying out for NPD, say many. "There is very little true NPD on dry toilet tissue from the brands, and to win back the consumer their only strategy seems to be consistent promotional activity," says Gary Earle, sales director of Accrol papers (Mega, Mighty, Softy). "Private label is improving to match or exceed brands and the consumer is buying in."

Facial tissues have also been performing better for own label than brands. While branded products' value sales fell 2.3% on volumes down 6% [Kantar], own-label tissues increased value sales by 6.3% with volumes up 12.9%. Kleenex, the top facial tissue brand, certainly had to wipe a tear from its eye, with value sales down 4.5% on volumes down 3.4% [IRI].

Facial tissues

But Kimberly-Clark has a strategy to fight back. "With customer penetration at 64%, facial tissue is still an opt-in," says Van Der Mendele. "There is big upside in this category." The brand is seeking to "inspire daily usage" with a new radio campaign focusing on moments when people might offer a tissue to someone else using the slogan 'Someone Needs One'.

Kimberly-Clark is also extending a gesture of care to its Fiesta kitchen paper brand, which it admits has not been a priority in recent years. Fiesta has been relaunched in a bigger format, with more sheets to a roll, paper 20% more absorbent, and sold with the slogan 'Safe on food, tough on spills' and the claim it is 'food contact approved."

Taking a very different approach is start-up Better All Around (BAR), whose reinvention of the kitchen towel - round sheets that are stacked rather than perforated square ones on a roll - launched in 2013. "This category is dominated by a small number of big players and there had been very little innovation for a long time," says founder Oday Abbosh.

As the performance of the laundry category shows, innovation is crucial if the wider household category is to add or retain value. Particularly in light of the rise of the discounters and own label, which is driving down prices in some sectors. For example, as the average price of fabric conditioners has risen 7.4%, that of household cleaners has fallen 2.7%, and aircare products by 2.4%.

Although own-label sales value grew by almost 10 times more than branded - 4.8% versus 0.5% [Kantar] - the category remains brand-dominated with brands accounting for 70% of total value and 59% of volumes. More deals in the mults have kept prices down.

"We have witnessed price decreases across the past year - particularly as some retailers have tried to move away from high-low pricing strategies towards a stronger every day low price position," says McBride's Whalley-Livesey. "There has been a big shift into high-street retailers, while in the major multiples brands have been very heavily discounting, and we are seeing an improvement in consumer perception of private label, driven mainly by Aldi and Lidl."

Aldi's value sales rose by 21.9%, while Lidl's sales increased by 7.3% [Kantar]. "We are now the fastest-growing retailer in the household category following significant investment in our product range over recent years," says Jonathan Neale, joint MD of buying at Aldi, who highlights the discounter's Magnum washing up liquid, which won a Which? Best Buy award in 2015, and its Anco So Soft fabric conditioner.
Aircare brands breathe new life into a stale sector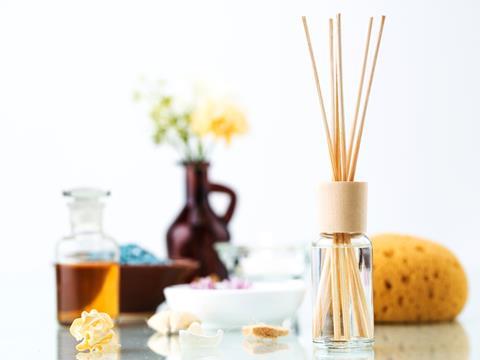 Aircare has been one of the sector's biggest success stories in recent years, with shoppers splashing out more on such fragrant fancies as scented candles, reed diffusers and plug-ins. But in the past year the market has fallen 1.6%, with volumes down 1.5% [Kantar], a loss of almost £6m.
P&G is trying to freshen things up with its What Your Guests Smell ad campaign for Febreze and Ambi Pur. "The idea is to remind consumers that while you may think your house smells beautiful, your guests may smell something entirely different, be that residual food smells or pets," says Ian Morley, P&G commercial director for Northern Europe.
Meanwhile, RB hopes to revive aircare with additions to its sector-leading Air Wick range: Home Signature 'decorative home fragrances' in candle format as well as reed and flower-shaped diffusers, and a plug-in device with adjustable fragrance levels (see Innovations p53). RB's UK marketing director Jerome Lamaire describes these as a "breakthrough innovation" that will help "transform the category and drive footfall to the aircare aisle". He adds that while aircare products are in decline in the main aisle, growth is coming in the home decor aisle, where premium and more decorative products are stocked. Reed diffusers and Air Wick's new flower-shaped diffuser add "a decorative element fitting perfectly into consumers' homes".
Things are certainly changing. "The world is evolving in terms of fragrance experience. People, especially women, want it to be part of everyday life," says Village Candle founder and CEO Paul Aldrich. Village Candle's scented candles are positioned to stand out from rivals with their dual wicks, and the company claims its superior engineering allows more fragrance to be released from the wax.
One key benefit of candles is that they can be "turned on and off" whereas the fragrance from a reed diffuser is constant, adds Aldrich.
But it looks like this message is not getting across to consumers. Over the past year, spending on scented candles has fallen by 10.5%, while that on reed diffusers has risen by 7% [Kantar].
"Candles are good for setting a mood but people do worry about melted wax and flame, especially if they have young children or pets," says Lousie Roper, European marketing director of Enviroscent, which offers solvent-free and environmentally friendly scent sticks and other products.
The company seeks to offer something different in "an industry littered with corrosive solvents, asthma-inducing sensitizers, chemical propellants, and landfill-bound devices."
Eco credentials
Along with the focus on fragrances, other key trends within the sector involve convenience formats, packaging innovations, health and the environment. The trend towards more concentrated liquids and compressed paper products seems set to continue. Smaller packs have many advantages: they take up less space in store, in delivery and in the home .They are also more "environmentally friendly", using less plastic and packaging, producing less waste, and their transportation produces less pollution.

"We see 'natural' emerging as a trend as consumers look for efficacy but without harsh chemicals," says Rivka Rose, founder and chairman of natural cosmetics and household brand Faith In Nature. This trend may be driving sales of household products from veteran ecological brand Ecover and its younger sister Method (the companies merged in 2012).

Ecover, with a new spruced-up design to get away from the worthy-but-dull image of its traditional look, increased value sales 4%, while Method's value sales rose 25%, albeit from a smaller base (Method now accounts for a quarter of total sales). The company says that Ecover's specialist cleaners - such as its limescale remover and its wood-floor soap - grew 9%, while Method's household cleaners increased value sales 31%. Both brands were promoted more, with 56% of Ecover's and 51% of Method's volumes sold on deal (typically with price discounts of 25% or 33%).

Also looking to tap demand for greener cleaning methods is E-cloth, a 20-year-old British company that wants to convince shoppers to adopt "chemical-free cleaning" and do without the liquids, gels and sprays. Its products include cloths, mops, and other cleaning utensils based on microfibre technology, which clean with just water.

The wet cloth draws up dirt and bacteria through capillary reaction and locks it into the cloth. The company claims its products remove 99% of bacteria. "Chemicals kill bacteria on the surface, but we're talking about removing them," says Laurence Smith, E-cloth commercial director.

Whether such products can really go mainstream is another question. With the heads of household continuing to innovate hard (see right), breaking out of a niche is as tall an order as ever in today's market.
Air Wick electrical plug
Launch date: January 2016 
Manufacturer: RB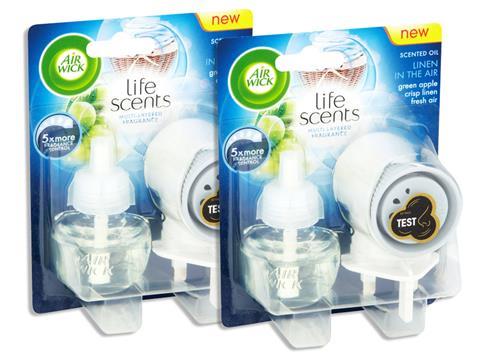 Seeking to boost the 'liquid electricals' part of air care, Air Wick is launching a plug-in product (rsp: £7), which will offer the ability to control fragrance intensity according to each room's requirements. The plug features a dial that can turn the strength of the scent up or down by 30%. The perfume comes from the brand's Life Scents portfolio, launched a year ago, which features 'layered' fragrances and now accounts for between 15% and 20% of Air Wick sales.
Caption
Launch date: February 2016
Manufacturer: Enviroscent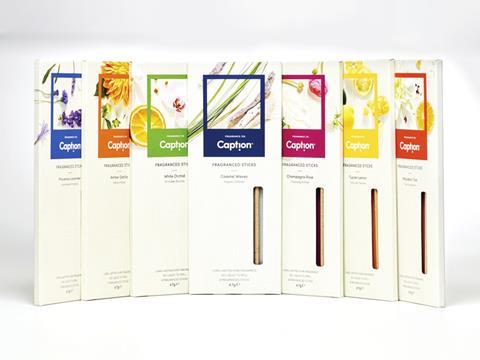 Using only biodegradable, recyclable and sustainably managed paper, and pure oils free of solvents, Enviroscent provides aircare products for the environmentally aware. Its new Caption range includes nine-inch fragranced sticks that provide 60 days or more of scent (rsp: £12, pack of six) and 12-inch floral sticks (rsp: £9, pack of 3).
Andrex Washlets moisture-lock packs
Launch date: January 2016
Manufacturer: Kimberly-Clark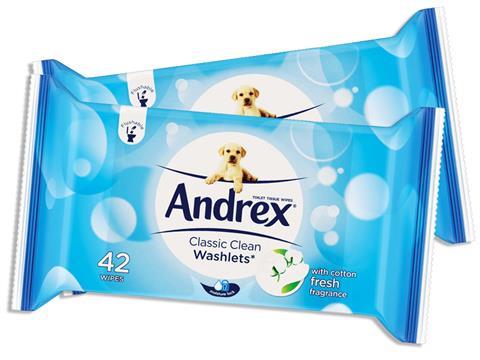 The penetration of moist toilet paper is growing quickly (up 11.4% over the year to 20.5%) and Kimberly-Clark is encouraging people to adopt its Andrex 'clean routine', which combines moist and dry paper. A new packaging format for Washlets (rsp: £1.88) has a plastic "moisture lock closing" mechanism usable with just one hand.
Domestos Power 7 Bleach
Launch date: January 2016
Manufacturer: Unilever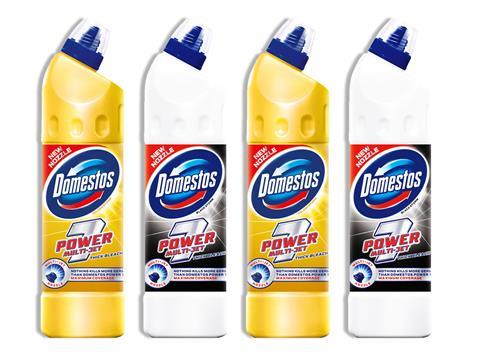 Domestos Power 7 Bleach (rsp: £1.75) is a new format for one of the UK's oldest bleach cleaners. The novelty is a multi-jet nozzle with seven holes, designed to deliver a powerful clean to both the toilet bowl and under the rim. Unilever believes the product will "encourage shoppers who buy products on autopilot to trade up".