Last summer's heatwave saw iced coffee sales soar. But in such a seasonal market, can the icy stuff sell in chillier temperatures?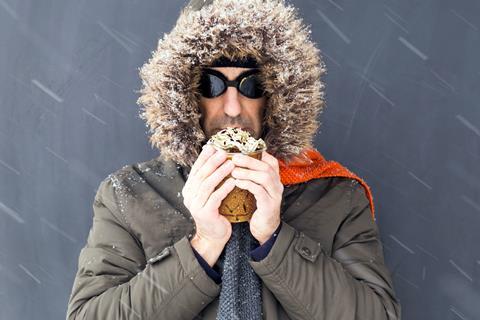 Iced coffee is heating up. Boosted by last year's scorching summer, sales hit £4.1m in the month of July 2018, according to Kantar Worldpanel. But there's a catch: iced coffee is still heavily dependent on the unpredictable British weather. That sales only just scraped the £2m mark last January shows just how closely demand for cold caffeine is linked to outdoor temperatures.

All of which contrasts sharply with the US, where iced coffee consumption has shaken off the shackles of seasonality. So completely, in fact, that bewildered coffee shops in Chicago claim sales remained stable even as the polar vortex of January and February sent temperatures plummeting to nearly minus 30 Celsius. That's colder than Antarctica, Alaska and the North Pole.

So can Britain's growing thirst for iced coffee translate to the winter months? How can brands make this happen? And how are other dairy drinks faring?

Britain's emerging iced coffee habit is part of a wider trend. The explosion in café culture on our high streets has turned a nation of tea drinkers into enthusiastic coffee connoisseurs. So much so that Brits chugged down 95 million cups a day in 2018, according to the British Coffee Association.

Having fuelled the nation's addiction to hot coffee - most people average two cups a day - high street coffee chains quickly rolled out iced flavours to keep sales strong over the summer. That level of innovation is now coming through to retail.

"The likes of Starbucks and Costa have really got behind iced coffee, especially in the summer months," says Abigail Kelly, category controller at Crediton Dairy. "And as more and more people try it out of home, we are seeing it filter through into demand for ready-to-drink beverages."
"As more people try iced coffee out of home, we're seeing demand for more RTD beverages"
Sales figures show the impact. Iced coffee added £22.2m to the value of dairy drinks [IRI 52 w/e 30 December 2018] to account for 25.5% of the total market. That dwarfs the £16.6m growth from standard flavoured milk.

The advent of the sugar tax in April 2018 - which has heightened awareness over the health impact of fizzy drinks, but doesn't apply to dairy drinks - no doubt played a role in these extra sales. "Iced coffee consumption is in a real boom due to a millennial desire to find drinks which are both healthier and more exciting than the big soft drink brands," says Luke Wilkes, operations director at Jimmy's Iced Coffee. "Supermarkets are acknowledging this, which is driving them to increase shelf space and give more listings to the smaller brands."
Long hot summer
But the biggest factor behind iced coffee's standout success was the long, hot summer of 2018. Indeed, the season was a "massive one" for Jimmy's Iced Coffee, says Wilkes. "The heat really brought a lot of new consumers into the category as people were looking for something refreshing but not wanting to compromise on the need for energy." Crediton's Arctic brand also enjoyed strong demand "from May all the way through until September", Kelly reports.

Eleanor Joyce, category development manager at Emmi UK, says this is to be expected. "The summer is a key sales period for dairy drinks, as the category is especially reactive to changes in temperature."

The tricky part will be maintaining this momentum year round. If the icy stuff could maintain the highs of the summer peak - when it sold £4.1m in one month - the market could be worth a cool £49.2m a year.

Suppliers believe there are ways to make this happen. One is by marketing iced coffee as an alternative to your lunchtime Coke. "The demand for iced coffee is huge and there is still room for further growth, with 66% of UK 18 to 24-year-old coffee drinkers seeing RTD coffee as a good alternative to sugary drinks," says Michael Lomas, commercial marketing manager at Arla Foods.

Iced coffees also appeal to shoppers looking for a little "permissible indulgence" outside mealtime occasions, says Kelly. "Our research suggests iced coffee tends to perform the role of a mid-morning or mid-afternoon pick-me-up, which would have traditionally been something like a chocolate bar or a packet of crisps," she explains. "From a consumer perspective, an iced coffee has much less sugar and much less calories - so it's in the perfect position to fill that consumer need state."

Innovation will be key to tapping these opportunities. Luckily, that's something the iced coffee market hasn't been short of over the past 12 months. Taking a lead from high street coffee chains, brands have been dabbling with everything from plant-based 'milks' to cold brewing methods in their search for the ultimate RTD coffee.
"Cold brew coffee has completely taken the market by storm in America"
Cold brew and nitro coffee - tipped as the 'next big thing' by consultancy firm Allegra - promise to offer benefits above and beyond your standard iced coffee. Made by steeping coffee grounds in cold water for up to 24 hours, cold brew is naturally sweeter and less bitter than the standard iced variety, which is generally brewed hot and then poured over ice. Already big in the US - where it accounts for 56% of all new RTD coffee launches - cold brew arrived in the UK via independent coffee shops and has since been embraced by Starbucks, Costa and Caffè Nero.

Nitro coffee, meanwhile, is being sold on draught in trendy coffee shops. Commonly referred to as NCB, it's essentially cold brew coffee infused with nitrogen - giving it a creamy head that pours like a pint of Guinness. It also contains 30% more caffeine than regular coffee, giving it extra appeal among buzz-seekers.

Crediton, which is investing £12m in its flavoured and functional milk processing facility in 2019, is convinced cold brew coffee will take off on this side of the Atlantic. Having enjoyed significant success with its Arctic iced coffee brand in 2018, with value sales surging 96.3% to £2.2m [Nielsen 52 w/e 8 September 2018], the supplier is set to roll out cold brew brand Arctic Blast in spring. "Cold brew has completely taken the market by storm in America and we are convinced this is the direction of tide with iced coffees in the UK," says head of sales & marketing Nick Bartlett.

With a more delicate flavour than traditional iced coffee, cold brew is "somewhat of an acquired taste", he admits. But he believes Arctic Blast will "bring it into the mainstream and make it far more accessible". Having travelled to the US to research the cold brew market, Crediton realised offering added benefits could be the key to unlocking sales. "We discovered the American market is much more into 'coffee with'," says Bartlett. So Arctic Blast will launch in two variants: one with added protein and one with an extra shot of espresso.
"Dairy alternatives taste great in coffee and have roughly half the fat and sugar of milk-based"
Nestlé is also hoping to take cold brew mainstream with its Nescafé Azera Nitro range, which promises to deliver "the next-level coffee experience". Available in Americano and Latte flavours in 192ml cans, the coffee is infused with nitrogen for a smoother, creamier texture and "crisp, sweet taste".

Another big growth area for the category is plant-based. These products appeal not only to vegans and those with dairy allergies, but also to flexitarians and health-minded consumers looking to swap out some of the dairy products in their diet, says Liam Bresitz, commercial director at Plenish. "The dairy alternatives market is growing and has always been growing, with the prime driver being penetration. We've moved from one in five households buying into the category three or four years ago to one in three now."

So it's perhaps unsurprising that plant-based iced coffee innovation has begun storming into the market. Plenish is among the brands making a play for dairy-dodgers with its new Coffee Almond Shake, part of a range of on-the-go dairy alternative drinks hitting shelves this month.

Iced coffee is a natural fit for plant-based brands, says Bresitz, who points out that coffee shops helped "normalise" dairy alternatives when they were still in their infancy. "One of the barriers to entry was taste, so strategically there was a big drive into coffee shops. Dairy alternatives taste great in coffee and have roughly half the fat and half the sugar of milk-based products."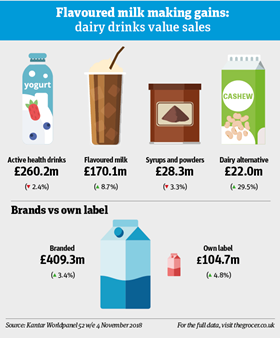 Dairy-free innovation
Plenish isn't the only brand to have spotted an opportunity in plant-based iced coffees. Alpro entered the coffee market in 2018 with its Caffè brand, and expanded its lineup with a cup range in October including three flavours: Soya Caramel & Ethiopian Coffee, Coconut & Peruvian Coffee and Almond & Brazilian Coffee.

The on-the-go range propelled Alpro into "the all-important food-to-go fixture, and secured us our first-ever listing in Boots as part of its meal deal," says David Jiscoot, marketing director at Alpro UK & Ireland. "This not only helps to 'normalise' plant-based, but also suggests that chilled coffee drinks such as ours aren't just for a hot summer's day - but can be enjoyed any day of the week with your go-to lunch of choice, or for the ultimate 'me-time' moment on the go," he adds.

Plant-based brands aren't the only ones getting in on the act. Starbucks EMEA has this year launched Starbucks Almond, an RTD combining the brand's signature espresso with chilled almond milk. "It's no secret that there is an increasing desire for milk alternatives - we've seen this in our high street stores and we are reflecting these learnings in our RTD offering," says Charlotta Oldham, senior marketing manager at Starbucks EMEA.

Jimmy's Iced Coffee has also launched a dairy-free variant in recognition of there being "a lot of people who want to enjoy iced coffee whatever their values or intolerances", says Wilkes.

Still, not all of these plant-based products will be equal, insists Plenish's Bresitz. "Dairy alternative brands have the advantage of using their existing expertise to come up with a plant-based product," he explains. "For plant-based, the really important element is the base drink, so it's about making sure your almond base or your oat base is the best available."

The almond milks currently available on the market for blending into coffee RTDs vary from 1% almond to 6% almond, for example. "But I think it's a good thing the coffee brands are coming to this area because it says to the two thirds of shoppers that don't buy into plant-based that it's normal and fine to drink a dairy alternative coffee," he says. "The market is growing that fast there is space for all players, from Starbucks through to Plenish."

One of the big benefits of both plant-based and cold brew coffees is that they tend to contain less sugar than traditional iced coffee RTDs. Oat, almond and soy 'milks' don't have the naturally occurring lactose in cows milk, while cold brew and nitro coffee are naturally sweeter and less bitter, reducing the need to add sugar to make them palatable. Which could make them an important arrow in the category's bow when it comes to broadening iced coffee's appeal and driving more consistent year-round consumption.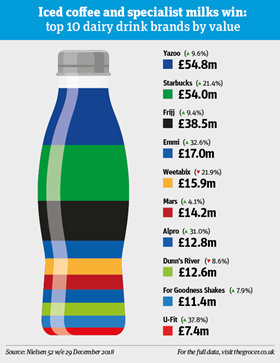 Indeed, "sugar content is one of the first things supermarket buyers are asking about," says Bresitz. Some of the coffee RTDs on the market contain as much as 11g of sugar per 100g, he points out. "That's an awful lot of sugar, it's like a can of Coke."

Dairy-based brands have begun rolling out lighter iced coffee options, which should "boost sales in summer and all year round by broadening its appeal to those shoppers looking to reduce their sugar", says Emmi's Joyce. Its Caffè Latte Skinny, which contains only 78kcals per cup and no added sugar, added over £1m to the category in the past year, she claims [IRI 52 w/e 27 January 2019].

However, taste is still the "number one" concern for shoppers, insists Andrew Howie of Shaken Udder, which this month unveiled Ooh La Latte, a new 330ml bottled milkshake made from arabica coffee beans. Indeed, Shaken Udder's impressive growth across its wider dairy drinks range - with value sales up 58.4% to £2.1m in 2018 - suggests shoppers are also looking for quality of ingredients.

"Consumers realise the benefits of the quality of our ingredients compared to a fizzy drink," he says. "A lot of our sales are now through food-to-go or meal deals and if you look at some of the meal deals on offer, the big branded carbonated drinks are a very similar price to us. When you look at our ingredients vs fizzy drinks, we blow them out of the water value-for-money wise."

Indeed, tapping the food-to-go opportunity - and competing against soft drinks in front of store - will be key if iced coffee is to free itself from seasonality altogether. "The use of front-of-store placements and promotions such as a meal deal are a great way to increase category purchasing year round and to capitalise on the 'feed me now' shopper mission," says Joyce.
Shelf space
Crediton's Kelly says getting iced coffee into these all-important front-of-store chillers remains a "challenge", though.

"We've seen the retailers do a fantastic job in following the likes of Pret to address on-the-go opportunities. Almost every retailer has egg protein pots," she adds.

"But that's own label-driven, the challenge is that the ownership of the soft drinks sector lands with the big brands, the likes of Coca-Cola and I guess they are reluctant to free up that space for the smaller emerging sectors."

It's not just iced coffee that's suffering as a result. "If you want to capture the breakfast market with a dairy drink, it's got to be sold chilled and ready to go", she adds. "It's the same with protein shakes and kefir. They need to be located at the point of purchase."
"We will follow the US and chilled coffee will become a key part of a food-to-go offering"
That's the big difference in the States, where front-of-store fridges are packed full of RTD coffee options.

It's something that will change in the UK, insists Bresitz. "We will follow the US and chilled coffee will become a key part of a food-to-go offering," he says. "It may take a year, two or three but it will come."

In the meantime, manufacturers should introduce seasonal flavours to tempt shoppers to indulge during the winter months, he suggests. "If you go into a Costa or Starbucks they change the menu every eight weeks or so with new seasonal variants. That's harder to do in grocery but you could still introduce a winter variant of a chilled coffee product."

Indeed, Emmi's insight suggests one of the biggest drivers of purchase for iced coffee is "to try something new". So regular innovation could prove a hot tip for selling iced coffee in chilly temperatures. Who needs a long hot summer now?
Kefir: is fermented milk the next big dairy craze?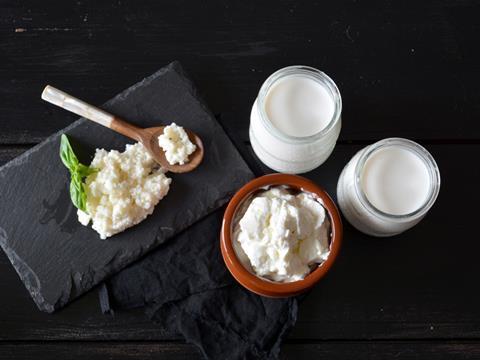 Brits are going crazy for kefir. Once the domain of health food junkies, the fizzy fermented milk drink hit the mainstream in 2018 as sales reached £13.4m [IRI 52 w/e 30 December 2018].
Kefir's rocketing growth is being fuelled by the gut health boom - tipped by many as the next big 'mega-trend' in food and drink. "Consumers are realising the benefit of looking after their digestive health," says Amelia Harvey, co-founder of The Collective.
And fermented foods such as kefir are the right way to go. "Fermented foods have been enjoyed for thousands of years and consumers are backing it and driving its resurgence," she says.
As the gut health trend gathers pace, the major retailers have spotted the opportunity and are making more space on shelf available for "fermented drinks like kombucha, kefir, probiotic-packed snacks and sourdough," Harvey adds.
This has helped drive a boom in innovation. The Collective unveiled a four-strong lineup of kefir drinks containing extra ingredients "known for their health-yielding qualities" in the spring (pictured below), while kefir pioneer Bio-tiful Dairy has been experimenting with new flavours (p52). Even plant-based brands are getting in on the act, with Coyo launching a dairy-free coconut-based kefir last month.
Bio-tiful founder Natasha Bowes says this level of innovation is only likely to continue as shoppers are "increa­singly aware of what they are putting into their bodies" and move away from some of the early big hitters in 'active health' towards naturally fermented food and drink.
The next big frontier for Bio-tiful is the on-the-go consumption. "Our recent launch into Eat branches nationwide is further evidence of the growing popularity of kefir in the UK," says Bowes. "There is huge opportunity for functional dairy drinks to be permanently ranged alongside the biggest categories in soft drinks."
Innovations in dairy drinks 2019

Carina Perkins is editor of thegrocer.co.uk

Carina is responsible for running and developing The Grocer's digital operations. She commissions high-quality digital journalism from our award-winning editorial team and thought-provoking comment from industry players.

Follow Carina on Twitter: @CarinaPerkins