The war on sugar, healthier snack options and soaring costs have put chocolate on the block. Is NPD the way forward?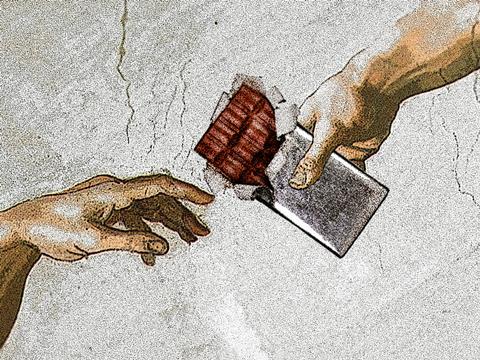 Back off, milk chocolate! Stand aside, dark! You too, white. There's a new variety in town - and her name is ruby. She's a fruit-flavoured temptress who appeared on the scene only weeks ago, immediately turning heads when Swiss chocolate leviathan Barry Callebaut introduced her to the world. The pink progeny of the ruby cocoa bean, she's the result of "many years" of R&D, according to her maker, eight decades after the launch of white chocolate.

Barry Callebaut expects great demand for ruby's toothsome "tension between berry-fruitiness and luscious smoothness". However, James Hutchins isn't convinced. "I see ruby chocolate as an interesting innovation that will potentially appeal in the high-end market, where newness is important," says the chief chocolate maker for James Chocolates and Cocoa Republic.
"There's an interesting story behind it, but it's probably a little 'look what we can make' rather than consumer driven. I suspect people will be a bit confused: it's pink and fruity so looks like white chocolate with dried berries," he adds. "I'm not sure if it tastes like that, but if it does then it's not necessarily adding anything to the world of chocolate. It's no more a fourth type of chocolate than blonde chocolate is, really."

So, it remains to be seen whether she will become the jewel in chocolate's crown. What is already certain is the category desperately needs sparkle, its value having dulled over the past year. Down an unpalatable 4%, it's been unlucky enough to see its top 12 brands fall into decline - losing £78.3m between them [IRI 52 w/e 15 July 2017]. You have to read down the list to Kinder Bueno in 13th place before you see growth (and, at 10.9%, it's undeniably impressive). Own label has taken a dive, too, losing 2.5% of its value on volumes down 4.9%.

"Changing consumption habits and greater competition from other categories are impacting the confectionery market," says Levi Boorer, customer development director at Ferrero. "Alongside this, we're operating in a much tougher trading environment, with economic uncertainty created by Brexit, declining disposable income and increasing commodity costs. These trends have contributed to a decline in impulse purchasing, while also impacting the premiumisation trend within gift purchases."

Those "changing consumption habits" Boorer cites include Brits' increasing rejection of sugar and demands for greater responsibility from brands. Household names such as Dairy Milk, Maltesers, Snickers and Aero have been brutalised by the health agenda and stricter rules on marketing to children. In the past 12 months, the British Medical Association has called for a minimum price on confectionery, Action on Sugar has lobbied for the soft drinks sugar levy to extend to chocolate and other sweets, and the Committee on Advertising Practice has banned adverts for unhealthy treats from online, in print and the cinema.
The rivalry of alternative options
"As a parent and an advocate of a healthy lifestyle, I am very aware of the dangers of too much sugar," says Helen Pattinson, co-founder of Montezuma's. "This might be odd coming from a chocolate manufacturer - but I truly believe that chocolate is a luxury that should be enjoyed in moderation. A couple of squares of good quality chocolate is often sufficient to hit the spot, but it has to be rich in cocoa, not in sugar."

The regulations so far imposed or proposed won't be sufficient to tackle childhood obesity, Pattinson believes. "This is a problem that isn't going to be cured by advertising bans or minimum prices. The country needs a wholesale change in the education of children in food technology and nutrition."

Grace Flavin agrees the war on sugar has played a clear part in the declining value of the chocolate market. But the project executive at Space Doctors, a provider of cultural insight, believes the category's woes are down to more than that - not least the proliferation of alternative snacking options.
Chocolates winners & losers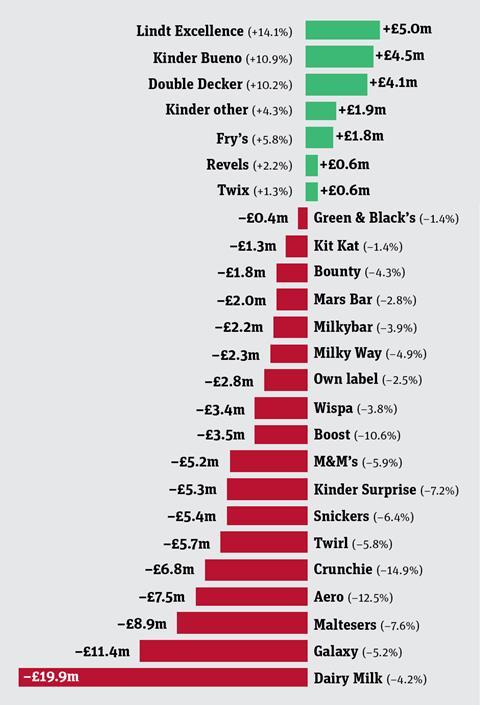 "People are becoming more aware of having different kinds of snacks at different times of the day, and the role of those snacks - for example, whether they provide comfort or energy," she says. "Across the board, there are more and more refined options out there - fruit & nut bars, seaweed thins, and even marshmallow bars. Even if people aren't buying these en masse, they're aware of them, interested in exploring them and potentially less likely to automatically go to their favourite chocolate bar.

"There is also a real sense of coolness in relation to choice of snacks among younger consumers. It's just not that aspirational for a 22-year-old to be seen walking down the street with a Mars bar."
Checkout ban hits impulse factor
That wealth of choice is what has diminished the classic countline's dominance in on the go, says Glenn Caton, Mondelez's president for Northern Europe. "There's a lot more choice on the high street than there was 20, 30, 40 years ago. You've got Starbucks, Costa, Greggs and lots of other choices. So, with on-the-go snacking, there's more choice on the high street than traditional countlines, and that's certainly been one of the drivers of countline decline in that channel.

"In major retail customers, the bigger driver has been the removal of countlines from till points. That has been a significant driver of impulse category decline."

Charlotte Green agrees. "The removal of chocolate products from supermarket checkouts is also likely to have had an impact as it is removing much of the impulse out of a largely impulse-buying sector," says Divine Chocolate's marketing director.

Take-home value sales of countlines fell 2.2% in the 12 months to June 2017, Kantar Worldpanel data shows. "Another factor will probably be the continuing growth of good quality, low-price own-label sharing bars," adds Green. "The impact of this may retain volume but reduce overall income from chocolate."
Confectioners spend a fifth more on ads
She is concerned about the growing price gap between the major brands and own-label equivalent - with "brands up to twice as much for the same weight, and similar if not better quality for own label. In many cases it is just impossible to imagine how the product could have been made at such a low cost. This supermarket-led commoditisation of the chocolate market should be a serious concern as it devalues chocolate in the consumer's mind, which can lead to mindless consumption."
What, then, can be done to revive a category that's seen £101.9m melt away? Certainly, appealing to shoppers' healthier urges is one way to go. "Consumers are increasingly informed about the negative impact of excess sugar consumption, and this has caused huge impact across the chocolate category," says Flo Broughton, co-founder of Choc On Choc.

According to Nestlé, confectioners are moving into 'better for you' treating to deliver growth. "The renovation of Milkybar to make milk the number one ingredient - and in so doing, reduce the product's sugar content - is one good example of a brand evolving to continue to meet consumers' needs," says the supplier's head of corporate media relations, Ana Baptista.

A similar change has occurred for Kit Kat. In March, Nestlé's flagship confectionery brand - down 1.4% in value on volumes that have dived 9.6% [IRI] - relaunched with extra milk and extra cocoa in an effort to reduce sugar. The move came in the same month the company pledged to reduce sugar by 10% across its confectionery portfolio through a range of methods including reformulation. Chairman and then-CEO Dame Fiona Kendrick was vocal about the war against childhood obesity, insisting the voluntary approach to tackling childhood obesity, as laid out by Public Health England, would not go far enough and calling for government regulation to tackle the health crisis.
Pop-up gallery: innovations in chocolate 2017


Mondelez's philosophy is "calories in, calories out" as part of a balanced lifestyle, says Glenn Caton. "We've invested substantially in a number of areas. First, making sure we have clear front-of-pack labelling. Second, making sure we have resealable packs on all of our sharing propositions, including tablets and share bags. Third is increasingly looking at portion size and portion control; we were one of the leading partners of the industry, moving to sub-250 calories on all of our singles three years ago. We don't market directly to children - either where we advertise or what we say.

"Beyond that, we've also spent £3m in and around the West Midlands, investing in schools programmes to educate kids around healthy lifestyles and healthy choices. We've reached about 127 schools."

Ferrero has sought to educate about wellbeing. The Kinder owner has partnered since 2013 with the English Football League Trust to deliver the +Sport Move and Learn Project, a national schools initiative to get children active and promote healthy lifestyles.

"One of Ferrero's core nutritional beliefs is that balanced diets and active lifestyles are the best way to tackle obesity. That's why we encourage people to consume our products in small quantities and why 95% of our products are less than 150 kcal per serving," says Levi Boorer. "In addition, as an active member of the FDF, we supported the industry's implementation of a voluntary 250kcal cap on shop-bought single-serve confectionery."

NPD has been another focus for brands hoping to appeal to the body-conscious - with the relatively healthier benefits of darker chocolate being pushed. Beech's Fine Chocolates is hoping to roll out a lower-sugar milk chocolate bar in time for Christmas. It will contain 50% cocoa solids, making it darker than the brand's regular milk chocolate with 35% solids - and it will also be significantly lower in sugar: 23g per 100g as opposed to the standard bar's 52g.
Boosting the appeal of dark chocolate
In April 2016, Montezuma launched a 100% cocoa bar, Absolute Black, with no sugar. It recently added two variants: Almonds and Orange & Cocoa Nibs. "This range has been extremely successful," says Pattinson. "We have noticed the increasing popularity of dark chocolate in the last few years and believe this is due to customers understanding that good dark chocolate means less sugar. As a result, a large proportion of our innovation is in dark chocolate and in particular with very high cocoa percentages."

And it's not just Montezuma whipping out the dark NPD. Only last month, Mondelez unveiled the first new range for Green & Black's in 26 years. Velvet Edition - the brand's first to be neither organic nor Fairtrade - came with the express purpose of broadening dark chocolate's appeal. It comprises seven flavoured variants promising a 'velvety finish' to 70% cocoa chocolate, with milder flavours, including mint and salted caramel, targeted at consumers "attracted by the Green & Black's promise of finest ingredients and ethical sourcing" but less enticed by its "complex and strong" taste, Glenn Caton told The Grocer at the time of launch.

While dark chocolate helps premiumise the category, it also cuts out the cost to suppliers of sugar and milk solids, which like cocoa have soared in price over recent months. "Consumers are looking for more chocolate per pence, but at the same time, the cost of ingredients has increased consistently for us due to natural disasters, increased shipping costs, etcetera," says Jessica Folkerts, marketing manager at Ombar.

Ed Smith, co-founder of Doisy & Dam, adds that the cost of goods has shot up almost 20% over the past year, particularly since Brexit. "Many of us buy our ingredients in dollars and euros and that, combined with huge purchasing from the Far East, has driven commodity prices through the roof, particularly in the organic sector. "This inevitably leads to a certain amount of shrinkflation as the costs aren't sustainable. We have been working incredibly hard over the past year to avoid any shrinkflation as we've been growing from a strictly artisanal brand into a more mainstream market, where we need to achieve a more approachable price."
Confectionery: category by category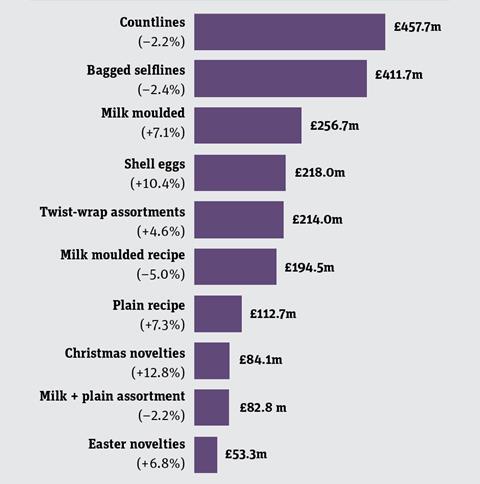 Shrinkflation was the word in chocolate confectionery last autumn - on everyone's angrily curled lips when Mondelez was caught in October sneaking out Toblerone 'toast rack' bars with extra space between the chunks to cut the 400g SKU to 360g, and the 170g to 150g.

Soon after, Maltesers and Galaxy Counters were found to have lost weight, with the former Mars product having dropped from 135g to 121g and the latter from 126g to 112g. The change seemed to have little positive effect for either. Falls in value and volume have seen the average price of Maltesers slump 4.8% while Galaxy's is down 4.2% [IRI].
The Whip without the Walnut
In November, Nestlé pledged to do what it could to avoid shrinkflation, in spite of the pressure on fmcg suppliers to reduce costs in the face of food inflation. Says Ana Baptista: "We are used to dealing with all the variables that could affect our cost pricing. We constantly review those costs and continue to manage all of these factors within Nestlé, with a view to making cost price increases only when absolutely necessary. The final price the consumer pays for our products is set by individual retailers."

Nevertheless, it appeared to some outraged shoppers that Nestlé was cutting costs last month, when it unveiled its nut-free Walnut Whip - understandably called, simply, Whip. The Swiss supplier insisted the Delicate Vanilla, Delicious Caramel and dark chocolate Delightful Mint variants in a three-pack were simply to provide shoppers with the opportunity to try "the chocolate whirls beyond the traditional version topped with a walnut piece". The original nutty product remains available with an rsp of £1.69 compared with Whip's £1 - a difference Nestlé said was "down to a number of factors, including the lack of a walnut".
Givin' it large
When it comes to innovation this year, larger formats have been front and centre. "Chocolate bags are driving the growth for standard chocolate, and Mondelez is driving that growth through innovation," says Francesco Vitrano, the company's marketing activation director for chocolate. Last month saw the Cadbury owner add larger sharing lines: Dairy Milk Giant Buttons, Dairy Milk Caramel Nibbles and Bitsa Wispa.

"The new large bags, which are more than twice the size of the existing products in the medium range, aim to unlock bigger sharing occasions and drive incremental sales in the category," Vitrano adds. "These share bags, like the standard chocolate sharing bags, are resealable, enabling consumers to spread the joy over several occasions. Each sharing format offers consumers delicious, permissible bitesize pieces and aims to drive incremental sales for the family sharing occasion - particularly among young families."

Larger blocks and pouches "continue to play a significant role in the confectionery category as more consumers look for better value", confirms Bep Dhaliwal, trade communications manager for Mars Chocolate. "For retailers, maximising sales of these products is crucial, and recent NPD launches like Galaxy Swirlers are a great way of doing this."

Sharing formats are not just "drivers of precious moments of indulgence in the hectic lives of today's consumers" says JP Hunter, head of design at Webb deVlam, a strategic brand design & innovation agency. Indulgence provides marketing opportunities, he says. "Established brands can capitalise on their heritage and elicit a time of more simple pleasures, when we derived guilt-free joy from occasional moments of indulgence."

Leveraging nostalgia might attract accusations of viewing the category through rose-tinted glasses, while the latest creation from Barry Callebaut has given the future a ruby hue. As for now, though, chocolate is a little way from being in the pink.
Is our sweet tooth being pulled? Confectionery report 2017
1

2

3

Currently reading

In need of divine inspiration: chocolate category report 2017