Who said looks weren't everything? In the world of home baking, it's what's on the outside that counts. Whether topped with a mirror glaze, decorated with mermaids or styled in rainbow hues, today's baked creations must all follow two simple rules: they must be on-trend and they must be photo-ready.
The reason for this focus on aesthetics? Look no further than social media. The meteoric rise of sites such as Pinterest and Instagram means consumers are paying more attention to the photogenic capabilities - and trend potential - of their bakes than ever before.

All this has seen baking 'extras' such as colours, flavours and decorations increase 5.9% in value to be worth £122.6m. Cake coverings also soared in value by 9.5% this year, adding an extra £1.1m to the sector. Volume sales are up for both, which is impressive considering the majority of growth elsewhere in the £705.7m home baking market is simply coming from price rises.

So who's driving this appetite for photo-ready bakes? What are the hottest trends influencing today's bakers and how are brands responding?

It's no surprise that the younger generation is fuelling this social media baking boom. Instagram in particular is a staple of the 18-34 generation, who make up 60% of its more than one billion monthly users, according to statistics portal Statista. This audience is heavily influenced by food pictures. Research by Zizzi found 18 to 35-year-olds spend five whole days a year browsing food images on Instagram.

"Younger shoppers are hungry for more visually appealing products they can show off online," explains Kantar Analytics Practice consulting director Cynthia Vega. "As a result, we've reached a stage where consumers are dictating what's being sold to them to a greater extent than ever before."

It's not just image-conscious millennials lapping up photogenic bakes, though. Up to 84% of people surf the web for baking inspiration, according to icing and marzipan manufacturer JF Renshaw. So mainstream is the appeal that Renshaw's report on baking trends in March heavily reflected the types of creations seen on Instagram and Pinterest. Mirror glaze came out as the top look of the moment, followed by airbrushed, hidden centre, painted and marble-effect cakes.
Luxurious looks
Baking bods are now rushing to bring out products that will help consumers recreate these looks at home. In the same month as its report, Renshaw launched a luxury microwaveable Belgian chocolate ganache that can be poured over icing or drizzled over traybakes for an easy mirror glaze effect. The product forms part of its new Simply Create range, which includes products such as frosting, icing and fondant designed for bakers looking to up their skills at home.
"Ganache is really trending at the moment," says Chris Hall, Renshaw's head of brands. "You can get a stunning effect on a cake without much effort."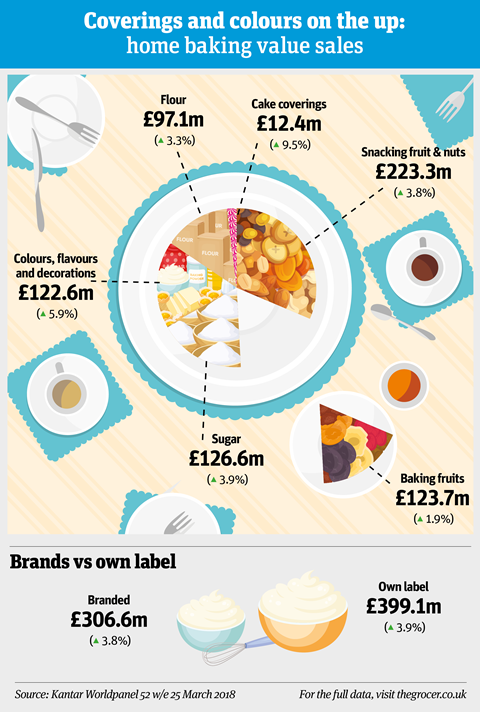 Find the full data at the bottom of this report

Cake Angels is another brand looking to take full advantage of the Instagram effect. Chocolate mirror glaze was among its new launches this year designed to target image-conscious bakers, including ready to pipe frosting and 'mega mix' sprinkles. It also introduced a Cake Art range inspired by the painted cake trend. By simply adding water to the edible wafer paper, bakers can jazz up their cakes with "stunning floral and geo patterns".

All this was backed up with a rebrand and a bright pink logo designed to appeal to younger shoppers in September. The strategy seems to have paid off so far; sales have shot up 28% year on year, according to parent company Fiddes Payne.
"We are emotionally connecting with consumers, using impactful branding"
"Cake Angels has an important role to play in the category, targeting a younger demographic with new, exciting, Insta-ready cake decorating solutions," explains Caroline Hughes, head of innovation and marketing at Fiddes Payne. "We are emotionally connecting with consumers, using trends and impactful branding to delight and excite them."
Dr Oetker is thinking along similar lines. It launched its own unicorn confetti and midnight magic sprinkles in March to capitalise on the ongoing craze for all things fairytale.

"Whilst novelty and trend-led products account for less than 1% of the total home baking category value, they are growing fast, at 295% year on year, gaining traction in the retailers with over 6,000 distribution points in major multiples," explains Riccardo Panichi, head of cake and dessert marketing at Dr Oetker UK. "Home baking is increasingly driven by trends such as unicorns, rainbows, outer space galaxies or mermaids, and the decorations sector provides a huge opportunity for sales in this area."

There is one caveat to all this love for picture-perfect bakes, though. While Bake Off contestants might be willing to spend hours painstakingly honing their creations, the general public are generally less patient. Dried fruits, nuts and seeds brand Whitworths believes today's "busy lifestyles" are hampering the performance of home baking overall.

Although Kantar data shows the market is up 3.9% in value, the average shopper bought home baking products 18.2 times, down 0.3% on last year. Shoppers are also buying fewer packs per trip. "Consumers struggle to find time to bake at home from scratch," says Phil Gowland, marketing director at Whitworths. "Convenience is another factor. There will always be a wide availability of cakes and other baked goods that can easily be purchased off the shelf."

Again, online influencers are coming to the rescue. The rise of YouTube stars posting video tutorials on how to make simple, quick treats is encouraging the younger generation to bake. In March, baker Edd Kimber published a video showing viewers how to bake brownie crinkle cookies without a chilling stage to get a "quick cookie fix". As many as 1,000 people made the cookies within a single week, according to Guittard Chocolate.

And so products that can bypass any excess of effort are particularly in demand. The aforementioned microwaveable glaze, just-add wafer decorations and ready-to-pipe frosting all aim to make the decorating job a little easier.
"A key trend is the importance of convenience and ­ on-the-go formats"
Other shoppers are looking for something even more convenient. Asda has seen a rise in sales of the time-pressed consumer's ultimate friend: ready-to-bake mixes. It has innovated in this area with Extra Special bake-in-the-box ranges - the Belgian Chocolate & Salted Caramel Brownie flavour took home an innovation and category champion accolade in The Grocer Own Label Awards 2018.

"A key trend we have identified for our customers is the importance of convenience and on-the-go formats," says Asda buying manager for desserts and baking Jaime Serrano. "We are working to extend our baking mixes to allow our customers to access great recipes which can be delivered quickly but without compromising on quality."
Need for speed
Brands are also rushing to offer some speedy solutions. Jus-Rol, for example, launched a cookie dough in October that promises to be "freshly baked in minutes". "Chilled home baking is one of the only sectors in the chilled category experiencing value growth (2.1%) with ready to bake significantly contributing to that growth (3.2%)," says Jus-Rol marketing manager Joanna Goodman.

The Paul Hollywood brand also saw profits rise after introducing new baking mixes such as Luxury Belgian Chocolate Brownie and Carrot & Orange cake, due to make its debut in September. The brand was rewarded with 53.1% growth in value [IRI 52 w/e 9 June 2018], doubling its share of the home baking category.

With all this emphasis on looks and speed, you could be forgiven for thinking today's consumers were a superficial, impatient bunch. But shoppers do spare a thought for what actually goes into their bakes, too. Kantar notes the top five launches over the past year - led by Sunny Fruit and Grape Tree - have been either Fairtrade, organic or both.

That these new products have added an extra £3.8m to the category reflects an increased demand for "ethical products with limited impact on the environment", says Kantar analyst Claire Liboureau. And consumers are willing to pay a premium for products that tick these boxes.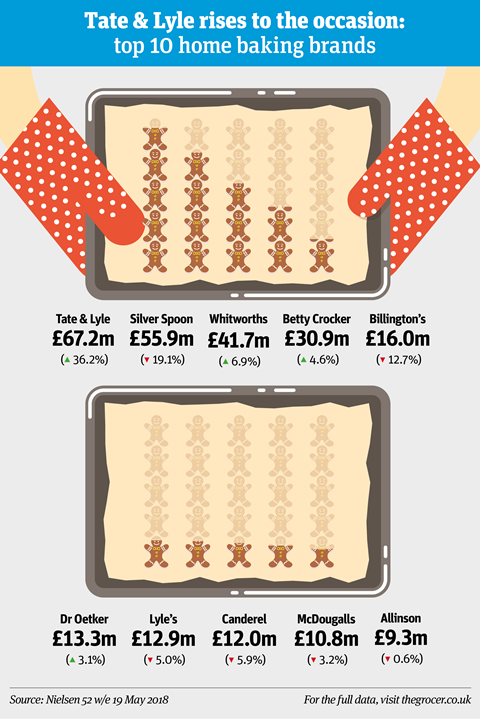 Find the full data at the bottom of this report

Organic flour brand Doves Farm was founded on this principle. Selling at £1.35 per kg on Ocado, it's a little pricier than standard fare. But founder Clare Marriage believes this isn't a deterrent. "The Instagram generation is keen to make a statement about their eco choices and standpoint, and as a result, organic baking ingredients have been a big trend," she says.

Similarly, demand for healthy products is on the up, as Dr Oetker has noticed. "Health-led SKUs are a small but growing area within the category and whilst it is [only] worth 1% of the market value, it is growing fast at 80% year on year," says Panichi.

Brands are now looking to get in on the health action. Fiddes Payne reformulated its Disney home baking range in May to provide a lower-sugar option.
"The influence of the recent royal wedding is having an influence across baking"
Renshaw has noticed a number of such moves within the market. "We do a lot with the cake manufacturers and they have had a definite move to a lower portion size with less sugar content, particularly with children's products, so a lot of the licensed character cakes have reduced their portion size and reduced their sugar and fat in their products," says Hall.

Even May's royal wedding celebrations may be playing into the healthier baking trend. Harry and Meghan's lemon curd and elderflower wedding cake (frosted with elderflower swiss meringue buttercream) triggered demand for lighter, fruit-flavoured cakes.

"The influence of the recent royal wedding with fresh flavours and botanicals (in a nod to nostalgia), is also having an influence right across professional baking and this is also being seen in the home baking category," says Orchard Valley Foods marketing manager Louise Liddiard. "Big flavour trends include elderflower, lemon, lime and coconut."
'Worth the calories'
That said, not everyone is constantly polishing their halos. In the era of the freakshake, even health-conscious bakers are willing to occasionally splurge on some indulgence. And when they do, they want their creations to be - in the words of Bake Off presenter Prue Leith - "worth the calories".

This was the thinking behind the launch of Betty Crocker's launch of premium cake mix range Delights last June, including indulgent recipes such as gooey salted caramel brownies, ultimate dark chocolate cookies and tangy lemon & buttery shortcrust bars. Buoyed by a positive response from consumers, the range is set to expand later this year.

"While healthier options are increasingly important across many supermarket categories, running alongside this is a parallel trend for premium indulgence," says Kat Jones, marketing manager for Betty Crocker. "This is reflected in the fact that many shoppers, rather than shunning sweet treats altogether, are instead choosing smaller portions of their favourite products, made with premium ingredients that hit the spot without the guilt of over-indulgence."

Premium, ethical, photogenic and tasty - home baking products have to tick plenty of boxes to win over today's home baking audience these days. Shoppers expect both style and substance behind their Instagram bakes. But if brands and retailers can get the basics right - and sprinkle a few unicorns and rainbows into the mix - they may just have a fairytale ending.
---
Innovations in home baking 2018