Harry Styles, Graham Norton, David Beckham, even Prince William… the trend for facial hair continues, with a host of celebrities having experimented with whiskers (some more successfully than others).

We're not talking designer stubble here. Bristling beards and moustaches are the look of choice for many British men, 45% of whom now sport some kind of facial hair, according to a poll for The Grocer by Him! Research & Consulting. Perhaps not surprisingly, 72% of men with facial hair say they buy razors less frequently since cultivating their whiskers.

So how is this affecting the male grooming market? With the vogue for beards showing no signs of waning, is it time for players to go in pursuit of the hirsute? And what other factors are at play in the market?

The beardie weirdies are causing a few headaches. Last September, P&G's MD for the UK & Eire Irwin Lee told The Grocer the trend was such a challenge for Gillette the brand was looking to recruit Hollywood celebrities as posterboys for the clean shaven look.

It may be early days, but there's no sign of the beard trend waning yet. British men have spent £9.5m less on razor blades in the past year, a fall of 3.2% on volumes down 4.1% [Kantar Worldpanel 52 w/e 26 April 2015]. The decline has been the biggest factor in a downturn of the wider male grooming market, down by a whisker at 0.6%, with volumes down 1.8%. Male skincare is also suffering: value is down 5.6%; volume is down 2.4%.

"We're currently facing some of the toughest market conditions that we've seen for decades," says Ian Morley, group sales director at P&G. "There's been a significant change in men's habits and practices around shaving."

But with change comes opportunity. Overall value sales of Gillette, both razors and toiletries, have dipped 0.7% to £216.7m [IRI 52 w/e 16 May 2015], but some parts of the portfolio are still looking spruce. Morley says Gillette razors are up 28.1%, on volumes up 35.1%, thanks to the February launch of Fusion ProGlide with FlexBall.

"FlexBall has generated £8m in retail sales since launch and we've already sold one million units," he says, adding that a social media campaign for ProGlide aimed at younger men last year also paid dividends. "The FlexBall launch is already bigger than ProGlide in 2011 and is on course to be the number one fmcg launch in 2015."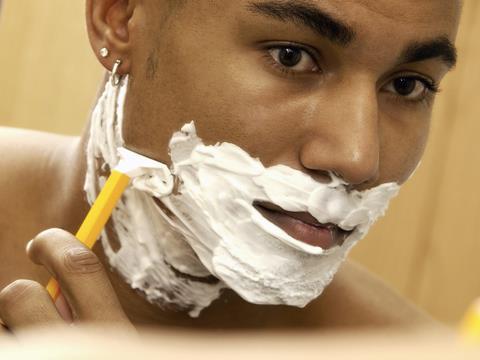 Kantar Worldpanel comments
The decline in the male grooming market has been driven by shoppers dropping razor blades and skincare from their repertoires. The total toiletries market has managed to grow 0.5% during the same period.
Deodorants and shower products are growing through price. This is because promotions of shower products and Sure deodorants (the biggest male deodorants brand) have fallen this year.
Sure has lost shoppers to its rivals - including Nivea, L'Oréal Men Expert and Right Guard. Deodorants is the one category in which average spend on men is more than women.
Own label has declined 12.7% year on year, while branded is up 0.5%. Own-label skincare (driven by Boots No 7 for Men) contributes the most to the decline in own label.
Nivea is driving branded growth, performing well in all the categories it plays in - even declining skincare.
Male grooming sales in value stores is seeing double-digit growth, but in Waitrose, too. Suppliers have an opportunity to target more affluent shoppers with premium innovation.
Sneha Haria, Kantar Worldpanel

Beard-specific products

That FlexBall is marketed on its ability to give men greater precision when it comes to manicuring their facial hair (as well as the greater skin contact allowed by the ball design) has been a factor in its success. Meanwhile, others are going after the hirsute with products targeted specifically at those with beards.

"It is becoming increasingly clear the mighty beard is here to stay," says Melanie Kruger, communications manager at shaving brand The Bluebeards Revenge (see Innovations p54), which recently launched a duo of beard oils (rsp: £9.99/50ml) and a moustache wax (rsp: £6.99). That's not all. In June, Brisk launched a tea tree & cedarwood beard shampoo (rsp: £4.99) and citrus and tea tree beard oils (rsp £6.99).

Despite the growing attention some smaller brands are paying the beard, there's been less NPD from more established players in this area. But that doesn't mean they're not playing the current trend to their advantage. Some claim that with all that extra hair, more men are seeking grooming products to keep them smelling fresh and their skin in good nick.

Products such as natural grooming brand ManCave's new willow bark face wash and olive stone face scrub. "We're definitely tapping and benefiting from the trend for long hair and beards," says Alex Grogan, co-founder and MD of ManCave, which won listings in 300 Boots stores and Ocado nationwide in May, and will launch a four-strong gift set range including a 'survival kit' and shave care set in September (see p54). "Following last year's value growth of 300% this year we are growing at a rate of 65%."

Other players are looking to multifunctional products as a means of driving growth. For example, Wingman gave its 3-in-1 shower gels a revamp in January after signing a deal to support the military charity Help for Heroes, and secured a listing with Tesco the following month. Category giant Unilever is also playing the multifunctional card with the Dove Men body & face wash range.

"Multipurpose products tap the convenience trend and are a lever to get men to use more products," says Unilever category strategy manager for toiletries Peter Embleton. "As routines become more established, more engaged guys will realise they get better results by using male-specific products (rather than their partner's), which remains the long-term goal of the category."

Not everyone is convinced. "Three-in-one products are not a good idea," says Simon Duffy, founder of skincare brand Bulldog. "You end up being seen as a jack of all trades, master of none. The real growth will come from getting the grooming essentials into everyday routines and focusing on the staples."
Product launches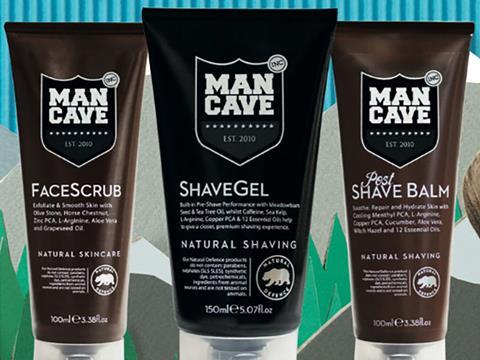 ManCave shavecare set
Launched: September 2015
Manufacturer: ManCave
Natural male grooming brand ManCave is including a shave kit to cater for both the hirsute and clean-shaven in its new gift set. The shavecare set includes a caffeine shave gel to 'soften' beards, olive stone face scrub with skin conditioning vitamin E, and post-shave balm that releases menthol for a cooling effect (rsp: £15.99). The #OwnTheBathroom quartet also includes a Supreme skincare set, wash bag and 'survival' kit (rsp: £12 to £30).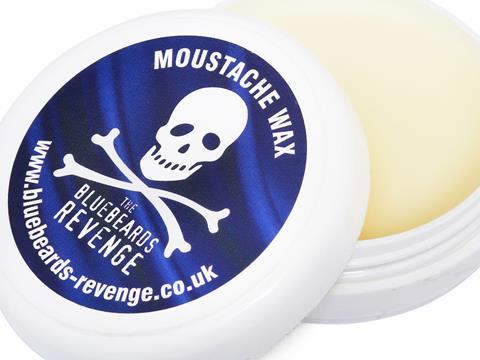 Bluebeards moustache wax

Launched: July 2015

Manufacturer: The Bluebeards Revenge
The Bluebeards Revenge started life as a single shaving cream in 2010. The latest addition to its barbershop-quality range for men with 'tough stubble' includes moustache wax (rsp: £6.99) in a 20ml tub for 'touch-ups' on the go. The NPD is joined by beard oil in two blends (rsp: £9.99): all three are available via the brand's website.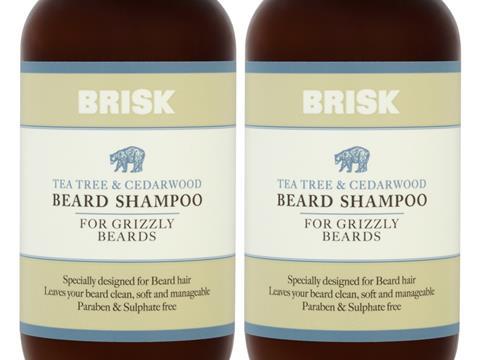 Tea tree & cedarwood beard shampoo

Launched: June 2015

Manufacturer: Brisk
Just like head hair, a beard gets mucky. New-to-market male grooming brand Brisk has included a beard shampoo alongside a two-strong range of oils designed to coat, soften and tame the grizzliest of beards (rsp: £4.99). The NPD is joined by citrus beard oil and tea tree beard oil (rsp: £6.99) and all three are available in Boots.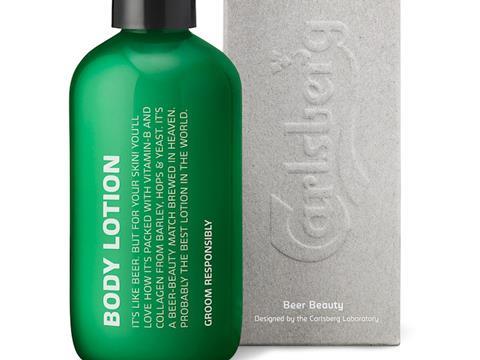 Carlsberg body lotion

Launched: June 2015

Manufacturer: Carlsberg
If Carlsberg did male grooming products… they would of course contain beer. The latest phase of the 'If Carlsberg did' push includes limited-edition male grooming sets including shampoo, conditioner and body lotion (rsp: £19.99). Available from online retailer Find Me A Gift, the range contains vitamin B, protein and minerals - and beer.
Deodorants & shower gel
No wonder Unilever is forking out £9m on ads for Lynx Black NPD. Deodorants and shower products are both in growth (see p52). The fierce deals of a year ago have tailed off, driving 4.5% growth in deodorants, ahead of volumes up 2.5%, and 5.6% growth for shower products. Volumes are down 0.7%.

IRI's read of the market suggests Nivea, L'Oréal Men Expert and Right Guard have been the main beneficiaries of this growth, with combined growth worth £9.9m, while Lynx has lost £6.1m and Sure £4.9m. How long this price-generated growth can continue is another question entirely, however.

Sales of male grooming products through the discounters are booming, with Aldi and Lidl both in double-digit growth [Kantar]. The pound stores have turned in the strongest growth, with sales up 18.9%. According to Him!, 31% of Brits have bought male skincare products in such outlets in the past year.

With the mults' male grooming share dwindling, they need to pull out the stops, says Unilever's Embleton. "Traditional shopping channels need to work harder to create an engaging environment to retain and attract shoppers. It's the traditional channels which are the best placed to convert shoppers to new categories and drive basket spend."

That's exactly what happened with the launch of Flexball, which carries a significant premium over other razors (Tesco is currently selling a FlexBall handset with one razor for £12; a Fusion handset goes for £10). "The support from retailers frankly took our breath away," says P&G's Morley. "There was awesome in-store display presence."

It will need more support if the beards persist. But fashion is cyclical; so could a comeback for the baby face be on the cards?