Healthy breakfasts are booming. But it's not the traditional low-fat, low-calorie options – shoppers want a more holistic approach
Ask anyone in food and drink and they'll tell you: health is one of the key trends in product development right now. Indeed, when it comes to breakfast cereal, the presence of healthy ingredients is an important factor for 43% of shoppers, a Streetbees poll for The Grocer has found.

It will come as a surprise, then, that health-orientated and functional cereals are tanking, having suffered the market's greatest loss. Take-home cereal sales are down 0.9% (£13.9m) overall and volumes are flat, but those defined as 'functional health' have lost 4.4% (£9.5m) on volumes down 2.7% [Kantar Worldpanel 52 w/e 9 September 2018]. What is going on?

It's partly down to a change in the definition of health. Today's Brits want a more soulful bowlful in the morning. A heap of bran or reformed wheat - ie 'functional health' cereals - swilling in skimmed milk cuts it for fewer consumers. And so well-established brands that until now have mostly relied on the promise of high fibre content or multigrains are going soggy.
Download the PDF version of this report
---
Shredded Wheat has suffered the greatest loss of the past year, of £4.2m (12.3%). Weetabix is down £3.9m (2.8%), Alpen £3.2m (10.5%) and All Bran £1.2m (10.3%) according to Nielsen sales figures [52 w/e 8 September 2018]. Volumes are down for all four. Hence the arrival of a new breed of 'healthy' breakfast brands that hope to appeal to the new generation of consumer. Gone are the overt health messages around weight loss, high fibre or low fat content. Instead, health is implied by promises such as the use of 'natural' and/or organic ingredients or 'superfoods', the absence of gluten and the product's ability to fuel exercise.
Many of these next-gen products boast on-the-go credentials to boot. See Kellogg's Joyböl, smoothie bowls designed to be eaten on the hoof that contain added protein and more so-called superfoods than a branch of Holland & Barrett. Then there's Nestlé's Lindahls Kvarg breakfast drinks, previewed last March in a trendy Swedish forest pop-up café that played host to a yoga session.

Both brands use language and iconography that implies health. Joyböl's tagline is 'Real Ingredients, Real Flavours, Real Nutritional Benefits'. Lindahls Kvarg's packaging shows figures taking part in sport and yoga - all without making the sort of specific claims, such as gut health or weight loss, that previously characterised the market.
How workplace breakfast is getting more exotic - and healthy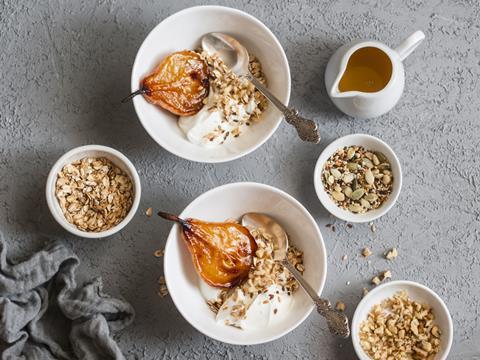 Cereal is a breakfast staple; 87% of the 976 consumers polled for us by Streetbees told us they regularly eat it. Still, the market has been in the doldrums for some time - partly because shoppers are finding more unusual, healthier and exotic dishes to mark the start of the day.
See the growing number of London eateries specialising in shakshouka, breakfast pizzas and lassis for proof of how the tastes of hip young urbanites are diverging from the rest of the population when it comes to the most important meal of the day.
But the restaurants they frequent aren't the only barometer of Britain's changing tastes at breakfast. So too are their workplaces. "We've seen a massive shift in breakfast trends over the past five years," says Rob Kirby, chef director at Lexington Catering, which serves businesses across the capital. "Our customers are much more disciplined and concerned with eating healthily from Monday to Thursday. The demand for traditional cereals and the full English has dropped."
Instead, Lexington is doing a brisk business in grab & go breakfast pots such as Greek yoghurt, pistachio, orange blossom, honey & pollen. Its free-from bakery range, vegan Grains & Greens lineup and Vitalicious juices have also proved a hit.
London-based tech company MVF reports similar trends when it comes to the breakfast choices of its employees. Since formation in 2009, the company has offered free breakfasts to its employees. And in that time, it's seen a dramatic shift in what workers want.
"When we started out, Coco Pops, Corn Flakes and Crunchy Nut were the hot favourites but in the last few years we have seen a big shift in what our predominantly early-20s teams want to consume," says office manager Logan Partridge. "Now we offer a wide range of vegan porridge, chia pudding, granola, yogurt and fresh fruit, as well as eggs, spinach and tomatoes and a host of milk alternatives."
Positive marketing
So, the marketing of breakfast cereals to health-conscious consumers has become more subtle and positive. It centres on the ingredients products contain, rather than the ingredients they don't. Cues such as 'low-calorie' and 'low-fat' are no longer taking centre stage. Instead, we're seeing language such as 'plant powered' or 'natural': words that are designed to be shorthand for healthy.

"There's lots of preachy hype around low-carb and low-sugar diets, but we believe in positive nutrition," says Robin Longden, founder of new granola brand Rollagranola, which has just won a national listing with Ocado.
"We are fighting against the notion that a soulful, healthy breakfast lacks flavour. We make homemade granola for consumers who don't have time to make it themselves."

It makes sense, given that 'great taste' is by far the biggest factor when it comes to choice of breakfast cereal. According to our Streetbees poll, 79% of 852 consumers rate it as an important factor, versus 43% for healthy ingredients and 37% for low price.
Longden isn't alone in trying to convince shoppers that a healthy breakfast can be more interesting than a bowl of bran. See WK Kellogg, which again uses language such as 'Real Honest Food' and 'Plant Powered and Proud' in its marketing. Its range includes granolas made with cocoa, cashew, almond, spelt, apricot, pumpkin seeds and even carrots.
"We left the shape-management category behind to refocus and inspire women"
"After only one year in the market, WK Kellogg is a £5.3m brand that's resonated with shoppers and managed to fill the gap for a mainstream progressive health range," says Kellogg's health & balance portfolio marketing manager Rebecca Worthington, quoting IRI numbers for 2018. That makes it the fastest-growing brand of 2018, with 3.3% penetration.
The success of WK Kellogg illustrates the power of positive health messages - specifically those that showcase ingredients and their ability to fuel activity. It also demonstrates that, amid all this focus on positivity, there is still one ingredient shoppers want to avoid: sugar.
"WK Kellogg's No Added Sugar products have been the most successful, which further showcases the increasing importance of this credential to shoppers. In response, all of the range will be 'No Added Sugar or Artificial Sweeteners' in 2019."
There's no shortage of other brands taking a similar tack. The mueslis and granolas launched by health blogger-cum-food brand Deliciously Ella in 2017 are the fourth-fastest grower of the past year, having enjoyed triple-digit growth worth £1.7m [Nielsen].
Then there's the big turnaround of the year: Special K's 1% gain on volumes up 3.7%. This growth hardly seems much to write home about, until you consider that this ends a decade of decline for what was once Britain's biggest cereal brand (it's now the sixth biggest). Again, this is down to a new approach in the way it communicates health to consumers.

"Last year was a big year for Special K," confirms Worthington. "We radically changed its communication and repositioned the brand with the new lead message: #poweringyou. We left the shape-management territory behind to refocus and inspire women with a positive nutritional core message." The functional benefits of the folic acid, iron and vitamins D, B12, B3 and B6 in Special K have been brought to the fore in the brand's marketing. Gone is the trademark red swimsuit, in is imagery of women sweating through workouts, doing lengths in frigid open-air swimming pools and running through misty fields.
Lower-sugar cereals hit or miss with shoppers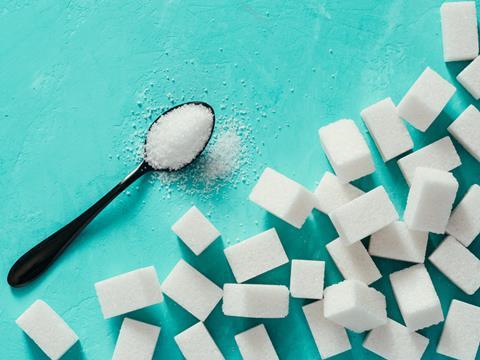 The extra £5.2m shoppers have spent on Kellogg's Crunchy Nut and Krave, which contain 11g and 8.4g of sugar per serving respectively, makes one thing clear: Britain still has a sweet tooth at breakfast.
But the sector is still making efforts to wean us off the white stuff. Last May, PHE announced manufacturers of breakfast cereals had beaten its target of cutting sugar content by 5%, achieving a reduction of 6%.
"Substantial reductions in sugar have been made in some higher-sugar cereals, like Coco Pops," says PHE team leader on sugar and calorie reduction Victoria Targett. Indeed, the latest reformulation of Coco Pops saw its sugar content fall from 9g per 30g serving to just 5.1g.
"A market-leading sugar reduction has seen Coco Pops' sugar content reduced by over 40%. It is now the lowest-sugar chocolate cereal in the category," says Kellogg's taste portfolio marketing manager Sally Bonser.
Kellogg's isn't alone, of course. "The Weetabix Crispy Minis range has undertaken a sugar reduction for 2019 and will be supplemented with vitamin D2," says marketing director Francesca Davies. "These improvements mean the Weetabix brand will continue to lead the way on best-in-class nutrition in the cereal category."
She adds: "We've been reducing sugar in Weetos for a number of years. We took a further 10% of sugar out in 2018, bringing our overall sugar content to 19g/100g (6.3g per serving). We have been testing the product with consumers and the feedback is that it remains great-tasting."
The sales figures bear this out. Nielsen puts the brand's growth at 5.6% to £15.4m, on volumes up 3.7%. But Coco Pops has suffered a loss of £3m (5.6%) as volumes have plummeted 7.4%, suggesting the new lower-sugar version of Britain's fifth-biggest cereal brand hasn't struck the right chord with everyone, even if it has with PHE.
Porridge heats up
Players in porridge, the fastest-growing cereals segment with value up 5.2% and volumes up 6.5% [Kantar], are playing a similar game. "Our entire organic porridge range is in growth," says Seb Mullin, MD of Rude Health.

"We put this down partly to the cold weather, but also to an increase in porridge-linked marketing activity throughout the year. In the winter and early spring, we championed the cold by partnering with wild swimming events across the country, offering our porridge as a great way to warm up after a cold outdoor swim."
The 'Beast from the East' that ground the country to a halt last March certainly helped the market, confirms Quaker senior marketing manager Steph Okell. "When the weather turns colder we do see sales increase for the hots segment," she says. "The unseasonable weather definitely boosted an already buoyant segment."
But it's not all down to the weather or brands' efforts to associate porridge with sport. The development of more convenient formats - pots, pouches, drinks, snacks and so on - has also been key.

"We did expect porridge sales to slow down after March, but surprisingly we actually had our best ever month in July, which was one of the hottest on record," says Jacqueline Barleycorn, founder of the Great British Porridge Co, which launched its range of ready-in-a-minute porridge pouches in January 2018. "Porridge isn't just a cold weather breakfast any more."

Demand for porridge on the go has inspired Irish brand Flahavan's to add two new variants to its range of products available in sachets - Three Seed & Oat Bran and Apricot, Raisin & Sunflower Seed lines.

"Porridge is unique within the convenience category in that it can provide a healthier option for consumers on the go," explains Karen Fennell, brand manager for Flahavan's. "With health and convenience now king for UK consumers, we've seen the demand for products that tick both of these boxes increase."
Saturation for breakfast drinks
Portability isn't the be-all and end-all, of course. Kantar figures show a 4.9% decline in portable lines on volumes down 5.8%. According to analyst Benjamin Montague, most of the blame for this falls with one particular type of product. "Breakfast drinks are struggling, declining 15.3% in value terms, caused by a big drop in penetration," he says.

Of course, it's worth noting that Kantar's numbers cover take-home sales only, and the bulk of breakfast drinks are bought and consumed outside the home. Nevertheless, Nielsen's analysis, which includes impulse sales, shows market leader Weetabix On the Go has had 14.2% of its value wiped out in the past year. That's £2.8m worth of sales.
This is partly a consequence of the market's growing saturation. Alongside Weetabix's offering, which was expanded to include kids products last year, there's Fuel10K's Liquid Breakfast and Up & Go from Australia. Quaker launched a duo of breakfast drinks in July and Tesco has unveiled an own-label range selling for approximately half the price of the big brands.

Granola brand Lizi's has also jumped in with a trio of breakfast drinks that made their debut last August. "One of the key innovations this year was the shift towards products that cater for the 50% of Brits who don't have time for breakfast in the mornings," says group marketing manager Susanne Fraser.

"In reaction to this shift, Lizi's launched its own breakfast drink creating a healthy and nutritious on-the-go option. It's packed full of flavour and boasts strong nutritional claims, being lower in sugar and higher in protein than any rival products at launch."
Feature continues below infographic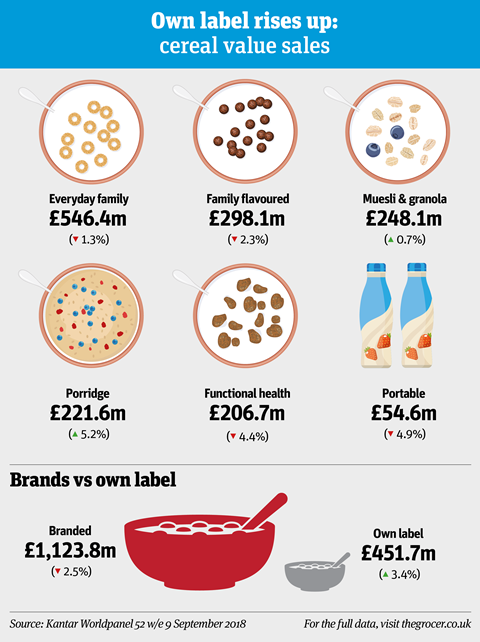 Find the full data at the bottom of this report

All this coincided with a fall in promotional support for Weetabix On the Go, says head of brand Gavin Loftus. "In the short term we pulled back on some of our media spend which was a driver of growth, but we returned to TV in October and are set to continue to invest in the year ahead," he says.

"We have increased the number of distribution points for our product year on year. You can now find our Weetabix On the Go drinks in WH Smith Travel stores across the UK, expanding our presence in the travel sector and continuing to ensure shoppers looking for a 'grab and go' breakfast don't have to compromise."

That most of the big breakfast drink ranges include a chocolate option makes one thing clear: no matter how time-pressed and health-conscious consumers are becoming, their sweet tooth remains. Indeed, Weetabix claims the Protein Chocolate Chip line it launched last year was the strongest performing protein cereal launch of 2018.
"Taste is a driving factor when it comes to protein products and we launched our chocolate chip variant to meet the needs of consumers, with 45% of shoppers now wanting to add more protein to their diet," says Weetabix's Davies. The manufacturer has also launched a caramel version of Ready Brek and its Weetos brand is up 5.6% in value.

Such products walk the line between health and indulgence (Weetos claims to be one of the lowest sugar cereals on the market), but that doesn't mean there's not a place for unapologetically decadent breakfast cereals.

After all, among all the health-orientated players in Nielsen's list of fastest growers there's Kellogg's Crunchy Nut and Krave, up £2.9m (3.8%) and £2.3m (9.6%) respectively. "Whilst the emphasis on health continues across the entire cereal category, the year-on-year growth of Crunchy Nut and Krave demonstrates the importance of taste for shoppers," says Sally Bonser, Kellogg's taste portfolio marketing manager.

Which goes to show, you can't be virtuous all the time.
Innovations in cereals 2019
Click on an image to expand