As Brits prepare for Brexit doomsday, could the humble can find itself the new sustainable saviour of stockpilers everywhere?
Fancy a plate of great British Spam hash? That mouth-watering delicacy became a dinnertime regular during World War II, when the scarcity of fresh fruit & vegetables and rationing of meat, cheese, eggs and butter left many turning to canned food for sustenance.

As a nation, we like to think our culinary repertoire has moved on a little since then. Yet, it turns out, families could once again find themselves reaching for their tin openers. Because as Brexit looms, Britain will face the toughest challenge to its food supply chain since the Second World War.

At least, that's the warning of historical reoccurrence that Shane Brennan has been giving to anyone who'll listen. In November, the chief executive of the Food Storage & Distribution Federation told The Guardian the UK was running out of food warehouse space amid fears of a no-deal Brexit. He went one step further in March, telling Mirror Online that Brexit could see shoppers suffering "significant disruption to their weekly shop in terms of the things they would normally expect to buy, shortages of some products, and some degree of increase in cost because of the difficulties we're experiencing getting stuff to the end consumer".

Of course, that's a worst-case scenario. The specifics of Brexit are still unknown, to say the least, and its consequences are yet to be experienced. However, there is a clear sense of anxiety about the situation across every category of food and drink.
"Canned produce has had an image problem, particularly among younger shoppers"
Except, perhaps, canned. Currently worth £2,327.3m in take-home sales [Kantar 52 w/e 30 December 2018], it's a market that has the potential to do well in post-Brexit Britain. Until now, it has been shunned in favour of fresher options with more premium, healthier connotations. But the exact same attributes that have traditionally hampered the performance of canned - its comparatively long shelf life and value-led image - could make it increasingly attractive in today's environment. Because for cost-conscious shoppers worried about running short of groceries, there is no other food that better fits the bill.

So could canned benefit from the 'Brexit effect' as punters prepare for the worst?

Certainly, things are looking up. Over the past year, the category has gained an extra £45m [Kantar]. Granted, that's entirely down to a rise in average price, and volumes are flat. But even these low numbers are pretty respectable for a sector that's been in the doldrums for about twice as many years as the epic tussle between Allied and Axis powers lasted.

"It is fair to say that canned produce has had an image problem, particularly with younger shoppers, who tend to view the format as old-fashioned and as something their parents would eat," says Robert Burns, marketing controller at Malton Foods.

Martin Tilney, senior commercial director at tinned fruit leader Del Monte, thinks that is beginning to change. "It's been a tough market for the past 10 to 15 years as people have moved from canned products to fresh," he admits. That said, the category is "in pretty good shape" right now compared with previous years. "We've seen some good signs over the past 12 to 18 months."
"It has been a tough market as people have moved from canned products to fresh"
Stockpiling nation
Tilney is reluctant to attribute Del Monte's recent growth to the reported instances of Brexit-sparked stockpiling. "It does seem odd in this day and age that people would be doing that," he says.

But stockpiling they are. Last month, a survey by Him suggested 13% of supermarket shoppers were planning to "stock up" on foods ahead of the upheaval.

It's a behaviour that GlobalData retail analyst Thomas Brereton has noticed. And canned food is a key item (it was even mentioned in a Guardian guide to stockpiling). "Shoppers are either stockpiling or planning to stockpile a wider range of items than the predictable cupboard staples such as household products and cereals. Tinned fruit & vegetables are proving popular, as well as tinned meat," he says. "It is the fear of price increases rather than shortages that is the biggest driver - 60% of stockpilers are doing so because of a belief of higher prices and 52% are doing so in anticipation of shortages."
Among retailers and suppliers, the level of hoarding activity is apparently higher. There have been numerous reports of warehouses around the country packed full of goods in Brexit readiness.

Tinned fish powerhouse Princes is stockpiling key lines for four weeks at a time, says marketing director Alan Eriksen. "We've tried our best to conduct as much forward planning with our customers as possible, and to plan for all eventualities. We've had very strong and active communications with our customers and suppliers.

These efforts are because Princes "very much" shares the concerns of the Food & Drink Federation over a no-deal Brexit: namely, that it will cause chaos at the ports. "The key message is that we urge the UK government to provide urgent clarity where it can," says Eriksen.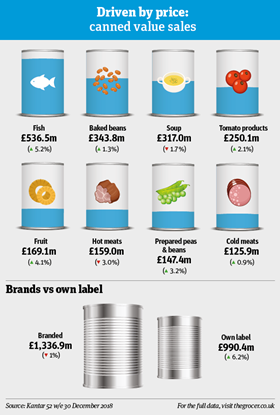 Amid all this forward planning, Princes is also looking to futureproof its brand. It believes Brexit stockpiling is far from the only opportunity for canned to reassert itself. Indeed, it has bet £5m on that being the case. In March, Princes revealed it had spent that amount on a modern makeover of its portfolio, with an eye to driving "a reappraisal of the brand" and bringing "fresh energy" to the tinned category.

The first revamp in 14 years for Princes, it represents the "most significant marketing push ever for the brand, both in terms of spend and activity", Eriksen says.

"One of the aims of the project is to retain existing consumers but also target a new and younger shopper base. This all comes at a great time as ambient is really fighting back against fresh. We've seen value growth for the first time in five years, largely driven by green credentials - cans are 100% recyclable. So, it's actually a great opportunity to take the lead and really galvanise the category."

In fact, many in the canned goods industry are seeing fresh opportunities ahead.

Dean Towey is one. He's the marketing director for Love Canned Food, the initiative set up in July 2017 by Princes and Crown Foods to educate consumers about the positives of tinned goods. "The category needs to focus on responding to consumer trends to be relevant and maintain, or gain, market share in an unpredictable retail climate," he says.

As he points out, the booming areas of food and drink are those that tap into the major trends of the moment, such as health, convenience and sustainability. Canned isn't often thought of as one of these products, but Towey begs to differ.

"Canned products fulfil all of these requirements. The cooking process retains the delicious taste and can lock in natural goodness. With the increasing concern about the environment, consumers can purchase knowing that cans are able to be recycled time and time again. Whether it's pulses, tuna, peaches, tomatoes or something else entirely, there is a product to satisfy consumer requirements.

"Well-established, trusted brands play an important role due to the consumer trust they've earned over the years and increasing relevance to shopper needs."
"Well-established, trusted brands play an important role due to their consumer trust"
If they are to position themselves as a healthy, convenient and sustainable offering, though, they have their work cut out. That's particularly true in terms of health credentials. Many consumers believe "fresh is best and canned products are less nutritious", says Doron Lass, marketing executive for soup at Heinz.

She is quick to dispel that perception. Firstly, the canned format negates the need for the artificial preservatives shunned by the clean eating crowd. "Many consumers believe a product containing no nasties is worth paying more for," Lass says.

Plus, she says many canned products contain low sugar and salt, which "a significant proportion of shoppers" put among their top five criteria for purchase. For its part, Heinz has embraced this insight by launching the Eat Well soup range and no added sugar versions of its established soups. Del Monte's Tilney is equally emphatic about dispelling the notion of canned as unhealthy. "It's not," he says. Tinned fruits are "as good as, if not better than, fresh" - but consumers "can't get their head around" the three-year shelf life.

That's why canned manufacturers need to concentrate on marketing rather than innovation, he adds. "We need to push the benefits of canned products - of which there are many."
The value proposition
Value is another plus point. As Tilney puts it, cans have "a relatively keen price". That's especially true in own label, which is 32% cheaper than branded per kg [Kantar].

Consumers seem to be taking note. Own label was entirely responsible for the category's growth - up 6.2% while branded took a 1% tumble.

Understandably, brands aren't happy. Baxters category & shopper development controller Gordon Sloan says cheap own-label cans are "destroying category value in a race to the bottom". He urges retailers to pass inflationary pressures on to shoppers "to protect the investment their suppliers require and to retain their own margin aspirations".

In the meantime, Baxters says brands need to "communicate their qualities and differentiate from own label" to regain sales. "'We Make Super' from Baxters does this clearly, and will be used across our wider product portfolio to reinforce our credentials and differences from other brands," he says.

"We continue to have a value-adding position in all the categories we participate in. Being clear on our role and investing in our brands helps retailers understand the category-growth, value-accretive opportunities available."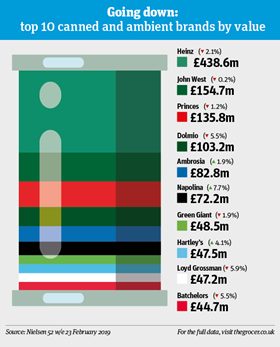 Malton Foods' Burns is of a similar mind. It is possible to change attitudes towards ambient food, if brand owners "can get the messaging right and make their food more relevant", he says. "This means having the mix right from the outset, delivering healthy options with modern, relevant menus that tap emerging trends and themes in a convenient and sustainable pack format."

Speaking of formats, it's brands that are thinking innovatively in this space. As Del Monte's Tilney says, there is nothing wrong with the traditional can. "The can itself is pretty good," he says, pointing to its sustainability and recycling credentials.

But younger consumers are starting to turn away from the tin (many articles claim millennials don't even own can openers). So brands have innovated accordingly.

In the case of Del Monte, it made a concerted push into snacking and on-the-go last October with Fruit Fusions and Fruit Express ranges in clear plastic pots - in spite of the backlash against plastic.

"We did consider a clear can that shows the fruit," Tilney reveals. "We've been very cognisant of the consumer view of plastic, so we've ensured the pots are fully recyclable. Consumers want on-the-go, they want convenience - but that means throw away-ability. You can't carry a can in your handbag, but you can carry a small pot."

The convenience argument led Heinz to relaunch its Creationz range of Beanz in a microwaveable pouch, and take a similar route with soup. John West is dabbling in an array of fancier formats. In the past year or so, it has launched its resealable No Drain Fridge Pot "to make eating fish more accessible". Then there's Easy Peel Mackerel to ensure "no sharp edges or messy splashback", while June will see the brand extend its Steam Pot instant meals.
"There is an opportunity for brands to educate consumers about canned products"
More and more brands are "ditching their canned formats", according to Holly Bouldin, brand manager at Green Giant. She says sustainability remains a priority for the brand, though. Green Giant "continues to produce its sweetcorn in recyclable packaging", which includes jars made with 60% recycled glass and carton trays.

Whether in recyclable glass, microwaveable pouches or traditional cans, one thing is clear: there is a growing potential for ambient. "There is an opportunity for brands to educate consumers about the ingredients in canned and ambient products, as well as inspire usage with healthy recipe suggestions," claims Neil Brownbill, commercial director for Napolina - which has a 'Cooking with Napolina' YouTube channel offering "recipes to inspire".

Alternatively, families can turn to a good ol' fashioned cookbook. The year World War II began, Ambrose Heath's 'Good Dishes From Tinned Foods' was published - whereas contemporary households in fear of Brexitageddon will next month see the publication of an eerily similar tome: 'Tin Can Cook' by Jack Monroe. Talk about history repeating itself.
Innovations in ambient & canned goods 2019


Daniel Selwood is The Grocer's special projects editor, managing Britain's Biggest Brands, Britain's Biggest Alcohol Brands, The Dairymen and Top Products – as well as contributing to news, analyses and category reports.

He joined the magazine in January 2016 as food & drink editor, having been at financial & legal publisher LexisNexis for eight years.

He began his journalism career in the mid-1990s at a general interest magazine in Sheffield.

Follow Daniel on Twitter: @danielmcselwood