Excess isn't cool anymore. Far from living up to our boozy international image, Brits are cutting back on the sauce
An extra 600,000 people turned teetotal this year, and as a nation we consumed a whopping 13.1 million litres less of beer and lager than in 2016 [Kantar Worldpanel 52 w/e 18 June 2017]. It's no disaster for the drinks industry, though. Consumers might be exercising a bit more moderation when topping up their tipples, but they're spending more when they hit the shops. Brits splashed out an extra £345m on booze this year, purging their wallets of a collective £12.2bn.
Beer volumes have fallen despite shoppers having spent an extra £44.5m on Britain's favourite bevvy, and average prices are up across the board, by approximately 2.2%. Only sparkling wine got cheaper this year (by an average of 23p per litre), suggesting tabloid warnings over toothless 'prosecco smiles' went unheard.

Less is also more in Britain's booze aisles. Retailers have slashed their ranges over the last year, axing SKUs from previously untouchable brands. Ranges across the mults are now significantly more streamlined: Asda's wine range, for instance, is 25% smaller than it was at the start of the year. Yet simplification is bringing drinkers back to the mults. So why are shoppers going nuts for expensive alcohol? How are retailers making more out of booze while stocking fewer SKUs? And what does the coming year hold for BWS?
"Consumers, especially millennials, are looking for brands that have an authentic story"
The crux of the matter is that we've changed the way we shop: the big weekly trip to the supermarket is steadily becoming a thing of the past. We're shopping more frequently, and trading up when we do. "Consumers, especially millennials, are becoming more sophisticated," says Crispin Stephens, head of customer marketing at Bacardi Brown-Forman. "They are looking for brands that have an authentic story behind them."

Brands have been quick to cotton on to this yearning for authenticity, with a slew of releases such as Heineken's fledgling Maltsmiths brand and Guinness' ongoing Brewers Project series touting their craft credentials. "People are happier to pay a bit more for a product they feel says something, focusing on excellent ingredients, production and provenance," adds Gauthier Boche, head of strategy and innovation at brand design agency Webb deVlam.
Alcohol Category Snapshot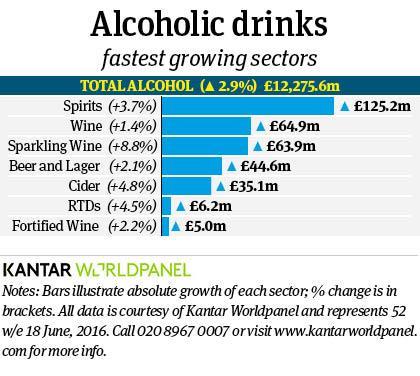 Convenience retailers are winning out as drinkers change their buying habits. "This idea of trading up fits very nicely with convenience top-up shopping," says IRI head of alcohol & impulse Toby Magill. "It's where you can treat yourself at an affordable price point. Convenience retailers (including the likes of Little Waitrose and Tesco Express) are closer to the cutting edge."

That the Co-op's current share of the booze market is nearly 50% higher than its share of grocery as a whole, with value sales growing at 3.2%, is proof of the channel's potential. The Co-op's category trading manager for BWS, Simon Cairns, says the retailer plans to become "the leading retailer for beers, wines & spirits in the UK", having previously cited a move away from promotions to EDLP for its success in wine. M&S's booze sales are up as well, by 8.2%, thanks to a sleek combination of premium brands and high-end own label, and a decade spent positioning itself as the go-to outlet for special occasions.
Rationalisation
But Tesco's is the real success story. This time last year, sales of booze in Britain's biggest supermarket were dwindling away. Now, following an unprecedented slimming of its BWS ranges, they're growing 3.4%. "Tesco will see this as vindication for bold decisions such as its range rationalisation in lager and being the first major retailer to make a concerted play on craft beer and non-alcoholic fixtures," says Kantar analyst Rupert Davies.

Retail consultant John Butler has previously attributed a large portion of Tesco's success to the way it uses data. The super calculates a 'customer importance score' for every SKU to work out how substitutable it is, and what customers will be willing to buy in its place. This has led to some serious casualties: Foster's, which almost completely disappeared from its shelves in March, has been in steady decline since, with sales down a whopping £29m (6.7%) on last year.

Bulmer's, whose presence on shelves was also reduced, is down £15m, its value almost halved since 2015. Sales of long-suffering Carlsberg are still down but showing signs of recovery - its decline has slowed to 14.8% (a loss of £36.4m) after a year of heavy investment in marketing and rebranding [IRI 52 w/e 22 July 2017].
Winners & losers in Alcohol 2017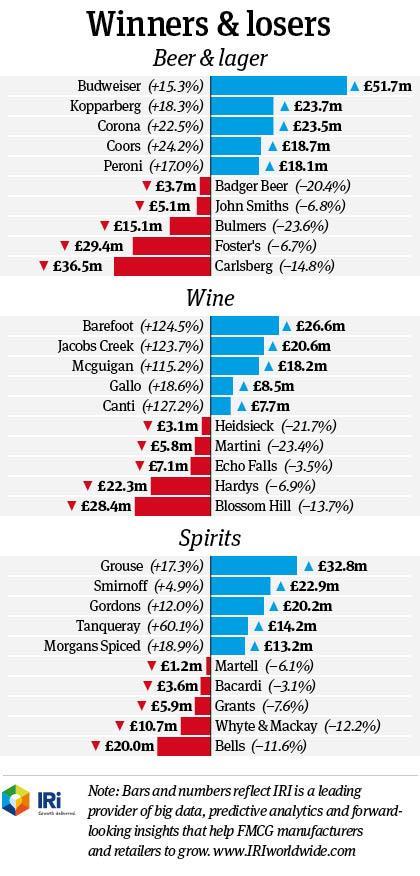 Asda, too, has tempted drinkers back to its fold by slashing the number of multipack and mainstream bottled beer and cider SKUs to make room for craft beer and spirits, and totally revamping its wine offer with a significant focus on pricier bottles and premium own label. Like Tesco, its booze sales are now on the up, by 1.7%.

"Tesco has basically proven you can take a major player off shelf, and consumers don't mind," says Magill. "It suggests that a lot of the big mainstream brands are very interchangeable. Meanwhile, Tesco is doing fine and they've probably saved money on the back end because their range is simpler."

Rationalisation has had a disproportionate effect on beer and cider brands compared with other types of alcohol, although it undeniably contributed to big losses for big wine brands with too many SKUs, such as Blossom Hill, down £28m. Generally though, spirits and wine are "more fragmented" says IRI's Magill. "There is plenty of room to cut and reduce space without necessarily having to touch the big guys, whereas in beer, particularly in the big supermarkets, you're going to have to take out a major player if you want to make a dent in the ranging."

Sainsbury's is the odd one out. It's the only supermarket, and indeed the only retailer (barring independents and symbols), whose value sales of booze have declined - they're down 3.3%. According to a spokeswoman, the super is "constantly reviewing all of our ranges to give our customers the best choice, quality, and value".
"The idea of trading up fits very nicely with convenience top-up shopping"

But Butler suspects this fall in value is more likely due to a shift in its long-term strategy. "They wanted to stop the ridiculous act of pricing high then slashing, and have a more sensible market price with suppliers investing," he says. "What I'm hearing is they are prepared to take a hit in the short term, so you are going to see a reduction in sales growth, to the point where it is negative, but actually making more cash profit on that turnover.

"Spirits suffered from deep discounting to a lesser extent, but beer was almost as bad as wine - you'd be driving volume but making very little cash profit, even if the sales line looked tremendous. But they're not prepared to play that game any more. So now you're not seeing that phenomenal sales growth in value but you are making more cash profit on the value you do have. Medium to long term, it's not a bad strategy."

Low and non-alcoholic booze is also likely to play an increasingly big role in the category. Figures obtained by The Grocer in August revealed Brits chugged a record 18.2 million litres of low and non-alcoholic brews this year, and brands are heavily investing in the segment [Nielsen 52 w/e 15 July 2017].


Brewers are mastering much more credible low or non-alcoholic beers," says Kate Waddell, global insight & innovation director at brand agency Dragon Rouge. The latest of these, AB InBev's 0% Budweiser Prohibition, rolls out this month in trendy 330ml cans. AB InBev, convinced of the potential in non-alcoholic, wants 20% of its global volumes to be booze-free by 2025.

But, says Waddell: "The growth has not just come from 0% abv alcohol analogues, but from non-alcoholic adult alternatives, such as the Diageo-backed 0% Seedlip gin, or the growth in sophisticated adult cordials. An interesting middle ground may also present itself between wine and spirits with fortified wines and vermouths served in spirit-style serves but without the same alcohol by volume."
Simplification
And there's still room for things to get simpler on-shelf. "You can't argue that BWS is a very simple category to shop," says Magill. "There is a long way to go before the supermarkets are anywhere close to the discounters in terms of how they range things."
Retailer performances in Alcohol 2017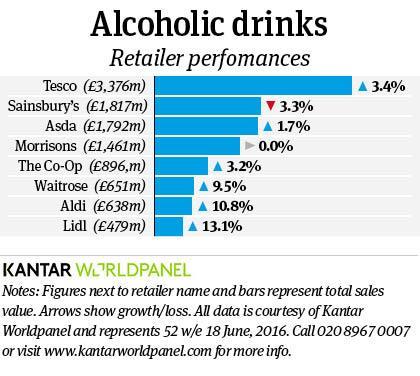 That being said, the supers have one distinct advantage over Aldi and Lidl when it comes to booze. "Aldi and Lidl have a gap in BWS because they don't have all of the brands," he stresses, the alcohol market being disproportionately led by brands. Indeed, value sales of own-label alcohol rose by a respectable 5.4% this year, but that only accounted for less than one third of alcohol volumes, with own-label wine sales accounting for more than half of that.
"Aldi and Lidl will become a threat. Their ranges do tend to be of high quality"

Both Aldi and Lidl command a smaller share of alcohol sales than they do of total grocery, even with significant sales growth - of 10.8% and 13.1% respectively - over the last 12 months [Kantar]. But they may not drag behind forever. "I think they will become a threat," says Magill. "As consumers get happier shopping in the discounters, buying alcohol there will become more natural. And their alcohol ranges do tend to be of high quality."

The quality of booze, rather than its affordability, is likely to grow even more important over the coming year, he says. "If shoppers are willing to trade up through what have been relatively tough times, I don't see this suddenly stopping if things get better."