What do Magnum ice cream, Tilda rice, Pom-Bear crisps and The Collective yoghurt have in common? They're all mainstream brands that haven't changed in any way for the free-from audience - but they're edging into the category with some brazen on-pack claims.
Magnum and Tilda are labelling all their products gluten-free, even though ice cream and rice are among the last places you would expect to find gluten. Similarly, Pom-Bear is marketing its plain crisps as dairy-free and The Collective has won a place among the top 10 bestselling free-from brands thanks to slapping 'gluten-free' on its yoghurts.

And who can blame them? It's been yet another a bumper year for the free-from market, which has enjoyed a 37.5% rise in value sales to be worth almost £1.5bn, according to Kantar Worldpanel. That's not all down to pricier products; volumes have also shot up by 26%. The rise has been so meteoric that even space-constrained Aldi and Lidl have launched their first free-from lines. With such fast-growing appeal, it's no wonder free-from is drawing in the mainstream brands like moths to a flame.

But what happens if you delve a little deeper? Is the market really in such good shape, or are the figures being artificially inflated by brands that don't exactly fit the 'free-from' bill? Should brands even be making free-from claims if they're not offering anything special?

Kantar is clear the estimated £1.5bn market value, which is based on sales of products that make free-from claims on pack, is somewhat distorted. "It is important to note that some of the growth we see in the category will be artificial, as manufacturers relabel products that are naturally gluten-free to emphasise this health benefit," says analyst Alice Cadman.

This factor could also account for the stellar rise in purchase frequency. Over the past year, Brits have shopped the category an average of 18.6 times a year, representing an increase of 24.4%. And penetration has now reached 92.1% of households.

But these figures are unlikely to be entirely explained by mainstream brands slapping on free-from labels. In fact, the rise of these claims is more a symptom of growing consumer interest than a cause. Online searches for dairy-free products have shot up an impressive 106% over the past three years, according to online behaviour analysts Hitwise, while online searches for gluten-free products are up 48%.
Specially designed lines
As a sign of confidence in the market, many big names have decided to invest in specially designed lines for free-from shoppers. PG Tips, Paxo, Müller and Bisto are among the household favourites to have dipped their toes into the free-from pond over the past year. Müller made its mark with the May launch of Müller Corner Lactose Free, a two-strong range of split-pot yoghurts in strawberry and red cherry flavours, that represented a bid to "strengthen our leadership in new and exciting parts of the category". In March, PG Tips launched a black tea designed especially to be drunk with milk alternatives. The Perfect with Dairy-Free brew, which comes in at £2.60 for 70 bags, promises to "perfectly complement" the likes of almond milk and oat milk. Premier Foods has also muscled in further on free-from territory. Since launching its Paxo gluten-free stuffing and Bisto gluten-free gravy in October, the products have won Coeliac UK's seal of approval and generated just under £500,000 in sales.

For Premier Foods, it's an obvious move. Its Mr Kipling brand entered the free-from category last April with the launch of gluten-free mini cherry bakewells and three loaf cakes. The reaction was so positive the range has since expanded to include gluten-free chocolate brownie slices in September, which are now its bestselling free-from line.

"The continued growth over the last year has meant big-name brands are helping retailers capitalise on the demand for free-from products," says Premier Foods marketing director Yilmaz Erceyes. "The presence of options from these well-known, trusted brands is further attracting shopper attention as more and more viable solutions are coming to the market."

It looks like there will be plenty more growth where that came from. Gluten-free options in particular are set to be in for a windfall thanks to government policy. In February, the Department of Health decided bread and flour mixes were the only foods that should remain available on prescription for coeliacs, who used to be able to get everything from cakes to biscuits on the NHS. When that change comes into force (the date is yet to be confirmed as it will require a change to drugs regulations) coeliac shoppers are likely to start buying more from the supermarket aisles. Considering ambient bakery products are already a sizeable, fast-growing area - up 18% in value to £143.8m - this could be a significant development.

Dairy-free is another area due a boom. It's already the biggest sub-category by far in the free-from market - up 18.3% over the past year to be worth almost £400m - but the rise of veganism could make that figure much higher. According to the Vegan Society there were 542,000 vegans in the UK in 2016, which represents a 360% increase over the previous 10 years, And over half (56%) of Brits adopt vegan buying behaviours at some point, its figures suggest. Having witnessed the biggest-ever Veganuary at the start of this year, the supermarkets are now rushing to increase their lines. Waitrose has added more than 50 new products to its vegetarian and vegan offering and created a specific 'green bay' - its first dedicated vegan section - featuring products such as gluten-free pizza from startup The White Rabbit Pizza Co and Bol's veg pots and soups. Bol founder Paul Brown says the response has been "incredible".

Meanwhile, Tesco has drafted in chef Derek Sarno to take on the newly created role of executive director of plant-based innovation, whose mission is to revamp and expand the retailer's plant-based range. His work so far includes the January launch of Wicked Kitchen, a 20-strong range of vegan ready meals, including a dairy-free Caponata pizza that replaces cheese with a caper and basil tomato sauce and salsa verde.

Although many of these options don't strictly fall into the definition of a dairy alternative, Alpro believes this can only be good news for the dairy-free category. "The recent rollout of countless vegan and vegetarian offerings, such as Tesco's Wicked Kitchen healthy vegan range, shows this is a category they are continuing to take seriously and invest in for the long term," says head of marketing Vicky Upton. "One in three households now buys plant-based food and drink products every week, but this means there are still two out of three households that don't. This indicates plenty of room for further growth."

"Free-from is now cemented as a mainstream choice for those simply looking to enjoy a healthy, balanced lifestyle - and its shopper base spans well beyond its 'needs-based' heartland, with one in three households buying into the plant-based category," she adds.

There is similar confidence visible at dairy-free oat brand Oatly, which is approaching the top 10 bestselling brands for the first time. Value sales shot up 68% to £15.5m [Nielsen] - a performance it says is driven by its oat-based milk alternatives. Similarly to Alpro, which launched single-serve, on-the-go Alpro Caffè drinks in May, it has spent the past year concentrating on the coffee scene. Oatly was actively promoting its Barista Blend at the London Coffee Festival and, as result of all this activity, the oat milk latte has secured itself a spot on the menu at trendy Shoreditch eateries. The brand is confident the appeal goes beyond hip East Londoners. "It is clear that the free-from category is going in one direction, and it is set for the long term," says Oatly's general manager Ishen Paran. "The question isn't can the growth continue, but how far it will go."
Cynical marketing?
All this positive activity is making it increasingly tempting for brands to display 'dairy-free' and 'gluten-free' labels on pack, even if they're not doing anything particularly special. Magnum and Tilda are just a couple of the many examples. Yet the lack of innovation involved doesn't seem to be putting off the public. Noodle brand Mr Lee's can testify to the power of displaying 'gluten-free' cues on pack, despite its rice noodles naturally not containing any gluten.

"It was upon seeing the free-from sector increasing at such a rampant rate that I knew that we had to not only label the product as gluten-free, but actively market it as such," says Damien Lee, CEO of Mr Lee's Pure Foods Co. "We can say with certainty that has indeed given way to an uplift in sales and general brand awareness."

It isn't necessarily just a cynical marketing exercise. For certain products, shoppers may be in doubt as to whether they contain gluten or dairy. In the case of Mr Lee's, it may be important to distinguish the brand from egg noodles, which do contain gluten. Even less obvious products can cause shopper confusion. As a meat snack, biltong is naturally gluten-free. Yet biltong brand Ember says gluten content is a question continually asked by customers. "This is a secondary shout out on our packaging but really important for the consumer to know it contains no gluten," says co-founder Harry Mayhew.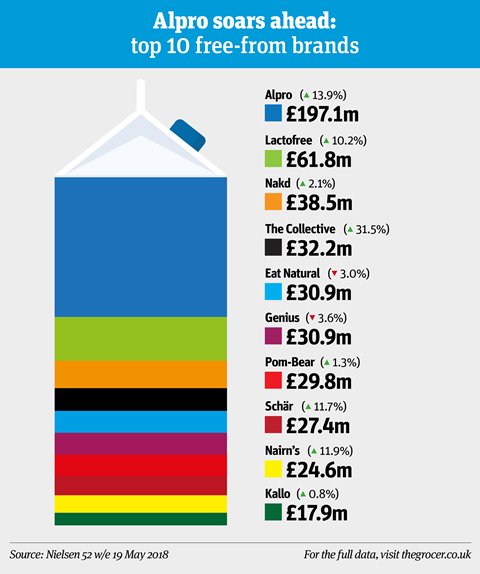 Click for popup table

For other products, the need for free-from signposting is less clear. Hamish Renton, who was Tesco's head of own label for four years and launched its free-from range in 2002 before setting up his own consultancy firm HRA Food and Drink, cites the example of The Collective. Its gluten-free claims have earned it a place in the free-from category, where it is the fourth bestselling brand with value sales up 31.5% to £32.3m [Nielsen MAT 19 May 2018]. The brand's mantra is to provide 'the greatest dairy imaginable', so should it really have a place rubbing shoulders with the likes of Alpro and Lactofree? Renton says not. "They don't belong there," he says. "They are basically a dairy company producing high-end yoghurt. They've done very well and it is a nice product, but do you expect a yoghurt to have gluten in it? It's like, do you expect peanuts to contain orange juice? No. I think it's a misnomer. They're a nice challenger brand and they've come in and done something different but they're not in the same league as Alpro and it's skewing the category." Similarly, you could ask whether Magnum shoppers really wonder whether ice cream contains gluten, or whether Tilda shoppers really believe rice needs a free-from badge.

Renton believes all this is muddying the waters when it comes to reading the free-from market. "Part of the issue with the category is it's moving quicker than the data can keep up with," he says. "If you ask people how big the category is they don't really know - it could be anything between £600m and £1.2bn because it depends what you count."

Even if Kantar's £1.5bn value is exaggerated, retailers certainly seem to think the market is large enough to take seriously. Despite their limited space, the discounters have dedicated shelves to free-from products. Aldi launched its first own-label free-from range last August. Lidl was hot on its heels with its first permanent gluten-free range in April, featuring own-label products from as little as 79p and big-name brands including Warburtons, Nairn's, and Nestlé GoFree. Unsurprisingly, its free-from sales have rocketed as a result. Aldi's value sales have soared by 168% over the past year, while Lidl's have shot up by a huge 312%.

For obvious reasons, free-from remains a small fixture in the discounters. In the big four, ranging is in a totally different league. Having been in the free-from arena for years, they are now looking to outdo each other with ever-more extensive choice. Eat Real has noticed a step change in their efforts of late. "Increased consumer demand for free-from has convinced retailers to recognise just how big an opportunity it is - they're now championing the category with dedicated fixtures, clear signposting and attractive promotions, all of which underline the importance they place on the sector and the opportunities it presents," says director of commercial sales & marketing Debbie King.

Gluten-free bread brand Schär has noticed a similar trend. "Retailers have improved distribution and space meaning that customers have enhanced choice when shopping the free-from fixture in large supermarkets and a good basic range fixture in local convenience stores," says category manager Roger Harrop. "As retailers' appreciation of the growth and potential of the category continues, and manufacturers fill the gaps with mainstream favourites, shoppers are more attracted to the category and purchase more from the sector."
Customers demand more on-the-go free-from options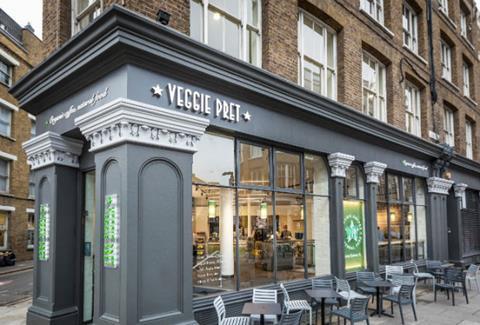 Carrot pastrami, avocado falafel and beetroot tortilla: when it comes to free-from options we can eat on the go, we're spoilt for choice.
When it comes to dairy-free in particular, we have the vegan revolution to thank. Pret a Manger led the charge back in 2016 with its first veggie stores. Having tested the waters with Veggie Pret, which was packed full of vegan options, the format proved so successful that it opened a third in October.
Now the supermarkets are catching up. Tesco's new executive director of plant-based innovation Derek Sarno has not only brought with him a range of ready meals, but an innovative selection of dairy-free sandwiches, salad and wraps.
NPD to hit Tesco's food-to-go fridges in 2018 included a carrot pastrami-spiced wrap under the retailer's new Wicked Kitchen brand (rsp: £3), a Smashin' Pumpkin Falafel Sandwich (rsp: £3) and a gluten-free Rainbow Curry Salad Bowl (rsp: £3).
Isla Owen, senior marketing manager at Adelie Foods, which owns on-the-go sandwich brand Urban Eat, says: "The requests from customers to expand our offering further are becoming more and more frequent and we've reflected this with the expansion of our Urban Eat Roots range."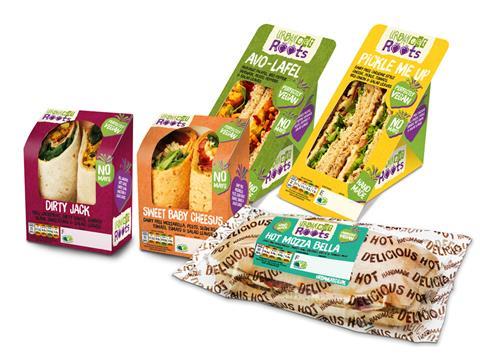 "Even the long-time industry giants have taken note of the movement and are moving to include veggie and vegan options," adds Paul Brown, founder of meal pot brand Bol. "The fact that the number of vegans has increased by 360% in the UK over the past 10 years is just the tip of the iceberg. Beyond this figure is a sweeping number of people who are aware of the impact they have on the planet and are looking to reduce their meat and dairy intake."
Those people have prompted Bol to go 100% plant-based by ditching dairy this summer. "It felt maverick and scary at the time, but we have gained huge confidence from the response received," says Brown.
A small world
Renton says this extensive ranging is a key point of differentiation for the supers. "When the discounters do launch products, they're well-thought through and well-executed. But there is just one of them, and part of the issue for free-from shoppers is that you feel your world is small because there's a whole list of stuff that other people can eat but you can't, and that feels bad," he says. "You want to be normal but you can't be, and the trouble with the discount model is they will produce a really good quality product but that is all you'll get. It's not as much fun going there as it is elsewhere where you can browse five bays of different cereal bars."

It may be more like five whole aisles of dairy-free pizzas if the rate of innovation hitting the retailers continues. Over the past few years, there has been a constant wave of new products. NPD hitting the shelves this summer will span everything from Napolina gluten-free chickpea pasta to gluten-free scampi from Whitby Seafoods, a dairy-free oat latte from Jimmy's Iced Coffee and a gluten-free salted caramel and peanut bar from Eat Natural to name but a few. Even kids are being catered for with the February launch of biscuit brand Bahlsen's first gluten and lactose-free biscuit Zoo Imagination made using corn and teff flour.

Own label producers are also dialling up the pace. Sainsbury's has just launched a three-strong reasonably priced range of plant milks (one litre of Unsweetened Almond Milk is £1, while a 750ml Innocent product is twice the price). And Northumbrian Fine Foods, the UK's biggest producer of gluten-free biscuits for Asda, Tesco, Sainsbury's, Morrisons and Co-op as well as the Prewett's brand, has launched more than 50 new products into the market in the last year including its first savoury snacks.

"For own label we work very closely with the retailers to ensure quality, consistency, as well as regular new product launches. New product development is an incredibly important driving force for building sales and customer loyalty," says Northumbrian Fine Foods' business improvement director David Wood. "It's all about replicating both the mainstream offering as well as offering exciting new flavours and recipes."

Exciting new flavours certainly seem to have worked for brands such as Ilumi, whose gluten-free and dairy-free ready meals include options such as Kerala Chicken Curry, Za'atar Chicken and a Vietnamese Beef Pho Rice Noodle Pot. When food manufacturer Symington's bought the brand from Tanfield Foods in 2014, it was only available through foodservice and via the brand's website. Now the range has racked up listings in Asda, Tesco and Morrisons.

Symington's has credited the brand as being instrumental in its "complete turnaround" and return to profit following multimillion-pound losses (the company recorded a net profit before tax of £1.7m for the year ending 31 August 2017, compared with a £5.6m loss in 2016).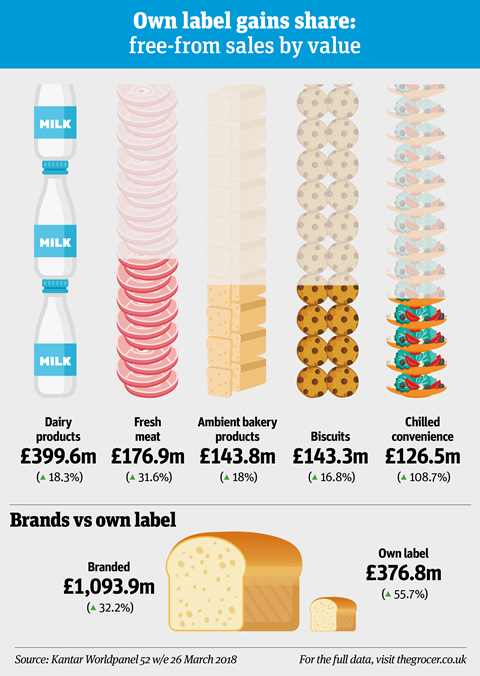 Click for popup table

To have retailer backing is obviously good news for these up-and-coming brands. But there is a flipside. The value of own label is growing far faster than branded - up 56% and 38% respectively - so could represent stiff competition. Own label offerings could also keep a lid on prices, says Zack Nathan, CEO and founder of coconut snack brand Ape Snacks. "The big four retailers have introduced more space to own label free-from to capitalise on growth brands have delivered and the consumer education they have created," explains Nathan. "This creates an everyday low price environment and, as free-from is gaining mainstream traction, high-low and discount strategies will become less prominent as brand and category equity building will become more paramount as opposed to trial."

There is also the danger that retailers will look to promote their own lines in favour of brands. Yet JK Foods, which sells Chippa free-from condiments to Asda, Sainsbury's and Morrisons, claims brands are playing an increasingly important role in signposting the category.

"This is demonstrated by the wall of Asda purple free-from lines now being broken up with brands that can better communicate the specific benefits of free-from and better emotionally engage with customers," says Nigel Parrott, head of brands at JK Foods.
Can the discounters make a mark in the free-from market?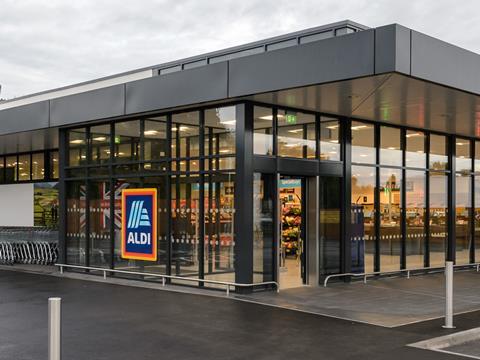 It was only a matter of time. With sales of free-from soaring in the supermarkets, both Aldi and Lidl are hoping for a slice of the action with the launch of their own free-from ranges - and true to form they're significantly cheaper than the mults'.
Aldi launched its own gluten-free range in August featuring everything from buckwheat pasta (£1.69) to curry kits (£1.99), while Lidl's first permanent free-from range hit shelves in April, with prices starting at 79p for gluten-free rice cakes (pictured below).
Aldi's offering includes organic and gluten-free red lentil pasta, which at £1.69 a pack is 15% cheaper than Waitrose's £1.99 equivalent.
Meanwhile, Lidl's range includes big-name brands as well as own label lines. Warburtons' gluten-free bread, Mrs Crimble's macaroons and Nairn's wholegrain crackers sit alongside Lidl's own gluten-free spaghetti and digestives, which at 99p and 95p are a snip compared with the big four.
On the back of these efforts, Aldi has increased its value sales by 168.7%, while Lidl's sales have shot up by a staggering 312.1% year on year.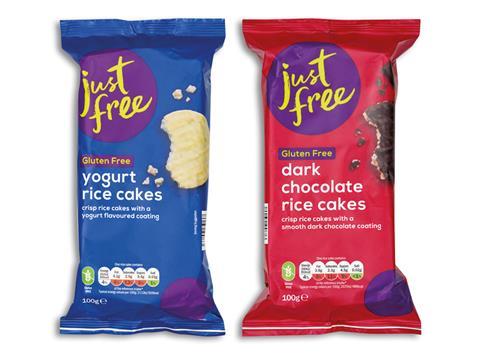 So how big can their share get? Hamish Renton of HRA Food and Drink says lack of space could make it difficult for the discounters to win over the dedicated free-from shopper. "Your range and repertoire if you shop there tends to be very restricted," he says.
Plus, shoppers aren't necessarily guaranteed they will be able to shop their usual products. While Lidl's range is a permanent one, Aldi's is part of its 'Specialbuys' offering, meaning when it's gone it's gone - another advantage the mults have over the discounters, says Renton.
"If you want to get the value sales you have to give more space to it," he says. "To win from a retail perspective you don't have to innovate the whole time, it's about availability and space. It's not just about listings, it's about how wide the ranging of those listings is across the total store estate."
The aisle dilemma
Which brings us to the eternal tricky question: should free-from products have their own aisle, or be merchandised alongside mainstream lines? Both approaches seem to have their merits. Morrisons' decision to put ambient, chilled and frozen into one free-from category helped the retailer become the best-performing of the big four supermarkets with value sales up 46.2%. Plus, its own label line is growing at 298.3% compared with growth of 30.6% in brands [Kantar]. Ape Snacks believes this was the right decision. "The move to bring ambient, chilled and frozen free-from categories to the same aisle has worked well and shows that consumers are strategising and pre-planning their free-from shop with the same attention as their standard grocery shop," says Nathan.

On the other side of the coin, Napolina attributes the success of its two-strong range of gluten-free vegetable pasta - which it says has generated £1.1m in sales since launch in May 2017, attracting almost half a million new shoppers to the category - to the fact it sits in the mainstream pasta aisle in Morrisons and Sainsbury's, rather than a dedicated free-from section. "This has added excitement to the category and encourages consumers looking for regular dry pasta to try something new," says Napolina's marketing director Neil Brownbill.
If there is to be a dedicated free-from aisle, the issue of what constitutes a free-from product rears its head again. Sainsbury's is strict in terms of what it will allow into that area, says Renton. "Sainsbury's, uniquely, has a position where they're only stocking free-from lines which are 'engineered', so they're saying what I would class as naturally gluten-free doesn't make the cut," he explains.
"Sainsbury's are quite clearly saying 'we want the innovation and the technically advanced products and we want the NPD' and that means engineered - they're the only ones sticking their heads out and doing that. I admire them for it but at the same time I've got a really big raised eyebrow because it makes sense from a sourcing perspective but not necessarily from a consumer perspective."

Despite the misgivings, Ape Snacks' Nathan reckons the move by Sainsbury's is a sign of things to come. "Sainsbury's has been instrumental to supporting startup businesses and redefining the free-from sector," he says. "We are glad to be part of a movement that brings innovation to the mass market to deliver on consumer needs."

The White Rabbit Pizza Co co-founder Nick Croft agrees the most successful retailer strategies are ones that value the importance of challenger brands.

"The free-from category is still developing and establishing itself and we're at an exciting stage in the journey," he says. "The support our retail partners have given us has been phenomenal. They recognise that new and exciting brands are key to drawing these consumers in to change the game and drive incremental growth."

However retailers choose to merchandise, it's clear consumer desire for free-from is only going to increase. Warburtons, which rebranded its Newburn Bakehouse range to Warburtons Gluten Free in January, believes retailers could go even further in their efforts to make the category more mainstream.

"Consumers are demanding a much higher quality of gluten-free products than ever before and they expect them to look and taste like core bakery ranges," says Warburtons business director of free-from Chris Hook. Indeed, its free-from range, which has expanded to include 19 products such as artisanal bread, wraps and crumpets, offers almost as much choice as its standard lines.

"So we still think there is more opportunity for supermarkets to improve signage so that free-from feels like any other aisle. More off-fixture displays and incorporating lifestyle and inspirational imagery will both help to signpost free-from products to shoppers and encourage them to purchase."

As free-from becomes more mainstream, both in terms of merchandising and products, this is unlikely to be the last year of bumper growth. So expect to see plenty more players will be looking to get in on the act. Will gluten-free water be next on the cards?
---
Innovations in free-from 2018