Consumers of sports nutrition products are no longer just athletes. And this growing cohort wants more than meal replacements
Birthday cake snack bars and mint chocolate milkshakes. Looking at the wares of the market-leading player in sports nutrition - Grenade - you'd be forgiven for thinking this market was all about satisfying Britain's sweet tooth.

Indeed, sweet treats have helped Grenade double its sales in a year. And formats such as its aforementioned birthday cake bars and mint milkshakes were the driving force behind the 18.6% growth in sports nutrition sales to £155.6m this year [Kantar 52 w/e 19 May 2019]. Sports flapjacks shot up 41.2%, while snack bars rose 21.7%.

But markets never stand still for long. While sweet treats remain big business, talk of an alternative approach is starting to gain ground. That involves simply eating three square meals a day for the growing number of us who are classed as 'active'.

In April, Sport England reported a 0.8% rise in the number of people doing at least 150 minutes of moderate to intense activity a week. One in seven Brits are now gym members, following a 4.7% rise in 2018. And so a wider array of people, not just those obsessed with abstruse nutrients such as branched chain amino acids, are looking to fuel their increasingly active lives.
"There's still real confusion among active people about what they should be eating"
That's opening the doors for brands outside the traditional sports nutrition arena. "Anyone giving advice on sports nutrition should take a food-first approach," says Sian Porter, nutritionist at Merchant Gourmet. That mantra inspired the pulses and grains brand to sponsor the England and GB Hockey teams and push its sporting credentials on pack. And it's paying off. Merchant Gourmet attributes the 16% value growth in its puy lentils [IRI 52 w/e 15 July 2019] partly to growing awareness of their nutritional benefits.

"There's still real confusion among people who are active but not elite athletes about what they should be eating," says Porter. "You see people walking down the streets swigging protein shakes that are full of calories they don't need. If you're eating whole grains and lentils you are getting the whole package: fibre, minerals, vitamins, protein and so on. A portion of puy lentils provides one of your 5 a day and a 250g pouch contains more than 25g of protein. That's the same as chicken breast."

Merchant Gourmet is not alone in promoting this 'food-first' approach to sports nutrition. Sports nutrition subscription service Fit Kitchen, which develops bespoke meals based on individuals' training goals, is enjoying growing sales of its chilled ready meals through Sainsbury's and Tesco. And last autumn, Sci-Mx branched into chilled ready meals under sub-brand EatFit, winning listings with Tesco.

"EatFit has been designed as a high-protein, balanced meal," said senior brand manager Max Dawson at the time of the launch. "It's been made in the same way you would prep meals at home - with clean ingredients, all green traffic lights and no unnecessary added salt or sugar. Providing more than 30g of protein, well-balanced macros and a meal that is delicious has been the key goal.

"We are proud to be bringing the new range to market, driving the Sci-Mx brand among existing and new consumers. Providing active nutrition beyond the healthcare aisle gives Tesco shoppers a destination where they can cross-shop everything they need for a fitter lifestyle."
Sports Nutrition sector performance
Value (£m)
% growth
RTD Isotonic
54.9
28.7
Bar
32.3
21.7
Flapjack
21.2
41.2
Powdered Drinks
17.9
5.1
RTD Protein
15.4
-8.9
Tablet
5.1
9.2
Gel
1.4
-5.7
Capsule
1.0
54.6
Source: Kantar 52 w/e 19 May 2019
Branded vs Own Label
Value (£m)
% growth
Brands
143.5
21
Own Label
12.1
-4.6
Macro trends
As sports nutrition edges further into the realm of main meals, it's seeing more influence from macro trends in food and drink. The first is growing awareness of fibre intake. That's played out well for Merchant Gourmet, which took part in Waitrose's Eat More Fibre campaign in May. The campaign delivered a 151% boost to sales, says Porter.

"Only 10% of the population is eating enough fibre," she says. "So much work has been done on protein but fibre has been overlooked. Fibre is really important for people who are active or taking part in sport. It helps promote a healthy gut and can have an anti-inflammatory effect, which can be particularly beneficial."

Jessica Keeble, senior sports nutrition buying manager at Holland & Barrett, can also testify to the power of fibre. "There's a growing body of research on the importance of gut health for anyone in the health and wellness space and the trend for products containing more fibre is certainly interesting and one that we will follow," she says.

That's not the only trend influencing sports nutrition sales. There is also the matter of the largest movement in the food and drink market right now: veganism. Keeble says demand for all things plant-based is "really picking up pace" in the sports arena. "This is translating into growth across the category, from snacking through to protein powders," she reports.
"We think the way the market is going is main meal solutions and snacking"
That growth is only set to continue. For there is mounting evidence that plant protein is just as good as - if not better than - animal protein for bulking up. September saw the launch of The Game Changers, a feature-length documentary that explores the rise of plant-based eating in professional sports. Then there's League Two football club Forest Green Rovers, which adopted a vegan diet back in 2011, and has since been promoted to the English Football League for the first time.

To top it all off, a recent study at the University of Exeter found that mycoprotein, the protein found in the meat substitute Quorn, builds muscle mass twice as quickly as milk protein.

That is presenting an obvious opportunity for Quorn. Marketing director Alex Glen reveals the brand is now developing products to tap the sporting market. "These are really interesting times," he says. "We think the way the market is going is main meal solutions that are proven from a sports nutrition perspective and snacking. Increasingly we think consumers will head towards whole food solutions rather than just gels and shakes."
However, many gels and shakes are also going plant-based. Most of the big brands now have vegan alternatives in their ranges. See Sci-Mx's V-Gain range or USN's new Diet Fuel Vegan product.

USN sales director Mark Hackwell says the product was the result of hefty research and development. "The product contains Tolerase L, an acid lactase that converts lactose into glucose and galactose," he explains. "We have spent time and resources specifically developing and patenting this unique ingredient for effective use in dietary and sports supplements, both for lactose intolerant people as well as vegans and flexitarians."

Still all this science isn't for everyone. Which brings us to the final macro trend influencing the market: clean eating. 'Natural, wholefood' sports nutrition brand Purition says there is growing demand for products with cleaner labels and less scientific jargon. "Consumers have for several years been offered high-carb, synthesised, refined and/or artificially flavoured protein shakes and have been led to believe that these are good for them, but with the ongoing wellbeing trend people are becoming more critical of what's on the ingredients list," says Purition commercial director Alan Bird.

That's why the brand launched Purition Wholefood Nutrition with Raspberries in August. Bird says the product offers a "balanced blend of natural ingredients", which includes all the necessary protein, fibre, vitamins, minerals and "healthy whole-food fats" for a balanced diet. The product will hit Whole Foods Market and other health retailers in September in 40g and 500g formats.
| Retail performance in sports nutrition | | |
| --- | --- | --- |
| | | |
| | Category value | % growth |
| Tesco | 27.5 | 14.8 |
| Sainsbury's | 10.5 | 10.5 |
| Asda | 10.1 | 17.9 |
| Morrisons | 5.1 | 49.9 |
| Aldi | 3.8 | 4.5 |
| Holland and Barrett | 2.9 | -9.1 |
| Lidl | 1.1 | 1.7 |
| | | |
| Source: Kantar 52 w/e 19 May 2019 | | |
Confectionery alternatives
There's no doubt whole-food sports nutrition has an appeal. Still, there's no getting away from the growing and overwhelming popularity of snack products. Bars, flapjacks and cookies have contributed £12.2m to the category's overall growth of £24.4m [Kantar].

Grenade has been a key driver of that growth. That comes from a very different shopper motivation to whole-food propositions. Because bars such as Grenade are largely seen as an alternative to confectionery.

"With the traditional single chocolate bar category declining, the key category to benefit is protein bars," says Grenade co-founder and CEO Alan Barratt, quoting IRI figures for the year ending 14 July 2019. "At a total market level, the Grenade Carb Killa brand outsells all other single chocolate brands, with the exception of Kinder Bueno and Snickers."

Consumer research backs up his point. Six in 10 shoppers see protein bars as healthier than a chocolate bar, found a poll of 1,000 consumers conducted for The Grocer by Him. And a third said they either always or very often bought protein bars as an alternative to traditional confectionery.

That's why confectionery-style flavours are working so well. Over the past year, Grenade has added Dark Chocolate Raspberry and White Chocolate Salted Peanut lines to its range of snack bars.

Fellow protein brand Fulfil, which more than tripled its UK sales last year, has taken a similar tack. MD David Pogson says its Chocolate Salted Caramel, Chocolate Hazelnut Whip, Chocolate Peanut Butter and Chocolate Brownie flavours "all appeal to traditional confectionery consumers".

His confidence in the concept was seconded by The Hershey Company, which took a minority stake in Fulfil in August. That Grenade's private equity owner Lion Capital is now exploring a potential sale of the brand suggests it also sees plenty of revenue potential. So it looks like the birthday cake bar isn't going anywhere just yet.
#Preworkout: the rise of performance-boosting products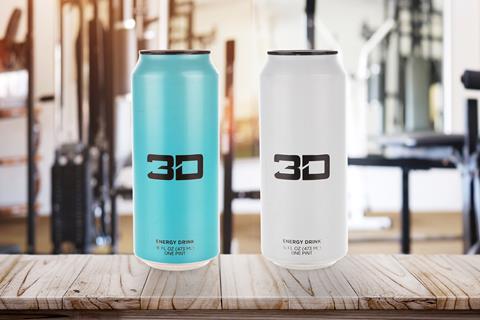 Sports nutrition isn't all about cramming in the protein after a workout to build muscle mass. Retailers report explosive growth in products designed to be consumed beforehand to improve performance, energy levels and even concentration.
Indeed, the #preworkout hashtag now has more than four million mentions on Instagram. That includes a wider audience than just hardcore gym bunnies, says online trends analyst Lumina Intelligence.
"We're seeing products that are launching for e-gamers and the common folk on the street, positioned not just for muscle pumps, but also for brain kicks and overall wellbeing," says Lumina Intelligence senior market analyst Tom Morgan.
"Pre-workout blends are one of the cornerstones of the sports nutrition industry, and just as with protein, they are beginning to expand out of their sports-centric niche. They're moving into energy drinks and shots."
Jessica Keeble, senior sports nutrition buying manager at Holland & Barrett, points to new drink 3D Energy, which comes in sleek, minimalist 500ml cans, as an example of pre-workout products that are aimed at a wider audience. 3D is lightly carbonated and contains 200mg of caffeine, guarana and zero sugar.
"It's only been in store for three weeks but it's already doing really well," says Keeble. "It's appealing to a different sort of consumer with nice, clean ingredients and packaging that looks really good as well. It's definitely one to watch."
That doesn't mean more traditional pre-workout products are out. Morgan notes key ingredients such as beta-alanine, caffeine, BCAAs, taurine and botanicals feature heavily in online ranges.
Sixty-three per cent of products from more than 200 brands in 20 countries analysed by Lumina contain botanical extracts such as green tea and ginseng, and 73% contain a more familiar ingredient: caffeine. Many of these products are aimed at more traditional, buff sports nutrition consumers.
Mainstays of Holland & Barrett's range includes Medi-Evil Excalibur Metabolic, which packs more caffeine per serving than an espresso and claims to help burn fat. Then there's Grenade's Thermo Detonator, high- caffeine capsules that come in a container shaped like a hand grenade.
Talk about explosive!
Innovations in sports nutrition 2019