As Brits fall out of love with potatoes, sales of rice & noodles are booming, with convenience and exotic flavours driving growth
Britain is dropping its spuds quicker than, ahem, hot potatoes right now. Sure, it's still our bestselling veg, but the market has been well and truly mashed of late. Our 2017 Top Products report revealed volumes had crashed by 36.5 million kg (5.4%) since 2015. Ouch. Times are so hard the EU even helped fund a £1.8m 'Love Potatoes' campaign to get them back at the heart of our dishes (positioning the spud as a cool, sunglasses-wearing heartthrob).
Download the PDF version of this report
---
The reason for our falling out of love? Shoppers have a new squeeze when it comes to carbohydrates. Rice & noodles are booming. Although Kantar data shows Brits still eat four times more potato-based than rice-based meals, rice is on the up. Sales have surged 6.2% to £550.4m in the past year alone [Kantar Worldpanel 52 w/e 22 April 2018] as Britain got through 226.4 million kg of the stuff - an increase of over 30% since 2014.

So why are rice & noodles in such fine fettle? What consumer trends, brands and retailers are driving this phenomenal growth? And what is the sector doing to sustain it?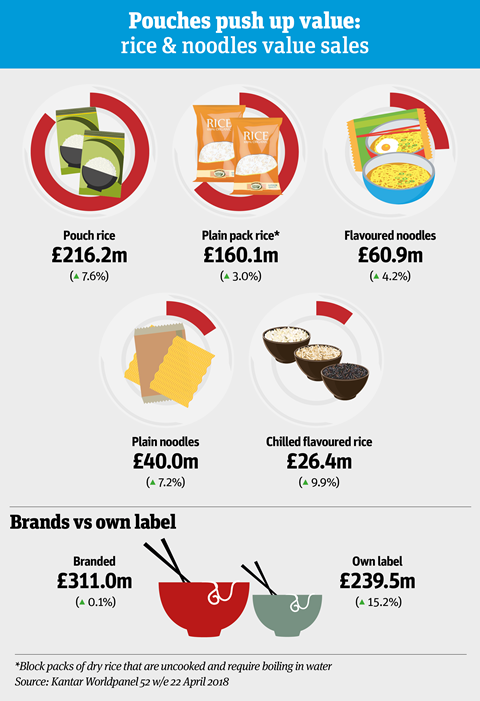 Find the full data at the bottom of this repor t

These days rice & noodles are viewed as everything many say the spud is not: healthy, convenient and exotic. Now, any potato farmer worth their salt will tell you this is incorrect (the 'Love Potatoes' campaign was keen to tout its fat-free credentials alongside easy recipe ideas).

But for many, this message just isn't getting through. Nadia Follon, marketing manager of Mars-owned Uncle Ben's, says there is a reason rice is winning battle of the carbs. "We need to understand the market we play in and potatoes are an important carb. But the dishes they're associated with, like roasts, are quite nutrient-dense and calorific and take longer to prepare."
"Microwave rice is only around 15 years old and is now the biggest sub-segment of rice"
That's a polite way of saying that many, particularly millennial and Gen Z consumers, see spuds as stodge that will make them fat. To boot, they're often a faff to prepare. (Anyone who has waited an hour to oven bake a potato will understand the pull of a microwaveable rice packet.) As Follon says, this is a tricky position to be in when "average cooking times have come down in 19 of the past 20 years". Hence the fact that the strongest part of the rice & noodles market (in absolute growth and total value terms) is, arguably, the most convenient: ready to heat rice pouches.
"Microwave rice is only around 15 years old and is now the biggest sub-segment of rice, worth £250m," says Anna Beheshti, brand lead at Tilda, quoting Kantar figures for the year to 20 May. "UK household penetration for rice is 88.2% and still growing at 0.8% year on year. Ready to heat penetration stands at 56% so there is still plenty of headroom for growth."

Indeed, Kantar analyst William Sohler says pouched and chilled savoury rice have been key to attracting new consumers into the category in the past year. "Pouched rice, with a 39% share of the overall category, is by far the biggest contributor to growth, having grown by almost £20m compared to the previous year," he says.

"This performance is even more impressive when we bear in mind that most of this growth comes from new shoppers entering the category as consumers seek out convenient ways of refuelling."
Price versus innovation
It's not just convenience that's tempting shoppers. There are two other important drivers of growth: the rise of own label and innovative, healthy and culinary launches.

The attraction of own label is clear. Selling for an average of 62p a pouch [Nielsen 52 w/e 16 June 2018], versus Uncle Ben's £1.13 and Tilda's £1.02, own label is fast attracting the budget-conscious shopper.

And so retailer lines have managed to muster up a 2.5% value gain on volumes up 11.4% [Kantar]. All this appetite for own brand has driven the greatest fall in average price in the entire category. Price per kilo has fallen by 5.6%, versus deflation of 1.8% across the total market.

The mults are keen to keep the momentum going. Sainsbury's started the ball rolling with a particularly extensive range, selling everything from spicy Mexican rice to Thai jasmine rice for just 65p per 250g pouch.

It's something that hasn't gone unnoticed by Mars' Follon. "Sainsbury's is the one that has really pushed own label, as you'd expect given the strength of their offering," she says. "They started the push and then Tesco had an expansion and then Asda and Morrisons came to the table."

So now each of the big four have their own spicy Mexican rice pouch under 70p. All this reasonably priced competition means brands such as Mars' Uncle Ben's are having to fight hard to retain sales. Price is one battleground. "We continue to work really hard promotionally and continue to sustain our advertising and bring unique news to ensure we are front of mind for consumers and retailers," says Follon.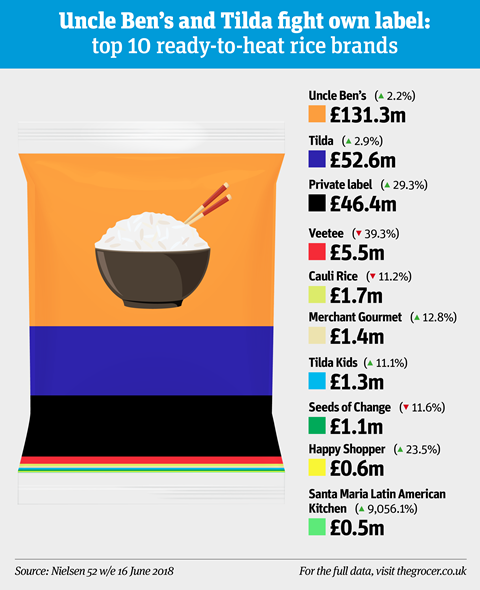 Find the full data at the bottom of this report

The deals of choice for the ready to heat brands tend to be price reductions to the hallowed £1 mark - Follon stresses that price point is "critical" - and multibuy deals such as two pouches for £2. It appears to be working, with both brands and own label in growth. Uncle Ben's is up 2.2% on units up 4.5%; Tilda grew 2.9% on units up 5.4% [Nielsen].
But price isn't the only weapon in the arsenal of brands. The likes of Uncle Ben's and Tilda have been busy launching everything from quinoa rice mixes to peri peri flavours. They see this innovation as key to justifying the hefty price premium they command.
"We are focused on providing innovation because we can't win on price"
"We are focused on providing innovation because we can't win on price, so we need to give consumers more," explains Tilda's Beheshti. "Tilda continues to focus on developing unique recipes that quality-conscious consumers have come to expect. Coconut, Limited Edition Peri Peri Firecracker Lemon & Herbs and Brown & Wild are among the most successful."
Just look at the NPD at the bottom of this report to see how crucial innovation continues to be for the big brands' growth strategies. This ­introduction of higher-priced NPD also helps offset the impact of fluctuations in producers' input costs. While the weakness of the pound following the 2016 Brexit vote eases, ­vagaries in global supply and demand of key ­commodities are an ever-present concern.

"Global rice prices rose throughout the first half of 2018 due to increased demand from Indonesia, as poor weather in the country meant that they had to rely on imports of rice to cover domestic consumption," says Mintec market analyst Verity Michie. The price of basmati peaked at £891.60 per metric tonne at the end of last year, up from £764.50 in July last year. Prices have since fallen.

Of course, the market is about so much more than plain old white rice these days. "Consumers don't just want a regular white rice, they want an authentic rice from the country they are eating food from," says Tasneem Backhouse, joint managing director of EHL Ingredients. "We are seeing an increase in demand for specific varieties such as arborio for risotto and paella, red rice, sushi rice and black rice depending on the cuisine it is to accompany."

Indeed, Surya Foods' Laila range now spans 17 varieties of rice. "The brand now offers specialty rice from every corner of the globe from basmati for the Asian market, to easy cook for the Caribbean, to sona masoori for the Egyptian and Persian markets, to tosyo rice for the Turkish, to name a few," says Surya MD Harry Dulai.

"The evolving UK rice landscape has largely been fuelled by steep increases in the cost of traditional basmati, which has rocketed in recent years, as a result of falling harvests due to floods in India and Pakistan, and also a general shift towards farmers preferring to grow new varieties of rice which offer higher yields per acre.

"It will be interesting to see if future price rises could knock basmati off the top spot. After all, American long grain was once the top seller in the UK."

Brits are also getting more discerning and open to new experiences. "Consumers are becoming more adventurous when it comes to different cuisines, due to a growing interest in world travel, increased exposure to interesting dishes and the incredibly diverse restaurant scene in the UK at the moment," says Brian Yip, director at Chinese supermarket chain Wing Yip.
Chinese New Year unlocks new growth for brands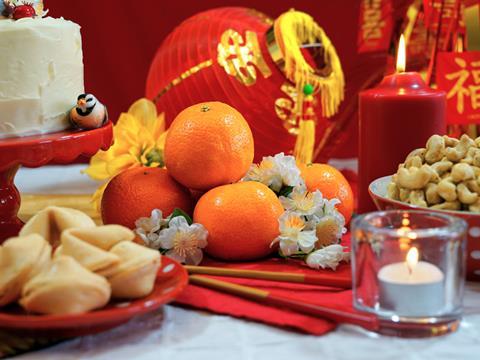 January and February is generally a slow period for grocery. However, for rice and noodles it's a different story, thanks to a key date: Chinese New Year.
According to Nielsen, the opportunity is growing. This year, an extra £1.5m worth of ready-to-heat rice was sold compared with last Chinese New Year.
Chinese supermarket chain Wing Yip has noticed. "Typically, we see a rise in footfall in our stores during this time and our trade sales of rice and noodles always increase," says director Brian Yip.
Mainstream brands are now upping their efforts to cash in. Mars is investing growing amounts in promoting its Uncle Ben's range throughout January and February, says marketing manager Nadia Follon.
"Retailers are really getting behind it now," she says. "We have focused on including a mixture of our sauces and rice in featured space in the foods of the world fixture to drive growth during this period. It's having a really positive impact."
Mars isn't the only one. While Harry Dulai, MD of Surya Foods, says Ramadan receives the lion's share of the company's marketing budget for the Laila rice brand, Chinese New Year is of growing importance. "We direct a significant chunk of our budget towards it," he says.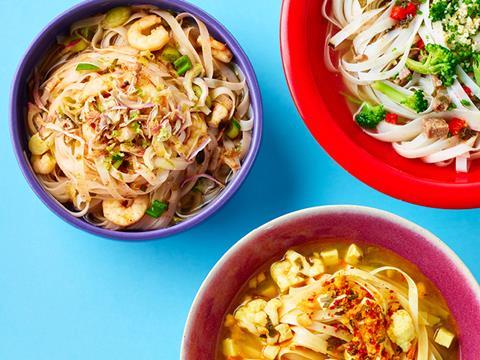 Instant noodle brand Mr Lee's (pictured above) uses social media to create a buzz around the event, says marketing & communications director Kasia Bigda. "Through competitions, campaigns and consumer involvement we try to celebrate the festival alongside our consumers," she says. "It shines a huge spotlight on the category and liveliness of the brands within."
There are other seasonal events attracting rice & noodles marketers, too. "With all the hot weather there's a real opportunity for rice alongside the barbecue season," says Follon. "We're really looking at how we can push rice as a side to be enjoyed alongside your bangers."
"What's more, the ever-growing street food culture has added so much to eating out, particularly in the bigger cities. Oriental cuisine has a strong presence in the street food scene and at Wing Yip we've certainly seen an increase in demand on specific lines, from the trade and the general consumer. The number of scratch cooks who have a genuine interest in food and who want to experiment at home has increased."
So it's not only convenient pouched rice products that are driving market growth. There are still some scratch cooks who like to take their time cooking their rice. Indeed, bulk plain rice has seen the greatest percentage increase in sales in the past year, growing by 29% to £20.2m on volumes up 28% in the past year [Kantar].

Jason Morrison, MD of Riso Gallo UK, says retailers are conscious of this fact. "To quote a supermarket buyer we spoke to recently: 'Micro RTH pouches are what's driving growth, but we must also focus on those consumers who want to cook from scratch, and that means ambient grains'," he says.

Yet even for this more foodie consumer, price is key. Bulk rice relies on deep ­promotions at key seasonal sales opportunities to drive sales. Brands such as Tilda are continuing to work hard to convince consumers to trade up when it comes to rice sold in larger formats. "We remove broken and inferior grains to deliver a better cooking result than own label and cheaper brands sold at a pound per kilo or less - we find consumers often don't understand that," says Beheshti.

It's a similarly price-driven story over in noodles. Unlike in pouched rice, innovation from premium brands has resulted in a 4.5% rise in average price across savoury noodles [Kantar]. Nevertheless, there are fears this premiumisation won't last long. Kasia Bigda, marketing & communications director at premium noodles brand Mr Lee's, warns of the risk of the sector being devalued by the growing reliance on deals and the rise of own label.

"You only have to walk down the aisle to see that brands still dominate the shelves, Pot Noodle specifically, but what is becoming apparent is the drastic changes in pricing," says Bigda. "Own label is slowly emerging, with price being the main motivator for consumers to choose it over existing brands. This has led to a category-wide race to the bottom, with more 'upmarket' brands such as Itsu joining in by lowering their prices over time."

Others are more optimistic, such as premium brand Kabuto. Founder Crispin Busk says category growth and competition "is great for the consumer and encourages us to look at new things". However, he has had to look closely at price.

"We have increased our promotional frequency slightly so that we are driving more penetration into the category, meaning we can support the consumers who are looking to trial our noodles," says Busk. "We run a range of activity where we discount from £2 recommended selling price to £1.50 to drive penetration into the premium category and our brand, and also two for £3 which is helping us drive frequency and average weighted purchase."

Even on deal, that's still a hefty premium over market leader Pot Noodle, which sells for £1 per 90g pot in Tesco and is currently on a half-price promotion. Even the larger format King Pot Noodle (114g) weighs in at just £1.32 a pot in Tesco - less than many smaller, premium options.
More than a chicken korma
What could set these premium brands apart is the desire for more exotic, authentic flavours. Yes, Pot Noodle is dabbling in new variants such as BBQ Pulled Pork and Chicken Korma. But all this sounds a tad tame (and not particularly exotic) next to the misos and udon noodle dishes currently occupying the minds of the more cutting-edge noodle brands.

Brands such as Itsu, which weighs in at £1.75 per 63g Noodle Cup in Tesco, believe they have something worth paying for. "What sets our supermarket range apart is our innovation and restaurant-quality products with mainstream appeal," says Julian Metcalfe, creative director and founder of Itsu. "Whether you're looking for a quick and healthy supper or a snack to grab and go at lunchtime, we have something for everyone. We're providing beautiful, convenient products that the modern consumer wants to buy again and again."

Kabuto, whose range includes flavours such as Chicken Ramen and Vegetable Tom Yum, is similarly convinced. "The category is continuing to evolve and more premium brands have been entering the category to meet the growing consumer need for fresh tasting, quality Asian inspired dishes," says Busk. He claims the brand now sells a unit every seven seconds.
"The category is continuing to evolve and more premium brands are entering"
The raft of innovation over the past year suggests this is indeed an area with plenty of potential. Pot Noodle owner Unilever launched the Prep Co snack pot range in April (see left) with more adventurous flavours such as Indian Spiced Lentils and Thai Green Curry. With an rsp of £1.99 per pot - a significant premium over Pot Noodle - Unilever clearly believes punters will pay more for the benefits.

Another key, high-end launch has been Sharwood's Noodle & Sauce Pots (see left) from Premier Foods. "The quick meals, soups and snacks category continues to grow and is now worth £380m - with noodles and rice being a key contributor to this," says Premier Foods marketing director Yilmaz Erceyes, quoting IRI figures for the year to 16 June.

"To further fuel growth, we are continuing to innovate, with three key trends underpinning our NPD: convenience, enjoyment and health. With these in mind, we ensure we have a product range that meets shopper demand across all three areas. The introduction of our Sharwood's Wholewheat Noodles last year targeted health-conscious consumers, while new Sharwood's Noodle & Sauce Pots capitalise on the rapid growth of the authentic noodle pots segment and deliver on great taste and convenience."

The increasingly well-travelled and affluent consumer is driving the growth in more premium rice & noodle products, says Jason Beaumont, director at PW Brands. The company is behind the Urban Noodle brand, a range of microwaveable noodle pots inspired by southeast Asian cuisine and manufactured in Thailand.

"World foods have seen a huge rise in popularity, with consumers increasingly exposed to new flavours and styles due to the rise of long distance travel and prevalent street food trends," says Beaumont. "A recent study showed British consumers are more likely to cook Thai green curry than classic British dishes, such as pie and mash. With many of these more exotic dishes incorporating rice and/or rice noodles, there is a distinct opportunity for retailers to capitalise on increased shopper interest."
Rice pots muscle in on noodles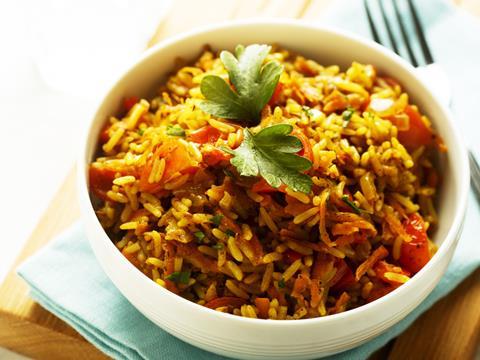 Noodles have always dominated the instant hot snacking sector. But now they've got competition, as a growing number of new rice-based products eye up their shelf space.
Perhaps most notable is Unilever's Pot Rice (below), relaunched in July after being axed in 2003. The move followed the launch of Pot Pasta last year. "It made sense for us to continue building the Pot Noodle brand, taking it to the next level by expanding into pasta and rice," says snacking marketing manager Monique Rossi.
And it's working. Pot Pasta generated an impressive 76% in sales incremental to the category last year [Kantar Worldpanel], whilst Pot Noodle reached its highest-ever level of penetration. "With rice growing in popularity and fans campaigning on social media for its return, we felt it was time to bring back Pot Rice."
That's not all. Unilever also unveiled instant rice pot meal brand Prep Co in April with an rsp of £1.99, representing a significant premium over Pot Rice (rsp: £1.39).
Now others are getting in on the action. Premier Foods launched Super Risotto and Mars unveiled a six-strong range of single-serve Uncle Ben's Rice Pots (rsp: £1.79/2x125g) in May. "With the growth in single-person households, Rice Pots tap the solo meal occasion," says marketing manager Nadia Follon.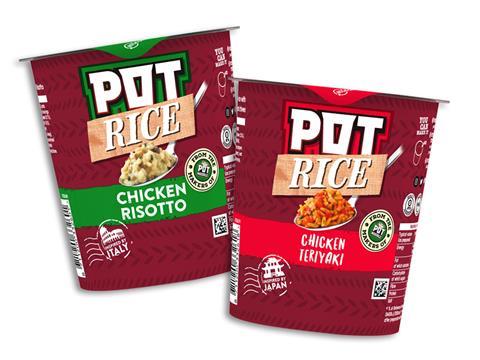 These moves away from cheap and cheerful noodle snacks make sense. In May, a Harris Interactive survey for The Grocer found 64% of consumers would pay more for a premium potted snack. Of these, one in five would happily pay 50p or more extra.
"Shoppers are happy to pay more for goods that satisfy more of their needs," says Kantar analyst William Sohler. "The more needs a manufacturer can tap, the bigger the premium it can justify. "On average shoppers will pay 9% more for a product that satisfies two needs, 16% more for three needs and 24% more for four needs."
Healthy living
With health an ever-present consideration in shoppers' minds, there's also an opportunity in products made from alternative ingredients and blended with on-trend grains and pulses. Backhouse at EHL Ingredients notes a rise in demand for ancient grains such as teff, farro, freekeh, bulgur wheat, millet, sorghum and chia as manufacturers develop products in response to growing demand for foods perceived to be less processed.

"These ancient grains are the exact opposite of modern, processed grains and rice and as well as being filling and tasty, they are naturally gluten free, full of fibre and packed with protein," she adds. "We're witnessing a trend for free-from, unprocessed foods, to fit in with today's fashionable lifestyles and eating trends. In addition, there is an increase in self-diagnosis of food intolerances, especially with wheat, dairy and yeast, and this has led to a surge in demand for ingredients that fit into diets that omit processed foods."

All the big brands are at it. For example, Tilda launched its five-strong Super Grains pouched range - including products such as Chilli & Coconut with Quinoa and Super Grains Sweet Potato - last autumn. It says sales are strong across all accounts. "The range taps into the demand for premium, healthy and convenient meal solutions and the launch demonstrates our commitment to driving category growth through innovation," says Beheshti. "The focus has been on health, but delivering it in a way that is tasty and versatile."

Indeed, the blending of rice with on-trend ingredients, spices and veg - and packaging it in pouches that can be heated and consumed with a minimum of fuss - has been key to driving growth in the market. "Rice is no longer just for eating with curry or Chinese - you can have it with chicken breasts or sausages or you can bring it to work and have it as a standalone meal 'al desko'," says Uncle Ben's Follon.

To this end, Uncle Ben's has launched a number of new Rice & Grains pouches - such as 5 Wholegrains Pilau Rice and Lime & Coriander Wholegrain Rice with Beans - as well as extending its Lightly Flavoured range with Roasted Garlic, Coconut and Lemon & Thyme variants.
Cutting out the carbs
Nevertheless, there are still those that are trying to cut out carbs altogether. With this in mind, Australian low-carb noodles and pasta brand Slendier launched into Morrisons this month. The range features products made with the konjac plant, soy, black bean and edamame - all of which release sugar more slowly into the bloodstream than conventional noodles and pasta, says the brand.

"Through research and feedback from our customers, we know that anyone who eats Slendier as a replacement for rice and pasta has lost weight and kept it off," says MD Erica Hughes.

"And they've done this without feeling hungry or like they were missing out. It also has a broader appeal with people who are managing health-related ways of eating, such as diabetes and FODMAP diet plans, vegans and those who are gluten intolerant."

Healthy meal box delivery company Mindful Chef also reports growing sales of veg alternatives to rice and noodles.

"We use a number of vegetable alternatives in our nutritionally-balanced recipes, including cauliflower rice, broccoli rice, courgetti, carrot and butternut squash noodles," says co-founder Myles Hopper. "Vegetable 'rice' and 'noodles' have a similar satisfying texture, but are lower in carbohydrates and generally higher in vitamins, minerals and antioxidants which is a great selling point."

Could this be an opportunity for the poor old spud? They might be rich in carbs, but they're also packed full of vitamin C, potassium, vitamin B6, fibre, magnesium and antioxidants. King Edward udon noodles or Maris Piper rice do have a certain ring, after all.
Innovations in Rice & Noodles 2018
Click pictures to expand