Mexicana is going mainstream, with Brits eating 6.3 million more tortillas in the past year. But what will be the next big cuisine?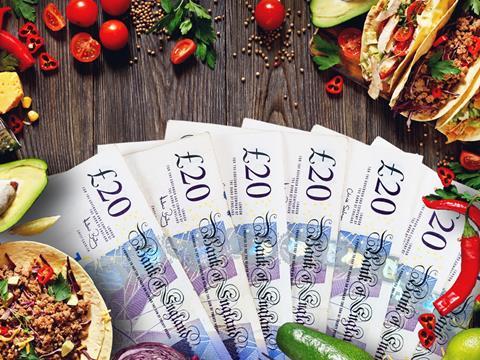 It's been a decade since MasterChef winner Thomasina Miers launched Wahaca, a Mexican market restaurant in London's West End. Armed with an ambition to bring Mexican flavours on to Britain's radar, the business enjoyed quick success, flourishing into the 24 restaurants, three bars and two Mexican street kitchens running today across the UK.

Challenging previous British aspersions of Mexican cuisine as "tequila girls, cheap shots and greasy tortilla chips", the brand now serves three million tacos a year, and has branched out into supermarkets with its seasoning mixes and soft taco kits. And it's not alone. Mexican street food joints have exploded across the UK in recent years as customer demand for burritos and tacos shows no signs of abating - and supermarkets are following suit. The past month has seen Tesco launch its new Mexican Chilli Beef savoury slice, Morrisons' new meal deal selection includes a range of exotic drinks from as far afield as Mexico and Japan, and Aldi has even introduced a 'British' Yorkshire pudding burrito.
The traditional British palate of meat and two veg seems far behind us, with increasing numbers of shoppers looking for more global flavours when they dine out and for their dinner table. In the past year alone, adventurous Brits have toasted an extra 6.3 million packs of tasty tortillas and a million more Mexican meal kits than were sold in 2016, a growth of 5.1% and 3.2% respectively. Indian ingredients are also on the up, with sales of coconut milk growing 8.5% this year and curry paste sales rising 11.6%.

The world food category as a whole is up 6.5% in value year on year, with much of the growth coming from fresh and chilled food, which is up 6.3%, equating to £45m, says Joe Shaw Roberts from Kantar Worldpanel. "Over three-quarters of the UK population have bought a chilled ready meal in the last year and the sector has benefited in the longer term from the rise of smaller households," he says. "And in the short term it has benefited from the grocery-wide trend towards premiumising own label."

Of the retailers, arguably the most successful premium own-label player is M&S. Significantly it only takes 3.4% of the world food category but has the highest category share with 26.3%. Strong promotional support through the "3-or-£10 deal has driven strong volume growth, with shoppers buying more frequently, and more per trip" says Shaw.

"M&S really stands out when it comes to developing snacking and beverages relating to world cuisines, particularly within its seasonal ranges," adds Bryan Roberts, global insights director at TCC Global. "M&S shoppers are seeing more Korean, Turkish and Taiwanese cuisines on the shelves, in line with trends that mirror the restaurant scene.

"Others are working on their own-label offerings. Sainsbury's launched On the Go bao buns this year, and Tesco added BBQ chicken to its Healthy Living range. We're also seeing fusion cuisines being introduced, with Aldi's beef brisket Yorkshire pudding burrito due in winter, after street food vendors selling the product went viral on Facebook."
Headroom for growth
That a beef brisket Yorkshire pudding burrito even exists goes to show how entrenched world cuisine has become on at British tables. And although Aldi and Lidl have a reputation for economy rather than the exotic, Shaw says both have plenty to gain as they "continue their rapid growth and begin to make up their undertrade compared with their grocery share of trade. There is still enormous headroom for growth though. If Aldi chilled ready meals grew to match its grocery share, this would be worth £39m for the retailer. For Lidl, the size of the prize is £30m."

This potential for growth means discounter development will "continue to be the most prominent theme in chilled ready meals from a retailer perspective," says Shaw. "Rivals will be wary of their combined £69m undertrade. Further success may well grow the category incrementally, but it is likely that the big four could lose out along the way."

Across all the supermarkets, two of the biggest trends are for American and Thai food. Waitrose is the fastest-growing retailer in this sector, with M&S and Tesco also posting 30+% growth. And Shaw says American ready meals "continue to perform well, with own label leading the way. All of the big four apart from Asda have grown their ranges compared with last year."

Heat is another big trend in own label, says Hamish Renton, MD at food and drink consultancy HRA. "You've got Morrisons releasing that super hot vindaloo this week with a load of chillies on top." He also points to the popularity of retailers producing world food tertiary brands, which "are effectively own label, but you have to be quite cute to figure that out. It's blurring the line between own label and brands."

As for the real deal brands, they only make up 6% of the market, but are growing fast, up 14% vs last year, adding £13.8m of value. "Charlie Bigham's is at the forefront of this," says Shaw. "Exciting NPD, a greater presence in Tesco, and expansion in its homeland of Waitrose have all contributed towards the brand's 12% growth."
Old Continental favourites
But world cuisine is far from just chilled and fresh products - and it isn't limited to foods from far-flung corners of the globe.

Old European favourites are also smartening up, like canned tomatoes. Marcus Blowers, category insights manager at RH Amar, which distributes the Mutti brand in the UK, says value sales of tomatoes are up 2.3% [w/c 12 weeks to 5/2017 Kantar Worldpanel], adding: "this is largely being driven by the premium end of the category as shoppers increase their frequency of purchase and continue to look for quality ingredients for cooking authentic Italian dishes".

American food continues to be popular, and although pulled pork might have become a staple of the ready meal market, increasing numbers of Brits are barbecuing at home and slathering their low and slow briskets with authentic bottles of sauce.
Pop-up gallery: Innovations in world cuisine
"Standard red or brown sauces no longer cut the mustard," says Heather Soutar, from Baxters, which produces Jack Daniel's BBQ sauce under licence in the UK. "That has paved the way for more exotic condiments that are able to stand up to big, bold meat flavours and have multiple usage options as either a sauce, marinade or a dip."

Meanwhile in April, Encona launched a limited-edition Carolina Reaper Chilli Sauce, which it says is the "hottest ever to be produced by a mainstream table sauce brand". It uses the Carolina Reaper chilli, which is "renowned for being the hottest in the world," says Nyree Chambers, head of marketing for Grace Foods UK, which supplies more than one third of all Caribbean food and drink sold in the UK. "The Carolina Reaper Chilli Sauce enables retailers to tap consumer demand for sauces that are full of flavour and hotter than ever," she adds. "There is a huge profit opportunity for retailers looking to develop their hot sauce offering."
The seasonal calendar
There is also opportunity for potential profits thanks to increasing numbers of the UK population finding what they need to celebrate traditional occasions at mainstream supermarkets.

"UK retailers are celebrating many more milestone moments in the year linked to different cultural celebrations far beyond the recognisable traditions of Easter and Christmas," says Roberts. "Chinese New Year, Eid, Diwali and Thanksgiving have all made their way on to the grocery calendar. Not only are they developing new products to coincide with these events, but also building the marketing infrastructure to sell them. This year Tesco has had over 200 products available during Ramadan, and it advertised the occasion in 300 stores."

Gouri Kubair, MD for Spice Drops, says he has "always believed the love of food cuts across cultures and faiths to bring people closer. The growth in popularity of world food and the increasingly mainstream effect of festivals like Diwali go hand in hand. We all love to welcome people from other cultures to enjoy and experience our celebrations be it Holi, the Festival of Colours or Diwali. Over time this has naturally led to the acceptance of unusual ingredients and flavours as more and more dishes feature them until they become the norm."

These "key family festivals drive value and volume in categories such as rice - last year 50% of the annual volume was sold during key religious festivals," says Anna Beheshti, brand lead at Tilda. "Around key festivals, retailers are consciously creating more of an event in the store, driving footfall with strong promotional offers and key ethnic products like rice and flour on pallets at front of store."

However, although these relatively new occasions are growing in significance for retailers, they are "not really making any money from these seasonal events like Eid and Diwali," says Renton. "They take a lot of time to set up, and they are getting bigger, but they are nowhere near a Halloween or a Valentine's Day."

As for the next big thing in terms of flavour, seasonings from the Middle East and North Africa have been selling well in the last 12 months, says Kath Davies, NPD manager at EHL Ingredients. "Bharat is proving a popular choice among food manufacturers with harissa still on trend. Ras el hanout and za'atar are popular choices as loose ingredients in retail for diners to use as marinades, rubs and in dips and sauces. South American food is receiving positive media attention at the moment, too, especially dishes from Peru, Argentina and Brazil. Popular high street restaurants and chains are driving this popularity and now shoppers want to recreate these dishes at home."
Potential of the Far East
But most predict the Far East category will increase and diversify, with Korea, Indonesia and Vietnam tipped to become increasingly prominent (the Thai and Oriental categories were the biggest climbers last year according to Kantar, up 20% and 14.4% respectively). Korean food in particular has seen a "surge in popularity, with celebrity chefs like The Hairy Bikers and Gizzi Erskine fuelling sales of Korean foods," says Jo Allison, behavioural analyst at Canvas8.

Wing Yip director Brian Yip says two Korean staples, kimchi and gochujang, are "gaining fast traction in the UK. We've seen more consumers than ever seeking ingredients to make their own kimchi, which certainly wouldn't have happened five years ago. Many dishes and ingredients are healthy too, creating an even bigger opportunity for a nation that has never been more interested in the nutritional value of the food they eat."

That interest in health is another key category trend. Although Roberts correctly says the general focus of world food NPD is on achieving "authenticity and flavour" rather than on providing a healthy choice, many Asian cuisines naturally lend themselves to clean eating - and those that don't (like creamy Indian curries) are pushing out healthier versions.

"If you look at Japanese food like sashimi, it has very good protein to carb values," says Renton. "It ticks all the boxes. We are also seeing sushi bars become a regular fixture in supermarkets. It's got a long way to go but it's growing fast year on year and I expect that to continue."
World cuisine category snapshot 2017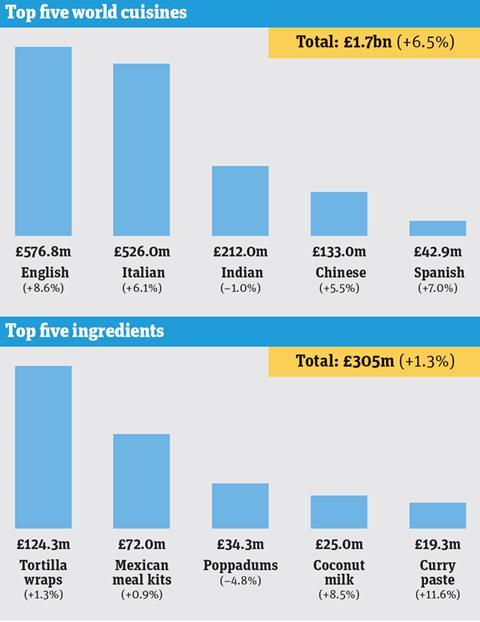 Premier Foods says its new "low-sugar and low-fat products are performing well. Sharwood's low-fat tikka and korma sauces are showing strong early results after only four months, as are our Wholewheat Noodles, as consumers look for healthier choices."

Healthier eating is "dominating consumers' diets and 70% of consumers are actively looking for healthy food and drink," says Mimi Williams, brand manager at Amoy. "Brands like ours are required to deliver on health concerns of the public, all our products remind consumers to eat vegetables along with the range of Amoy stir-fry goods to create healthier meals."

However, the world food category is "underperforming for anyone with a genuine food allergy or intolerances" says Lizzy Cox, product development manager for free-from producer Free and Easy. "There are a lot of sweet products like cakes, biscuits, chocolate, breads and wraps on the supermarket aisles, but the free-from section is still a small and uninspiring category. What is missing are true free-from foods that contain no allergens but are just as nutritious and interesting, with great texture and flavour, and as on-trend as the rest of the mainstream world food experience."

That mainstream experience looks set to keep on growing and evolving with meal kits and recipe boxes from the likes of HelloFresh. "Recipe boxes are expanding consumer horizons," says Matt Lee, CEO of shopper media agency Capture. "We are expecting retailers to tap the recipe box offering in a bigger way. Sainsbury's has started to offer HelloFresh recipe boxes, for example. Clearly there is room for growth when it comes to offering shoppers variety."

The world foods category is "still under-developed" sums up Jag Singh, brand manager at Tropical Sun Foods. "There are still a large number of people daunted by scratch-cooking world foods at home. If brands can help to demystify this, they can bring a huge number of new shoppers to the category. And that will truly transition world foods from niche and specialist to fully integrated and mainstream."