Brits have been torn between indulgent and healthy breakfasts as they've battled lockdown fatigue. What's the long-term outlook?
Brits have been wrestling with their inner devils and angels at the breakfast table. On the one hand, the pandemic has thrust health into the spotlight – which, in theory, should have given healthy cereals a boost. And some more virtuous brands did reap the benefits. Take Lizi's, which grew its sales 20% to £1.5m [Nielsen 52 w/e 5 September 2020]. Or Kellogg's All Bran, up 27.6% to £12.5m.
But the real winners could not be further away from the health agenda. The largest sales gain came from the unashamedly indulgent Kellogg's Crunchy Nut, up £21.3m. Equally indulgent stablemate Coco Pops also enjoyed a bumper year, up £6.6m.
For Kellogg's, this appetite for taste-led, sugary fare was a natural consequence of the Covid-19 restrictions that have characterised this past year. "With people no longer being able to go out to cafés or restaurants, they were looking to bring that indulgence into the home, in the place of on-the-go treat items such as fresh croissants or muffins," says Catriona Campbell-Voegt, nutritionist and Kellogg's UK wellbeing lead.
"People no longer able to go out were looking to bring indulgence into the home"
This contrasts sharply with the image cereals are trying to cultivate. In September, trade body Breakfast Cereals UK launched a campaign to promote the health benefits of cereals. Its key aim is to "set out the case for the nutritional importance of breakfast cereals in the UK diet, as significant contributors of fibre and micronutrients". In essence, it no longer wants cereals to be seen as shorthand for a high-sugar treat with little nutritional value.
So what do the consumption habits during the pandemic say about the future of the category? Will there always be a place for indulgence? Or will health take centre stage?
The pandemic turbocharged consumption of all cereal brands – whether healthy or not. Nielsen notes 80% of the top 50 brands were in growth during its data period.
More recent data from Kantar shows the sheer appetite for cereal in 2020. Overall, Brits munched through an extra 53.5 million packs, equating to an extra £152.1m going through the tills [Kantar 52 w/e 27 December 2020]. It's a welcome change from the years of stagnation and decline that have plagued the category.
"It was the year people fell back in love with breakfast. And cereal was a big part of that"
That was the result of the nation having more time to sit down and enjoy breakfast, rather than picking up the most convenient thing in the morning rush, says Mark Perry, head of category at Weetabix. "It was the year people fell back in love with breakfast," he explains. "And cereal was a big part of that."
So in some ways, the rise in indulgent cereals isn't that surprising, given that it forms part of a wider category uplift. Perry believes Covid-19 has simply heightened the need for a treat. "During times when people feel under pressure, those little luxuries make quite a big difference," he points out.
That perhaps explains why Weetabix teamed up with Mondelez to launch Oreo O's cereal in December. Manufactured by Weetabix under license to the confectionery giant, it aims "fill the gap" in the cereal market for an "indulgent, adult proposition".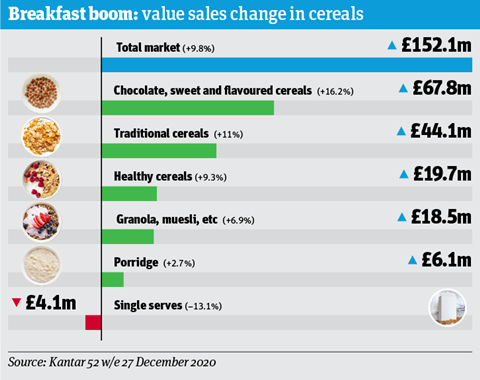 An extra 53.5 million packs of cereal went through the tills this year, adding £152.1m to the market. That's a 9.8% growth in value.
"This is compared to a much slower growth of 0.9% from the previous year," points out Kantar analyst Harry Daniels. "This growth has been driven by a combination of more packs sold, which grew by 5.9%, and an increase in the average price per pack, which grew by 4.1% to £1.79."
All areas of the market bar single-serve pots of cereal and porridge – which struggled due to the decline in on-the-go occasions – are in growth. But chocolate, sweet and flavoured cereals took the crown, selling an extra 23 million packs.
The dynamic between branded and own-label shifted this year, as the former led the way with 11.6% value growth.
"For the first time in the last four years, branded cereal has gained share from 69.9% up to 71.1%," says Daniels. "Despite own label seeing a larger increase in packs sold this year, with 7.2% more packs sold compared to 5% growth for branded cereals, own label has a lower average price and saw it fall even further from £1.20 to £1.18 this year."
Snacking
Plus, shoppers may not even be buying these cereals with breakfast in mind. "The snacking occasion has probably become more important over the past 12 months for people," Perry explains. "So it could be that you're seeing growth in what might be seen as more treaty cereals with no intention to eat them at breakfast. Whereas that focus on 'good stuff in' – fibre, vitamins and protein – is held up as the best way to start your day."
It's a trend that has also been noted by Campbell-Voegt at Kellogg's. "There was an increase in snacking throughout the day with people working from the comforts of their own homes and looking for store cupboard options for the whole family that are quick and easy to prepare,'' she says.
For those occasions, indulgent options such as Kellogg's Crunchy Nut may be a perfect fit. Indeed, Kantar data shows health becomes a less important motivating factor throughout the day, with 27.4% of breakfast servings chosen for health reasons, compared with 23.3% of afternoon snacks.
So if cereals want to cater for both those occasions, they will need to play in both the healthy and less healthy ends of the market. Because even if they fall off the wagon in the afternoon, many consumers are trying to start the day in a more virtuous way.
That's certainly been the observation at Quaker, which grew 2.4% to £117.4m last year [Nielsen]. It acknowledges that "treat cereals have been one of the fastest-growing segments in 2020", which explains the launch of its Quaker Oat So Simple Velvety Chocolate flavour in October.
However, its consumer survey last year also found a strong focus on health in the wake of the pandemic. "Consumers are considering the health benefits of what they eat and drink more, which is likely to see segments that are natural and unprocessed experience growth," says Corinne Chant, Quaker marketing director at PepsiCo.
"Consumers are considering the health benefits of what they eat and drink more"
That mindset helped healthy cereal brand Lizi's add a fifth to its value over the past year [Nielsen]. "As lockdown continued, those looking to lead a healthier lifestyle saw the Lizi's portfolio as a must-have, realising that the brand offered a range of products that ticked the boxes in terms of health and taste," says senior brand manager Alice Bream. It helps that its products specifically call out health benefits. Lizi's quartet of Super Mueslis, launched last January, all carry functional cues in their names: Boost, Cleanse, Focus and Glow.
It's telling that a 'high in fibre' cue sits on all of the Super Muesli variants. Because that claim is associated with gut health – a trend that has inspired a slew of new cereals over the past year. The big names have been particularly active, with NPD including Kellogg's All-Bran Prebiotic Oaty Clusters, Morningflake's Fibreful brand and Goodbelly.
The latter, from Cereal Partners Worldwide, says much about Nestlé's strategic direction. "As more and more consumers prioritise nutrition, particularly because of the pandemic, as a business we're focused on finding ways to improve the nutritional profiles of our cereals to meet this demand," says Toby Baker, regional marketing director UKA at Nestlé Cereals.
But if the big names have led the NPD of late, it's the startups that were at the forefront of the gut health trend. Take specialist brand Bio&Me, which launched its Gut-Loving Granolas and has recently expanded into porridge. "There are some brands adding on gut health as a benefit but we're the only ones with a 100% pure foodie gut health brand," says CEO Jon Walsh.
The brand has seen interest in its proposition grow in the pandemic – especially as the media circulates the message that 70% of the immune system lives in the gut. "Interest in gut health has gone up," says Walsh. "We've heard that from buyers and retailers."
So it seems all areas of the market are performing well. Except for one: on-the-go cereal. Sales of what Kantar classifies as 'quick eats' – single serve pots of either cereal or porridge – were the only area of the market in decline, down 13.1% to £27.1m.
Breakfast bars also struggled as the number of on-the-go occasions declined. So it was a perilous time for Kind to unveil its first on-the-go breakfast bar, which made its debut in the first week of lockdown.
"I would be lying if I said there weren't some sleepless nights," admits says Kind's UK marketing director John McManus. Sales of single bars in general took a downturn during Covid restrictions, seeing Kind's total sales fall 4.3% to £16.3m. But McManus says the breakfast bars have done well in the circumstances, amassing over £1m since their launch. "The past six weeks have seen really good pickup in stores," he points out.
And he's feeling positive about the brand's prospects in 2021, as Kind spends £1m on marketing. "The activation plan we have this year is really strong and something we're really proud of," McManus adds.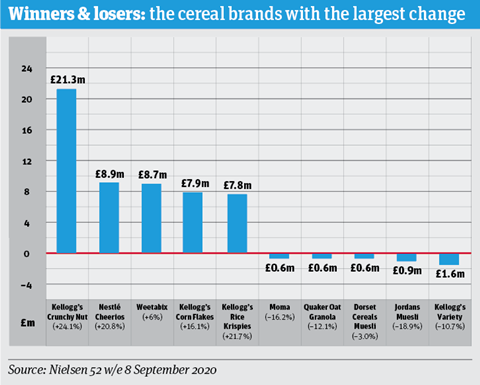 Kellogg's Crunchy Nut is the standout winner of the past year, gaining an extra £21.3m. "This is not only £12m more than any other brand, but also places it firmly in the £100m group with Weetabix and Quaker Oats," says Danny Branigan, senior client analytics executive at Nielsen.
That the fastest-growing brand is also one of the most indulgent cereals in the category says a lot about the market. "Tasty flavours – especially chocolate and honey – seem to have benefited the most, with Weetabix Chocolate, White Chocolate Coco Pops and Cheerios/Honey Cheerios seeing particularly strong performances," adds Branigan.
Tasty flavours may have done best, but there were plenty of other winners in the cereals category this year. According to Nielsen's read of the market, 80% of the top 50 brands were in growth.
"Consumers have been increasing their purchasing, both initially due to 'stockpiling', but also because individuals are consuming more of their breakfasts in the home," Branigan explains.
However, not everyone has been a winner. Quaker Granola, Jordans Muesli, Moma, Dorset Muesli and Kellogg's Variety all lost value this year.
Dorset suffered from people trading down to smaller pack sizes, and many other brands have "lost distribution as retailers look to simplify their ranges," adds Branigan.
On-the-go future
Still, performance may well depend on something beyond the control of brands: lockdown. Nestlé believes Covid measures will determine the success of on-the-go options. "If restrictions ease later this year and more people start to return to the office, we could see growth in this area," says Baker.
For now, brands are simply hammering home the convenience aspect of their on-the-go options. See Quaker, which launched its Porridge to Go Filled bars in September. "On the go remains as relevant as ever, as consumers seek convenient one-handed breakfast options that can be enjoyed at as part of a busy multi-tasking morning," says Chant. Weetabix's Perry makes a similar point. "No one's been less busy during lockdown," he says. "You could have been home-schooling or sorting our childcare." Even before the pandemic, 65% to 70% of on-the-go options were consumed in the home, he adds.
Of course, if we do return to normal, the question is whether standard cereal sales will also return to stagnation and decline. Perry is adamant that won't happen, especially as brands such as Weetabix splash out on marketing. "I think the things that people will hang on to are the things that people feel have improved their lives," he says. "So trying to hang on to breakfast and making time for the family, and using the food you have in your cupboards at the breakfast table."
He has a point. Because in the current climate, hanging on to the positives has never been so important.
Innovations in cereal 2021