Forget taking pills for a nutritional boost. Today's consumers are seeking out more diet-based solutions
Healthcare & supplements might just be the fastest moving of all fmcg categories. Not in terms of sales - growth has stagnated this year, according to Kantar figures - but in terms of how quickly trends come and go.

There's no shortage of examples. Not long ago, Brits were necking krill oil supplements like there was no tomorrow. Sales have tanked since David Attenborough pointed out there would indeed be no tomorrow for our sea life if we remove all the krill (tiny, omega-3 rich shrimp-like creatures that form the foundation of the marine food chain) from our oceans.

A similar thing happened to glucosamine in 2014 after trials called into question its effectiveness in promoting joint health. Sales of fish oil, another hot trend from yesteryear, continue to flounder amid the growing vogue for veganism and the effects of a 2013 study linking it to cancer.

For the most part, these things are cyclical and don't affect sales in the long term. Indeed, Mintel's analysis puts overall growth at 6% to £442m between 2013 and last year.

This is thanks, in part, to savvy moves to counter the waxing and waning in the popularity of certain products. As glucosamine fell off a cliff, there was a boom in multivitamins for its key demographic, the over-50s. As concerns rise over krill and other fish oils, MSC certified and plant-based omega-3 rich alternatives are making their way onto shelves. But now there could be a far more deep-seated change at play. "Penetration of vitamins & supplements has steadily fallen over the past year," says Kantar analyst Hanna Ulstein, pointing to this year's 0.3% value increase [Kantar Worldpanel 52 w/e 27 January 2019], compared to the 5.5% growth seen this time a year ago.
"The media is focusing on the importance of a healthy and varied diet on overall health"
"The media is increasingly focusing on diet and lifestyle, and the importance of a healthy and varied diet on shoppers' overall health, which may have contributed to the relatively flat market performance this year."

That can't have been helped by recent headlines around a US clinical study, which found nutrients consumed via supplements don't have the same health benefits as those consumed through foods.

It's good news for the food and drink industry, which has unveiled a host of products fortified with vitamins and minerals. Milk enriched with everything from vitamins D and A to iron and protein is now commonplace, and back in 2016 Tesco began stocking mushrooms enriched with vitamin D to help shoppers stay healthy through the winter.

Then there are products such as the Boost the Roost free-range egg brand, developed by Cornish producer St Ewe Eggs. It feeds the hens with algae and the mineral selenium to boost the nutritional content of its eggs - a powerful proposition for consumers on the hunt for natural nutrition.

But St Ewe Eggs director Rebecca Tonks admits this mindset isn't such great news for supplements. "The performance of the supplements market to an extent reflects growing consumer awareness of the need for a healthy, balanced diet," she says.
Natural credentials
In the face of this movement, supplement brands are evolving. One brand forming part of this new wave is Higher Nature, which has recently undergone a rebrand to highlight its premium and natural credentials.

Those two qualities are vital to thriving in today's market, says its finance director David Main. "Anything that's perceived as 'value for money' is experiencing decline while products that are perceived as 'clean' and therefore premium are immune to the pressures facing the market," he argues. "Consumers are getting more discerning in their buying habits and are generally veering to the end of the market that we are in."

Another brand thinking along the same lines is Together Health, a range of 'nature-based' supplements stocked by Holland & Barrett, Ocado, Boots and Morrisons. Again, natural credentials are a key selling point, says founder Lee Robertshaw. "Younger consumers are doing their research and becoming more switched on to the idea of a cleaner offering in vitamins," he argues.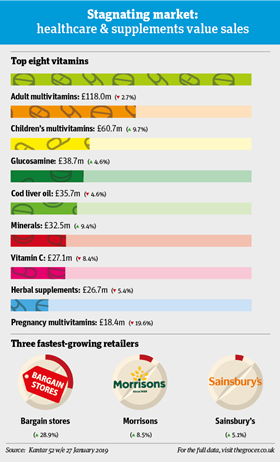 Robertshaw says independent specialist stores were generally quicker to cotton on to this proposition. "The multiples have been quite slow on the uptake but that's changing now. For example, in Morrisons we're in the wellbeing section with natural, food-based vitamins and smoothie powders."

Together Health is clearly taking note of consumer wariness of tablets by describing itself as a 'whole food supplement'. Others are going one step further by moving into food and drink formats. See the rise of turmeric shots as an alternative to capsules. Many of these shots are marketed in a similar way to supplements, with equally strong claims. Take The Turmeric Co, which is reporting strong sales growth after focusing on links with 'elite athletes' to testify to its 'immune boosting and anti-inflammatory benefits'.

'Performance drinks' company Moju says its turmeric shots appeal to those who may not be so keen to take tablets. "An important aspect of the experience of taking these ingredients is flavour and aroma, both of which are significantly reduced in pill form," says co-founder Rich Goldsmith. "Consumers draw a close connection between the 'natural' experience and the functional benefit they were seeking in the first place."

The rise of these products could explain the slowdown in Kantar's read of the market, which only includes traditional supplements. Taking into account food and drink products positioned as supplements, there may well be a more positive picture.

Holland & Barrett, for one, sees an "opportunity for growth" in less traditional formats. "Our suppliers are fantastic at approaching us with fortified and micronutrient-rich products," says head of category Lisa Sinclair. She points to More Balls, the retailer's new range of raw energy snacks containing ingredients such as turmeric, spirulina and copper.

As this range demonstrates, today's all-natural consumers are increasingly looking for products that make a difference to how they feel. That's giving rise to ever more innovative claims and ingredients that relate to mental wellbeing. One of these is 'nootropics', products alleged to improve cognitive function. It's an area that's tipped for hot growth, having inspired plenty of launches. Shakes and supplements brand Form Nutrition, for example, has a range of herbal nootropics. Bearing in mind the trend for all things natural, these products proudly state their plant-based credentials, which founder Damian Soong says appeals to today's "mindful consumer".

Holland & Barrett is also focusing on the mind, having recently added East Meets West Cognitive Formula to its growing range of brain supplements. That same trend is fuelling demand for CBD-containing products, it says. "CBD is an area that's seen huge growth for us, as the first retailer on the high street to begin stocking these products," says Sinclair.

As CBD and nootropics prove, there is plenty of room for innovation in this market - both in proposition and format. So the fast-moving nature of healthcare and supplements is unlikely to slow down anytime soon. The challenge will be keeping up.
Collagen: the 'anti-ageing' latest trend in healthcare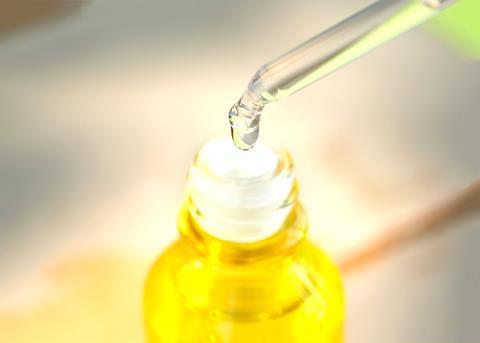 As with so many trends, it all started with Gwyneth Paltrow. It wasn't long ago she began proclaiming bone broth a miracle elixir. That's largely because it contains gelatine, which the body breaks down into collagen – an ingredient widely believed to preserve youthful looks and vigour.
The ingredient has the backing of Matt Lovell, former England rugby nutritionist and founder of the Amino Man sports nutrition brand, which this month launched a new collagen supplement product. "For as long as I can remember I've been recommending chicken soup and bone broth, which are packed with collagen as an aid for injury and illness," he says. "Collagen is the glue which holds the body together."
Demand for the ingredient has spawned an explosion in collagen-enriched food, drink and supplements. In the past year alone, we've had collagen-enriched juices, gin ('Collagin', of course), skin creams and toiletries, to name a few.
Last autumn, 'real food' brand Hunter & Gather launched what it claims is a UK market first: 100% Pure Bovine Collagen Hydrolysate Peptides Powder, in recyclable and biodegradable packaging (pictured). "Essentially we're putting back what the modern diet has taken out," explains Hunter & Gather co-founder Jeff Webster.
"Forty years ago we would have been consuming much more offal and connective tissues, so we were getting more collagen. As we get older our collagen starts to deteriorate, so it becomes more important to introduce it to our diet."
There's one counter trend that might throw a spanner in the works, however: veganism. Collagen is currently only available from an animal source. But Lee Smith, MD at Forza Supplements, is working on an answer to this problem. "We're currently working on a number of different projects in this area, including trying to create a vegan alternative," he says. Watch this space.