As the first month-long campaign approaches and public health experts back the health benefits, could vaping get another sales boost?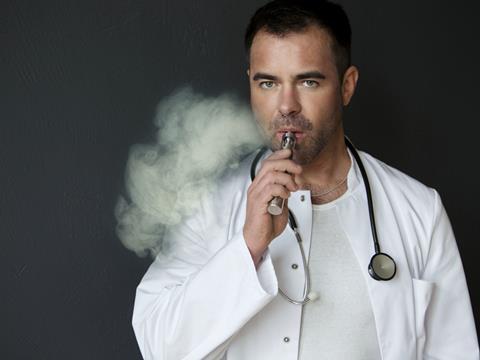 Never mind Stoptober; here comes 'Vapril'. This spring, Britain's vaping sector will kick off its first month-long campaign to promote electronic alternatives to tobacco. Organised by the UK Vaping Industry Association, the April push will aim to "raise awareness of the different types of vape products, vaping responsibly and the public health benefits compared to smoking".

Anything that can push up sales of vaping products in the supermarket aisles would be welcome. Grocers have lost £7.7m in e-cigarette and vaping sales over the past year [Nielsen 52 w/e 9 September 2017]. That's 4.5% of its worth gone. Volumes are up 5.7%, but it's still nothing compared with the ambitious growth predictions for the total vaping market, which is tipped to exceed £2bn by 2020. So what's going on?
There is still plenty to be positive about in the world of vaping. Just two weeks ago, US scientists published the biggest study yet on its health implications. While the long-term effects are still not established, the research by the National Academies of Sciences, Engineering & Medicine in the US backed the view that switching to an e-device reduces a smoker's exposure to cancer-causing toxins compared with ordinary cigarettes. And this week Public Health England urged hospitals to sell e-cigarettes and offer vaping lounges.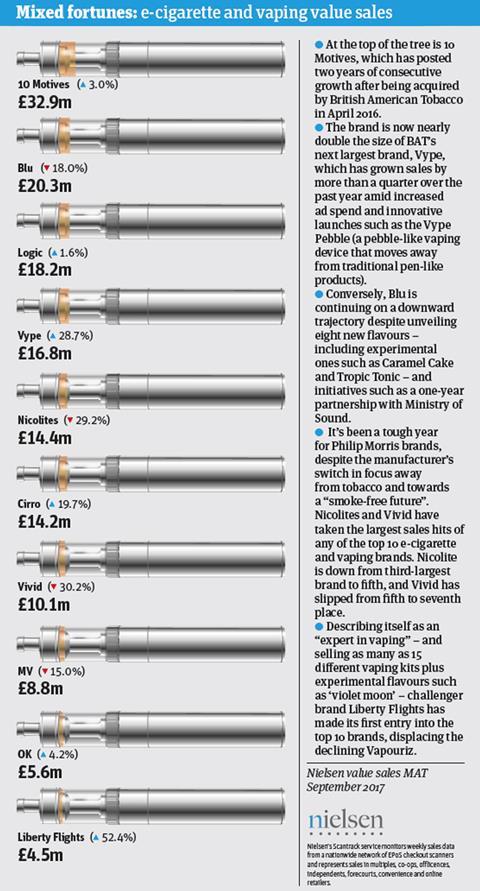 Data point: Click or tap here for popup table
So it's an opportune time for the UK industry's own awareness push in April, which aims to recruit beyond the existing three million vapers in Britain with free samples and promotional activity. UKVIA MD John Dunne is particularly keen to clear up consumer misconceptions caused by tabloid stories demonising vaping. "Programmes like this get the message out that it's a positive thing."
Plus, it's a savvy way around the EU Tobacco Products Directive, which came into force on 20 May. The new rules mean vaping brands can't market themselves freely by, say, including NHS health assurances in an ad. "The ad restrictions really don't make sense," says Dunne. With its first national campaign, the UKVIA is "pushing back against that" to promote types of products and public health messaging.
Effects of EU rules
Still, there are other implications of the EU directive that are harder to circumvent. Not only are there safety rules, such as an end to vaping products that don't conform to strict guidelines of no cartridges with capacity of over 2ml, and no e-liquid refills of more than 10ml or stronger than 20mg of nicotine; more worryingly for the industry, all brands must display health warnings on at least 30% of the pack (which hardly does much to promote the health message) . Dunne admits there has been a temporary impact on sales. But he says this was down to practical measures, rather than health perceptions. "We saw a little bit of a dip when the directive fully came into force. That was people clearing out their old inventory and waiting to reorder."

The vaping industry went on to see a "major surge" in sales in the autumn, Dunne adds. "We're seeing an increase in volume over all the channels, from convenience all the way through to the specialist vaping stores. A lot of that is driven by the positive attitudes towards e-cigarettes. We've seen them used in the government's stop smoking campaign for the first time ever."

Nick Geens, head of emerging products at Logic owner JTI, agrees any sales dip after the directive was largely down to "smaller, non-compliant brands" being removed.

Imperial Tobacco head of next generation products Sophie Hogg says the directive has actually turned into an opportunity for the big boys. Its Blu brand, along with other established players, was able to "step up and help support retail partners and customers through the transition" forced by EUTPD, she says. "The new legislation also provided retailers with a lucrative opportunity to establish themselves as e-vapour advocates."

Yet things aren't all rosy for Blu. Although Hogg insists it "enjoyed a successful 2017 overall", the brand slipped 18% in value sales [Nielsen] and Imperial is now looking to "broaden Blu's distribution channels".
No loyal following
And so we come to the real challenge for the big players: loyalty. Vapers are regularly switching from one brand to another, especially in liquids, taking advantage of the wide choice and opting for hip flavours (although they tend to return to the core tobacco, menthol and fruity options, says Dunne).

Making matters worse for loyalty-short brands is the new problem of short fills. They're oversized bottles of nicotine-free vaping oil that duck the EU 10ml-only rule. Each 60ml or 120ml short fill contains 50ml or 110ml of oil respectively - leaving room for shoppers to add 10ml of high-strength nicotine oil to create a large bottle of milder strength oil.
Top 10 advertisers in e-cigarettes and vaping 2018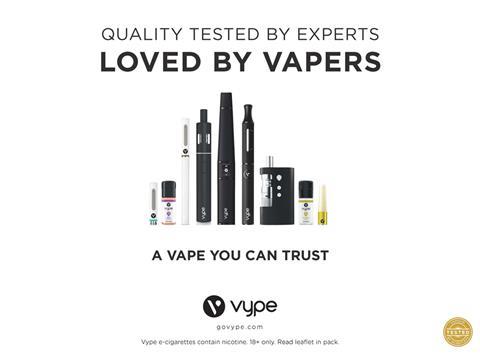 Data point: Click or tap here for popup table
Vype was the only e-cig and vaping brand to up its spend on advertising this year. Promotional highlights included a tie-up with rap artist Tinie Tempah to promote the launch of Vype Pebble and a stint at Imbibe Live, where it hired a mixologist.
Second biggest spender Blu dropped outlay as it focused on face-to-face marketing rather than above-the-line activity.
Totally Wicked, Logic and E-Lites spent most of their budgets on cinema. Logic's Effortless Precision ad was designed to highlight the product's 'advanced refilling system', while the Totally Wicked execution linked with the government's Stoptober campaign.
Source: Ebiquity 52 w/e 30 November 2017
Being cheap and easy to make, it is not hard to see how they could tempt consumers away from trusted brands. Short fills have been rolling out at a rate of knots since the late summer, says Vapouriz's Brett Horth. "People can make it in their bath or kitchen without any regulation or any thought for safety. There are big profits to make." This is especially the case as more and more vapers move to open tanks, away from disposable e-cigs and capsule devices.

And for supermarkets, there is another dimension to the challenges in the market. A higher and higher proportion of sales are going to specialist vaping shops. The UKVIA estimates there are already more than 2,000 around the country, with their number "likely to grow exponentially over the next two to three years as brands embark on major store investment programmes".

Imperial Tobacco's Hogg says supermarkets are losing out to these smaller players due to their lack of "consumer experience". "Retailers must be able to demonstrate their category knowledge and expertise" she says, as well as "a strong understanding of how the market has changed and continues to evolve".
"Grocery could offer a friendlier, more accepting vaping environment"
It's not just knowledge; ranging is another problem for the mults, given they have just one fixture for vaping. Pascal Culverhouse, CEO and founder of vape shop chain Electric Tobacconist, believes this is a key selling point for specialists. "Supermarkets use traditional suppliers who stock tobacco and grocery products and only offer a limited amount of e-cigarette and vape products compared to specialist retailers."

The UKVIA's Dunne says understanding how to progress "more complex product offerings" is key for the supermarkets - which, he believes, need to reconsider the high prices they charge vaping brands for listings.

If supermarkets get it right, they could have a market. Vape shops "mostly appeal to vape hipsters" says Andy Boston, brand manager at online retailer Vapestore UK. Grocery, therefore, "could offer a friendlier, more accepting, less advanced vaping environment that is more family friendly, and open for non-hipster vapers".

As 'Vapril' approaches, let's hope supermarkets can corner this 'non-hipster' market and cash in on the rise of vaping. Or they could see their sales vapourise.