Wales is marking out its food and drink with rapid digitalisation and a surprising bid to launch new emojis. What about Covid-19?
How times change. Eight months ago, one of the main concerns facing the Welsh government's Food & Drink Wales (FDW) division was how to get the humble Welsh cake turned into an emoji.
After smashing its 2014 target of turning Welsh food and farming into a £7bn sector a year earlier than planned, it was now time to lobby the all-powerful emoji regulator: the Unicode Consortium.
It's easy to see why emojis seemed an important issue at the time. Although the spectre of Brexit still hung over the sector, Welsh producers were feeling fairly secure. Food and farming sales had grown 29.9% since 2014, while the wider Welsh food and drink supply chain was worth £22.1bn last year, an increase of 3.6% since 2018.
Now was the time to build on that by adding Welsh fare such as leeks and caerphilly cheese to existing foodie emojis, FDW insisted, as part of a bid to further "boost awareness about Wales' acclaimed culinary culture and booming food and drink sector".
Just over a month later, however, and a more appropriate choice of emoji would have been the one depicting shock. The pandemic and ensuing lockdown have threatened to derail the sector's progress. So how has the sector coped, and what does the future hold?
Wales went into the pandemic on a strong footing. In January, environment secretary Lesley Griffiths pointed to the record £7.47bn turnover in Welsh food and farming as proof of a "small country doing great things" .
That growth came down to a mixture of exports, which grew £5% to £565m last year, alongside wider growth across domestic food and drink manufacturing categories. These included a 35.5% rise in turnover to £611m for the dairy and egg sectors and an 22% increase in turnover for the drinks sector to £1.1bn. The meat sector – Wales' largest food category – grew by about 20% from 2017 to 2019 to £1.2bn. Overall, food manufacturing turnover grew by 8.1% from 2018 to 2019, from £4.8bn to £5.2bn.
Then, in March, the Covid crisis hit. By the end of July, the damage wrought had become clear. Welsh government data showed total sales in all food and drink channels had fallen 27% year on year. By then, Wales's manufacturing sector had faced a significant number of factory-based Covid outbreaks in sites including 2 Sisters on Anglesey, along with Kepak in Merthyr and Rowan Foods in Wrexham.
And to date, some £27m in emergency funding has been invested in over 900 food and drink businesses via the Welsh government's Economic Resilience Fund.
Top five Welsh food exports and export markets
FDW says the "strong brand image" developed globally by Welsh food and drink will help the sector recover from the pandemic.
Exports totalled £565m in 2019. That's an increase of £26m, or 5%, on 2018. And they've risen by £162m since 2015.
Welsh exports to the EU represented 75% of its total food and drink exports in 2019, which is higher than the UK figure of just under 60%. Their value totalled worth £426m, up £32m on 2018. The top destinations for exports were Ireland, France, and the Netherlands.
The highest-value categories in 2019 were meat (£169m) and dairy & eggs (£132m).
Exports outside the EU were worth £139m in 2019, down £5.6m on 2018. However, the figure has risen by £19m since 2017 and by £82.5m since 2014. Top non-EU destinations were the US (£20m), Turkey (£11m), Australia and Saudi Arabia (£9m each).
The top three exports to non-EU destinations were meat (£37.8m), miscellaneous edible products and preparations (£31.9m), and dairy products & eggs (£27.1m).
The meat sector managed to shrug off the pressures on supply chains. HCC says year-on-year global exports were up 8.2% to £231.7m from January to July.
Cereals saw the largest percentage decrease, falling 28% to £59m.
Panic buying
Panic buying at the start of lockdown was one key issue. It had "a massive effect on the supply chain" in the meat sector, says Hybu Cig Cymru/Meat Promotion Wales CEO Gwyn Howells. The surge in demand for mince for "hoarding and freezing" had the same effect as "a huge snowstorm on supply chains, but a hundred times as bad".
Just like the rest of the UK, that rush to keep supply on shelves caused "huge disruption" behind the scenes, he adds. The high demand for mince, for example, worsened the sector's well-documented carcase balance issues.
Plummeting farmgate prices amid a collapse in demand from foodservice also hit Wales' dairy sector hard, adds NFU Cymru president John Davies. But apart from what he describes as a handful of "bad examples of profiteering" from some processors, the sector "responded well and worked together to maintain a sustainable supply chain".
Indeed, concerns over carcase balance soon eased, says HCC's Howells, thanks to "a collegiate response from retailers, processors, farmers and levy boards". This is borne out in UK Kantar data [12 w/e 9 August], which shows strong sales in cuts outside mince. Value sales of steaks were up 21% year on year, for example, helped by promotions.
Howells says the UK government's Eat Out To Help Out scheme also "rejuvenated supply chains". While foodservice "may not be back to normal" – as seen with last week's announcement Bidfood was cutting 7% of its workforce – "it certainly helped".
David Cattrall, MD at Gwynedd-based Harlech Foodservice, has certainly seen that effect. At the height of lockdown, it had lost 95% of its business, leading to 17 staff redundancies. But sales picked up in August. A £3m deal in September to supply restaurant chain Hickory's Smokehouse also helped steady the books. "We have also seen a dramatic increase in online ordering via the company's website and app – up from 15% to 44% of the overall total," he adds.
This has been a trend across Welsh food and drink. "DTC has expanded exponentially since the pandemic started, with all parts of the food chain developing this sales route," the Welsh government says. And it's the smaller businesses that are benefiting most. According to FDW, micro business sites employing fewer than 10 people represented 85% of all Welsh food and drink sites in 2019.
This rush to serve customers online accelerated a planned deal between food website Discover Delicious Wales and wholesaler Blas ar Fwyd in April to create a "virtual food hall" boasting more than 250 Welsh food suppliers, says founder Laura Pickup. "Since starting up the new service, the conversion rate has grown massively," she adds.
"We've now got the supply chain to fulfil these orders and site visits have jumped up from about 6,000 per month to 20,000."
Meat exports
Plus, meat exports have also held up well, despite the collapse of foodservice demand across the world, adds HCC's Howells. "I was worried exports would face a difficult time, but sales are up for May, June and July in most categories," he says.
With that in mind, the NFU's Davies adds Wales is "very well placed in terms of the quality offer around what and how we produce".The union is now driving ahead with "exciting policies to help meet our ambition to become the most climate-friendly producers in the world", with a big focus on increasing productivity, carbon sequestration and renewable energy use.
The Welsh government's new Food & Drink Action plan, which has already started consulting, has pledged to consider that environmental challenge. Crucially, it will also look at how the sector can "build on our recent successes", amid the challenges of Covid-19 and the Brexit transition, it says.
"Our objective is to maintain the industry's sustainable growth trajectory while developing a global reputation for Welsh food," a spokesperson adds. Despite "the unknowns to come in 2020 and beyond", they insist the sector has "a strong strategy to continue our support". After such a turbulent year, Welsh suppliers will be counting on it.
How Internal Market Bill threatens devolution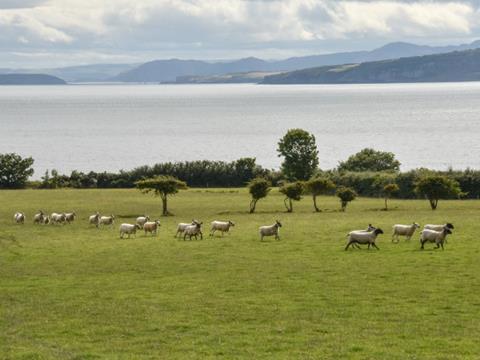 Food and farming policy in Wales has been a devolved matter for more than two decades. But the latest impact of Brexit – Westminster's controversial UK Internal Market Bill – threatens to "chip away" at the very principle of devolution and Wales' reputation for quality, suggests one senior industry source.
The powers set out in the bill will enable the UK government to spend in devolved areas – including for replacement EU funding – without any engagement with the devolved nations. And crucially, it could also compel Wales and Scotland to accept lower food standards agreed in future trade agreements.
In September, Welsh environment secretary Lesley Griffiths argued that the bill sent "a worrying signal about the future of our high environmental and food safety standards in Wales and about where and how decisions about key decisions are made in the future".
Her comments came after, in an interview with The Grocer this summer, Griffiths said the Welsh parliament "shouldn't be seen as [just] a stakeholder or someone they feel they should have to consult. We are equal partners".
First minister Mark Drakeford was even more direct, as he denounced an "enormous power grab" that would "hasten the break-up of the union".
The bill passed its first hurdle through the Commons – despite these and other concerns – at the end of September. But it has since become subject to legal challenge by the EU over its breaching of commitments over Northern Ireland.
The Scottish government voted against giving consent to it last week and Drakeford has also pledged to oppose the legislation. However, while it may be subject to amendments as it travels through parliament, the bill looks likely to come into force.
That's likely to anger the industry. NFU Cymru president John Davies says "it's really important devolution is recognised and that decisions are agreed rather than imposed".
The senior industry source is even more scathing: "Wales has a temperate climate that's ideal for food production alongside high standards and food quality, but the sector will be a sitting duck under this bill to lower-quality imports".
Expect this issue to remain top of the agenda.


Kevin is The Grocer's fresh foods editor, overseeing our coverage related to the retail fresh foods sector, including dairy, meat, fish, poultry, fruit & veg and eggs, as well as the plant-based foods category.

He also assists in production of The Grocer's annual Dairymen supplement, while also writing about food commodities, sourcing, sustainability, politics and regulation; and has appeared as a commentator on both radio and TV on the state of the UK food industry.

Prior to joining The Grocer in 2014, Kevin wrote about retail financial services for a Financial Times business publication, and began his career as a journalist working for regional newspapers in Wales.

Follow Kevin on Twitter: @KevWhite77