Early signs of life are returning to cheese but, as own label and discounters grab share, brands must innovate…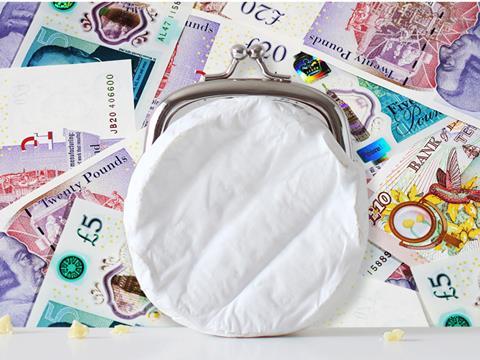 First the good news: the cheese category is back in growth after two consecutive years of value decline. Volumes are also up, albeit marginally, and half the top 20 brands are in growth.

Now the bad news. Despite early shoots of recovery, there remains a sense that the category is failing to fulfil its potential. The trends for protein, low-carb and low-sugar foods should all in theory be benefiting cheese; yet suppliers admit they have struggled to expand usage occasions as effectively as other categories. So how can cheese build on its tentative comeback to take its rightful slice of grocery spend?
In this report
One factor hampering an all-out cheese boom is the growth of the discounters. Aldi and Lidl now represent 13% of cheese spend and some suppliers have argued the resulting obsession with price and own label has distracted from their ability to exploit favourable consumer trends.

In contrast to other dairy categories, the average selling price of cheese has only risen marginally (or fallen in the case of cheddar) over the past year. This is due in part to the dairy cycle, which means the wholesale cost of milk, cream and butter are all impacted before cheese. But it's also because retailers have kept prices stable on own-label products, forcing brands to follow suit or risk pricing themselves off the shelf.
The discounters' emphasis on own label means multiple retailers have also been quick to rationalise ranges where brands are not perceived to be adding value, says Norseland senior category manager Matt Levett.

The effect of this perfect storm is clear to the see in the numbers. As a whole, own-label sales have grown 3.6% over the past year, while brands have shed 2.6% of their value.

"Investment in own-label pricing has paid off," concedes Wyke Farms managing director Rich Clothier. "I think Aldi has probably removed the stigma about buying own label for shoppers and I think that's something us brand managers need to be very aware of going forward."
Cheese category snapshot 2017
So far, so depressing for cheese brands. Yet there is one positive to all this doom and gloom. Retailers are using their own label cheese to create a point of difference from the discounters - and this is where we are starting to see sparks of innovation. Waitrose launched its own quark cheese over the summer following a 109% spike in sales due to its popularity with gym goers as a high protein ingredient. The retailer also reports strong sales of halloumi - up 24% year on year - and has launched a Waitrose Duchy Organic halloumi to capitalise on the trend (see gallery).
The Co-op, meanwhile, has cashed in on the flexitarian trend with its first-to-market Co-op halloumi slices, which Co-op cheese product developer Nadine Salhani says are an ideal vegetarian alternative to a burger.
Convenience
All this innovation and excitement in the market is giving brands an ample chance to fight back. And convenience is one consumer sweet spot that brands are desperately trying to hit. "In the last year we've seen that convenience is a key trend within the cheese category," says Rachel McColl, senior brand and category manager of yellow cheese at Arla Foods.

"Over recent years, we have seen a lot of new product development in this area in the form of flavours, resealable packaging and low-fat versions. However, the main bulk of this has been in the snacking arena as suppliers the convenience and snacking trend now being seen across dairy."

Children's products remain the driving force behind the cheese snacking sub-category. Cheestrings has been the second-fastest growing cheese player among the top 10, a performance that is even more impressive given the decline of the kids' lunchbox occasion due to the introduction of free school meals for all primary schoolchildren.
Cheese gets schmoozing up to booze at Christmas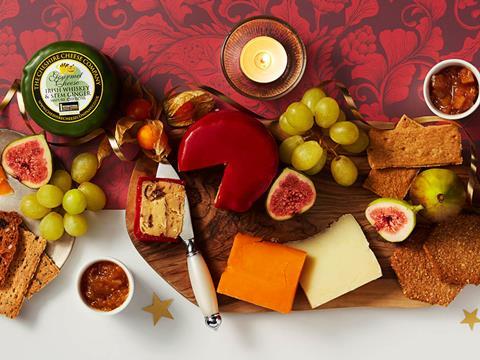 Brand owner Kerry Foods clearly believes the segment is still worth investment. It partnered with Sony Pictures Consumer Marketing to run an on-pack promotion across its dairy portfolio including Yollies, Cheestrings and Scoffies linked to The Emoji Movie as part of a wider £1m integrated marketing campaign that also included TV, shopper activation and digital support.

However, it's not all about the kids. When it comes to snacking, suppliers are finally turning their attention to adults - and not before time.

"We've left out adult snacking for too long," admits Lee Willett, Dairy Crest marketing director. "There are a significant number of adults already snacking on cheese in the home and yet there are no products really suited to the on-the-go snacking occasion."
Adult snacking
While kids' snacking continues to make up around 90% of retail snacking sales, Willett says there is a belief among retailers that adult snacking can grow to the same size or even bigger. Dairy Crest has recently signed a deal with the Co-op to get Cathedral City snacking products into the front of the store in the food-to-go section. "That's what we need to do," says Willett. "We need to be putting ourselves where consumers are looking for snacking solutions."
Cheddar duo see off threat of own label
This explains why Dairy Crest has focused most of its investment in Cathedral City at a shopper level, particularly around convenience products, rather than in above-the-line advertising. "With something like snack bars we have to drive awareness where people are actually shopping and making key decisions and that means front-of-store media, driving trial in store and getting people to try the product, away from just doing the big headline piece," says Willett. "As a brand we don't have a problem with awareness, it's more about conversion in store."
And there are some early results: although Cathedral City's value sales are flat, volumes are up 4.5%.

Some brands are reaping much more dramatic benefits from the desire of adults to snack on dairy. Norseland reports annual growth of 25% in value for its Ilchester Selection Net, which includes individual portions of Applewood, Jarlsberg and Edam among other cheeses.

One of the standout launches in adult snacking this year has been Kerry Foods' GoGo's. Launched in February, GoGo's offers a range of different cheese-based snacks and spreads with accompaniments including chocolate-covered coffee beans, chorizo bites and fruity flapjack.

"Our range is perfectly suited for a number of shopper missions, which we believe has helped our growth; whether it be our protein-based snacks - Protein Power, Oat Boost and Bean Boost - ideal for on-the-go consumption - or our Snackbites and Spreads products - ideal for food for tonight," says Matt Paterson, brand manager for GoGo's.

With cheese penetration just short of 95%, Paterson adds "there is a real opportunity to deliver growth by opening up adult snacking within the cheese category and creating more opportunities for shoppers who love cheese".

Dairylea is also looking to capitalise on the trend with a new addition to its Dunkers range in the spring in the shape of Dairylea Dunkers Nachos; however overall brand sales were down 1.1%.
Health & fitness
Fitness fanatics are another potential avenue of growth. This is one demographic of consumers that cheese suppliers have historically found difficult to attract, and the big brands have arguably not made the most of cheese's status as a strong source of protein.

Their more nimble competitors, on the other hand, haven't been nearly so reticent. Joseph Heler launched its high-protein, low-fat Eatlean cheese brand in May 2016 and has achieved further listings this year in the UK and internationally with different formats including block, snack bars and grated. The brand has just added a spreadable variant to that mix.

"As dairy is the leading source of protein, it made sense that as cheesemakers we could produce a 100% natural high protein product, without any negative attributes like fat or sugar," says George Heler, director at Joseph Heler Cheese.

Mondelez is clearly thinking along the same lines with its Philadelphia Greek Style, which is naturally high in protein and includes half the fat of original Philadelphia, according to Mondelez International category development manager Lee Wiseman.
Pop-up gallery: innovations in cheese
The backlash against sugar provides the perfect opportunity for cheese snacking products to be positioned as a healthy, natural alternative to chocolate and confectionery.
"As the focus surrounding the negative impact of sugar grows, consumers are increasingly looking for alternative snacks with a more natural offering," says Stephen Gregory, marketing director at Bel UK.

"Health and practicality are now the two main drivers for purchasing snacks as people move to products that are positioned as low in fat or sugar."

Demand for more natural products may in part explain why lighter cheeses have struggled to attract a broad consumer base. Yet Mike Harper, marketing director at Ornua Foods, whose brands include Pilgrims Choice, believes there's still a big opportunity around lighter. "[Fat] is the number one reason people leave the category or don't get to the category in the first place. If we can solve the conundrum around people's perception that lighter cheddar doesn't taste good then we think there's a significant category driver around that."

Harper explains that much of the marketing support for Pilgrims Choice is focused on the brand's lighter variants, particularly sampling activity to address taste perceptions.

However, despite these opportunities, most of this year has been about supplier jostling for retailer turf - especially in the competitive cheddar subcategory.

On the upside, Pilgrims Choice secured its first-ever listing with Asda and its full range went on sale on 1 February. Following several years during which a number of cheddar brands have battled it out for the number two spot in the segment, Pilgrims Choice is now firmly established as the main challenger to Cathedral City. And sales of the brand are up 6.2%. The new listing has been backed up with by a consistent investment in above-the-line activity.
"We have tried to have a disruptive personality compared with our competitors and over the last few years we've continued to invest in above-the-line, which some of our competitors haven't done as significantly as we have," says Harper. "All of those things have combined to mean that in quite a challenging branded space, which has contracted during the past three years, we have managed to forge quite a distinctive position for ourselves within cheddar, and consumers seem to be responding."

However, Pilgrims Choice owner Ornua also suffered a loss in February as it was ousted as the Co-op's cheddar supplier. In its place, Lactalis McLelland won a contract to supply both its branded and own-label varieties. McLelland's Seriously Strong (later rebranded Seriously) range hit the Co-op's shelves in April, including Seriously Strong Mature, Mature Lighter and Vintage, with Lactalis supplying own-label cheeses from the spring.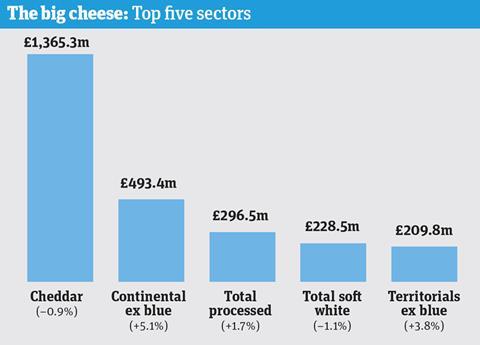 The focus on innovation could be key to this success. Earlier this year, Lactalis McLelland relaunched and added to the brand with the rollout of a fresh new look across block and spreadables, as well as two clearly defined sub-ranges with their own unique recipes - Seriously Strong and Seriously Creamy.

It also added a completely new line, Seriously Creamy Medium Cheddar 350g, designed to appeal to younger families in particular and inject some life back into the underperforming mild/medium maturity cheddar segment. Mike Chatters, sales director for Lactalis McLelland, says much of the Seriously brand's growth has been driven by products launched in 2016, not least Seriously Spreadable Squares, launched to tap into the portions market and which have added £1.4m worth of incremental sales to the brand's value.
Strategy rethinks
But not everyone has benefited from this musical chairs in the cheese category - prompting some brands to have a strategy rethink. Anchor Cheddar is one of these. Having been delisted by Asda to make way for Pilgrims Choice, the brand lost its major retail stockist.

Despite exhaustive efforts by Arla to push Anchor cheese forward since its 2013 relaunch, including a £6m ad campaign in the summer of 2015, the brand slipped from the fourth-biggest cheddar brand in the UK to eighth [The Grocer Top Products/Nielsen], with value sales dropping 63% in 2016 from £28m to £10.2m.

Rather than giving up and discontinuing the brand, Anchor is now focusing its cheddar range on the convenience sector, with plans to relaunch a rationalised range in December exclusively for convenience retailers.

The mature cheddar range will be introduced in Nisa stores from 11 December and will be available in Booker outlets from January 2018. And parent company Arla has more positive news from its more premium cheese brands. It ran a £1.2m TV advertising campaign for its Castello brand through July and August this year to showcase the diversity in textures and flavours of the range, and has also introduced several NPDs.

In another nod to the snacking trend, Castello Snacking bags were introduced in April this year, and are now listed in Tesco, Sainsbury's and the Co-op; and October saw the launch of Castello Extra Creamy Brie and Castello Chive & Onion Halo, both of which have succeeded in gaining listings in both Asda and Sainsbury's.

Mediterranean-style cooking cheese brand Apetina was also relaunched by Arla in June, with a rebranded packaging design, a media campaign and the addition of a new Indian cooking cheese - Savera paneer. The range has gained listings in Tesco, Asda, Sainsbury's, Morrisons and the Co-op.

Wyke Farms is another brand that is revising its strategy following a tough year in which sales have fallen 35.3% - the result, says Clothier, of a conscious decision to back away from deep promotions and focus on the brand's core customers.

Now Wyke wants to engage even more directly with its customers. "It's about focusing on the people who appreciate the values of the brand and trying to reinforce that position," he says, adding pointedly that "promotionally driven turnover is good for brand vanity but genuine repeat purchase is what brand sanity is about". Wyke will be taking the brand on the road next year, visiting more festivals and agricultural shows than ever before as well as promoting products in store.
The quest for innovation
As brands look set to face another competitive year ahead, range extensions provide an easy win. Currently, examples of genuinely new concepts are thin on the ground. Data from Shopper Intelligence suggests the main opportunity for brands is to develop credible, authentic and premium solutions to capitalise on shopper interest in quality and authenticity. "There is also potential for 'healthier' cheese varieties," adds Chris Adkins, director at the company.

Nicola Thomson, account director at OurCreative, says that the market is looking for new cheeses that are dairy free and suitable for vegans. "Violife is one of the brands exploiting this new need with a whole new range of flavours which offer recipes on the reverse of the product sleeves", she says. Indeed, Sainsbury's - where Violife is stocked - reported that sales of its vegan cheeses surpassed expectations by 300%. As a result, it has increased its vegan cheese range - also known as 'Gary' thanks to a viral social media post claiming it should not be called cheese - to include a blue cheese-style product, cheddar-style slices and a cheddar-style alternative with chives.

Less well known cheeses could benefit from the increase in more daring scratch cooking and foodie culture. "UK consumers are becoming more adventurous in the kitchen," says Chatters at Lactalis McLelland, whose Continental brands include Président and Galbani.

"They're increasingly adding new flavours, cuisines and products to their repertoires; and certain categories - Continental cheese included - are benefiting. Topping pizzas and pasta dishes with mozzarella, for example, is now considered normal for many households, when just a few years ago only foodies would be so daring."

Chatters reports that much of the growth in the Continental cheese category has been generated by younger consumers looking for variety. "More and more consumers are buying more than one type of cheese to keep in their fridge and to cater for different usage occasions," he says.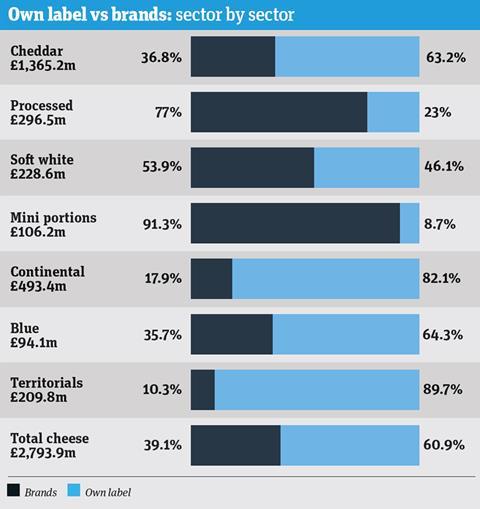 James Millward, managing director of Eurilait, says that halloumi, mozzarella and feta continue to enjoy growth on the back of the growing popularity of 'flexitarian' diets and Mediterranean eating.

"However, we need to be careful from an authenticity point of view that what we are eating is a true Continental cheese, and ensure we are building consumer trust in our products and their provenance," he cautions. "Feta is a PDO whereas halloumi and standard mozzarella aren't - you can just as easily be eating a cheese made in Southall or with frozen Polish curd."

One issue that concerns Continental cheese suppliers is whether Brexit will put the brakes on the recent growth of the segment.

"Brexit and its effect on currency is already affecting the category, in the same way it is affecting the whole food sector, with strong inflationary trends," says Panos Manuelides, founder of Odysea.

"Going forward, and depending on the deal that the UK is going to make with the EU on trade and customs, at best we will see no further change, at worst a lot of Continental cheeses and particularly the low product life and slower moving ones will disappear from the shelves, simply because customs clearance may take a big chunk out of the minimum life that is required for a product to be placed on the shelf."
Territorials and Brexit
If such a scenario were to unfold, British territorial cheeses may stand to benefit. Territorials returned to value growth for the first time in a number of years in 2017, and although sales remain short of the £216m recorded in 2013 their renaissance is welcome news to suppliers.

In further good news, territorials were one of the few subcategories to buck the move towards own label. (Although cheddar was a notable exception, with branded sales falling by 6.7% in the past year.)

"With Brexit, many retailers are pushing UK cheeses, as it is costing them more to import - this creates an opportunity for British cheesemakers," says Billy Kevan, dairy manager at Colston Bassett Dairy.

Kevan says that provenance is increasingly important to consumers, meaning that traditional heritage brands with recognised PDO status such as Colston Bassett's Stilton have growing appeal with shoppers.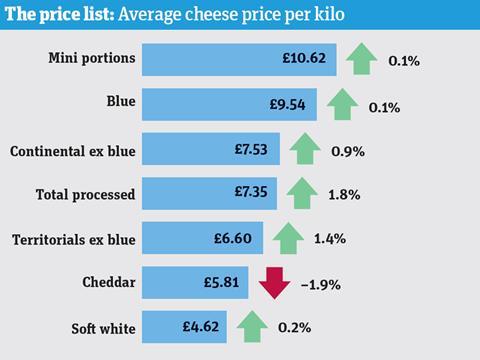 The growth in market share can also be attributed to the availability of different formats and pack sizes to suit consumer needs, according to Sandra Bell, marketing manager at The Wensleydale Creamery.

"We are experiencing growth with our sliced cheeses, particularly for our sliced blended cheeses, which include varieties such as Cheddar with Caramelised Onions, Double Gloucester with Onion & Chives, Hot & Spicy Cheddar, and Cheddar with Cracked Black Pepper, in both domestic and export markets," she says.

Other suppliers are looking to attract a wider demographic into territorials, in particular younger consumers who have more recently favoured Continental cheeses. Territorials producer Belton Farms recently launched a Red & White Fox branded range of aged red and white leicester cheeses in a drive to broaden the appeal of the territorials market to consumers.

"We recognised that we couldn't just stand still and hope people keep buying the same things," says Alison Taylor, Belton Farm's marketing manager. "When we first started we looked at who the customer base were and they were largely empty nesters, over 55 years old, but that's a limited market so we intentionally went out to encourage the 25+ years, probably people that are going to be buying Tyrrells crisps and BrewDog lager, and that's where we've tried to target the product at."

Taylor says the recipes have intentionally been designed to appeal to the palates of younger people. "Red Fox was based on a red leicester recipe but it is different - it's quite a complex blend of sweet and savoury and because it's matured for 15-18 months it's developed quite a crunch. It's a unique product. We didn't feel as though we just wanted to put it into the market as a red leicester and that's why we went down the branding route." The pair of Foxes are currently available in 200 Waitrose stores and this month have started being rolled out to Tesco outlets nationally.

The extent to which territorials could eat into the share of Continentals is up for debate. Millward, for instance, believes they may continue to grow but as an alternative to cheddar. Other suppliers, however, believe cheddar also stands to benefit from growing demand for cheeses of British provenance.

"Consumers are increasingly looking to support British farmers and produce," says Svitlana Binns, customer relationship manager for Dairygold Food Ingredients UK. "We're giving customers the reassurance they are seeking with a range of branded cheddars produced in the UK that includes Wookey Hole Cave Aged Cheddar, Barber's West Country Farmhouse, Taw Valley, Davidstow, Cornish Cove and Cornish Cruncher cheddars."
Cheese: Top 10 Advertisers
Even home-grown cheeses are likely to feel the impact of inflation, though, which is finally expected to feed through to the shelf price in the months ahead. "At the moment we've managed to counteract it but I do think there's going to be pressure in the next year," says Ornua's Harper.

This is particularly worrying at a time when base price points are the most important factor for consumers. The era of the discounter means promotions - traditionally a reliable means for brands to drive trial and purchase - have taken a turn downwards in favour of everyday low pricing. Indeed, the value of product sold on deal has gone down by as much as 9.5%.

Philip Holford, senior category & brand manager of cheese category UK at Arla Foods UK, says "a lot of retailers" are pulling away from multibuy link-save promotions. "While the smaller pack sizes have seen somewhat shallower promotional deals (less £2 and more focus on £2.50), there has been a lot of focus on driving the larger pack sizes via market-leading deals, including half-price deals, across the leading brands."

One thing is clear: brands won't be able to rely on low prices to draw in consumers. And as post-Brexit shoppers look set to become even more penny-conscious, brands will need to find innovative ways to convince them to part with their cash. Failure to do so could put a spoke in the fragile recovery of the cheese category.