Who said Brits were on a budget? Amid creeping inflation and tightening disposable income, you would expect the supermarkets' value lines to be stealing the show. Yet the reality is altogether different. While the media has been focusing heavily on changes to the lower end of the market - including the much-publicised Tesco Farms brands - premium lines have been quietly gaining ground.
Over the past four years, top-tier own labels such as Tesco Finest and Sainsbury's Taste the Difference have shot up 36% in value to be worth £3.7bn [Kantar Worldpanel 52 w/e 25 March 2018]. That's six times the rate of growth of total own label, which has risen by 6% over the same period to £111.6bn. It's enough to warrant a toast with a Tesco Finest espresso martini.
The World of Private Label
What: The PLMA World of Private Label
Where: RAI Exhibition Centre, Amsterdam
When: 29-30 May 2018
Over 2,500 companies will convene at the PLMA's international trade show 2018 to demonstrate what the future might hold. Featuring 60 national and regional pavilions, the event will showcase everything from innovative own label fresh produce to the latest household and kitchen SKUs. Keynote speaker will be former Sainsbury's CEO and Terra Firma vice chair Justin King. Nielsen client business partner Tom Penninckx will share data and insight on top trends.
The boom in premium own label isn't down to consumers feeling flush, though. The big four and discounters have had to put in some serious hard work to make sure consumers splurge on their finest produce.

Part of it has been a marketing exercise. Although high-profile campaigns of the past have all but disappeared - see Jamie Oliver's push for the Sainsbury's Taste the Difference range in 2010 - premium labels have featured in general advertising. Aldi's 'Everyday Amazing' campaign, for example, highlighted the provenance of its Specially Selected salmon. In other cases, in-store cues have been the driving force. Either way, IRI's director of strategic insight Tim Eales says it's all part of a cleverly calculated decision. "The move towards premium is to get a greater level of absolute margin," he says. "There are still a significant number of people out there who aren't just driven by lower prices; they want high quality. Very often, you find the most expensive product on the shelf is an own label premium brand. If you have confidence in that name you will be prepared to pay extra."
"A significant number of people aren't just driven by lower prices; they want high quality"
It will take more than a few savvy marketing tricks to get shoppers to part with their cash, though. When it comes to high-end stuff, customers want something that mirrors a restaurant experience, says Equator Design, which works on own-label branding. "People are increasingly looking at the premium end of the market as an alternative to going out for a meal," says Equator's senior creative and strategy director Howard Wright. "Rather than saying, 'this is how much I normally spend on an evening meal', they say, 'this is how much I would normally spend at a restaurant.'" It helps that many celebrity chefs have put their name to own-label ranges. "You've got Heston and Delia Smith so a lot of the dishes are actually designed by chefs, but at a price people can afford."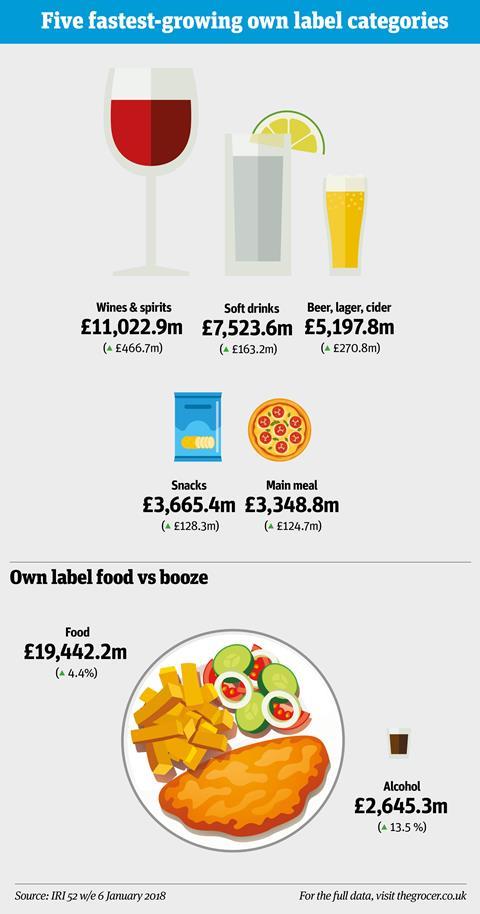 Click for popup table and IRI insight

To compete with the dining out experience, retailers have to offer something that feels special. And that means innovation. Tesco jumped on the espresso martini trend with a 70cl pre-mixed Finest version for £15. Sainsbury's nailed the growing appetite for Christmas brunch with a Taste the Difference hot smoked salmon and egg royale. Iceland delved into Indian street food, named one of the top trends for the year ahead by Waitrose, with the launch of its Mumbai Street Co range. Waitrose has been pretty busy on the innovation front itself. Its two-year-old Waitrose 1 brand is pushing boundaries with innovations like its antipasti charcoal sourdough pizza. And it looks like there will be plenty more where that came from; Waitrose is building a £1.5m development kitchen and doubling its number of innovation chefs.
Somewhat ironically, the discounters are a driving force behind this focus on premium, innovative fare. Aldi's Specially Selected range - including dishes such as British sirloin of beef with porcini, shallot & truffle flavour melt - is set to reach the £1bn sales mark this year. Lidl has reported year-on-year growth as high as 65% for its Deluxe range, which famously tempted in shoppers with the offer of £2.99 lobsters. "The discounters are finding consumers have more confidence in them and you're seeing a massive increase in premium brands," says Equator's Wilson. So premium alone is no longer a way for the big four to differentiate themselves. They have to offer something different.
The first target has been plant-based innovation. As the popularity of veganism and vegetarianism soars, we've seen everything from Sainsbury's BBQ pulled jackfruit to Iceland's 'meat-replicating' vegan burger (see below). The booming free-from market has been another area of frenzied activity. Private label consultancy IPLC's research reveals Tesco has the highest number of own-label products marked as free from with over 150 SKUs, Asda has more than 130 and Sainsbury's has over 100. Even smaller operations like the Co-op are looking to up their free-from ranges. Richard Harrow, partner at IPLC, says this all plays into the idea of what he calls "value added" products. "It's not just about premium but finding other ways of adding value, things like free-from, organic and eco-friendly ranges," he says. "That may be a good position for the majors because the ­discounters are limited because of space."
Harrow believes eco-friendly products could be the next point of difference for the mults - Tesco launched its first environmentally-friendly cleaning range Eco Active last year - but if something proves popular, you can bet the discounters will follow.
"Plenty of effort has been put into making sure consumers splurge on stores' finest produce"
So despite the popularity of premium, value ranges could yet be the next big battleground. The supermarkets have been scrambling to reinvent their lower tiers. Tesco has its Farms brands and Morrisons is revamping its M Savers lineup. "Value always used to be in stark, white packaging and people didn't necessarily want to put that in their baskets," says Wilson. Today, packaging and perceptions have improved, and people mix these options with high-end lines. "They may save money with pasta from a value range but buy sauce from a premium range."

Again, this change has come about courtesy of the discounters. Salma Khan, former Co-op buyer and head of category at own-label pet food developer C&D Food, says they have removed any stigma around budget lines. "People now want a good product but don't want to pay through the nose for it. It can't just be cheap, it has to be value for money."

So expect plenty more buzz around the value ranges in the coming year. For today's shopper is just as likely to buy a value tin of tomatoes as a high-end espresso martini.
Innovations in own label 2018
Click the picture for the full description