Forget popping the champagne. Brits look set to be breaking open the beer as Covid restrictions lift this summer. Who will win big?
If anyone needs a big drink and a knees-up right now, it's the brewing industry. Sure, off-trade beer & cider sales have spiked by £1.2bn (36.5%) and the supers have shifted an extra 514.7 million (32.1%) litres [Kantar 52 w/e 21 February 2021]. But that's a mere sip when compared with the damage Covid has inflicted on pub beer sales, which plunged 56% and cost publicans £7.8bn [BBPA].
For brewers, it's been the perfect storm. The collapse of the pub trade was followed by a spike in packaging material prices, as brewers scrabbled to pour beer originally destined for hospitality into new retail packs. Even BrewDog, the craft beer pioneer that had grown into a global empire with an estimated value of £1.5bn after being set up by two friends in 2007, was suddenly facing ruin.
"We've lost almost 70% of our revenue overnight," co-founder James Watt told investors in a March statement that would've been unthinkable just days earlier. "Our business, and the vast majority of businesses, now face a fight to be able to survive and make it through this crisis. We have two main priorities. Number one: survive. Number two: preserve as many of the 2,000 jobs we have created as possible."
A year on and brewers are still counting the cost. But there's light at the end of the tunnel. Pubs can start serving outdoors on 12 April, indoors from 17 May. On 21 June, slap bang in the middle of football's European Championships, all restrictions are set to be lifted (albeit subject to debate around Covid passports). So, as we prepare to party like it's 2021, will brewers have a cause to celebrate? Who's most in need of a boost? And will retail sales slump as hospitality reopens?
"Just imagine if England get to Wembley for the final of the Euros and the weather is good"
The perfect storm could soon become the perfect party. "Looking forward to the summer, we're very optimistic," says Chris Milton, sales director at Thatchers Cider. "Eighty per cent of adults will be holidaying in the UK this year. The majority of campsites are fully booked, and you can't buy a caravan for love nor money. Then there's the football and all the feelgood factor that brings. Just imagine if England get to Wembley for the final and the weather is good. Whatever happens, it's still a massive opportunity."
That opportunity is perhaps biggest for the on-trade, as pubs get ready to open fully on the summer solstice. Whereas last year was dampened by restrictions and closures, this year they are looking forward to welcoming a freshly vaccinated population – one that has been pining for their locals.
But that doesn't mean off-trade will necessarily suffer as a result. For starters, sporting events always lead to a rise in at-home consumption. In 2018 – the last time an international football tournament and hot summer weather coincided – off-trade sales of lager, ale & cider surged by 7.1%, 5.1% and 5.2% respectively year on year [Nielsen 52 w/e 8 September 2018]. While achieving similar growth on 2020's off-trade sales will be a tall order, the omens are good for an improvement on 2019's sales.
"Both beer and cider were in value decline by the end of 2019, struggling to recruit and retain shoppers, with over 420k households having left the category," says Kantar analyst Callum Matthews. "The picture in 2021 is very different."
"It's important to note that overall beer and cider consumption is down"
Calli O'Brien, marketing controller at Aston Manor Cider, is similarly positive. "We believe growth through retail can continue once the on-trade reopens," she says. "Consumers will be celebrating 'little wins' and ticking off the dates as lockdown reverses and socialising outdoors in parks and gardens."
The economic impact of the past year could also see consumers veer towards retail, rather than splashing the cash on a pricier pint in the pub. "Thirteen per cent of UK households struggle to meet or can't meet their expenses," warns O'Brien, quoting Kantar. "Fifty-one per cent worry for the future, 61% are concerned about a long recovery and 70% are paying attention to prices. Consumers are planning for tough days ahead."
That perhaps why Jessica Markowski, convenience sales director at Budweiser Brewing Group (BBG), believes "the at-home occasion will remain popular" this summer. "We anticipate a surge in demand for bigger pack sizes as consumers look to gather in larger groups once it becomes possible to do so," she says.
BBG is backing up that confidence with some serious cash. "In March, we announced a more than £115m investment in our two UK breweries," Markowski adds. "This will enable us to increase our brewing capacity by 3.6 million hectolitres, the equivalent of 630 million pints, and ensure that shelves continue to be well stocked with the nation's favourite beers."
It's significant that BBG's investment includes a new bottling line for the Magor Brewery in South Wales and a plastic ring-free canning line for Lancashire's Samlesbury Brewery. Because having enough off-trade packaging capacity has been crucial to the fortunes of brewers over the past year. Those who have adapted rapidly have been rewarded with the highest sales rises – as illustrated by the success of Thatchers.
"We were about 50:50 on and off-trade at the start of the pandemic, but of course we had to react very quickly and turn on canning production," says Milton at Thatchers. "I would say that, for the first three months of lockdown, we were able to switch 75% of our on-trade volume to the off-trade. Within a week we were literally running a 24-hour canning operation. We have always built in redundant capacity into our operations, so it was this that gave us the agility to react."
"Covid-19 has completely changed the rules of engagement with consumers"
As a result, Milton says the brand has grown its value and volume in overall terms, quoting combined IRI and CGA numbers for the year to the end of January. "The only other brand in cider to do that was Kopparberg."
In the retail market alone, Thatchers is looking very healthy. Its Haze and Gold variants are the two fastest-growing ciders in percentage terms, up 80.8% and 59.4% respectively. Next in line are Kopparberg's Strawberry & Lime (45.7%), and Mixed Fruit (34.8%), followed by Henry Westons Vintage (31.2%) [Nielsen 52 w/e 30 January 2021].
Note that all five of the fastest growers are at the pricier end of the cider spectrum. "Covid has changed the rules of engagement with consumers," says Sally McKinnon, head of marketing at Westons Cider, which expanded the Henry Westons lineup with Cloudy Vintage, Vintage Rosé and Organic ciders in March 2020. "Of course, it's been challenging, but it has definitely opened up a range of opportunities."
Particularly, growth in demand for products punters would usually discover in a pub.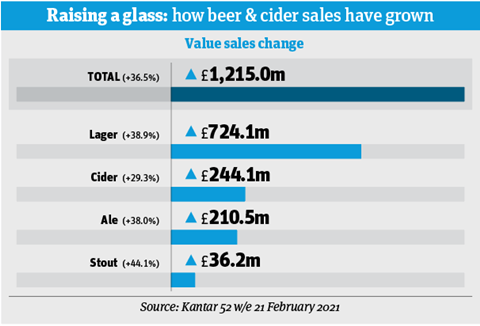 With pubs shut for much of the past year, drinkers brought pubs home, driving a £1.2bn boom in off-trade beer & cider sales to £4.5bn.
"Beer and cider's stellar off-trade performance has, at least in part, been driven by our inability to visit pubs, bars and restaurants," says Kantar analyst Callum Matthews.
The growth represents a reversal in the category's fortunes. At the end of 2019, beer & cider was struggling to retain shoppers, with 420,000 fewer households buying into the category. Beer was the main beneficiary of this change, but lager, ale and stout all grew ahead of total alcohol's 30.3% increase.
Although it still accounts for a small share, stout has been the fastest-growing sector, rocketing by 44.1%.
Meanwhile, cider's 29.3% growth was slightly behind that of the wider booze category. "One area that has hindered cider's growth is its performance online," says Matthews.
Twenty-three per cent of households bought groceries online last December and 16% bought alcohol. Only 10% of cider sales have been through online retailers.
"By comparison, 12.2% of beer sales were online. Overall online beer & cider sales grew 101.5%. With shoppers continuing to shop online, plenty of headroom exists for brands and retailers to achieve further online growth in 2021," adds Matthews.
Trading up
"There has been a much greater willingness among people to experiment with drinks in the off-trade," adds McKinnon. "This was a real advantage for us because we had such a strong pipeline of NPD. We had huge success with the launch of Cloudy, Rosé and Organic."
This makes sense, given the best night out most Brits had in 2020 was a garden barbecue. "Nearly half (46%) of shoppers are more inclined to trade up to premium food and drink when dining at home and, as a result, premium brands are gaining more and more traction," says Molson Coors off-trade sales director Kevin Fawell, quoting Kantar numbers for the year ending 14 June 2020.
"Covid has accelerated this, with world beer, super-premium cider and premium ale all growing ahead of the core category. The Aspall Cyder range chimes in with this trend. It has been produced at the original Aspall Cyder House for almost 300 years – a point of difference which really resonates with consumers. The packaging is sleek and sophisticated, giving it a more premium feel that appeals to those looking for something a bit different and special to enjoy at home."
World lager
In lager, it's a similar picture, says Fawell, pointing to the 40% growth Staropramen has achieved [Nielsen 12 w/e 30 January 2021]. In our ranking of the top 10 brands, premium world lager brands have cleaned up [Nielsen 52 w/e 30 January 2021]. Heineken's Birra Moretti (up 87.8% or £85.1m) is the fastest grower in percentage terms, followed by Carlsberg UK's San Miguel (up 68.2% or £110.8m), Heineken (up 66.9% or £84.1m), BBG's Corona (up 43.5% or £78.8m) and Asahi UK's Peroni (up 39.7% or £57.4m).
It's worth noting that cheaper beers have seen slower rates of growth. In the top 10 bestsellers list for lagers, there is a clear division between brands that sell for below the market average (£2.49/litre) and those that sell for more; the five lagers with above-average prices are also the five fastest growers. The two cheapest, Foster's and Carling, have seen slowest rates of growth: 19% (£70.3m) and 21.6% (£71.6m) respectively [Nielsen].
That's partly down to the wider picture, which these numbers don't cover. Rob Hallworth, client delivery team leader at Nielsen, points out that overall beer and cider consumption is down.
Faced with that situation, brewers have been prioritising higher-margin, premium products. That makes sense, particularly when you consider how wafer-thin margins are in the supermarkets compared to in pubs and restaurants. "Cider price per litre in the on-trade is threefold what it is in the off-trade: £6.86 versus £2.31," says Westons' McKinnon. Meanwhile, price per litre of crafted cider is "significantly higher than the market average at £3.23/litre", she adds, demonstrating the appeal of these lines for brewers.
Shoppers aren't just trading up in their choice of tipple, though. They're also trading up in terms of pack size. Thatchers says there has been a "huge dynamic around multipacks" – something that's echoed by all beer and cider players as shoppers looked to minimise trips to the supermarket.
Many have adapted accordingly. Westons has invested in a multipack packaging line "so we can be masters of our own destiny" says McKinnon.
"The craft segment saw growth slow, partly because shoppers were seeking larger packs"
Diageo has also been busy catering for new consumption habits. "We have seen growth in sales, particularly of mid-size 10 to 15-packs, which have experienced particularly high growth over the past year, but also four-packs that are an accessible format allowing easy trial," says Hannah Dawson, head of category development for the off-trade at Diageo, quoting Nielsen and CGA numbers for the 12 weeks to 31 December 2020.
That appears to have paid off in sales. "Guinness is widely consumed during a variety of occasions and we have recently seen it experience faster growth than champagne, with an upward curve in distribution and sales of bigger pack formats," she adds. "We expect this momentum to continue through the summer months."
That Guinness outgrew champers is not surprising. No one wanted to celebrate, but many wanted to take comfort in a glass of stout. Indeed, stout was the fastest-growing area of the entire beer and cider market, up 44.1% to £11.8m [Kantar].
First, a note of caution: these figures show the top beer and cider brands have been enjoying a boom in grocery. But that doesn't take into account the foodservice market. Overall, sales of beer and cider are down as a result of hospitality closures.
A robust supply chain was crucial to growing sales in retail, says Nielsen client delivery team leader Rob Hallworth.
"The brands that had momentum pre-Covid have accelerated that over the past year," he says. "Covid brought a sharp increase in demand in the off-trade and brewers who managed their supply chain effectively to meet this demand performed well."
That meant diverting huge volumes originally destined for pubs to the grocery sector – and the growing convenience channel, in particular. There was also a focus on larger multipack formats as consumers made fewer, but larger, shops.
"I would say that for the first three months of lockdown we switched 75% of our on-trade volumes to the off-trade, predominantly through 10-packs," says Chris Milton, sales director at Thatchers, whose flagship Gold cider achieved the second-greatest gain in the subcategory, of £32m.
"Our growth is a validation of the loyalty we have built with very consistent investment in the brand and supporting our customers both in the on- and off-trades."
"Kopparberg, which is also growing strongly, also has very strong loyalty," he adds. "It just goes to show: you reap what you sow."
Aston Manor's Frosty Jacks, meanwhile, was the only top 10 brand to decline, with value sales down 9.7% on volumes down 15.3% as the 'white cider tax' deterred punters.
Craft beer
More surprising is the dwindling performance of craft beer. "The craft segment, among the fastest-growing segments prior to Covid-19, saw growth slow in 2020," says Kantar's Matthews. That's partly because it tends to avoid the popular multipack format.
The need to offer larger packs is backed up by BrewDog, which points out nine of the top 10 SKUs in craft are now multipack cans. That insight seems to have prepared it well to survive lockdown (it even sells a Lockdown Survival Kit of 24 beers). "BrewDog is the fastest-growing supplier within the top 10 brewers, with sales up 65.9% to £158m, ahead of both the craft beer category (up 49.3%) and total beer (up 33.6%)," says Alex Dullard, head of customer marketing at BrewDog, citing Nielsen [52 w/e 27 February 2021].
"We have seen an increase in distribution in the last six months. However, the bulk of growth is coming from increased ROS and weight of purchase as shopper behaviour changes. With the on-trade closed for most of the year, consumers turned to convenience to source their favourite alcohol brands," he says. In this channel in particular, Dullard argues "format has been fundamental".
This is also especially relevant for players used to selling cask ale through pubs. "Cask ale sales across the UK have, to all intents and purposes, ceased during the enforced closure of the on-trade because the only place that beer style can be served is in an on-trade outlet," says Simon Theakston, joint MD of the Theakston Brewery, which has poured its off-trade flagship Old Peculier and, more recently, Best Bitter into cans since Covid landed and reports strong growth in sales of five-litre mini kegs.
"Cask ale is unique as the only draught beer type in the world that does not leave the brewery in finished condition," he adds. "That only happens after two to three days of undisturbed cask conditioning in the cellar of the outlet in which the beer is served. No pubs, no cask ale.
"But it's worth noting that off-trade beer sales in the UK overtook the on-trade for the first time six years ago, so most brewers have responded to this consumer trend by gearing towards growing off-trade production and sales," Theakston says.
This means the focus was more on scaling up existing off-trade production and investing in direct-to-consumer channels rather than completely re-inventing business models. Many have fired up redundant capacity, invested in new lines or used third-party packagers to ensure they could respond to the shift in shopping behaviour.
"The longer England manages to stay in the tournament, the greater the grocery sales uplift"
"At BrewDog, we prioritised production and supply on core products and pack formats when the pandemic hit, to ensure we constantly had stock available of our hero brands and larger format packs, as consumer buying habits changed," says Dullard, who adds that the brewer also "fast-tracked" NPD it had planned for later in the year.
"This included introducing a BrewDog Hazy Jane (5% abv) 12-pack, to deliver increased weight of purchase as consumers shopped less, as well as a range of premium 440ml cans to provide that 'on-trade' craft beer experience to consumers in their own home, through premium unique beer styles. Reacting to market and environmental changes is key, and this must be done at breakneck speed. What would normally take six months can be achieved in six weeks with the right grit and determination."
Just how much this has softened the blow to BrewDog's on-trade sales remains to be seen. But recent results announcements from its bigger rivals make for sobering reading. European sales for Heineken tumbled by 18.8% in 2020, while AB InBev says volumes slumped 11.2% across Europe, Africa and the Middle East, citing the shutdown of pubs and restaurants in Europe as a major factor.
That explains why they are pinning their hopes on a big summer. Bud Light is the official sponsor of the men's England football team, says BBG's Markowski, who points to the previous success of the strategy: "Over previous tournaments we have seen that the longer England manages to stay in the tournament, the greater the grocery sales uplift."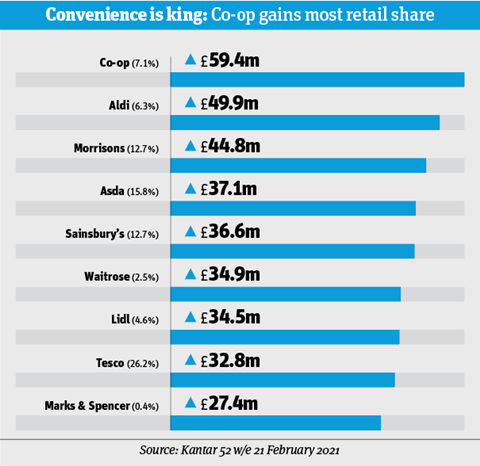 Convenience has been king in beer & cider this past year. See the market-leading 59.4% growth for the Co-op's 2,500-plus neighbourhood stores for proof. That's nearly twice Tesco's rate of growth.
Aldi was the next-fastest grower after the Co-op. The discounter's estate of urban 'Local' fascia stores, a tie-up with Deliveroo and an increasingly varied range helped drive growth.
Yet none of the big retailers saw sales decline this year. Differences in growth can largely be explained by their relative strengths online and their exposure to the fall in sales through larger stores.
For beer, Brits have been prepared to risk more contact with the outside world. "Beer benefitted from shoppers making more trips and buying larger baskets," says Alex Dullard, head of customer marketing at BrewDog.
This suggests there were more spur-of-the-moment trips to buy beer & cider as lockdown progressed, perhaps because more of us were trying to drown out the gloom doled out in daily 5pm news briefings.
"There's been a rise in shoppers making top-up shops at local stores," says Molson Coors' off-trade sales director Kevin Fawell. "This has driven more impulse sales, benefiting local convenience stores. More than half of adults visited their local c-store for the first time in the first lockdown."
Independent brewers
Of course, big names such as BBG have the cash to sponsor international football teams. That luxury largely doesn't apply to independent brewers.
And they are feeling exposed – as shown by the #BrewersDownTheDrain protest organised by the Society of Independent Brewers (SIBA) to mark the anniversary of lockdown. Participants posted footage of spoilt beer being poured away to highlight the disproportionate impact on small brewers.
That strength of feeling is echoed by Combie Cryan, co-founder of Leicestershire craft brewer Round Corner Brewing. "I'd hate to join the anti-multinational bandwagon, but I will," he says.
"Behemoths such as Coca-Cola with tin cans and Amazon chewing up cardboard supplies have left independents like us with scraps, or nothing at all. The end result is that we have to scramble around for supplies of both these – with costs of both up circa 30%. Given that we and many other small breweries rely on those two materials, dominance by major players like that creates huge issues."
There were around 2,000 microbreweries active in the UK at last count. All of which will be hoping this summer can bring a bit of respite after tough year.
One thing's for sure: they, more than anyone, are in need of a party.
How hard-hit smaller breweries have rolled with the punches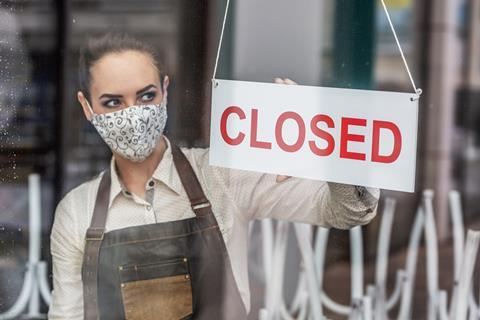 Independent brewers were some of the hardest hit by the events of the past year, with millions of pints of beer poured away as pubs were forced to close.
To mark the anniversary of lockdown, the Society of Independent Brewers (SIBA) organised the #BrewersDownTheDrain protest, which saw participants post footage of spoilt beer being poured away. But the past year has inspired some innovative thinking among small brewers, too. The abrupt closure of pubs last March forced them to reconsider their routes to market and, as a result, many started selling direct to drinkers.
"We've seen a significant increase in our online revenue channels during 2020, witnessing a 10-fold increase in sales with more consumers buying cask-conditioned cold-filtered beers in new formats and we'll continue to invest in and develop these channels in 2021," says Simon Theakston, joint MD of the Theakston Brewery.
"In April 2020 we made Old Peculier available in cans to UK consumers in the off-trade for the first time in a generation. Because of its success we're now introducing Theakston's Best Bitter in cans. Online there's been demand for the 'pub at home' experience, so we introduced five-litre mini kegs of cold-filtered favourites."
And Leicestershire craft brewer Round Corner Brewing moved draught stock into refillable glass growlers before investing in a canning line to tap into retail channels. However, co-founder Combie Cryan says booming supermarket sales are stifling supplies of packaging materials and sending prices skywards.
"Issues such as high-charging and under-performing delivery firms, plus increases in essential raw materials such as hops, cans and cardboard are cutting into margins," he says. "The government is maintaining VAT at 20% and hop growers are throwing in increases of up to 60%. It's a real squeeze to maintain profits."
Innovations in beer & cider 2021