Italian cooking sauces are being battered by spicier rivals, as Old El Paso muscles its way to the top spot. Can it retain the title?
Pasta is on the ropes. As Brits have been confined indoors, they've looked to exotic food to lift their spirits. This desire for experimentation has left staple dishes like spag bol and lasagne losing out to meals inspired by farther-flung cuisines.
For proof, see Mexican titan Old El Paso. It's been crowned king of the ring in cooking sauces for the first time, taking down former bestseller Dolmio. The brand is up by almost a fifth, a whopping £19.2m, on 10.6% volume growth [Nielsen 52 w/e 8 September 2020].
"Italian has always been a firm favourite and everyone had pizza or spaghetti at home and that was part of the routine," says Old El Paso senior brand manager Jose Alves. "Now people are looking for something a bit different to break up the boredom."
Mexican isn't the only cuisine benefiting from this trend. Across the bestsellers list, Oriental and Latin-inspired sauces and meal kits are outgrowing their European counterparts. Asian sauces and meal kits brand Sharwood's is up £15.2m (25.1%) on volumes up 14.6%; Blue Dragon is the next fastest grower, delivering an extra £14.6m (28.7%) on volumes up 17.6%.
It seems the exotic is becoming the norm. And that could shape consumer cooking habits even once the pandemic has subsided.
"People want something different to break up the boredom. Mexican is very well positioned"
First, a caveat: nearly all cooking sauces experienced a boom during lockdown. Total sales are up £121.9m (15.9%), on volumes up 13.7% [Kantar 52 w/e 27 December 2020]. This was largely driven by the percentage of meals cooked at home in the UK growing to 72% last August, up from around 60% before the pandemic hit [Consultancy UK].
So it's by no means time to write off pasta sauces. After all, dried pasta was one of the most panic-bought items in the madness of last March – Nielsen says sales in the year to 8 September grew 20.5% on volumes up 13.8% – and shoppers needed something to slop over all that spaghetti. That means, despite losing the top spot, Dolmio is still up by 12.7% on volumes up 5.6%. Pesto brand Saclà is up 21.4% in value and 16.7% in volume; Napolina's sauces grew 10.2% in value despite volumes dipping by 0.6% [Nielsen].
Plus, it's worth noting that nearly half (46.4%) of all cooking sauces going through the checkouts are still Italian [Kantar]. According to Dolmio owner Mars Food, the classics still have a place in shoppers' hearts, with the brand's Bolognese and Lasagne sauces driving much of its growth.
"Overall, Italian meals have a higher 'family approval' rate post-consumption versus other dinner options, with consumers reporting a higher level of positive feedback from the family and clean plates," says Mars Food UK category manager Sarah Buckley.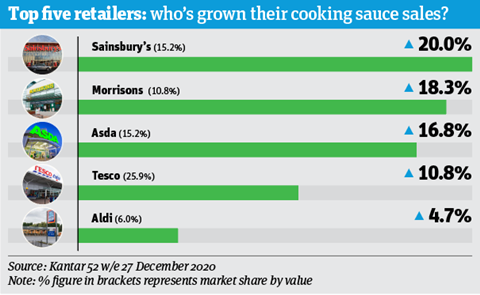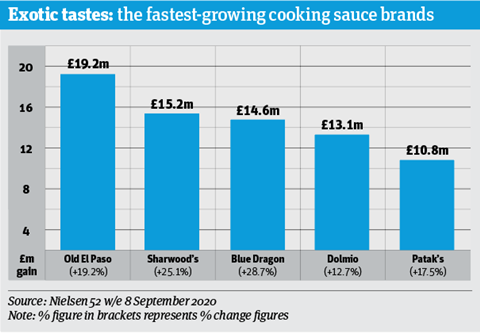 The on-off closure of hospitality has inspired many Brits to roll up their sleeves and cook more at home during lockdown. But shoppers still want shortcuts, as the 15.9% value growth in cooking sauces proves. Volumes are up 13.7% [Kantar 52 w/e 27 December 2020].
Value growth has in part been driven by price rises as retailers cut back on promotions to manage demand. Sales from volume deals plummeted 20.9%, while sales off promotion grew by 24.5%.
Old El Paso has become the bestselling cooking sauce brand, gaining £19.2m (19.2%) and knocking Dolmio off the top spot [Nielsen 52 w/e 8 September 2020].
The General Mills-owned Mexican food brand gained more than one million customers during lockdown, according to Nielsen. Still, that doesn't mean Dolmio has been KO'd. It's secured the fourth-greatest gain with sales up £13.1m (12.7%).
Sharwood's, which launched its reduced-sugar Stir Fry Sauces in September, has knocked Patak's off the third spot with sales climbing by 25% and significant volume growth of 14%. That helped it overtake Patak's, which still put in respectable growth of 7.9%, according to Nielsen.
All in all, branded cooking sauces have delivered growth worth £115.9m, a gain of 19.6%. Own label cooking sauces are up £42.9m (18.8%), having seen a 0.7% slip in average price over the course of the year.
Convenience
Buckley points to the 15.5% growth in Dolmio's Stir-in range – potted sauces designed to be stirred through hot pasta – as proof of continuing demand for convenient and quick meal fixes, despite the fact many of us have had more time on our hands since the pandemic hit.
Napolina's commercial manager Neil Brownbill seconds this: "Italian cuisine has mass appeal as consumers look for meals that offer versatility, are quick and easy to make but also deliver on taste."
At the same time, shoppers don't want to compromise on authenticity for the sake of a quick meal. That's why Napolina is hoping to combat its dip in volumes with a new line of sauces set for launch in June, which are produced in Italy and designed to satisfy demand for "authentic quality ingredients".
"Italian meals have higher family approval with positive feedback and clean plates"
This pursuit of authenticity is also reflected in the number of customers opting for scratch cooking ingredients, rather than prepared sauces. Sales of Napolina's canned tomato and passata products are up 14.3% to £76.8m, meaning they have outgrown its pasta sauces. Meanwhile, Italian tomato and passata brands Cirio and Mutti turned in respective value gains of 33.1% and 249%, albeit from much smaller bases [Nielsen].
This trend also helps explain the stronger growth of brands such as Old El Paso and Sharwood's. With many shoppers confined to their homes for much of the year and pubs and restaurants closed, people have had more time to cook.
This doesn't mean we've all become AA-starred chefs in lockdown, but it does mean that many of us have been looking for shortcuts that help us recreate the dishes we enjoyed on nights out pre-pandemic.
Emptying a jar over some pasta doesn't quite cut it. So Old El Paso has forked out more than £6m on its Make Some Noise campaign, encouraging families to connect over food. That coincided with a boatload of NPD, including the September launch of Tortilla Pockets meal kits. "There's not really a better cuisine than Mexican to recreate the fun, social gathering [that you get in a restaurant], and I think that has helped a lot," says Alves.
Appetite for a more scratch cooking experience has also delivered a boom to products such as Sharwood's Street Food Wrap Kits, launched to tap the booming popularity of Korean and Japanese cuisines, and Blue Dragon's range of oriental meal kits.
If you can combine that meal kit experience with the power of a restaurant name, all the better. All About Food, which produces Nando's grocery retail products under licence, will launch a trio of Nando's Wrap Kits into retail on 8 March. The kits are billed as recreating the "authentic taste and flavour" of the restaurant chain, and include cut-out flags on the packaging for the "ultimate Nando's experience".
And for the particularly adventurous cooks, there are even more exotic options on offer. David Balmer, MD of Belazu, points to its range of cooking pastes, including flavours such as tagine and shawarma.
"Middle Eastern pastes like rose harissa are being used as store cupboard essentials"
"These pastes give home chefs the chance to recreate restaurant-quality meals from scratch in their own kitchens," he says. "We've supplied chefs with culinary pastes like rose harissa for nearly 30 years and these ingredients are now being used as store cupboard essentials."
Once these ingredients make their way into Britain's store cupboards, it's likely they will keep their place. So even after the pandemic is over, Britain will surely keep its taste for the exotic. But according to Premier Foods, there will be another frontier to cross: health.
The legacy of Covid-19 will put wellness in the spotlight more than ever, says Premier Foods brand director Andrey Sokirkin. With that in mind, it's expanded its range of reduced sugar options to offer a healthier twist on an exotic meal. "Shoppers have been on the lookout for healthier ways to enjoy their favourite cuisines, such as Indian, Italian and Oriental," says Sokirkin.
Which means being exotic may no longer be enough. So the new king of the ring will have to fight hard to keep hold of its title.
Innovations in cooking sauces 2021