Chicken with mango, venison deli sausages, lamb and rosemary terrine. No, you are not sampling the taster menu at a high-end restaurant. These are the latest offerings on the market for fancy felines and posh pooches.

Petcare is handling today's difficult grocery market like a walk in the park. Total petfood sales including treats are up 3.3% to £2.5bn on volumes up 1.2% [Kantar 52 w/e 19 July 2015].

"Petfood is an unusual category in that shoppers do not like to trade down to inferior quality products, even when times are tough," says Purina market development organisation director Liz Wood. "Our research suggests that while 10% of cat owners and 11% of dog owners say they have traded down to buy cheaper petfood, these numbers are outweighed by the 18% of cat owners and 24% of dog owners who say they have traded up to more expensive foods [Millward Brown July 2015]."

Almost 37% [Kantar] of the British population owns a cat, dog or both, which translates into 11 million shoppers - and many are choosing the premium option for feeding their pets. "The strong emotional connection that exists between people and animals justifies the extra expense," says Kate Fischer, packaging specialist at Sun Branding Solutions. "Aspiration comes into play here too. Who doesn't want their dog to look as gleeful as the one on the pack?"

Brands are still number one for shoppers, with Purina and Mars maintaining a stronghold over the market with steady innovations and longstanding customer trust. The owners of the eight million cats and 8.4 million dogs in the UK are incredibly loyal to their preferred brand, flavour and format.

Branded dominates the category, now being worth £1.97bn, while own label comes in at £539.8m. "Own label doesn't have as great a share in petfood as it does in other grocery categories because the shopper isn't the end user," says Clare Scallon, senior brand manager at Butchers Pet Care. "We know the benchmark for ourselves and we can make that change to better quality or lower price, but when it comes to petfood we rely on brands that we trust."

Nevertheless, own label is thriving, with sales up 6.3% on volumes up 9.8%, and supermarkets are capitalising on the growth with range expansions and the introduction of new and innovative packaging formats to catch the eye of consumers.

"At Lidl, our petfood category grew 12% last year with snacks and treats growing at 20% and wet catfood sales growing by over 25%," says Lidl petfood buyer Matthew Poulton. "Own label is booming and Lidl is growing well ahead of the market. We will be launching various new treats along with core products to ensure we are a destination for all British pet lovers."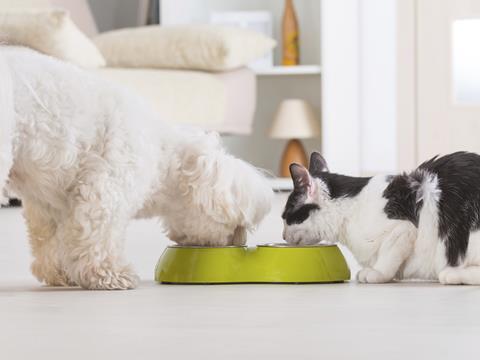 Petfood (main meal) is bucking the deflationary trend in grocery, with average prices increasing 1.4%, driven by premiumisation within the category. Shoppers are increasingly willing to purchase premium food containing better quality ingredients for their pets. This trend is evidenced by the significant growth of wet cat luxury (adding £37m year on year).
Frequency of purchase of petfood is up 0.4%, given wet food is more frequently purchased than dry (52 w/e frequency = 30 for wet vs 13 for dry).
There has also been significant growth for pet treats, with shoppers increasingly willing to treat their pets. Pet treats have added £32m, split equally between cat and dog. Growth is particularly noteworthy for cat treats, at 29% of total pet treats. Cat treat growth has been driven by penetration, with 400k more shoppers purchasing the segment. The growth in dog biscuits, treats & chews has been driven by shoppers buying more frequently and at a higher price.
Paula Carravilla, Kantar Worldpanel
Decline of dry, rise of natural
While most petfood formats are making their way into the homes of pet owners with ease, figures show that dry dogfood products are the last to be picked up from the pound.

A 4.6% decline [Kantar] has resulted in a £16m loss for the format and a knock-on effect for some brands. The market leader Bakers, with a 21% share [IRI 52 w/e 15 August 2015], has fallen 11% to £9m, with a drop in shoppers driving the decline.

"It is easier to see the difference in the quality of wet products than it is in dry, so with quality and health being high up in the decision hierarchy, this is leading to the growth in premium wet dog and cat sales," says Helen Barr, head of sales at natural and organic supplier Lily's Kitchen.

However, there is hope left for dry dogfood brands. Wagg's Harringtons brand is up 48% year on year, by putting a spotlight on one of the hottest trends in petcare - natural. And that's in dry. Next month it is taking the same natural values into the wet sector (see right). "We focus only on Harringtons being natural and free from artificial flavours and common additive ingredients, which can be found in many other brands," says Wagg sales and marketing director Tom Page.

"Natural is the biggest thing in petcare at the moment and is what everyone is looking for," adds Barr at Lily's.

However, so far it seems only the brands are capitalising on the growing demand for natural sweeping the market.

"Own label isn't playing in the natural arena," claims Barr. "Our premise is based on natural, organic, quality real food for pets and, at the moment, own label is not within our competitive set. Retailers creating natural bays within their fixtures are really tapping the market as they become a destination shop and many are exploring new ways to signpost natural."

But can it really be said that quality, organic, wholesome, and ethical promises are now holding as much power on the pack as guaranteeing bright eyes and shiny coats?

"Natural diets can offer huge variety and enrichment, can be fed to provide all the necessary nutrients and many pets enthusiastically accept the change to the new way of feeding," says canine behaviourist at Battersea Cats & Dogs home Mala Breeze.

Premiumisation

Aside from natural, premiumisation remains a key trend in petcare. "Premiumisation continues to drive growth into the category, with owners continuing to spend more as they look to treat their pets with that something special," says Stephanie Case, customer marketing director at Mars Petcare. "The indulgent meals and treats category has seen strong growth, resulting in retailers giving more space to these categories in store."

Many of the retailers' own-label lines are expanding in premium varieties with a greater range of flavour combinations.

The Sainsbury's Delicious Collection claims all meat included can be traced back to the individual farm and, should your pet desire, some products can be heated in the microwave and served warm.

"Many of our customers treat their pets as valued family members, and because of this there is a growing market for luxury products for pets, like products from our Delicious Collection, made from natural ingredients with a high meat content and containing no artificial flavourings or colourings," says the Sainsbury's petcare buyer.

Luxury wet catfood has added £37m [Kantar] to the category, with luxury brand Gourmet by Purina singlehandedly accounting for £28m of that. "Growth has been driven by the sales of its 85g can sub-range Gold and pouch brand Perle," says Wood at Purina. "Key to success has been the support of Gourmet with a new TV campaign and sponsorships and a continued focus on innovation."
Harringtons wet dogfood

Launch date: November 2015 
Manufacturer: Wagg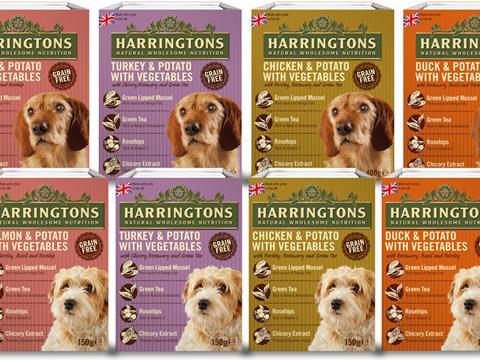 Green lipped mussels, rosehips, chicory and green tea are combined to get your dog on a health kick, in Harringtons' latest product. Wagg is looking to cash in on the drive for natural and the surge in wet food with a new nutrient-rich and grain-free product available in yet another popular consumer choice - the plastic tray. The product will be listed exclusively with Morrisons, available individually and in multipacks (rsps: 89p/150g, £1.49/400g, £4.99/4x400, £4.75/6x150g).

Pooch & Mutt - Pocket Packs

Launch date: September 2015

Manufacturer: Pooch & Mutt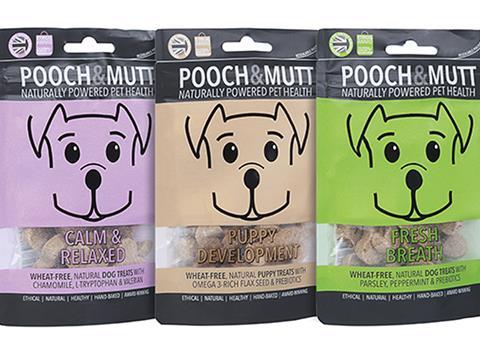 These dog snacks are hand baked in the UK with free-range chicken, no artificial preservatives and are low in calories. The £1 per 45g packs come in three varieties: Calm and Relaxed, Fresh Breath and Puppy Development to cater to specific behavioural and nutritional requirements.

Butcher's Simply Gentle

Launch date: July 2015

Manufacturer: Butcher's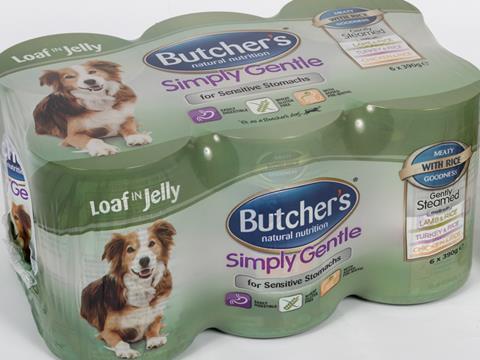 Butchers Simply Gentle is aimed at sensitive digestive systems. To tackle skin problems, vomiting and bloating, the range is 100% natural, wheat gluten free and contains added prebiotic to strengthen immunity. Simply Gentle is listed in Sainsbury's, Asda and Ocado in both 390g cans and 150g foil trays (rsps: £2.00/x4 150g, £3.50/x6 390g).

Havers raw dogfood

Launch date: July 2015

Manufacturer: Havers Raw Dog Food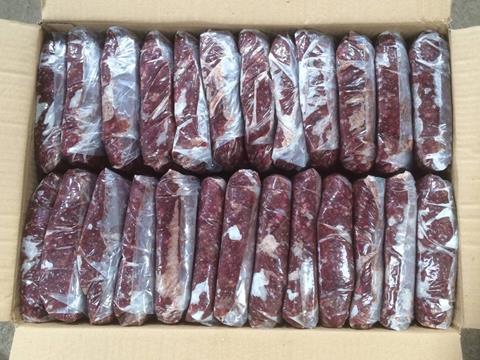 Havers has launched a range of minced raw meats and offal from Defra-approved suppliers. The range is sold and stored frozen to be defrosted at home and is available in tripe, duck, beef, lamb, chicken, heart, kidney and liver and a number of combinations. It is available to buy online in boxes of 22x45g bags and is priced £15.50-£23.00.
Health
With premium indulgence high on the menu you'd be forgiven for thinking consumers are less concerned with health. However, brands are enhancing their premium options with a bigger emphasis on nutrition. "There's a growing tension between treating your pet and taking care of them," says packaging specialist Fischer. "Along with keeping your pet happy, you don't want them to be unhealthy for it. The more we humanise animals, the more we risk making them overweight, so we have to strike a balance."

Purina has capitalised on this trend with its range of sub-brands including Pro-Plan, One and Chow covering the nutritional needs of many types of dogs over a range of age categories and health concerns.

"The growing number of 'pet parents' are seeking products that have high nutrition content and added vitamins and minerals specific to needs or life stages," says Simon Mayne, brand manager at Toplife Formula. "In addition, pet obesity is another major health concern and more and more pet owners are looking for products, especially from the 'pet treat' category, that are low in fat."

Pet treats have added £32m in the last year, split equally between cats and dogs. Shoppers are increasingly willing to treat their pets and the average shopper now purchases treats in 15% of their petfood occasions.

Within dog biscuits, treats and chews there has been £16m [Kantar] growth with shoppers purchasing more frequently, and for a higher price. Both of the main manufacturers have grown within this sector, with Purina up £5.7m and Mars up £6.1m.

Cats are getting the cream too, and the growth is driven by penetration with 400k more shoppers purchasing the segment and cat treats now making up 29% of total pet treats, showing that not only are owners trading up for dinner, the opportunities for midnight snacks are also growing.
Pet Munchies 100% Natural Cat Treats

Manufacturer: Pet Munchies 
Launch date: March 2015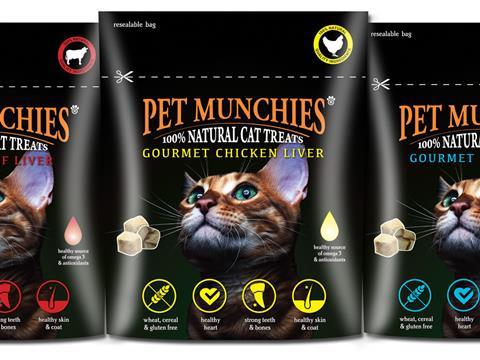 To meet the demand for healthy and nutritionally fortified treats, this premium quality range is freeze-dried, hypoallergenic, free from wheat, cereals and gluten, and made with the finest ingredients, says the brand. Available in chicken liver, beef liver and fish fillet, the treats contain no artificial flavours, colours or preservatives and are made from a single-source protein. Currently available online at Waitrose and from Ocado (rsp: £1.39).

Gourmet Mon Petit Multipacks

Launch date: April 2015

Manufacturer: Purina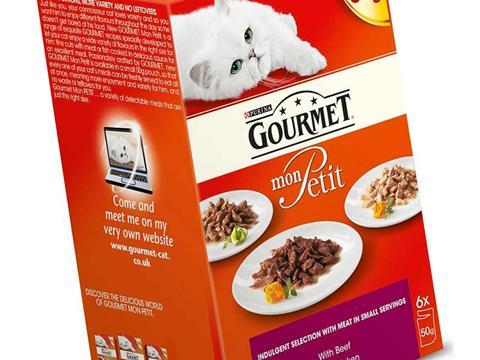 For the felines who prefer their meals served at room temperature, this range comes in a 50g portion size, allowing it to be freshly served and eaten all at once. Now available as a six-pouch multipack in five varieties, the Mon Petit range from Gourmet lets cats sample a wide range of meat and fish flavours. Rsp: £2/6x50g.

Webbox Grain Free

Launch date: November 2015

Manufacturer: Webbox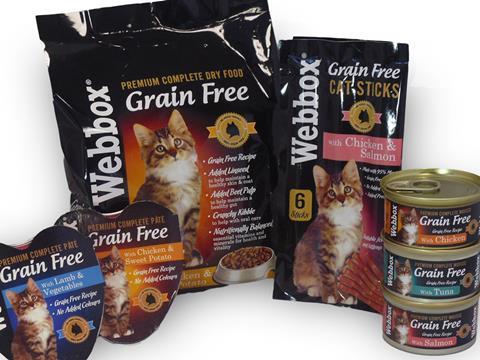 As the British appetite for all things free-from charges on, Webbox has launched Webbox Grain Free as a healthier feeding solution for cats and dogs. The range includes dry food, wet heart-shaped aluminium trays, tins of pâté and treat sticks. The range retails between 59p and £5.

Felix Twists

Launch date: January 2015

Manufacturer: Purina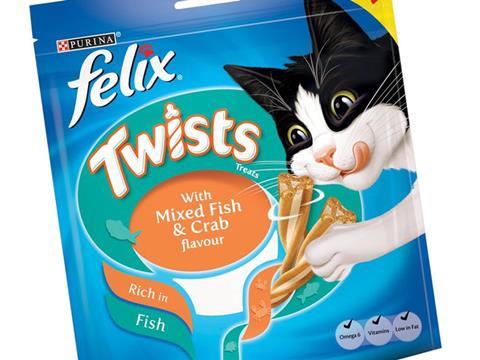 This twisted cat stick treats from Felix come in mixed fish and crab, duck and liver and salmon and seafood varieties to add more playfulness to treat time. The sticks can be twirled and used as a toy to encourage cats to play, or broken up into bitesize pieces for a quicker treat (rsp: £1.19/50g).