Who said beefcakes had to eat meat? Sports nutrition is evolving away from the caveman world of paleo and venturing into the  vegan movement
What is happening to Britain's beefcakes? Looking at the recent developments in sports nutrition - a sector typically full of products sounding more like weapons of mass destruction or science experiments than food or drink - you might be forgiven for thinking the hardcore gym crowd was going all soft and cuddly.

When the paleo craze was in full swing, the received wisdom seemed to be this: to get as strong as an ox, eat one. Enter sports-orientated jerky brands such as Men's Health and Naked Ape, and paleo snacks from the likes of Primal Pantry and Fossil Fuel with branding borrowing heavily from the iconography of our hunter-gatherer forebears.

Now it's gone full circle. The market is awash with vegan NPD (see innovations, below), extolling the health and environmental virtues of a plant-based diet. There are plenty of buff role models to back up this wisdom. Last year, animal rights group PETA named a Sussex couple Britain's hottest vegans. Both are devotees of Crossfit, the fitness movement that helped fuel the paleo trend.

That doesn't mean the crowd that began chewing grass-fed beef between workouts a few years ago has now gone completely vegan. Most protein products contain whey, after all. Welsh Beef ran its 'Beef Body Ready' push with rugby international Dan Lydiate last year and Peperami owner Jack Link's positions its jerky as a sports recovery aid.

Rather this represents a coming of age for the sector. Take-home sales have surged 13.3% to £138m on units up 12.6% in the past year [Kantar Worldpanel 52 w/e 17 June 2018]. Sales through the major multiples (impulse and take-home) are up a whopping 27% in value terms [IRI 52 w/e 12 August 2018]. Fitness is going mainstream.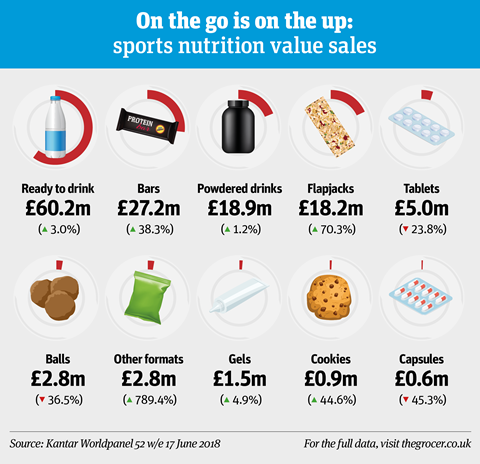 Find the full data at the bottom of this report

"Protein is no longer used exclusively by bodybuilders and elite athletes," says Steve Rich, commercial & marketing director at Sci-MX. "Today's consumers live a healthy and active lifestyle so accessible, high-protein snacks are becoming the mainstream snack of choice rather than a niche product. It appeals to the everyday active consumer."
"Protein is no longer used exclusively by bodybuilders and elite athletes"
So products must reflect the mores of everyday consumers. That means going plant-based. Everyone from Sci-MX, with its V Gain and plant-based Super Food Smoothies lines, through to Bulk Powders, with its Vegan Series, are at it. Such products are here to stay, suggests Steff Parker, head of marketing at vegan snacks and protein powder brand Pulsin.

"Veganism isn't a fad - it's a movement," she says. "Adopters of a plant-based diet in the UK have rocketed from 540,000 in 2016 to 3.5 million in 2018. This seismic shift is revolutionising sports nutrition with category newbies and the nutritionally savvy demonstrating an increased understanding of the benefits of a plant-based diet."

Indeed, veganism has come a long way from the days when it was seen as the preserve of wiry, whiskery types in socks and sandals. Sporting stars like Lewis Hamilton and Serena Williams are advocates of the plant-based lifestyle, points out Parker. Nearly 170,000 people signed up for Veganuary earlier this year. And the majority of these people still eat meat, according to the organisers.

The same applies to the vegan sports nutrition movement. "It's certainly not just vegans that are buying plant-based sports nutrition products," says Arjun Sofat, founder of Free Soul, a range of vegan and whey protein products and functional teas that entered Boots and Superdrug last year. "People are looking to reduce their intake of dairy products."
Feminised movement
It's significant that Free Soul and a host of other brands including Missfits Nutrition and Innermost position themselves as distinctly feminine offerings. Developments such as this are proof of the ongoing 'democratisation' of the sports nutrition category, contends Hamish Renton, MD of consultancy HRA Global. "You can really see from the product development that's coming through that this is a category that's growing up," he says. "It started out in the 1990s with this very Americanised heritage of scantily clad women and hairy chests with medallions and now it's getting gentrified and feminised, with functional, on-the-go stuff really making waves."

Indeed, it's on-the-go products that are fuelling the lion's share of growth, with Kantar putting the combined gains of protein-enriched sports bars, flapjacks and cookies at 49.5% to £46.3m, with an extra 11.1 million units (47.4%) sold in the past year. And that's just take-home sales.

"IRI shows the category in stronger value growth, driven by the protein bar segment, which is up 31% in value," says Juliet Barratt, chief marketing officer and co-founder of Grenade UK. "Grenade Carb Killa is the number one brand for value sales and actual value growth, up 122% thanks to a significant increase in distribution."

Retailers are moving such products to higher footfall parts of the store in recognition of the growing importance consumers place on health and physical activity. They're also looking to reduce the barriers to trial by promoting more and reducing pack sizes of larger bulk packs of protein to make them affordable (the trend is going in the opposite direction online, where packs are getting larger to attract bargain hunters).
"Retailers are carving out space for what has been a bolt-on to the pharmacy fixture"
"Retailers are beginning to carve out prime space for what historically has been a bolt-on to the pharmacy fixture," adds Parker at Pulsin. "This is demonstrated by Morrisons, Boots and Sainsbury's all trialling active lifestyle fixtures - a hybrid of sports nutrition and healthy lifestyle - in a bid to find the perfect balance in a rapidly evolving market."

The biggest changes are in impulse. Grenade attributes much of its explosive growth to new listings in high street retailers such as M&S, and Sci-MX reports a similar pattern. "Retailers are increasingly describing high-protein snacks as the future of confectionery," says Rich.

The war on sugar is one driving factor. "With emphasis on the newly imposed sugar tax and the focus on healthy eating, retailers have given more space to this category in impulse areas at front of store and in garage locations," says Simon Jurkiw, commercial director at Bulk Powders.

It's a valid point. Not only are protein-enriched dairy drinks (along with juices and smoothies) exempt from the sugar levy, they also command the highest average price in the soft drinks category [Kantar], making the economic argument for retailers devoting more prime space to such products clear. You can make a similar case for protein snack bars, given their relatively high rsps.

"We're absolutely expecting to see a permanent change in consumer behaviour and product demand," says Gary Lavin, founder of low-calorie vitamin drinks brand VitHit. "Influences like the sugar tax and challenges on the NHS have incentivised this change. It's opened a huge gap in the market for nutritious beverages that can compete on taste and innovation."

Mark Neville, MD of Upbeat Drinks, agrees. "Macro space is starting to change, with more space given to drinks, and with that more space moving from traditional 'healthy' drinks such as Diet Coke and into 'healthful' drinks such as protein RTDs," he says. "Most recently, this relatively new mainstream drinks category has seen an increase in inclusion in meal deals."

Weetabix takes much of the credit for the normalisation of protein drinks in store. It points to the £18m in sales racked up by its On The Go breakfast drinks, which include three high-protein variants. "Main drivers of recent growth have been increased in-store presence, across chilled and ambient," says brand manager Beth Reeve.
Brain-boosting nourishment
As protein claims become the norm, some predict that the sports nutrition products of tomorrow will go much further. "Sports nutrition has definitely come a long way," says Damian Soong, CEO & co-founder of plant-based protein powder and nootropics brand Form Nutrition.
"Plant-based nootropics are commonly being used by athletes to improve state of mind"
"We view nutrition as nourishing the whole self - our protein powders have adaptogens like Curcumin C3, an anti-inflammatory and antioxidant, and pre and probiotics to support a healthy gut. Peak performance isn't just about being at your physical best. Enhancing our mental performance is becoming a big area of interest. Supplements such as plant-based nootropics are commonly being used by athletes to improve their state of mind."

Some say nootropics - products containing ingredients such as ginseng, artichoke extract and Chinese club moss that are said to improve mood and cognition - could be the next big thing in this category. "I can see nootropics being the next frontier that RTD brands move over," says Renton. "It will take us far beyond protein and could well be sports nutrition 3.0."

From products aimed squarely at butch bodybuilders to vegan-orientated and now brain-boosting lines - at this pace, even dedicated gym bunnies will find it hard to keep up with the sports nutrition market.
Innovations in sports nutrition 2018
Click on an image to expand