DTC beer clubs have attracted a big following during lockdowns. Will the at-home experience still be a draw when pubs reopen?
It's hardly surprising online beer and cider clubs have been pulling in punters. With pubs closed for much of the past year, stuck-at-home Brits in need of merriment have been lured by subscription boxes and direct-to-consumer bundles.
It's been a welcome salve for brewers hurt by hospitality's closure. They've seen online sales soar. Seven Brothers says its e-commerce revenue has increased by 800% from the period pre-pandemic. And smaller craft brewer The Mad Yank Brewery, which launched online during lockdown, says it has seen demand "explode".
Of course, the DTC beer model isn't new. Beer52, for example, launched in 2013 and today has around 200,000 active subscribers – which, it claims, makes it the most popular beer club in the world. But such clubs have seen a huge uptake throughout the pandemic. "For us, it's proved a key contributor to growing the business by 130% year on year," says James Grundy, co-founder of Small Beer, which offers a range of lower-alcohol beers.
So, will DTC still draw a crowd when pubs reopen fully? It seems likely. A YouGov survey found just 18% of Brits planned to visit their local boozer in the first week of restrictions lifting – while 29% said they would wait until later in the year.
And according to UKHospitality, nearly a fifth of people who previously visited hospitality monthly claim they no longer have the same desire to go to the pub, with 36% saying they will visit less frequently than before the pandemic.
"DTC offers a far richer, connected experience that has changed consumer expectations"
That's good news for DTC, says Grundy. "Though we anticipate online orders waning slightly as our beloved on-trade wakes back up, we shouldn't forget that consumers have enjoyed beer delivered to their home for over a year now."
His belief that drinking occasions in the home have become "part of the furniture" is one that is upheld by others.
"During the past 12 months, consumers have sought to manage their energy and wellbeing by creating demarcated moments in time, where the role of beverages has increased and for some become ritualistic imperatives in the consumer's day," says Lee Powney, senior partner at brand consultancy firm Vivaldi, whose clients include PepsiCo and Bacardi.
A continuing thirst for "demarcated moments" could be why Ed Stapleton, founder of craft shandy brewer Shandy Shack, predicts that "drinkers will never shop for beer in the same way again".
They could, of course, buy booze from supermarkets. But the attraction of DTC is that it offers consumers something that physical shops can't, he says. "While out-of-home drinking moments will definitely see a resurgence as lockdown eases, DTC offers a far richer, connected experience that has rapidly changed consumer expectations, and will be the preferred way for drinkers to get hold of their home supply in the future."
Customer engagement
That connected experience Stapleton mentions often sees punters forming a relationship with their brewer of choice.
Take Small Beer. Its brewing team sends "thoughtfully curated updates" called Small Letters. Such messages – informing customers of the brand's sustainability aims, for instance – bring about "an extremely meaningful interaction" Grundy says. "For us, brewing with our world in mind is simply the way we believe beer should be brewed, so being able to show our consumers this side of the business is something that we couldn't do from a supermarket shelf."
As well as a better connection with their favourite drinks makers, DTC can also provide shoppers with something physical stores can't: seemingly limitless variety.
Beer52 members, for example, receive eight beers, a magazine and a snack every month for £24. It's a curated selection that has contributed to more than 700 beers being "discovered" since its launch.
"People have had time to become more involved in the product experience of alcohol"
Even beers that already have a strong supermarket presence are tapping the trend of curation. Last month, BrewDog launched a subscription beer club, brewing several guest beers under licence. "We have great relationships with the best craft breweries in the world, so what better way to showcase the incredible range of beers being produced," commented BrewDog co-founder and CEO James Watt at the time of the launch.
Such partnerships offer opportunities for smaller independent brewers to go in on variety bundles, believes Larissa Graeber, co-founder & director of The Mad Yank Brewery.
"Craft beer consumers historically look for quality and variety. Breweries can potentially overcome that hurdle by forming coalitions with other breweries and sharing their market space by creating online marketplaces, which bring that missing variety component to consumers," she says.
"We've seen this with some breweries offering a selection of partner products on their own websites, but where the model stands to excel is by incorporating dropshipping, whether via individual webshops or a consolidated online market," Graeber adds.
Back in the pub
The reopening of pubs later this month will undoubtedly have an impact on DTC sales. But brewers are bullish about the lure of home occasions.
"I believe we will see DTC reduce by 20%-25% as pubs open up," says Andy Hepworth, MD & head brewer at Sussex brewery Hepworth. The decline will halt when enthusiasm for the boozer wanes towards winter, he predicts. "After that, it will gradually and steadily start growing again due to the newfound convenience of the new customers gained during the pandemic."
Vivaldi's Powney believes brands that were fast to market and have formed relationships with their customers will be the winners.
"Growth rates will not be as significant, but consumers have adopted new behaviours and expectations have shifted. This is likely to affect their product and brand choices in the future," he says.
"Those brands that have developed experiences around their products will likely win"
"Those brands that have developed specific experiences around their products, that are more thoughtful and less disposable, will likely win."
Besides, new customers may find themselves ordering beers at the bar that they have enjoyed at home through the pandemic, suggests Stapleton.
"DTC brands don't necessarily see on-trade as competition but more as another channel for their brands to be discovered and experienced. With the audiences that they have developed during lockdown, there is plenty of interest from on-trade players in serving up these new propositions," he says.
The lure of DTC is surely far from over.
Revl: How Molson Coors is delivering night-out experiences to the sofa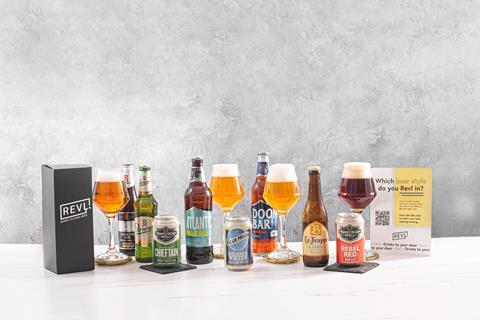 On-premise sales would normally account for around half of Molson Coors' net sales. But with pubs closed for much of the past year, these were reduced to almost zero.
In response to the huge drop, the brewing giant made its entire range available via Revl, the e-commerce platform it launched in November.
It's a long-term strategy as well as a reactive move, according to Jack Daniel, the company's beverages director. "Direct-to-consumer platforms will continue to have a place in the market long after hospitality opens. For us, it's a different type of offering to what our customers in the on and off-trade provide," he says. "We have been on a digital journey for the last few years and extending our direct-to-consumer offering is a natural evolution for us, and an exciting milestone for the business."
While products are available as both multipacks and singles, Revl's focus is bundles.
"People are looking forward to going out and enjoying a drink with friends, but equally, when they spend an evening at home, consumers can make an occasion more special through one of our themed bundles," Daniel adds.
Take the Movie Night bundle. It includes an 80g bag of Joe & Seph's salted caramel popcorn and a stripey box to put it in. Plus, it has a 'movie pass' to redeem at video-on-demand streaming service Rakuten TV.
Then there's Revl's Beer Tasting box. It comes with a QR code linking to an online beer expert who walks the drinker through the selection.
"The idea of creating an experience in the home isn't new but it has certainly become more important since the pandemic and we think it's here to stay," Daniel says.
"It provides us with a platform to trial innovation and understand shopper tastes and preferences in greater depth – which is insight we can learn from to create better solutions moving forward."
Innovations in beer & cider DTC