Brexit was sold as a golden opportunity for UK fishing. With still no deal in sight, has the industry been caught hook, line & sinker?
Britain's fishing fleet employs around 24,000 people. To put that into context, that's roughly the size of the population of Rickmansworth, Hertfordshire. Yet this relatively small industry has dominated EU trade talks like no other sector.
Fishing contributes £1.4bn to the UK economy – a lot of money, of course, but context is everything. That accounts for just 0.12% of GDP and the sector employs 0.1% of the UK workforce, according to a 2017 House of Commons briefing.
Still, it has become a symbol of national sovereignty for Brexiters. Negotiators in Brussels want the UK to be recognised as an 'independent coastal state' – a status that would give our fishermen control of waters stretching up to 200 nautical miles into the North Atlantic and allow for annual talks with the EU on access to waters and quotas.
The EU, meanwhile, is under huge pressure from countries with large fishing fleets, such as France and Spain, to maintain the status quo. The Common Fisheries Policy allows boats from all EU nations to access each other's waters, meaning that more than 60% of the fish landed from British waters is currently caught by foreign boats.
"British fish for British boats," is the UK government's position, in a nutshell. Meanwhile, the EU wants to maintain access to our waters in return for UK exporters being able to sell their fish in Europe. That's important, given that 70% of the domestic catch ended up on EU plates in 2018 [ITC]. So far, the talks are in stalemate and Britain looks set to leave the EU without a deal in January.
So how has fishing become such as important issue in trade talks? And, as the threat of a no-deal Brexit looms, have all the supposed benefits to the industry been a red herring?
The image of a sector united behind Brexit and its "seas of opportunity" belies a reality in which the majority is fearful for its future. "Brexit is going to be very, very damaging for the industry," says James Cook, MD at DR Collin & Son, a major fish exporter based in Scotland. "Even if there is a deal done now, there are huge implications for everyone."
"Even if there is a Brexit deal done now, there are huge implications for everyone"
Cook is one of many smaller-vessel owners who feel their views have been largely lost in the Brexit debate. Brexit-related fishing coverage in recent years has focused on recovering sovereignty of national waters and thereby increasing fishermen's quota for the rights to catch fish.
But the prominence of this argument does not reflect its importance to most fishermen – only 20% of vessels will benefit from a higher quota. The vast majority are smaller boats that do not possess any quota but instead rely solely on government pools – making up 2% of the UK's quota – or else fish for species like shellfish, which operate quota-free.
A study last year by the New Economics Foundation found organisations representing the small-scale fleet received just 2% of the media coverage on Brexit and fishing. By contrast, Bertie Armstrong, CEO of the Scottish Fishermen's Federation, a trade body for large, quote-holding vessels, was found in almost half.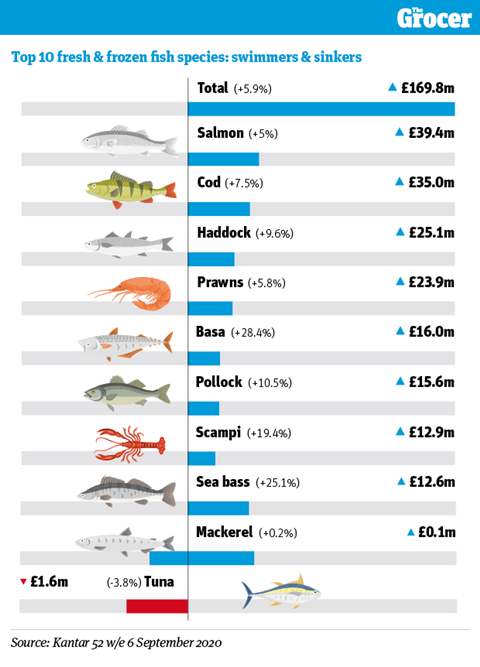 As the above shows, all species bar tuna have delivered growth this year. But the really interesting stat is the rise of frozen.
Frozen fish has been flying high as shoppers have stocked up and hunkered down in the pandemic. Sales are up 12.2% in value on volumes up 6.2%.
That's ahead of ambient fish, which has grown 7.9% in value and 7.5% in volume, and chilled, which is up 2.7% in value on volumes up 1.8%.
"The closure of counters in-store has impacted the chilled fish category this year," says Kantar analyst Martina Di Rocco. She notes two conflicting trends in the fish sector: the move towards pricier species in fresh fish and cheaper products in frozen.
Sales of sea bass, the priciest of the major species in the supers, have grown 27.4% on volumes up 25.9%, contributing £12m to chilled fish's £52.9m growth. "This can be explained by shoppers trying to indulge and recreate the out of home occasion," says Di Rocco.
At the same time, many are economising. "Shoppers have moved to cheaper categories as the economic outlook remains unstable," she says. "During these uncertain times, shoppers are also paying more attention to the value of products, which makes frozen food more appealing. Fish fingers, which are the largest sector in volume terms, are the main driver of frozen growth."
Port delays
Cook's greatest fear is Brexit-related disruption when sending trucks laden with premium seafood to Europe. The sector is hugely reliant on European markets, worth around £100m each month [HMRC].
It has experienced the pain of border disruption before. Most recently during the pandemic, but also during the refugee crisis of 2016, when Dover became gridlocked – a situation that hit those with short-shelf life goods particularly hard. Many premium products such as shellfish became a negative asset overnight as businesses were suddenly forced to pay for mass disposal.
Cook is doing everything he can to avoid a repeat of this scenario, but feels like he is fighting the tide. Although he has sought out alternative markets beyond the EU, it's tricky to replace the five packed lorries heading to Europe each day. "It's hard to find markets for that overnight given it's taken us over 40 years to establish these ones within Europe."
"It's hard to find new markets overnight given it's taken 40 years to establish in Europe"
That has left Cook and others praying for the UK government to reach a compromise in trade talks. After all, the industry has already faced its share of disruption in the past year. Many fishermen are already fighting for survival due to a dreadful winter, quickly followed by the coronavirus pandemic and the closure of restaurants and pubs.
"Last winter the weather was awful. But just when people started looking forward to spring to pay off their bills, along came Covid," says Jerry Percy, CEO of the New Under Ten Fishermen's Association. "That means we're now sitting here, with people carrying significant amounts of debt and potentially now with some very challenging times ahead."
Percy is not blind to the challenges facing government. He appreciates there is a fine balance to be struck between regaining fishing opportunities for the UK, while ensuring European markets are still available for British exporters.
So in a letter to chief negotiator David Frost in July, Percy set out some of the key differences between the smaller, inshore fishermen and the larger, whitefish fleet that has dominated headlines and negotiations. He observed that while the profit margins of the UK's larger fleet are among the highest in Europe, the smaller vessels tend to operate with less leeway, making them highly vulnerable to disruption.
"The sea of opportunity has been promoted ad nauseum mainly by those who are reliant on quota species, typically cod, sole, haddock, whiting," says Percy. "And to be fair, if your fisheries minister comes along and says, 'hey boys, vote for Brexit and you'll get hundreds of thousands of tonnes more fish', it can hardly come as a surprise when over 90% of the fishing industry voted in favour of Brexit. But as time has gone on, I think it has dawned on a very significant number of fishermen, not just the small-scale guys, that the glitter may not necessarily all be gold."
It is not only customs processes and tariffs that could hit British fish exporters from next year. Fishermen fear without a compromise between No 10 and Brussels, French vessels will be left unsatisfied and could initiate a backlash against British fleets.
"French fishermen tend to take the law into their own hands if they're not happy with something"
"French fishermen, like French farmers, tend to take the law into their own hands if they're not happy with something," says Percy. "They know very well it would take nearly nothing to make ports from Calais to Boulogne untenable for UK transport. Park a few tractors or a few boats in the harbour and it grinds to a halt very quickly."
Alistair Sinclair, national co-ordinator of the Scottish Creel Fishermen's Federation, shares the concern. "We don't know how bolshy French fishermen are going to get if they don't have the access currently enjoyed."
These wider issues mean it's not only Britain's small vessels who have warned of Brexit's impact. Last year, Wayne Hudson, then MD at Birds Eye, warned of "significant cost price increases" due to tariffs under a no-deal scenario, in The Grocer. Cod, for example, is facing a 12% tariff.
However, Steve Challouma, Hudson's successor, is feeling confident. Birds Eye sources little of its fish from the EU, he points out, while the company's global footprint offers numerous options to adjust supply chains. "Shoppers are likely to be facing a recession so we want to do everything we can to avoid inflation," says Challouma. "We'll take whatever steps we can to mitigate that."
Why fish can benefit from meat ageing processes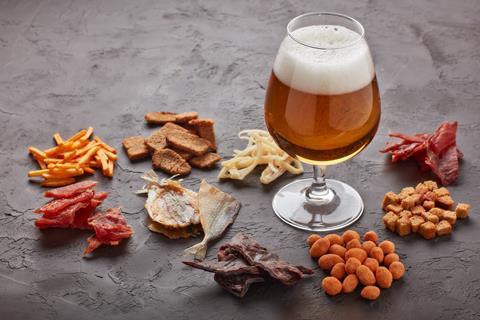 The world of fish is undergoing something of a revolution. From dry-ageing to "nose-to-tail" eating, fresh fillets are no longer always first choice.
Instead, an increasing number of chefs across the western world are waking up to the fact the tricks used widely on meat are just as applicable to fish. Many of these methods are well established in Japanese cuisine, not least the ageing process.
US restaurateur David Chang goes one step further. "Truthfully, you don't want to eat fresh fish. Once a fish has been dead for more than a few minutes, the flesh goes into rigor mortis," he explains. "It can take four or five days to relax and reach its apex of deliciousness."
The concept is much the same as meat. Amino acid chains break down and tenderise the fish. At the same time, flavour molecules are released, adding complexity and umami levels.
The fish is typically hung in a room between zero and minus-two degrees, with no ventilation and minimum humidity. It can take four to seven days to reach peak flavour, though anything up to 90 days is possible. And dry-ageing doesn't just produce tasty and tender fillets either – the process can result in superior fish stocks as it breaks down the proteins that can lead to foams when boiling down.
Josh Niland, the Australian chef and author of The Whole Fish Cookbook, described by Jamie Oliver as "a mind-blowing masterpiece", is passionate about using the process to find a fish's "sweet spot". In a Guardian article last year, he suggested 20 days was probably the maximum.
Perhaps more than anyone else in western cuisine, Niland has pioneered a different approach to fish, which a foreword to his book suggests "changes fish for you forever". He is pushing the boundaries of "nose-to-tail" eating in the world of seafood – in the words of Rick Stein, "using every part but the bubble from the fish's mouth".
UK species
That could mean branching out. UK fishermen have long urged processors to handle lesser-known domestic species to make the industry less reliant on exports. Herring, for example, is one of the our biggest hauls, yet we export most of it to countries such as Norway or the Netherlands.
Some suggest the rise of direct-to-customer fish boxes featuring less familiar domestic species during Covid shows shoppers are willing to move beyond 'safe' varieties such as cod, salmon and prawns. Challouma does not dismiss the idea, but insists there is a fundamental mismatch between British tastes and what's available around our shores.
While species such as mackerel, crab or langoustines certainly have opportunity for growth, he suggests, they will likely remain at the fringes for the foreseeable future. "I'd describe those as the 'fishy' fish. They're the fish that have a stronger fish flavour and taste. And that's not what the British consumer has grown up with over generations."
"Basa was born out of the 2008 recession. Consumers could buy fish at better value"
Indeed, it says something that Seafish has given itself 20 years to reverse declining UK seafood consumption. But economic factors could speed up change, says Iain Lowrie, category insight director at Young's Seafood, pointing out that the last recession led to sinking sales of pricier fresh cod and tuna and the rise of cheaper species.
"Basa was born out of the 2008 recession," he recalls. "It meant consumers could continue to buy seafood but at a better value and now it has grown from strength to strength." Take-home sales of basa are now worth £72.3m a year [Kantar].
Sustainability is another influencing factor. One in five seafood shoppers have switched to products with sustainability claims in the past year [MSC] and Waitrose says its sales of MSC-certified Cornish sardines have doubled this season. So our fish choices could be about to change significantly towards the likes of sardines, mackerel and herring.
Question is: won't we all have had enough (red) herring by then?
How Covid has left the fish market reeling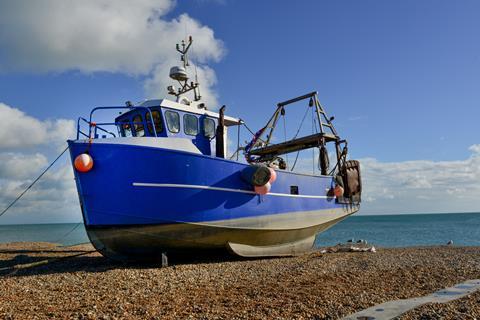 "Difficult, very difficult indeed," says Alistair Sinclair, national co-ordinator of the Scottish Creel Fishermen's Federation, as he reflects on the past six months.
It would be hard to engineer a crisis that strangulated Britain's fishing fleet more than the pandemic, which has all too clearly illustrated the fragility of some of Britain's supply chains.
Before the UK had even entered full lockdown in March, fishermen were already closing their doors. About 80% of UK catch is sold abroad, primarily in restaurants and bars across Europe and Asia. Their closure, coupled with the collapse of air freight, left swathes of seafood with nowhere to go. "We've just got no markets to sell to," Jamie McMillan, MD at Loch Fyne Seafarms, told The Grocer in March.
The collapse in demand caused prices to plummet, forcing some fishermen to tie up their boats simply to avoid landing catch that could crash prices further. Although prices slowly began to recover as economies released themselves from lockdown, the second wave is now starting to take effect.
"With France and now Italy beginning to shut down again, it's suppressing face values," says Sinclair.
Significant volumes of British fish are holed up in frozen storage. But while storage capacity is now at a premium, releasing frozen fish back into the market must be done carefully to avoid another big crash in prices, says Jerry Percy, CEO of the New Under Ten Fishermen's Association.
Still, not all fish has struggled. The likes of battered and breaded fish have done well, says Iain Lowrie, category insight director at Young's Seafood, largely because "people are eating at home a lot more often and having extra mouths to feed with children being off school."
The result has been an increase of about 117 million occasions of seafood being eaten in the last six months," says Lowrie.