Meat is hoping to hold on to the 'halo effect' of lockdown by addressing its image problem. But logistics may be a bigger issue
OK, so a halo isn't something you would normally associate with the meat industry. Even before Covid-19, it was being demonised for its impact on the environment, public health and animal welfare.
The pandemic threatened to make the situation even worse. In May, a group of doctors called the Plant Based Health Professionals (PBHP) said cutting back on meat would help avoid future health crises.
"Three in four of the world's new or emerging infectious diseases have come from animals… transmitted through the wildlife trade and factory farming," said Dr Gemma Newman in an 'open letter' to the government calling for higher tax and zero subsidies for industrial animal farms.
It wasn't just one lobby group. That Covid-19 was thought to originate from a wet market in China created a widespread debate on safe meat consumption.
Amid all of that controversy, it might come as a surprise Covid-19 has actually been a boon for supermarket meat suppliers.
Fresh meat and poultry sales rose 8.1% this year [Kantar 52 w/e 9 August], equating to an extra £414.4m. It's certainly a welcome change for an industry that has long been suffering from stagnating sales.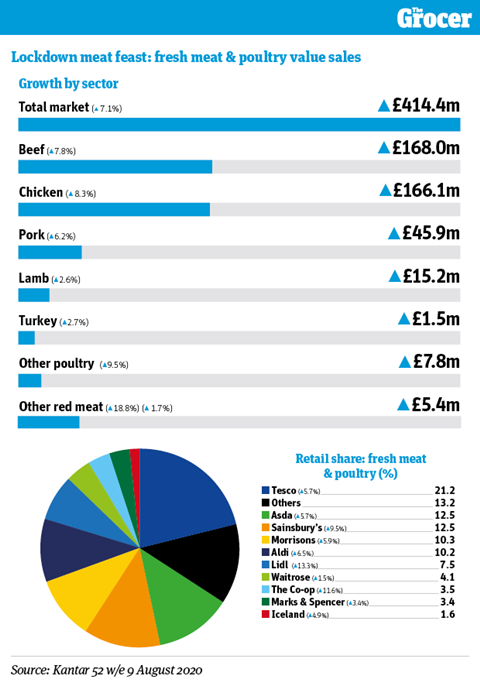 Bacon and sausage sales rose a sizzling 13.9% and 19% in value terms respectively, thanks to more people enjoying cooked breakfasts at home in lockdown and easy bacon and sausage sandwiches for lunch.
Lamb didn't see the same growth as the rest of the category, up 2.6% in value but down 1.7% in volume terms due to Easter being somewhat of a non-event this year.
Burgers and grills bounced back from a tough previous year to record 23.6% value growth and 23.3% volume, driven by warm weather and people being at home more to enjoy a barbecue. Kantar reported 53 million barbecues were held in the 12 weeks to 17 May 2020 – treble the number held at the same time in 2019.
Chicken dinner was the big winner: fresh chicken sales rose 8.3% in value and 12.8% in volume, ahead of overall primary meat growth of 7.1% in value and 9% in volume.
Consumers turning to premium meals like a roast meant fresh beef sales increased 7.8% in value and 8.8% in volume.
Pork and chicken had the lowest average price over the year, which Kantar analyst Caroline Leung says should lead to long-term consistent growth.
Kantar analyst Caroline Leung says the fresh meat category was helped by the "halo effect" of lockdown, which resulted in consumers wanting more comfort food. That trend has put meat firmly at the centre of the dinner table.
"The need to replicate special meals at home that would ordinarily be had in restaurants presents more opportunities for growth in meat," explains Leung. "Especially as lockdown restrictions fluctuate and there is renewed pressure on the eating-out sector due to the 'rule of six'."
Kim Malley, senior retail insight manager of market intelligence at the Agriculture & Horticulture Development Board, points to steak as an example of consumers trading up. "Over the six months to 9 August, steak sales are up 24% in volume terms," she says, quoting Kantar numbers.
"There was some concern early on that, with the loss of out-of-home, this could impact carcase balance. But there has been a big turnaround in steak since May. It got to the point of people wanting that treat element, plus it was supported by tactical promotions by retailers."
Those tactical promotions included a 9.9% drop in volume deals, as retailers tried to discourage panic-buying. Meanwhile, temporary price reductions were up 9.6% as the price war kicked off.
But Malley believes there's nothing temporary about the newfound appetite for meat. "We predict beef and pig meat retail sales will remain higher than the previous year's performance. Mainly because there will be a lot more in-home eating occasions. People will be working from home more often, which will benefit beef and pigmeat in particular."
Sustainability
Plus, the industry is working hard to prevent meat sales falling into stagnation once again. That includes facing up to one of the major criticisms threatening its halo: the environmental impact.
See the British Meat Processors Association's new SustainableBritishMeat.org website. Borne out of a sustainability event planned for earlier this year but postponed due to Covid-19, the website has been designed specifically to tackle allegations of meat being unsustainable.
"No one is saying we should just live on meat – the message has always been to eat it as part of a balanced diet," says BMPA CEO Nick Allen. "In terms of sustainability, the UK has a good story to tell. Our animal welfare priorities make it one of the best places in the world to buy meat. And now we have a platform to present that to the public rather than getting caught up in social media rows."
Disparate parts of the industry have often been hesitant to stand together, but Allen believes this is changing. "I wouldn't want to give the impression the cavalry is coming over the hill, but there are certainly signs the industry is in a better place than it was a year ago and it'll be in a better place this time next year. AHDB has upped its game considerably over the past year, as has the National Farmers Union, to create a sense of unity through this platform."
"No one is saying we should just live on meat – the message has always been to eat it as part of a balanced diet"
The industry is careful with the arguments it chooses. On greenhouse gases, for example, the Sustainable British Meat website points out that UNFAO's figure – which says livestock accounts for 14.5% of global greenhouse emissions – is a global average buoyed by less sustainable practices in other countries. British livestock accounts for a much lower proportion of national greenhouse emissions (5.7%), thanks to the methods British farmers employ, argues the BMPA.
The site also refers to world-leading food safety, animal and hygiene standards in the UK, and points out that properly managed cattle pasture can help restore biodiversity lost to arable farming. These are valid points, but other issues – such as the space required to produce enough meat for a growing human population bent on eating burgers, the daintier carbon footprint of meat-free options and the health toll of too much red meat – are conspicuous in their absence.
The health argument for eating less meat may lose its potency as Covid's economic fallout is felt, however. "Our usage research found that health, which is a major reason for switching to a meat-free diet, lowered on people's agenda at the expense of enjoyment and comfort [in lockdown]," says AHDB's Malley, who puts strong growth in meat substitutes down to panic-buying at the start of lockdown. "Health is creeping back up agendas but it typically takes a backseat when we enter recession." He believes that could slow the movement towards meat-free options.
In fact, the main issue lying ahead for meat is ensuring the shelves are stocked. "Brexit and Christmas coming together is a nightmare," says BMPA's Allen. "Christmas usually drains all resources. You build up stocks, occupy all the cold storage you can lay your hands on and hopefully sell all your stock. We don't know how well the ports will function in the first week of January and members are considering if they should keep additional product in store if they can find capacity. They're ready for Christmas but I'm not sure if they're ready for what comes after."
"Health is creeping back up agendas but it typically takes a backseat when we enter recession"
In essence, he believes there are "a lot of unknowns and a lot of hard graft to be put in before 31 December."
And an EU trade deal isn't the only challenge. "Businesses are signing overseas contracts and need to know if they can get health export certificates signed by vets," continues Allen. "If those vets aren't available that will cause a problem. All these things are raising question marks with people we're trying to sell to. Our members need answers."
Others in the industry echo these concerns. An ABP spokesman says "clarity" is needed, while pork processor Pilgrim's Pride says labour is a potential pinch point. "We're concerned about the availability of labour, both on our farms and in our factories," says head of corporate comms Nick Purnell.
To tackle the issue, the Migration Advisory Committee has since advised that butchers be added to the Shortage Occupation List. But the matter is yet to be resolved. Another concern is more immediate: plant closures caused by Covid outbreaks. "Look at pork," warns Allen. "If we lost a big plant, I doubt others could pick up the capacity."
So the biggest challenge for meat may well lie in operations, rather than public perception. But if the industry can get through all of that upheaval, it really will deserve a halo.
Innovations in meat and poultry 2020