Brits aren't giving up on meat, but sales of processed products are taking a hit from health and climate concerns. Can they be saved?
Should eating meat be against the law? That was the stark solution to the planet's ills proposed by top QC Michael Mansfield at September's Labour Party conference.

With the world in the midst of a climate emergency, Mansfield said it was time for a "new law on ecocide to go alongside genocide and the other crimes against humanity".

It all sounds a little drastic. And Britain certainly isn't showing any signs of giving up meat altogether. Despite a series of reports linking its production to climate change, volume sales of fresh meat actually grew faster than last year at 1.1% [Kantar 52 w/e 14 July]. That equates to 9.4 million extra kilos.

One corner of the market isn't faring quite so well, though. That is the much-demonised processed meat. Perceived as troublesome for health and environmental reasons, value sales slumped 1.5% to £3.86bn, while volumes are down 0.4%. It's been a chastening year for bacon in particular, which fell by 5% - equating to a whopping £56.8m fewer sales.

So just how damaging are the health concerns around processed meat to sales figures? And is there anything the sector can do to save its bacon?
"Reports linking meat to negative health impacts correspond to a drop in sales, say retailers"
"Processed meat products have had a tough time over the past few years," says Kantar analyst Shivam Hemnani. He suggests the World Health Organisation's landmark 2015 report - which made explicit links with cancer - continues to have long-lasting effects on sales.

Matt Southam, head of retail and foodservice engagement at the AHDB, admits that kind of publicity typically affects consumption. "Whenever those reports come out linking meat to negative health impacts, retailers tell us they see a corresponding drop in sales," he says.

See the respective performances of bacon and sausages for proof. Sausage sales initially dipped after the WHO report emerged. But as British manufacturers pointed out their product should not be compared to cured or smoked meats such as bacon, salami or chorizo, performance recovered. Over the past year, sausages have held their own, down just 0.1% to £673m on volumes up 1.5%. By comparison, bacon is falling fast.

The industry seems to be taking that threat seriously. Especially bacon brands, which have bucked the decline with 18% value growth. Take Northern Ireland's Finnebrogue. It sought to tackle negative health perceptions with last year's launch of its Naked Bacon range, which uses a proprietary alternative to nitrites - one of the potentially cancer-causing compounds outlined in the WHO's report. The tack seems to be working. Hamnani singles out Naked Bacon as a key performer of the past year.

Meanwhile, Tulip reduced the salt content of its own-label bacon range last year, and made a similar reduction to its gammon products in February. Tulip's senior customer category manager Alex Skidmore sees this as a crucial move. "We know approximately 25% of Europeans are expecting to reduce their meat consumption in five years' time, mainly due to health," he adds.

Still, health isn't the only issue affecting bacon. There is also the impact of declining promotions across processed meat. "Promotional activity is a huge driver of sales, and we have definitely seen a reduction," says AHDB's Southam, pointing to a particular dip on "big volume deals, such as three for £10".
Kantar: meat & poultry sales
Fresh primary meat and poultry sales
Value (£m)
% growth
Beef
2151.5
-1.5
Chicken
1979.1
1.6
Pork
742.7
-0.8
Lamb
573.2
2.2
Turkey
215.0
2.7
Other Poultry
82.0
3.5
Brands vs own label
Value (£m)
% growth
Own Label
5628.6
0.2
Brands
143.5
2.1
Retailers
Category value share
% growth
Tesco
21.7
-2
Asda
12.7
1.6
Sainsbury's
12.3
-4
Morrisons
10.5
0.1
Aldi
10.2
9.5
Lidl
6.9
4.9
Source: Kantar 52 w/e 14 July 2019
You may expect fresh meat and poultry to be suffering. After all, the market is under pressure from health, animal welfare and environment lobbies, as well as the move towards plant-based. But this isn't having the expected impact on fresh sales, says Kantar analyst Tobias Hill-Summers.
Value is up 0.3% in primary meat, while volumes are up 1.1% - ahead of population growth and showing that demand is not falling, as might have been expected.
Poultry in particular continues to grow, with fresh chicken volumes climbing by 2.5% and value sales up 1.6%.
Red meat is being purchased less often in volume terms, with beef sales down 1.2% and lamb down 1.7%. However, these products are retaining shoppers, with 91% buying into the market over the past year.
Primary markets are sensitive to pricing, and inflation has affected the category at various times over the past five years. However, only lamb is currently showing price increases (up 4%), driven by pressure from imports and challenging conditions for farmers.
Promotions dip
This much is borne out in Kantar's data. According to its figures, the value of total processed meat promotions fell 3.5% last year, while temporary price reductions slumped 7.6%. Even though everyday prices are moving downwards - the average cost of bacon fell by 2.1% - Southam suggests that is unlikely to sway many shoppers.

"They are more likely to notice there are rarely any promotions on bacon in the supermarkets, and when you factor in those negative health perceptions you can see why sales have been falling," he explains.

The effect is compounded by the changing nature of breakfast habits. Tulip's Skidmore stresses this is the most crucial meal occasion for bacon. "We know that 40% of bacon is consumed at breakfast and with a far wider range of breakfast options now available to shoppers, both in and out of the home, these are naturally eroding the core bacon mission."
"A wider range of breakfast options now available are eroding the core bacon mission"
Plus, ever more out-of-home players are offering bacon as a quick breakfast option, adds Southam. That may well have a negative impact on take-home sales. "With the likes of Greggs and Pret offering breakfast meal deals including a bacon roll, for example, people are becoming more conscious of how much bacon they're eating."

All of which is painting a pretty negative picture of supermarket bacon sales. Faced with these challenges, something has to change. Skidmore says Tulip is already looking at ways to adapt. "Finding other ways for our customers to enjoy bacon is a key focus for our development team," he says.

Southam believes this is a solid strategy. After all, sausages are benefiting from their inclusion in ever more recipes. "Consumers are eating more and more dish-based cuisine as opposed to meat and two veg, and bacon could well play into that quite well," he says. "It could become a cheaper protein alternative to what people are currently using."

There's clearly room to do more in this area. Southam sees "very little" recipe inspiration for bacon at present. Unfortunately, he says AHDB would struggle to take the lead in a category that depends so much on imports. Running a midweek meal marketing campaign, which it has done for other cuts such as medallions, could prove "tricky to persuade our levy payers to support. However, we have been doing a lot of work to defend the reputation of bacon against the cancer message, and this will continue."
No match for last year
It's not just bacon that is struggling. The performance of processed meat has also been hampered by the 3.1% fall in burger sales to £315.1m on volumes down 4.9%.

These figures reflect just how mixed this summer has been compared with last year's barbecue-friendly heatwave, which was further boosted by the football World Cup, says Southam. "It was always going to be difficult to match last year. The sun was almost guaranteed, so shoppers plan ahead, with processors and retailers also able to gear up supply and align promotions."

Plus, burgers are typically made from beef - which is another sticky area. Beef was the worst performing fresh meat, as sales dropped 1.5% to £2.2bn.
"Meat production has been widely blamed for rising greenhouse gas emissions"
The scrutiny over its effects on climate change can't have helped. A study by the Intergovernmental Panel on Climate Change at the start of August suggested up to 30% of greenhouse gas emissions came from the food system. Media coverage put much of the blame on meat production, and particularly beef farming.

Red meat has also struggled with negative health perceptions, having been classed as a 'probable' carcinogen by the WHO. Similarly to processed meat, though, Southam believes price was the main factor here. Beef saw a drop in promotions and is already perceived as an expensive meat, at £7.87 per kilo. Lamb, which saw a 1.7% volume decline, is facing a similar problem, he says.

"It's currently a very price-conscious market, and beef and lamb are some of the most expensive meats. People are more and more worried about Brexit and the state of the economy. We know they then start to restrict spend and cut out steak or more expensive beef products for a cheaper alternative."
The alternatives
The cheaper alternative, which is often perceived as healthier, is poultry. Chicken, which works out at £4 cheaper than beef per kilo, climbed 1.6% to £1.98bn. Turkey also had a positive year, with value up 2.7% to £215m.

It suggests the narrative around consumers ditching meat for plant-based may be overblown. Kerry Group director Dawn Spencer certainly thinks so. She stresses Richmond's latest NPD - a soya-based sausage - was far from an admission of consumers abandoning meat. "On the contrary, it's about choice. We see the meat-free sausages as being complementary to our existing pork and chicken ranges rather than a competitor."
"It's a price-conscious market, with people worried about Brexit and the economy"
So it looks like there is plenty of hope for red and processed meat yet. Not least because, as Skidmore points out, meat has a valuable argument to make against a mass shift towards plant-based. "Meat-free, especially processed meat-free options, is not always healthier," he says.

That argument could be boosted by a new scientific report this week, which suggested links between red and processed meat and dietary diseases have been overblown. Branding the existing scientific evidence as 'weak', the researchers said there was no need for Brits to change their diets.

If suppliers can find a way to capitalise on that message, and convince consumers that meat has a role to play in a balanced diet, they may just bring home the bacon.
Innovations in meat 2019
Brexit and low prices weigh down on sector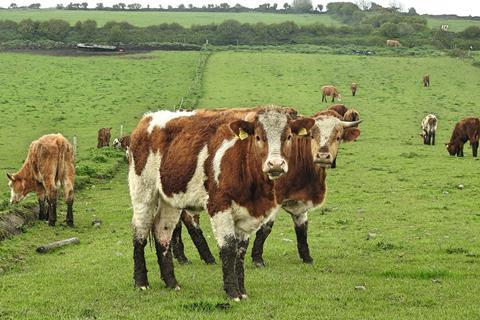 Large swathes of the livestock farming sector face financial ruin after Brexit, warned an AHDB report in April. That damning forecast was regardless of whether the UK ultimately secured a free-trade deal with the EU or was forced to trade with the bloc on WTO terms.
Average farm incomes in England would fall by 24%, from just under £43,000 to £32,500 per year, warned AHDB's Horizon Brexit impact assessment. The situation was even worse in a no-deal scenario, with farm incomes expected to fall by 39% to just £26,000.
Not much has changed on this front since April, apart from a growing sense of frustration and anxiety from the meat sector over the continuing Brexit impasse. Matters came to a head in angry scenes at Westminster after the government's plan to prorogue parliament was ruled unlawful on 24 September.
As The Grocer went to press this week, there remained little clarity over how meat producers could continue trading relations with the EU after Brexit.
While the sector waits to see what happens next on the Brexit front, the "criminally low" prices paid to beef farmers is rapidly escalating into a fully-blown crisis, according to the NFU. And this situation could ultimately hit beef supply.
Prices hit three-year lows in June, with the average deadweight steer price falling by 9% on last year's levels to £3.48/kg [GB R4L, AHDB]. By the middle of September, that had fallen by a further 4% to £3.35/kg, meaning farmer returns were now "well below the cost of production", warned the NFU.
"This prolonged period of low prices is extremely alarming and is causing huge pressure on farming businesses," said NFU president Minette Batters, who called for assistance from Defra and an industry-wide summit to address what was becoming an "unsustainable" beef sector.
Irish farmers blockaded processing plants during August and September over similarly low returns, leading to an 80% fall in output at one point and supermarket supply shortages on both sides of the Irish Sea. And this is an issue that's unlikely to go away any time soon.
"This is something the beef sector needs to get its head around," said British Meat Processors Association CEO Nick Allen. "We would support a summit as it would get the facts on the table."


Kevin is The Grocer's fresh foods editor, overseeing our coverage related to the retail fresh foods sector, including dairy, meat, fish, poultry, fruit & veg and eggs, as well as the plant-based foods category.

He also assists in production of The Grocer's annual Dairymen supplement, while also writing about food commodities, sourcing, sustainability, politics and regulation; and has appeared as a commentator on both radio and TV on the state of the UK food industry.

Prior to joining The Grocer in 2014, Kevin wrote about retail financial services for a Financial Times business publication, and began his career as a journalist working for regional newspapers in Wales.

Follow Kevin on Twitter: @KevWhite77