Overseas travel is in decline, but Brits are still managing to go around the world through meal kits and spices
If Phileas Fogg were around today, his life would be considerably easier. When he went around the world in 80 days, it took a mix of trains, boats and hot air balloons (at least, in the many film versions) to make the journey. In today's era of cheap flights, it has never been quicker and simpler to jet off to far-flung climes.

Yet unlike Phileas, Brits are shunning adventure for something closer to home. A growing number opted for a staycation this year, found a survey by Barclays in spring. It's not necessarily because the grass is greener on this side. One in five families were simply unable to afford a summer holiday this year, according to research from Money Supermarket in June.

Still, the travel bug remains alive and well. Even if Brits are gaining fewer stamps in their passports, they are exploring new horizons from the comfort of their kitchens. World food sales are flying as consumers dig into everything from West African to Indonesian fare.

But to capture today's consumer, brands are having to think beyond the norm. Chilled ready meals - traditionally the go-to format for exploring new cuisines - are stagnating with just 0.1% value growth [Kantar 52 w/e 14 July 2019]. Instead, it's meal kits and seasonings that are gaining ground. Sales of meal accompaniments and ingredients shot up 8% to £535m [Mintel 52 w/e March 2019], equating to "the fastest growth in world cuisines over the past year", says Emma Clifford, Mintel's associate director of food and drink.

So what is behind the rapid growth of these formats? And where do the next opportunities lie in world cuisine?

The rise in ingredients, rather than ready meals, comes from the general move towards cooking from scratch. "Scratch cooking in this segment is getting increasingly popular, while accompaniments feed into consumers' desire to create an authentic meal experience at home," says Mintel's Clifford.
"Accompaniments feed into consumers' desire to create an authentic meal experience"
Yet not everyone feels comfortable knocking out a nasi goreng or a jollof rice entirely without help. The main barrier to cooking world foods is a lack of culinary knowledge or skill, found a poll of 905 shoppers conducted by Streetbees exclusively for The Grocer. Almost half of consumers (47%) claimed this put them off dabbling in new cuisines. And 30% of consumers cited a lack of time as a deterrent. So consumers are looking for something that will make the process quicker and easier. That's where spices and meal kits come in. A sizeable 44% of respondents said these products would convince them to try out something more adventurous.
Changing tastes: chilled ready meal value sales
Top World Cuisine ready meals by value sales
Value (£m)
% growth
Market share
Italian
550.357
0.7
32.4
English
523.545
-4.7
30.8
Indian
217.543
-0.9
12.8
Chinese
158.273
8.8
9.3
Mexican
41.171
22.6
2.4
Thai
36.594
-4.9
2.2
Oriental
34.389
8.4
2
Spanish
32.214
-11.7
1.9
Source: Kantar 52 w/e 14 July 2019
Brands vs Own Label
Value (£m)
% growth
Brands
41.4
-5.9
Own Label
516.7
0.8
The chilled ready meals market shows just how British tastes are changing.
While Italian ready meals are up a modest 0.7% in value, English cuisine is down nearly 5% and Indian is down 0.9%. "Growth instead comes from smaller cuisines, notably American and Mexican as consumers look for more variety," says Kantar analyst Flora Zwolinski.
"These cuisines could be key to turn around the penetration declines, which suggest a disengagement with the category," she adds. Indeed, only heavier shopping among existing buyers has kept afloat the total market value, up just 0.1% to £1.7bn.
Combining world flavours with plant-based credentials appears to be a winning strategy. That's what M&S has done with its Plant Kitchen range, which includes such dishes as a Moroccan Lentil Stew and Roast Aubergine with 'fiery harissa sauce'. It has racked up £2.7m in less than a year, according to Kantar.
"Ready meals are certainly feeling the effects of the plant-based trend," says Zwolinski. "While not necessarily cutting out meat, we see a rise in consumers looking to reduce meat consumption."
Source: Kantar 52 w/e 14 July 2019
Innovation rush
Cue a spate of innovation targeting these home cooks. Spices have been a particular hive of activity. The Green Saffron brand hit shelves in September with spices "sourced directly from farms in India", including Indian Madras and Bombay Potato mixes. Schwartz has expanded its Street Food spices range with three new SKUs. And startup Rooted Spices is continually adding to its range of "single-origin" products, most recently collaborating with broccoli brand Tenderstem to produce a brassica spice for vegetables in June.

Even brands that don't usually dabble in spices are getting in on the act. Wahaca, for example, added seasoning mixes to its new-look grocery lineup in August.

"Spices were once resigned to being kitchen dust collectors, but thanks to a new cooking cohort, they're having a moment," says Rachel Ousley, senior behavioural analyst at Canvas8.

Spice blends give consumers both convenience and confidence, says Indian ingredient brand Geeta's, which counts 'spice and stir' products among its range. "These products take away all the stress of finding and sourcing ingredients as well as having to blend them in the correct ratios," says director of business development Nitesh Shah. "They're allowing people who want to become more knowledgeable about world cuisines to have the confidence to cook fresh food rather than relying on ready meals."
"Seasoning mixes provide a cheap option for consumers wanting to experiment"
There is also the benefit of value. Because spices generally won't break the bank. Schwartz Street Food sachets, for example, come in at just 99p. Old El Paso charges £1 for its seasoning mixes. "This provides a cheap option for consumers wanting to experiment with world flavours in the kitchen," says Old El Paso marketing manager Lindsay Hill.

For consumers that are willing to splash out a little more, meal kits are emerging as an increasingly popular option. The amount of innovation in this space says it all. Kabuto Noodles made its meal kit debut in June, while Blue Dragon unveiled a three-strong range of stir-fry kits in August. "The expansion of these markets is helping people recreate their favourite international dishes at home quickly and easily," explains Canvas8's Ousley.
Dish diversity
That point is especially pertinent. Because Brits are gaining an ever more diverse range of favourite dishes, many of which will not feature in their typical cooking repertoire. As the chilled ready meals market shows, the staples of Italian and Indian are stagnating. That could go some way to explaining why the big cooking sauce brands are struggling to secure growth. Dolmio and Patak's have lost value sales on volumes down 2.9% and 3.2% respectively [Nielsen 52 w/e 7 September 2019].

Instead, growth is coming from less-explored cuisines. "Where once cuisines might have been grouped as more general Middle Eastern, Caribbean, and Indian or Asian, consumers are now open to more distinct, unusual flavours with exotic-sounding names," says Tasneem Alonzo, joint MD of EHL Ingredients. "The demand we're seeing is for more unusual blends from lesser-known regions such as Korea, Vietnam, Ethiopia, Sri Lanka and the UAE, with an interest in very local cuisines, such as Yemeni, Cuban, and from specific parts of India, for example Kashmiri, Goan and Keralan."

An increasingly experimental out-of-home scene is responsible for this trend. A diverse range of cuisines are exploding on to the scene - take the launch of Filipino fast food joint Jolibee in London late last year, or Nigerian restaurant Ikoyi, which became the first UK-based African restaurant to receive a Michelin star in 2018.

The restaurant scene is also inspiring consumers to try out Asian flavours that go beyond the standard Chinese. "Out-of-home consumption of cuisines like Thai, Vietnamese, Japanese and Korean in have increased significantly over the past year," says Paul Watmore, UK marketing director of AB World Foods.

That's dictating what sells in the grocery aisles. AB World Foods says its Blue Dragon Noodle Kits, which include Pad Thai and Vietnamese Pho variants, have recruited 287,000 new shoppers in the past year. Watmore says NPD should take heavy inspiration from the restaurant scene. "The most successful innovations in the world cuisine spice and sauce sectors this year have managed to blend the exciting world of out of home with the convenience and accessibility of in-home cooking," he says.

This gives restaurant brands an obvious advantage. Innovation in this area is rife. Nando's launched a four-strong meal kit range in April, helping consumers recreate its dishes at home. Itsu Grocery has been ambitiously expanding its range with products such as duck bao buns. And Wasabi made its grocery debut in Sainsbury's with branded ready meals in January.

Even less established brands are making their mark on retail. Take Korean table sauce brand Yogiyo, which started life in the brand's street food kitchen before launching into retail in August.

If anything, coming from a street kitchen rather than a large restaurant chain is an advantage. "The on-trend status of street food in foodservice has inspired its use on label across products," says Edward Bergen, global food and drink analyst at Mintel. "It's well placed to resonate with the younger, urban population, and also carries connotations of being simple, authentic, and full of flavour, which is likely to add to its draw."

That draw extends to major retail brands. Sharwood's has a Street Food range of meal kits including a Katsu Curry and Tikka Masala wrap. Schwartz got in on the movement with the launch of its Street Food spice blends in summer 2018, recently expanded to include Peruvian and Pil Pil blends. "We want to continue to offer alternative recipe options with these new blends," says head of marketing Nic Yates.

That a Peruvian blend has made it into the final cut is telling. Because Peruvian, Brazilian and Lebanese are the next flavours set to take the supermarket shelves by storm, says Alonzo of EHL Ingredients.

Currently, these flavours remain the preserve of a handful of smaller brands. Latin brand Capsicana, for example, includes Brazilian spice mixes and quick sauces among its range. But these cuisines are by no means easy to find on your standard supermarket shelf - presenting a clear opportunity for world cuisine brands.
A whole new world: consumer attitudes to world cuisines
Consumer attitudes to world cuisines
89% have tried to cook a new world cuisines at home
23% have tried to cook Morroccan food at home
22% think cooking world cuisines seems too complicated
58% would try to cook a new world cuisine at home if they had a step by step recipe
46% have noticed a larger range of new world cuisine products in their local supermarket over the past year
Source: Streetbees poll of 905 consumers, October 2019
West African & Indonesian
Meanwhile, Mintel forecasts a growing appetite for Indonesian and West African cuisines. "Indonesian is a largely untapped market in retail, despite being known for a wide variety of condiments and dishes," says Bergen.

"Sambals and rendang are all flavours that consumers have already tried in foodservice and would likely do well in retail, with the former having the potential to inspire a new range of spicy condiments." It's already happening to some extent; The Spice Tailor's new South East Asian scratch cooking kits (p65) include an Indonesian Rendang.
"Indonesian is a largely untapped market, despite being known for a wide variety of dishes"
And the rise of West African food in the out-of-home arena could make it more mainstream, Mintel adds. Already, it has inspired Unilever's Red Red stews. Julian Davis, marketing manager of international food wholesaler Wanis, believes we're at the start of a new craze. "Ingredients such as jollof seasoning, shitto and gari are increasing in popularity and sales," he says.

It's worth noting that an Instagram account showing off West African food - Africanfoodyummy - has amassed more than 250,000 followers. Because social media is often where world cuisine trends start, says Arun Kapil, founder of Green Saffron. "One of the reasons why consumers are becoming more adventurous is because these cuisines are just a few taps on their phone away," he says. "The internet and social media is awash with recipes and pictures of world cuisine. It's so rife online now that people are getting bored of the standard chicken korma. They want to see and try new, exciting and more authentic dishes, which is taking them into more regional cuisines."
Authenticity
The key word here is authentic. As awareness of world cuisine grows, products must be true to their origins, according to Mintel's Bergen. "This has been key trend across sauces and flavours in general in recent years, but last year we saw consumers wanting flavours to get more specific for a truer exploration of a cuisine." Telling a story about the origins of recipes and the sourcing of ingredients in more detail can help add that authentic stamp, he adds.

World cuisine distributor Surya also reports growing demand for real world flavours. "We're seeing a distinct appetite for genuine, authentic brands produced in the country of origin," says MD Harry Dulai.
Brands seem to be taking note. Sauce brand Lee Kum Kee puts authentic flavours at the core of its messaging. Tellingly, sales of its cooking sauces have soared 15.3% to £5.9m [Nielsen 52 w/e 7 September 2019]. The Spice Tailor, which also trades on authentic, regional flavours, saw a similarly dramatic increase of 13.5% to £7.5m.

There remains plenty of untapped potential in authentic world fare, says James Robinson, product manager at Brindisa. "Consumption of world cuisine remains significantly higher out of home than it is at home, and a big part of that is shoppers are struggling to find authentic world food products they can cook in their own kitchens," he says.

Another way of attracting more shoppers lies in biggest macro trend of the moment: vegan. Kerry Foods research found many shoppers are using seasonings and spices to add flavour to plant-based meals.
Vegan potential
The potential for world cuisine here is huge, says Natalie Sugarman, head of marketing at Itsu. "World cuisine offers a plethora of new options for those following a vegan and vegetarian diet, providing them with choices to rival those of meat eaters," she says. "For those struggling to cook adventurous, flavoursome food on a more limited diet, seasonings and recipe shortcuts provide vegans and vegetarians with support and inspiration to broaden their everyday meal portfolio."

For proof, look no further than the M&S Plant Kitchen range. While the rest of the chilled ready meal market is struggling, it racked up a whopping £2.7m in less than a year [Kantar]. That's down to combining plant-based credentials with world food flavours, such as a Sticky Teryaki Tofu, a vegetable Green Thai Curry and a Sweet Potato Biryani Wrap.
"World cuisine offers a plethora of options for those following a vegan and vegetarian diet"
The final example is particularly on-trend. Because Indian spices and sauces are proving particularly popular in pepping up a plant-based dinner, according to AB World Foods, which owns the Patak's brand. As such, the Patak's website includes 53 vegetarian recipes. "Flavours that can make meat-free meals exciting are becoming more popular, and Indian flavours are increasingly being used to do this," says Watmore. "For example, tandoori is a restaurant favourite for meat-free dishes as it pairs perfectly with vegetables or paneer."

There remains plenty of room for further growth here, says Mintel's Clifford. "Much more can be done to actively exploit the synergy between world cuisines and the meat reduction movement," she argues. "Giving meat-free recipe inspiration visibility to shoppers will be key here, as will innovation."

The latter could apply to any area of world cuisine. Because whether it's a meat-free recipe, Peruvian spice or a Thai meal kit, innovation and excitement are the crucial ingredients in this category. After all, as Brits cut back on overseas travel, their kitchens may just be the closest thing they get to that holiday feeling.
Is West African cuisine the next big thing?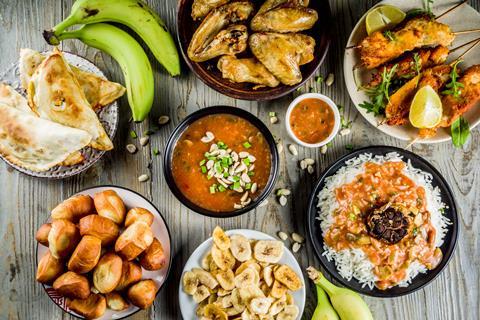 When it comes to the next big thing, West African is the cuisine on everyone's lips. It earned a mention in the Waitrose Food and Drink Report 2018-19, and a place on Whole Foods Market's 2020 predictions.
It's not just theoretical, either. In the out-of-home arena, West African cuisine is already making waves. In 2018, Nigerian-inspired Ikoyi became the first African restaurant in the UK to earn a Michelin star. And Mintel points to the use of Nigerian ingredients at Heston Blumenthal restaurants as further evidence of the trend.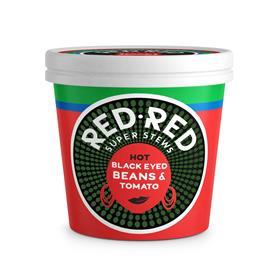 On the shelves, things are admittedly going at a slower pace. We've had Unilever's Red Red stew, which was created in collaboration with London pop-up Zoe's Ghana Kitchen. (Founder Zoe Adjonyoh has been a key figure in the emergence of West African cooking.) A few smaller brands are also working their way on to the shelves with products such as plantain chips. In February, Ghanaian bakery Uncle John's secured listings with Morrisons. But the cuisine is yet to hit the mainstream in retail.
That's partly down to consumer tastes, says Tom Lee, editor of The Grocer's sister publication Food Spark, which specialises in food trends. "It is a bit of a slow burn, especially because a lot of the West African flavours are quite alien to British consumers and don't really have a precedence," he explains.
However, there are some similarities. Many dishes such as jollof rice will have a "tomato, onion and chilli base", which is familiar to Brits, points out Lee.
He cites Portuguese and Indonesian cuisines as other areas of potential. "Just recently there have been a couple of high-profile Portuguese openings from chefs like Leandro Carreira and Nuno Mendes," Lee says.
Plus, he says Indonesian food is starting to inspire "experimentation on menus – both in the US and here", though it remains fairly niche for now.
It certainly makes a change from a spag bol.
Gallery: innovations in World Cuisine 2019