The days of the one-step sauce may be numbered. Consumers are looking to get creative with more adventurous kits and pastes
A food cupboard is no longer just a cupboard. It's a statement about who you are as a cook - or, dare we say it, a person. So an element of snobbishness has entered the nation's eating habits. Cheap microwave meals - once a staple of British cuisine - have become a dirty secret. Instant noodles have had to reinvent themselves for the image-conscious ­generation. And sauces in a jar have become persona non grata among anyone with any culinary nous. As one Guardian columnist eloquently put it in 2017: "I once went out with a man who bought béchamel sauce in a jar. Suffice to say, the relationship didn't last."

Amid this general distaste, those in the sauce sector have had to think creatively to get image-conscious Brits on board. And that means ditching the jar. Rather than a simple sauce to slosh over your stir-fry, brands are offering more ­adventurous, complicated formats that are more akin to a meal kit. With these new-look offerings, they're hoping to reinvent the cooking sauce and rack up kudos with the culinary crowd, which prefers a more freestyle approach to cooking.
Download the PDF version of this report
---
All signs point towards this being the right move. Overall sales in the market are down 1.5% to £755.5m [Kantar Worldpanel 52 w/e 7 October 2018], representing yet another year of decline. Eight of the top 10 cooking sauce brands have fallen in value [Nielsen 52 w/e 29 December 2018].

That the only two brands in growth have diversified beyond jars is telling. Old El Paso - up 5.3% to £109.4m - is more associated with meal kits than jars, and is branching out into "impulsive" NPD such as its Crunchy Tortilla Strips. Patak's - up 3.4% to £62.4m - has also been active on the innovation front. Last year, the brand launched Oven Bake sachets that aim to replicate the tandoori-style cooking of Indian street food. Patak's also attributes its growth to the launch of its paste pots in partnership with Jamie Oliver. It's no coincidence that these paste pots are very much marketed as cooking ingredients, rather than straightforward sauces.

Renad Sheraif, founder of new stir-in paste and sauce brand Yugo, believes this indicates the direction of travel in the market. His products are designed for "home cooks" who want to experiment in the kitchen, rather than consumers looking for a quick and easy solution to their lack of culinary confidence.
"Cooking sauces has long been a tarnished category in urgent need of a meaningful reboot"
"Cooking sauces has long been a tarnished category in urgent need of a meaningful reboot," says Sheraif. "Eight years of consecutive decline suggests that this once-dependable food offer increasingly feels out of step within an inquisitive foodscape where world cuisine, street food and recipe boxes have all played leading roles fostering a more 'freestyle' mindset within the kitchen."

This freestyle consumer is the target of many recent launches. Napolina, for example, is developing its first-ever meal kit for shoppers who demand more than a one-step jar. It's backing up this culinary focus with its 'Cooking with Napolina' YouTube channel, featuring recipes created by the likes of social media influencers the Chiappa sisters, and an increased presence on Instagram.

Meanwhile, Itsu is exploring the frozen aisle, where it launched a three-strong range of noodle meal kits designed to cater for 'young, savvy, city sophisticates' in Tesco in September. "This might not be your traditional frozen shopper, but since launching into the frozen aisle last year with our frozen gyoza range we know that 81% of those sales have been incremental to the category, proving that the right product, and brand, can bring a whole new shopper down the aisle," says Itsu's brand manager for grocery Georgina Bolton.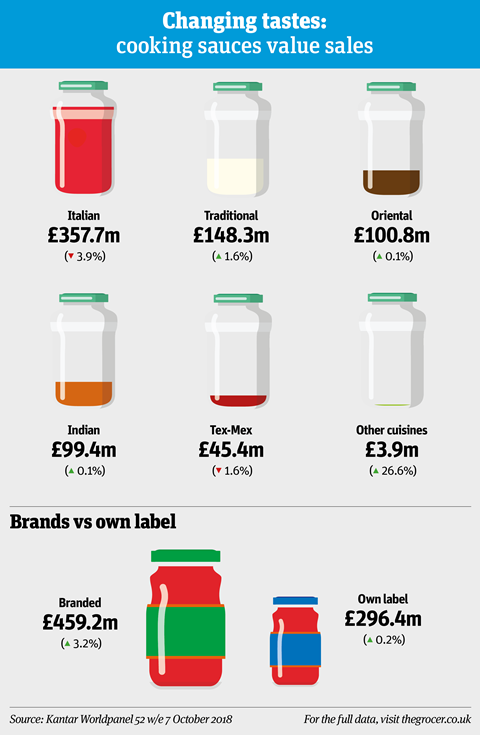 Find the full data at the bottom of this report
Jungle curry to chipotle paste
Over in own label, developers are thinking along similarly inventive lines. A Jungle Curry recipe kit (rsp: £2.99) was a key feature of the expanded Waitrose Cooks' Ingredients lineup in August. Tesco's own-label offering now includes a Mexican tinga paste with ­chipotle (rsp: £1.40). Sainsbury's is bringing in outside expertise by joining forces with meal kit specialist Simply Cook. Prominent in-store displays show how a mix of Simply Cook's spices - along with some key ingredients and basic cooking know-how - can create dishes such as a chicken makhani or cajun chicken.

It seems retailers are embracing the new battleground every bit as much as the branded giants. "Brands and private label were equal in terms of innovation last year, with 237 and 232 new SKUs respectively," says Kantar Worldpanel analyst Josh Montague-Fuller. "However, own label is seeing more success from NPD, which was behind 53% of last year's growth." According to his figures, that helped own label sales edge up 0.2% to £296.4m over the past year, while branded fell 3.2% to £459.2m.
"Own label is seeing more success from NPD, which was behind 53% of last year's growth"
One thing is clear from these numbers: savvy innovation is key to growth. Still, it's not always easy to determine what exactly is a savvy move. New products that appear to tick all the boxes aren't always guaranteeing success. Take Dolmio, for example. In 2017, it unveiled a range of Chicken Tray Bake pouches to appeal to consumers who wanted something more than a jar of sauce. These coincided with the launch of no-added-sugar sauces targeting the growing health-conscious crowd.

This trend-led NPD didn't stop Dolmio falling £5.9m, making it one of the worst-performing top 10 brands of the year [Nielsen]. Brand owner Mars believes this was partially down to the weather. "This performance would have been considerably stronger but for the unseasonably hot summer which undid much of the 52-week year-on-year growth we had been enjoying between April and July," says Dolmio brand manager Ian Nundy.

But there's no getting away from it: Dolmio is falling faster than the branded average. As a result, Mars says it is "investing heavily" in consumer research to understand emerging cuisines and formats as well as changing cooking and shopping behaviours.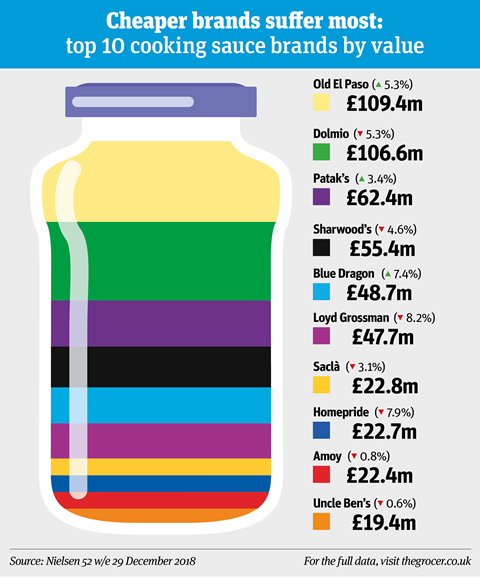 Find the full data at the bottom of this report
More exotic tastes
Cuisines could be a key point here. Italian is the fastest-falling cuisine in cooking sauces, down 3.9% to £357.7m [Kantar Worldpanel]. More exotic fare, it seems, can still drum up sales growth without needing to use particularly ground-breaking formats. Premier Foods is a case in point. In September, it launched a 'Pan Asian' range of Sharwood's curry sauces. Granted, these come in pouches rather than jars - but they are still a one-step cooking process.

That simple format hasn't dampened consumer appetite. Daniel Jalalpour, brand director for cooking sauces at Premier Foods, says sales of the Sharwood's Japanese katsu curry pouches are "rocketing". Meanwhile, he reports Homepride's new American lineup, including a pouch sticky chipotle chilli sauce, is the bestselling NPD for the brand in recent years. The cuisines, rather than the formats, are the selling point here.
"The skill for all of us is unpicking which trends reveal something deeper about consumer shopping habits and are here to stay, and which of them aren't worth investing time and energy in," says Jalalpour. "What we're trying to do at Premier is pick the bigger bets and go after those."

These bigger bets, he believes, are key to attracting the hard-won attention of consumers. "If you're a shopper you've probably got at best a one in four chance of walking into a supermarket and finding one of our latest innovations on the shelf and at the moment that's what's keeping us awake at night," Jalalpour explains. "We've got these innovations that are performing really well and we're keen to get them in the hands of more shoppers."

Part of the winning formula is being experimental, without falling into the trap of jumping on the latest fad. "Some things will be short term and then replaced by the next exciting trend but others, if established properly, could be here for the long run," Jalalpour adds.
"Consumers love the jar format - it's easy to cook with, easy to store and it's transparent"
If cooking sauces nail the long-term trends in cuisine, they may not have to experiment too much with format. After all, jars still account for the majority of the cooking sauce market, as Jalalpour highlights. "They're worth 80% of the market, and what that means when you break it down at a consumer level is 500 ­million units sold a year, which then translates to 1.3 million a day," he says. "What we need to do is make sure we're not dropping the ball and continue to cater to the convenience need that's driving that level of consumption."

Plus, glass jars have another string to their bow: eco-friendly credentials. As consumers become ever more aware of their impact on the planet, they are looking for packaging that won't end up as a sore point in a David Attenborough documentary.

Mars consumer insights director Liz Forristal, for one, believes this is a point worth making.

"Jar formats are also recyclable and reusable, which is becoming more important to the UK consumer," she says. "UK consumers love the jar format as it is easy to cook with, easy to store, and they like the fact that it is transparent, so they can see the sauce before purchasing it," she says.

So perhaps it's too early to can the jar completely. However, one thing is for sure: consumers are becoming far pickier about their cooking sauces. And if a product is to stand a chance of succeeding with today's consumer, it has to be worth pride of place in their food cupboard.
Innovations in cooking sauces 2019
Click on an image to expand