Microprint, chemical markers and unique codes will be used to track tobacco from May. But the details still remain sparse
Britain may be leaving the EU, but that won't stop European law having a major impact on the UK tobacco market in 2019.

This year will herald the next phase of the European Union Tobacco Products Directive II. In this instance, it will bring about new 'track and trace' regulations aimed at cracking down on the burgeoning illicit tobacco trade. This marks a follow-up to the first wave of the legislation in 2017, which banned 10-packs of cigarettes and small pouches of hand-rolling tobacco alongside the introduction of plain packaging.
Download the PDF version of this report
---
The reason behind this year's focus on illicit trade is clear. The latest figures from HMRC suggest the Exchequer lost out on £2.5bn in tax due to the illicit tobacco market in 2016-17, up from £2.4bn the previous year.

Track and trace is just one measure aimed at tackling this issue. However, it is certainly the one most exercising the minds of suppliers, wholesalers and retailers. The main source of their concern is a lack of information from HMRC to guide them through what will be required, ahead of the new rules coming into force on 20 May. All of which could spell rocky times ahead for everyone involved in the tobacco industry.
Is this the end of the road for flavoured tobacco?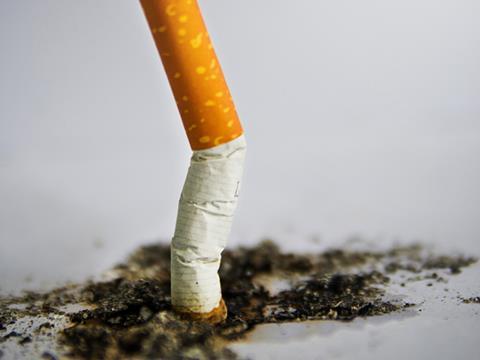 Track and trace isn't the only major legislative change set to have a major impact on the tobacco market. Suppliers in effect only have just over a year left to sell menthol cigarettes and the fast-growing flavour-changing options.
Since launching in the UK just over 10 years ago, cigarettes with flavour-changing capsules in the filters have delivered massive sales. Estimates from Imperial Tobacco suggest menthol makes up 7% of the total cigarettes market but, when filter technology variants are included, the figure rises to almost 18%. That represents around £2.5bn in retail sales.
From 20 May 2020 onwards, it will be illegal to sell these products in the UK as the final element of the European Union Tobacco Products Directive II (EUTPD) comes into force.
Imperial Tobacco UK market manager Cameron Miles believes there will be a significant impact. "There is likely to be considerable disappointment among UK adult smokers when the flavour is banned in 2020," he says.
"This could potentially result in a migration of smokers towards the vape category, where menthol and other flavours are permitted."
Despite the imminent demise of these cigarettes, their huge popularity means major suppliers are looking to maximise sales right up until the deadline. Some are even going so far as to continue launching new products.
"At the moment, demand is clearly there for those capsule products and we are there to meet that," explains JTI UK head of communications Mark Yexley. Last month JTI launched Sterling Triple Green and B&H Blue Dual double capsule, and Yexley does not rule out further launches even now.
He says JTI will look to do further consumer research to understand how menthol smokers will react when they can no longer buy their favourite brand. He agrees some will switch to vaping, while others may see it as an opportunity to quit smoking. However, he expects most to revert to traditional tobacco products.
While there remains demand for menthol, he fears criminal gangs may look to exploit the situation.
"Our advice for retailers and consumers is not to get pulled into buying or selling counterfeit products as you just do not know what is in those products."
Essentially, track and trace is a series of new security features that must be added to all packs of cigarettes and hand-rolling tobacco to identify them as legal products and allow authorities to trace these products through the supply chain.

Manufacturers will need to put five new security features on all packs of cigarettes and hand-rolling tobacco under the new rules. These include colour-changing ink, microprint that needs magnification to become visible and molecular tagging, a chemical marker embedded within the base material of the pack that requires purpose-built tools or a laboratory to be detected. Cigars, pipe tobacco and heat-not-burn products will fall under the same rules from 2024.

The Grocer has learned that HMRC has assigned a company to deliver these markers to the suppliers, following a major tender process. But as yet - with less than four months to go before the deadline - it has not shared the company's details. It is understood that the government is in the final stages of contract clarification with this UK ID issuer and that it will announce the details shortly.

And even at this late stage, changes are still happening. Indeed, as recently as 16 January changes were being made to the security requirements, with the colour-changing ink replacing a unique identifier code in the list of five on-pack features.

Still, Japan Tobacco International UK head of communications Mark Yexley is confident the industry can keep on top of the requirements. "The deadline is tight. We are confident that we will get there. We will continue to work hard with trade partners and HMRC to get everything ready for 20 May."

Further down the tobacco supply chain, there is more work to do. Both wholesalers and retailers will need to apply for a separate series of codes to be compliant with track and trace. Both will need an Economic Operator code that shows they are entitled to buy and sell tobacco as well as a separate Facility Identifier code for each of their premises from which tobacco is sold.

Again, with time ticking on this issue, wholesalers and retailers are growing concerned by the lack of information relating to how and when to apply for these codes. Or in the case of wholesalers, what additional hardware they will need in order to scan retailer codes.
All of the codes will be free to use, but wholesalers may need to invest in new hardware to scan products in and out of depots. Some of their current EPoS systems may be able to handle this function, but where wholesalers do have to buy new equipment, they may be able to get reimbursed via a scheme backed by the big four manufacturers: JTI UK, Imperial Tobacco, British American Tobacco and Philip Morris International. The Association of Convenience Stores, for one, is frustrated by the ongoing uncertainty and lack of detail. "We have repeatedly called on HMRC to publish details of how retailers can get the codes, as problems with this process could lead to retailers not getting codes in time, and subsequently not being able to purchase tobacco products legitimately through no fault of their own," says chief executive James Lowman.
"We have repeatedly called on HMRC to publish details of how retailers get the codes"
"We're now just four months away and there is still no date in sight for the application process to go live, despite retailers now being expected to know what to do when they eventually get those codes. HMRC must provide clarity on the code application process as soon as possible."

For its part, HMRC says it is planning to work with the chosen supplier to get the system ready for testing ahead of 20 May, and it will ensure the supplier provides the details on when and how retailers can apply. It also says it will support the trade and provide the advice they need to prepare.

"A key requirement for securing the contract is the ability of the provider to issue operator codes within sufficient time for retailers to meet the requirements," explains an HMRC spokesman.

There is also a grace period. Retailers will have a year from May to sell through older, non-track and trace complaint stock, which Imperial Tobacco market manager UK Cameron Miles believes will be enough time for retailers and wholesalers to iron out any initial difficulties.
"A similar situation occurred during the transition to plain packaging back in 2016-17 and this was largely managed well by manufacturers and retailers alike," Miles explains.

"However we do recommend retailers concentrate on selling through older, track-and-trace non-compliant stock during this period."

The suggestion from HMRC seems to be that the sell-through period will also give retailers and wholesalers time to get their systems in place and it seems unlikely therefore that legitimate retailers will be facing immediate investigation into whether they are entirely compliant.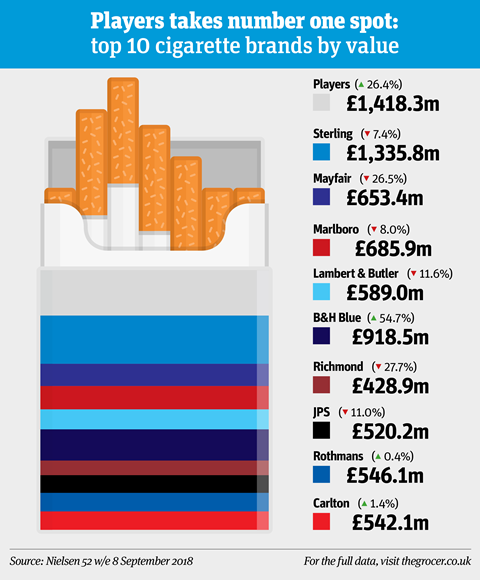 Find the full data at the bottom of this report
Cracking down on illegal trade
The final question is whether this legislation will actually have the desired effect. JTI's Yexley is fairly hopeful - provided the rules are implemented effectively. "Enforcement is really important and if that is there then it should help crack down on the illicit trade," he explains. "You might get the criminal gangs behind the illicit trade trying to replicate the codes but they won't work. So if the enforcement is there, you would hope that it would start having an impact on the amount of illegal tobacco."
"If enforcement is there then these new rules should help crack down on the illicit trade"
Still, Imperial Tobacco's Miles warns there is much more to tackling counterfeit and smuggled tobacco in the UK than simply track and trace.

"The scale of the illegal tobacco problem hasn't waned. In fact, it's getting worse. In lieu of government either repealing standardised packaging or lowering tobacco tax rates, Imperial recognises that the most effective way to tackle the problem is to continue to raise awareness and build anti-illicit trade advocacy among retailers, consumers, law enforcement, industry bodies and politicians alike via our dedicated team and Suspect it? Report it! campaign."

Suppliers report that they are now regularly seeing the arrival of counterfeit plain packs coming into the UK market, something they warned of before 2017. Track and trace could be a key way of marking out these items from legal products. It seems everyone in the industry is keen to get going with their preparations - all they need is those codes. Over to you, HMRC.