As ripped as The Rock and still making serious gains, sports nutrition keeps on pumping away like a category possessed. Value sales are up 19% on last year, smashing through the £100m barrier, according to Kantar Worldpanel.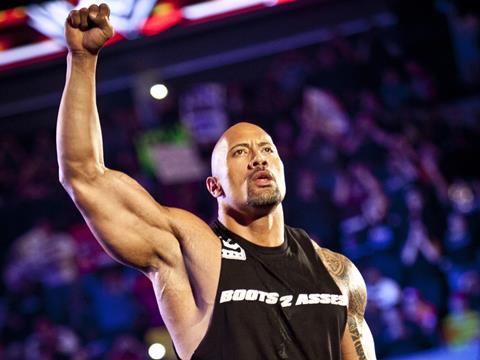 "It used to be a world that only pro athletes or sports fanatics would dare venture into," says Lee Barnsley, assistant creative director at Cowan, which worked on sports nutrition brand Maxi Nutrition. "But the rise of social media influencers is having a positive impact. Browse Instagram for two minutes and you'll come across a celebrity or influencer telling you what protein shake they had for breakfast. It's been a massive driver."

So has the attractive evolution of the products themselves, says Katie Maritz, branding expert at PB Creative. "You can buy protein-infused cereals and yoghurts, and energy-boosting bars and drinks in the supermarket. Pip & Nut produces almond butter on-the-go sachets. People aren't just buying a product, they're buying a lifestyle. Sports nutrition is overlapping with mainstream food categories more and more."
This overlap chimes perfectly with the "increasingly health-conscious focus of consumers and brands, particularly towards protein" says George Guterres from Kantar Worldpanel. "Food nutrition snacks have flourished, with bars growing by £7.7m."
"Sports nutrition is overlapping with mainstream sectors more and more"
They now sit alongside "everyday food items as an alternative" adds Juliet Barratt, CMO and co-founder of Grenade Carb Killa bars. "Consumers are more health-conscious and the rise in the mainstream promotion of protein has had a huge impact. The importance of protein for strength and recovery was seen as niche. Now the benefits of protein are becoming more applicable to consumers looking to make healthier lifestyle choices."

She says Grenade Carb Killa bars offer a "real alternative to sugary snacks", which is one of the reasons why this brand has "managed to make the transition from sports nutrition to fmcg and is seeing rapid increases in stockists".

Low-sugar drinks are also seeing sparkling sales, says Mark Sterratt, market, strategy and planning director at Lucozade Ribena Suntory. He says sales of Lucozade Sport Low Cal are up 19% compared with last year, which "isn't surprising when you consider the active lifestyles of sports drink consumers. It's natural that healthier shoppers will be looking for lighter options within the category."

This is why it launched Lucozade Sport FitWater in August, which he says is "the most ambitious and significant NPD for Lucozade Sport since Lucozade Sport Lite in 2010".
Sports Nutrition category snapshot 2017
Bars are fastest growing sector
But the bars are the stars, says Nick Janda, head of sport at Holland & Barrett. "Four years ago our bar category was relatively small but it's grown really significantly, especially over the last two years. It's gone from under 10% to 25%. It's a big leap."

Indeed, it's the sector's fastest growing area, according to Kantar, which says year-on-year sales are up 86.2% to £16.7m. "Trek again continues to lead the sector, underpinned by the success of its flapjacks," says Guterres. "And Bounce protein balls have become more established, now at £1.7m."

Tesco is focused on the convenience side of sports nutrition, like bars and drinks, rather than the bulky stuff, which it leaves to the 16 Holland & Barrett concessions in its stores. "It has varying strategies," says Janda. "Tesco sees bars as the area to focus on. Asda does things differently, it has put more investment behind the category as a whole and has recently expanded the space dedicated to it. With more market growth to come, everyone recognises the opportunity, but Asda seems to be the only one going after it aggressively."

Asda also has a "large part of its sports nutrition range in the soft drinks aisle to drive higher footfall and better adjacencies with energy drinks" says Stewart Turpin, head of category and sales at Sci-MX. "Morrisons has placed some on-the-go items at till points, Tesco has sports nutrition featured in Express stores and Sainsbury's has increased depth of distribution. We are also seeing convenience retailers giving space over to the category."

Their market share might be puny compared with the hulking weight of Tesco, but Aldi and Lidl are both overtrading in the category. Lidl's own label Freeway Up energy drink has grown £2m in value, according to Kantar, and Aldi has enjoyed a 70.7% sales uplift on last year. "Sales of our high-protein Hike bars increased by 40% in the first half of the year as customers opted for healthier snacks," says Tony Baines, joint MD of buying at Aldi. "There has also been strong demand for our protein powders when these have been on sale as Specialbuys. We plan to expand our range to meet this growing demand, while also supporting the category in other ways, such as through sponsorship of British Triathlon events, and our ongoing partnership with Team GB."

So as much as bars and other convenience products are surging, big bulky powders, or what Janda calls the "core big sellers" in the category, are also performing well, with sales up 40.9% and average prices plunging 8.5%.

Janda says the average price drop is "very prevalent thanks to the growth of online platforms. The likes of My Protein have taken very aggressive price positions and brought the cost down for the consumer. When you have a better price per gram, as a consumer you may trade up into a larger pack."

There is a "great deal of competition in the market for bulk packs and powders, which is driving aggressive promotional activity, particularly online," says Turpin. "Higher price point bulkier products are also better suited to this channel."
"We think we can increase our share. Powders will always be the big cash cow"
Janda says Holland & Barrett has lost "some share to online players but we have reacted by investing in price and promotions. We don't see it as a race to the bottom, because there is enough equity in the market for us to take the share we need. What we have done is reframe our own-label pricing over the last six months and now we think we can increase our share. Powders will always be the big cash cow."

But Janda adds there is still headroom in other areas for the category to grow, from different flavours and textures in bars to increased use of plant-based proteins, which he says taps the "wider macro trend for eating less meat". And he says "we are doing a much better job with the taste of plant-based protein, it's much better. We have a captive audience and a better product, so it's going to be an area of growth for us."
Higher profile for wholefoods
He also points to the increased visibility in the category of wholefood products, including "nut butter brands like Meridian, which always played in the space of being a healthy brand. That's an interesting dynamic and it will be interesting to see how it pays off."
Whole Earth brand controller Kirstie Hawkins says using "highly targeted marketing campaigns and brand partnerships has raised consumer awareness of the natural and healthy properties of our nut butters. We actively target consumers with active lifestyles who pay careful attention to what they put into their bodies."

Signing deals with Reebok, the Man vs Horse endurance race and England Netball have proved "instrumental in supporting Whole Earth's brand position as natural functional food for active, healthy people. We have strengthened Whole Earth as a key source of natural nutrition for elite athletes and casual fitness aficionados."
Branched-chain amino acids
Another "big growth area" will be BCAAs (branched-chain amino acids) predicts Nutrabolt's European Director, Joao Da Silva. "BCAAs are used by world-class athletes, elite body builders and weight training enthusiasts of varying types to train longer, with more intensity. Increased understanding of the benefits of these essential amino acids among mainstream consumers means mass market demand is expected to rise sharply."
"Greater understanding of BCAAs means mass market demand will rise sharply"
And as well as more NPD, sports nutrition can keep improving its marketing, says Barnsley. "Now is the time for brands to shift that thinking and talk to people in an informal way that easily communicates the benefit. I'd much rather buy 'Run Recovery' or 'Gym Workout' rather than 'Extreme Whey Protein' or 'Grass Fed Protein Powder'."

However, he warns the category is "not without controversy. We are seeing a rise in brands that use easy-to-understand terminology such as 'fat burner' or 'hunger buster'. But it's still questionable whether these brands can back up their claims from a medical point of view."

He also warns that social media and mainstream media can collide when it comes to body image. "One brand trying to be seen as a lifestyle brand is Protein World. However, they ran into trouble with their Are You Beach Body Ready? campaign in 2016, and their ad endorsements by Khloé Kardashian in 2017 were accused of body shaming."

Social media fails aside, Janda says the "only things that can really disrupt the current momentum is if the cost of commodities becomes hard to manage. We've done our very best to hold off price increases to consumers. But assuming things don't change massively when we exit the EU, which is possible, I don't think there are many product or legislative or customer challenges that we face. Sports nutrition is evolving in line with what consumers want and it's gone from catering nutritionally to catering to taste. It's in a really good position."