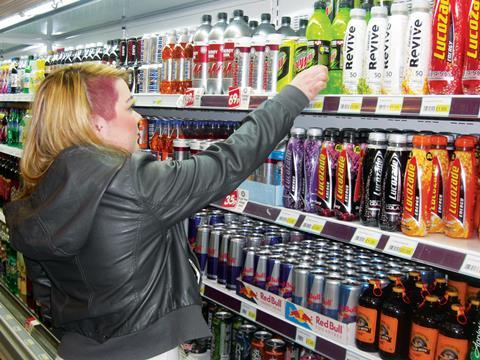 Excuse the boobs. But there's a serious point to all this: images such as the above (for Monster Energy) are common currency in sports & energy drinks. In this £1.3bn sector, sex sells.
Indeed, three of the top 10 brands' websites (Monster, Rockstar and Emerge) are filled with about as much female flesh as the pages of Maxim. And if schemes such as Monster Girl Mondays leave any doubt, Red Bull's extreme sports ties and Culture Clash event featuring 'killer dubs' clear it up: these drinks' marketing is all about boobs and noise. The target: testosterone-filled young men.
"It's almost perfect marketing: it's motorsport, it's rock music, and it's girls," claims Caroline Cater, operational marketing director at Coca-Cola European Partners (CCEP), UK distributor of Relentless and Monster.
The three biggest energy brands - Red Bull, Monster and Rockstar - have turned in combined growth of £34.9m this past year [IRI 52 w/e 26 March 2016], suggesting their marketing is striking the right chord. But growth in the overall sports & energy drinks market has slowed to just 0.2%; volumes have sunk 0.5%.
So what's causing the slowdown? Bikini-clad babes and BMXing have proved a hit with younger drinkers, but it's doubtless deterring others. So how can brands appeal to them? Is it time the sector finally grew up?