Brits have been powering up more devices at home, boosting core battery sales. But less travel has disrupted other power generators
Sometimes wool socks stick together in a tumble dryer. Touching a doorknob causes a teeny electrical shock. And fine hair goes flyaway in cold, dry weather.
The reason for all those, basically, is static electricity. It's a scientific phenomenon defined as an imbalance between negative and positive charges in objects – and it was first recognised in about 600BC.
Jump forward about 2,600 years, and 'static charge' has taken on an all-new meaning. It aptly describes how Brits have upped their battery use while being confined to their homes for prolonged periods.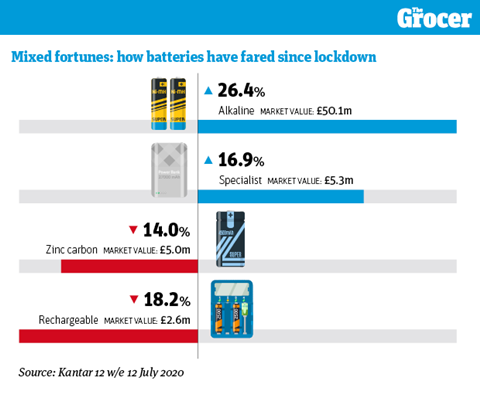 The batteries category gained £9.9m during lockdown, thanks to a 7.4% increase in volumes in the 12 weeks to 12 July 2020.
Alkaline cells outpaced the market with a 21.7% growth in unit sales. Zinc carbon and rechargeables saw volumes fall by 9.8% and 14.2% respectively.
In contrast to the trends seen in grocery, batteries have experienced faster growth in own label than in brands since lockdown. "Private label lines are leading, with sales up by 29%, while branded grew by 16%," notes Kantar analyst Anish Mashru. "As a result, private label expanded its share to 18% of the market, compared to 16.5% last year."
"Having said that, leading brands such as Duracell and Energizer have contributed a sizeable proportion of sales since lockdown," he adds.
Online is the fastest-growing channel, having doubled its share from 5% last year to 10.3%.
When buying online, shoppers are likely to choose brands over own label, says Mashru. Own label accounted for 16.2% share of online spend compared with 20.5% in supermarkets.
During lockdown, they've been powering up a multitude of battery-operated domestic gadgets – from portable medical devices and digital kitchen scales to motorised toys and gaming controllers. Whether they've been working from home or simply staving off boredom, battery power has been key to the lives of "people who have been trapped at home for quite a while", notes Duracell marketing director Christina Turner.
"They've been playing more Xbox, pulling out their old Wii and all kinds of things. Home-tech like wireless mice and keyboards, and TV remotes – people have been using them more, and using more batteries."
It's no surprise, then, that sales of batteries have soared during Covid-19. Shoppers grabbed an extra 10.8 million cells in the 12 weeks to 12 July [Kantar], adding £10.5m to the category's value.
"People have been using home tech like TV remotes more, and using more batteries"
Perhaps predictably, the fastest-growing sector has been alkaline batteries, which includes the commonly used AA and AAA cells. Their value has risen by 26.4% on unit sales up 21.7%.
Of course, some of this success was down to the panic buying that characterised the early weeks of the pandemic. Batteries were a common feature of stockpiling shopping lists, along with essentials like toilet paper and dry pasta, according to Turner.
But these purchases haven't simply been put aside for a rainy day. Sales have remained strong since lockdown first hit as Brits burn through their AAs, suggests Energizer chief marketing officer Lori Shambro.
"There has been a usage shift from batteries being purchased as a stock-up to being purchased for immediate use."
Her claim is backed up by Nielsen data, which shows only a minor slowdown since lockdown began. Overall, the category grew 18.8% in the 12 weeks to 25 July. It was still in double-digit growth of 14.3% in those final four weeks, with unit sales up 12.8%.
Those figures denote a marginal increase in average price, which has also been noted as a key trend by Nielsen. "Overall price per item increased 6.6% compared to a year ago within the last 16 weeks," says analytics executive Rebecca Hallam.
That's partly down to the kind of batteries that are selling. In times of economical turmoil, thrifty shoppers will usually choose cheaper zinc carbon options found in discounters and bargain stores.
But the financial pressures of lockdown were coupled with a move towards online shopping, which now accounts for 10.3% of the battery sales (see left). That's something most bargain stores don't offer. So punters have turned to alkaline brands, which are about six times pricier but also more widely available through the mults and c-stores.
As such, Duracell and Energizer – the biggest names in alkaline batteries – added £8.4m between them in the 12 weeks to 12 July [Kantar]. What's more, these brands sold for a higher average price per unit as shoppers migrated towards bigger packs, says Energizer's Shambro.
"With the increased use of battery-powered devices, shoppers have opted for larger pack formats, and this has led to an increase in the average pack price," she says.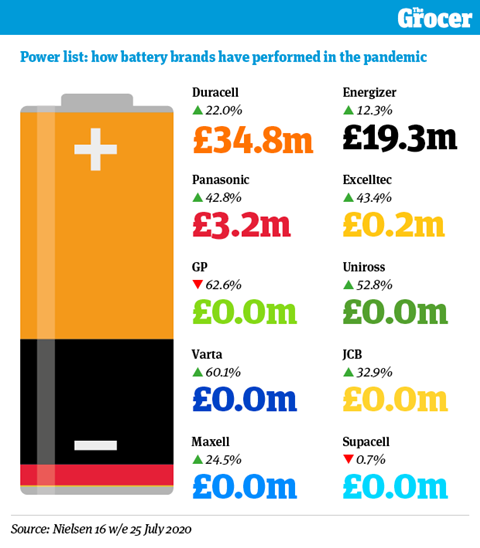 Value sales of batteries and chargers accelerated by 17.5% in the 16 weeks to 25 July 2020, according to Nielsen figures.
"The pandemic contributed to the growth. Sales increased by 19.7% within the week ending 4 April, which included the start of the UK pandemic," notes Nielsen analyst Rebecca Hallam. "This spike was driven by consumers buying more and stockpiling larger packs."
As a result, eight out of the top 10 brands have enjoyed double-digit value growth.
"Duracell made the largest sales value contribution to the overall category (61%) and accounts for slightly over half of total batteries sales," Hallam says.
The £6.3m growth comes as the latest ad of the brand's 'Power On' push airs on TV.
Although Energizer has nailed a 12.3% value increase, it has seen a 1.3% decline in share compared with a year ago, due in part to reduced distribution.
While smaller brands Uniross, Varta, JCB and Maxell experienced growth in percentage terms – by as much as 60.1% – their absolute values reached no more than £83.4k (translating to £0.0m on our graphic).
GP's 62.6% decline, equating to a £138k drop, was driven by a fall in distribution.
While average prices increased by 6.6%, Panasonic bucked the trend with a 3.1% decline in its prices. This "could have contributed to the 42.8% growth in sales and share value", Hallam suggests.
Performance issues
People don't mind paying, Shambro says. That's because price isn't as big an influence on purchase decisions as the "performance and reliability" promised by brands' premium alkaline cells, she argues.
Duracell's Turner also points out that "some devices won't operate with zinc carbon batteries". And a larger number of gadgets really suck down the juice. "Devices are getting more and more demanding," she adds. "Things like game controllers and remote control cars have more features – like a rumble function or flashing lights – so the demand on the batteries is getting greater. It's our role to deliver against those needs."
Against this backdrop, speciality formats have had a similarly strong lockdown. The likes of high-voltage lithium coins have enjoyed double-digit growth in both value and volumes – albeit from a much smaller base. That's due in no small part to a greater prevalence of internet-connected devices in homes, according to Turner.
This is just the plus end of the battery category, though. At the minus end are those zinc carbon formats, which have lost 9.8% of volume sales, and recyclable batteries.
The latter suffered a 18.2% blow to value in Kantar's 12-week period. In essence, what was a small part of the market before Covid-19 has now got significantly smaller.
The slump of an option that is widely considered more environmentally friendly might seem like part of Brits' larger rejection of sustainable and reusable goods during the pandemic, with a return of a disposable culture.
"Rechargeable batteries are very green, but you have to be willing to recharge them"
The reality, however, once again comes down to practicality, says Turner. "Rechargeable batteries are very green, but you have to be willing to recharge them," she points out. "If you're in the middle of a video game, for example, and your controller dies – will you be willing to wait?" Very few gamers would likely say yes.
Another obstacle to purchase is cost: rechargeable is the most expensive part of the batteries market by a considerable margin. Its average price of £1.92 per cell is almost three times that of speciality batteries, the second-dearest sector at an average of 70p. Nevertheless, Shambro insists reuseable batteries are worth their price.
"Rechargeable batteries continue to offer good value for money as they can be charged and used hundreds of times," she says. "Energizer remains the UK's number one rechargeable battery brand."
Whatever their choice of battery format, Brits' 'static charge' habit looks likely to continue for the foreseeable, suggests Duracell's Turner. She's seeing "increased consumption even as restrictions have eased, linked to the fact that many in our nation remain using our homes more than ever".
That is yet more good news for battery suppliers as we approach the festive period, which typically sees a boom in battery sales. "October, November and December remain a peak shopping period for batteries as consumers stock up for Christmas," Turner says.
Powerbanks slump
It's quite the opposite for powerbanks, though. Their key period is usually summer, as people seek out power for festivals, campsites and overseas destinations. "It's as big as Christmas for that category," she says.
For obvious reasons, that hasn't happened this year. Turner admits powerbanks haven't been "top of mind" as shoppers have limited their activities outside the home. Powerbanks have comprised just 1% of the batteries market "throughout this unprecedented time" she adds, citing IRI data.
However, that looks to be changing for the better "as people are getting their freedom back", she says. "People are even getting back on public transport. Sales are picking up."
It's a welcome jolt for an on-the-go market that has been largely overlooked by a static populace.


Daniel Selwood is The Grocer's special projects editor, managing Britain's Biggest Brands, Britain's Biggest Alcohol Brands, The Dairymen and Top Products – as well as contributing to news, analyses and category reports.

He joined the magazine in January 2016 as food & drink editor, having been at financial & legal publisher LexisNexis for eight years.

He began his journalism career in the mid-1990s at a general interest magazine in Sheffield.

Follow Daniel on Twitter: @danielmcselwood