Only 12 of the top 50 snack bar brands have delivered growth in a year like no other. So what part have health credentials played?
It takes a fighter to survive in the snack bars world. As Covid-19 restrictions squashed on-the-go sales last year, a core part of the market was decimated in one fell swoop.
That's resulted in a massive shift in the way snack bar brands do business. "With over two-thirds of the population still working from home, the consumption occasion in this category has shifted from on-the-go to at home," says Peter Morris, UK sales director at Kind.
That shift is marked by Kantar data, which reveals take-home sales of snack bars actually grew in the year to 24 January – up 2% to £365.4m.
By contrast, Nielsen data, which measures the total market including on-the-go sales, shows a decline. According to its read, cereal bar sales fell £36.1m to £447.1m in the year to 5 September 2020.
Against this backdrop, only a resilient few snack bars managed to grow their value. Among the top 50 brands, a total of 38 posted a decline [Nielsen].
"The consumption occasion in this category has shifted from on the go to at home"
So how did the remaining 12 brands manage to grow their sales in such tough circumstances? Have healthy credentials determined the winners here? Or are there other, more important factors at play?
At first glance, it looks as though health was pretty crucial. That the biggest winner was calorie-controlled Fibre One – up £5.1m to £28m – is telling.
The other winners all appear to have health credentials at their core. Kind grew its sales by 22%, representing an uplift of £5m. Deliciously Ella delivered 5% growth, taking it past the £6m mark. And even protein-focused RX Bar showed signs of rapid growth, delivering a more than six-fold increase to £924k before Kellogg's announced the closure of the UK business at the end of 2020.
Dig deeper, though, and it becomes clear that health isn't a surefire route to success. Nakd, which prides itself on permissable snacking credentials, suffered one of the largest losses of the year – down £5.8m to £33.8m. The similarly positioned Go Ahead fell £2.1m to £28m. Nature Valley, Belvita and Eat Natural are pretty healthy too, yet all suffered sales declines.
So it seems the real winning factor was the ability to adapt to a new environment, which turned much of the accepted wisdom around snack bars on its head.
For brands that were primarily impulse-driven, that meant changing the format to cater for new occasions. As shoppers stocked up during larger, less frequent grocery shops due to lockdown restrictions, multipacks took on a new appeal.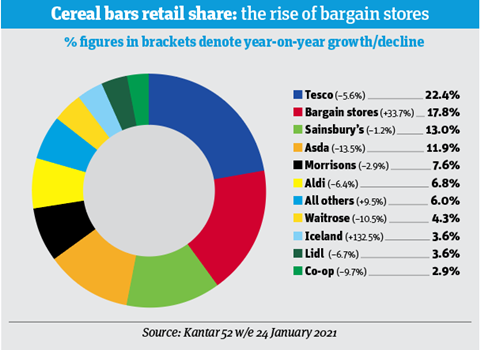 Bargain stores have emerged as a force to be reckoned with in the cereal bar market. Their share has grown 33%, now accounting for nearly a fifth of value sales.
Iceland saw the biggest growth in value share, up 132.5%. Although it still holds a relatively small part of the market – just 3.6% – it is now equal to Lidl.
This shopper behaviour has influenced overall category performance. The rise of these cheaper retailers – bargain stores sell at a lower-than-average price of £1.02 per pack, while Iceland sells at £1.07 per pack – has pushed down prices. In the past year, average price per pack dipped by 0.6% to £1.17.
At the same time, the lack of promotions in these retailers has contributed to a fall in sales on deal. Promotions have accounted for 36.6% of sales in the past year, down from 42.9% in the previous year.
Despite the fall in average price, the cereal bar market has grown by £7.9m, according to Kantar. That was driven by a growth in the number of packs per trip, which rose by 5.2%, says Kantar analyst Charlie Ogan. That resulted in total volume growth of 2.6%.
Not all retailers benefited from that. Aldi and Lidl both suffered a drop in their share, contributing to a fall in private label (p53).
Despite the growth of convenience during lockdown, Co-op's share of the market fell by 9.7%.
New formats
With that in mind, Kind made its multipack debut in January. "Consumers are actively seeking larger take-home pack formats, like multipacks, and brands have been forced to adapt accordingly," says Morris.
"We were forced to innovate rapidly to ensure we could be just as relevant inside the home as we are out of it."
That decision could pay off beyond the immediate reality of lockdown, too. Morris highlights a Morgan Stanley Alphawise report published in January, which found 62% of workers were not expecting to be in the office before June at the earliest. Even then, many businesses won't expect employees to come in five days a week.
"Consumers are actively seeking larger take-home pack formats, like multipacks"
This change to the work environment, as well as the "strong performance" of the new multipacks, means that Morris expects the format to remain a "core value proposition for the foreseeable future".
It's a strategy that has similarly worked for Livia's. The free-from, vegan snack brand claims its business was 99% impulse-driven before the pandemic. It changed all that in October with the launch of three-packs of its Million Squares and Nugglets, which acted as a direct replacement for impulse listings in some retailers.
Another successful example is the plant-based Plantastic brand from Premier Foods. It minimised reliance on impulse sales last June with the launch of multipacks of three bars. These now make up a "healthy proportion" of sales, says Daniel Jalalpor, brand director for health at Premier Foods.
There's a word of caution here, though. While multipacks are cleverly catering for the at-home occasion, they aren't always making up for the decline in on-the-go sales.
"The effect overall has been negative – spend hasn't switched from singles to multipacks"
Other snacking categories, such as biscuits, have muscled their way into new shopper routines, eating into budgets that might otherwise have been spent on snack bars. Deliciously Ella CEO Matthew Mills explains that while a "substantial proportion" of impulse sales transferred to multipacks, some spend was lost.
"The effect on snack bars overall has been negative. Spend hasn't switched cleanly from singles into multipacks," he says. "Rather, shoppers have split their previous single snack bar spend across a variety of in-home categories, with chocolate, biscuits and cakes also taking their cut."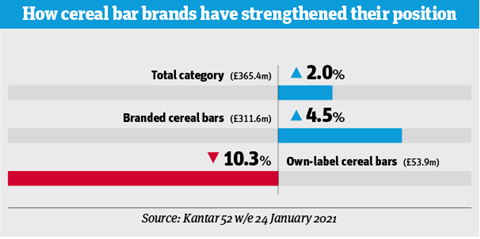 Brands have always dominated the snack bar market. But this year they have strengthened their grip on the category. Sales of branded bars have grown 4.5% to £311.6m in the past year, giving them 85.3% share.
By contrast, own-label sales fell 10.3% to £53.9m. This means they now hold 14.7% share of the market, down from 16.8% the previous year.
Retailer share (p50) is one factor behind this trend. Both Aldi and Lidl, which trade heavily on private label, saw their share fall, according to Kantar figures.
Kantar analyst Charlie Ogan says there was also a "noticeable decline" in private label sales at Tesco.
Healthier brands appear to be driving the rise in branded sales.
Kantar data doesn't split out performance by brand, but Nielsen data names Fibre One as the biggest winner of the latest year. It grew by over £5m (22%), making it the seventh biggest snack bar brand [Nielsen 52 w/e 5 September 2020].
Kind was up £3.1m (22%) and Deliciously Ella climbed by £1.1m (24.7%).
But not all brands did so well. Nielsen data also shows that 38 of the top 50 brands saw a decline in their value.
The top four snack bar brands all lost a fairly hefty amount. Leading brand Belvita haemorrhaged £5.9m, a loss only matched by Alpen. However, it still managed to hold on to the top spot with total sales of £52.6m.
Second-placed brand Nature Valley lost £1m or 2.1%. Meanwhile, Nakd fell £5.8m or 14.6%, and Eat Natural was down by £4.4m or 12.1%.
The innovation game
So, snack bar brands have had to up their game to compete with these other categories. For Deliciously Ella, that meant rebranding. In January, it unveiled a fresh look across its products, website and app, designed to highlight its "foodie" credentials.
"Innovation is within our DNA," says Mills. "We've published over 2,000 plant-based recipes since our recipe website first launched, and we've been able to carry that into our products business. We have a very efficient process from ideation to market launch, and have been able to cater well, at speed, to changing shopper habits."
Others are similarly ramping up their operations. Livia's, for example, smashed the £1m target for its crowdfunding campaign before going public last summer. The brand is now putting the funds towards NPD, developing its DTC platform and scaling operations.
And for some, it's been a simple case of launching a new, on-trend products. See Fibre One, which brought out a duo of protein bars last autumn in Caramel & Nuts and Cookies & Cream flavours. Innovation is nothing new for the General Mills brand, which regularly launches new variants – but this marked its first foray into the protein market.
Despite the host of protein bars on shelves, Fibre One clearly believes there is still space for a new product. Demand for protein-rich products will continue to grow and won't be "isolated to snack bars" says Mark Brown, General Mills marketing director for Northern Europe.
"You walk down any aisle of the supermarket and there's a strong protein offering, and I think protein has become a bit of a catch-all for consumers. It can mean many different things," he adds. "We've definitely seen a need over the past nine months for snacks that enable consumers to manage their calorie intake."
His optimism may be well founded, if the fortunes of protein bar market leader Grenade are anything to go by. In October, the company reported annual growth of 37% in value sales to over £50m.
That's despite gyms and fitness centres, a distribution point for Grenade, being closed for much of the past year. "Fitness centres make up 8% of our revenue for Carb Killa," explains MD Phil Greenhalgh.
"Consumers are looking for more than traditional sports nutrition brands"
Like many other brands in this category, it was forced to be agile. "At the start of the pandemic we quickly pivoted, focusing more keenly towards online retail, which has now become a greater proportion of our revenue," Greenhalgh adds.
Of course, the success of that venture was helped by Grenade's long-standing strategy to develop an appeal beyond consumers that frequent gyms and fitness centres. Since the launch of its Carb Killa bars in 2015, the brand has been at pains to market itself as an alternative to traditional confectionery, as well as a sports nutrition product.
"Early on, we focused on going above and beyond sport and leisure centres, where our core audience lay, driving distribution through grocery and online," says Greenhalgh. That made the brand well placed to weather the challenge of Covid-19.
That same premise has given protein brand Barebells the confidence to launch a new bar this month, despite the closure of sports facilities. It sees itself as a lifestyle brand, rather than just a sports nutrition product.
"Consumers are looking for more than traditional sports nutrition brands and health claims," says trade marketing manager Maria Ledesma. "They want brands they can relate to, brands that fit in their lifestyle and ultimately, brands that offer a great taste."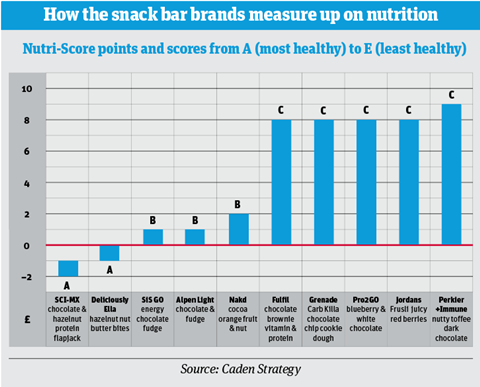 In this chart, the popular flavours of these snack bar brands, based on the 'top sellers' on sainsburys.co.uk, are ranked by Nutri-Score. The system allocates points to foods, giving them a total score that ranges from A (most healthy) to E (least healthy).
Foods are given plus and minus points for their 'good' and 'bad' nutritional content per 100g.
A high sugar content, for example, attracts negative points. But high content of fruit & veg, fibre and protein attracts plus points.
The positive points are then subtracted from the negative ones to calculate a final score, meaning lower scores are healthier.
The two snacks with an A ranking take very different approaches to nutrition. The Sci-MX flapjack is a low-sugar bar with 28 ingredients. Deliciously Ella nut butter bites have only seven ingredients but a much higher sugar content.
Three of the bars tested earned a B ranking, and five scored a C ranking.
Nutri-Score is not used in the UK, but that could all be about to change – in July last year, the UK government launched a public consultation on front-of-pack nutrition labelling. It canvassed views on the existing traffic light system as well as two international examples – most notably Nutri-Score.
Healthy indulgence
That last point is crucial. Early on in the pandemic, consumers were filling their boots with tasty snacks, with little thought given to the health consequences. See the immediate boost to categories like crisps for proof.
Then, as the shock of the lockdown wore off – and the link between the severity of Covid-19 and obesity was publicised – health motivations started to kick in. Consumers were just as keen to snack and indulge, but they were more mindful of what they were putting into their bodies.
That has led to growth in the so-called 'healthy indulgence' sector. Unilever's Graze brand sees it as a natural progression of the past year's events. "Over the past year we've all needed moments of indulgence and so we've seen shoppers turning to indulgent treats to help lift their moods during lockdowns," says Graze chief brand officer Pia Villa. "However, with a greater focus than ever before on health, there is a real opportunity for snack bar products, especially cereal bars, that offer portion-controlled, healthier alternatives to traditional snacks."
"There's a real spectrum in the market of health at one end and indulgence at the other"
The sweet spot lies in products "that are healthier than a traditional confectionery line but bridge the gap between a 90p Mars bar and a £2.50 Grenade bar," says Matthew Fearn, founder of consulting firm Nu Start Up.
These don't just entice shoppers, but retailers too, says Fearn, as it encourages trade-up in the snacking aisle. "Having a product at £1.35 for example: it's easier to trade a customer up from 90p to £1.35 than it is from 90p to £2.50," he explains. Essentially, these are brands that take aim at "the average person who's just trying to make better choices".
That could explain why Fibre One, which has a host of indulgent flavours such as Birthday Cake at under £2 for a pack of five, is one of the few brands to buck the decline in snack bar sales.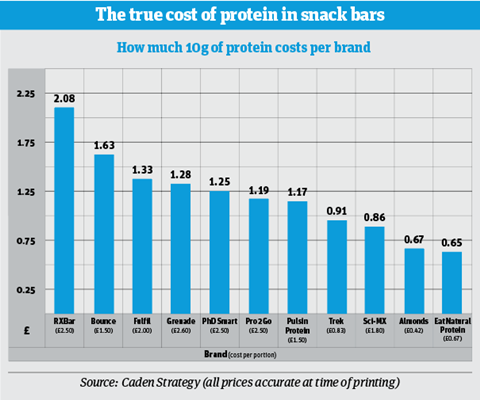 The protein craze shows no sign of dying down just yet, with many brands adding it to their bars. So how is that addition reflected in retail prices?
The answer varies dramatically, according to this research from Caden Strategy, which analysed the rsps of popular bars per 10g of protein content.
For example, a Grenade bar costs £2.60 and contains 20.3g of protein, so Caden calculated the cost of 10g of protein was £1.28. This is twice the cost of 10g of protein from an Eat Natural Protein bar.
The now-retired RXBar was the most expensive source of protein, at more than three times the cost of the Eat Natural bar's equivalent.
"Do cheaper sources of protein also contain the most calories, sugar and saturated fat? In many cases, the answer is yes, but not always," says David Caden, MD of Caden Strategy. He points out that Trek and Sci-MX cost about the same for 10g of protein.
A Sci-MX bar costs more than twice that of a Trek bar but it also contains more than double the protein. So for 10g of protein, Trek contains nearly twice as many calories, four times more saturated fat and 26 times more sugar.
Indulgent flavours
Crucially, General Mills' Brown says the brand has communicated the 'healthy indulgence' premise by taking flavour inspiration from sister brand Häagen-Dazs. "A lot of the flavours that are coming out at the moment have indulgent analogues," he says.
That plays into what shoppers want. "Consumers want it all; they want protein, low calories and low sugar as well as something that tastes good and has indulgent cues," Brown adds. "There's a real spectrum in the market of health at one end and indulgence at the other, but we do often find it blurring into a mid-point."
A quick look at the recent snack bar launches shows the growing popularity of decadent flavours in better-for-you propositions. The Skinny Food Co has launched a range of bars in three flavours that wouldn't be out of place in a dessert bar: Cookies & Cream, Salted Caramel and Chocolate Brownie. WW's range of bars includes a Belgian Milk Chocolate Praline flavour. And Grenade says its success was bolstered by the launch of a Choc Chip Salted Caramel flavour last March.
"Brands must keep innovating, switching things up with exciting new flavours"
"While it's true consumers want solutions comprising less sugar and more protein, products must taste good and brands must keep innovating, switching things up with exciting new flavours," says Grenade's Greenhalgh.
Nut bars, in particular, have taken this on board. This month, Kind added its first UK-exclusive, limited-edition flavour, in the form of Dark Chocolate Orange Almond (see left). And the Cadbury's Nuttier bar, launched in December, clearly plays to taste cues. Parent company Mondelez claimed the bars, which have a Cadbury milk chocolate base, were one of the first in the healthier end of the market to feature milk chocolate.
The concept of indulgent flavours that do minimal damage to the waistline is gaining a greater understanding among shoppers too. That's at least according to Livia's, which has been targeting healthy indulgence from day one. In the early days, it was something of a setback for the free-from brand, it admits, as buyers were unconvinced by the premise. But now, it shouts about its indulgence credentials.
"Livia's has always been about giving people the opportunity to feel good about the way they treat themselves. It was never about functional products for us, like green kale spirulina, energy balls or protein bars," says founder Olivia Wollenberg.
Cereal bars
This healthy snacking premise could even offer some relief to a particularly struggling area of the category: breakfast bars.
"We've identified there's a real opportunity for cereal bars that don't explicitly link themselves to the breakfast occasion," says Graze's Villa, who points to its Protein and Superfood Oat Bites and Wow Bakes as examples. "It's about unlocking occasions and showing consumers cereal bars can be enjoyed as a healthier snack beyond breakfast."
That could be a wise move, considering brands targeted specifically at the breakfast occasion have suffered some of the heaviest losses in the past year. Market leader Belvita shed £5.9m or 10.1% of its value. That put it on a par with Alpen, which also shed £5.9m. As a smaller brand, that equates to 23.6% of its sales.
Despite the figures, the two brands are feeling optimistic about the future. In December, Mondelez trade communications manager Susan Nash stressed the breakfast occasion "remains important to consumers".
For its part, Alpen is looking forward to its 50th birthday this year, which it will mark with a multimillion-pound campaign across TV, digital and in-store.
Even without the power of this activity, Alpen believes things will get easier. As the nation begins to open up – with the government roadmap suggesting restrictions could be removed entirely by June – the brand anticipates a higher demand for grab-and-go breakfasts.
"We're confident there are big growth opportunities in the next year for our portfolio, through both snacking and as more on-the-go occasions return," says Alpen head of brand Helena Blincow. What's more, it claims sales are already picking up, even amid a third national lockdown.
"Shoppers are venturing out more and the top-up shop is proving popular again"
Other big names are similarly feeling encouraged by the gradual return of smaller shopping trips in the past few months. "While some consumers have opted for bigger and less frequent food shops, others are shopping locally and more regularly," says Mars Chocolate Drinks & Treats general manager Michelle Frost.
"Shoppers are venturing out more, and the top-up shop is proving popular again with increased visits to local stores being driven by their convenient location."
Livia's is hopeful of this too, and has been working with high street retailers Holland & Barrett and Boots on ways to encourage sales to pick up once restrictions ease.
"There's going to be a post-Covid recovery phase where we work super closely with the retailers to make sure we are one of the reasons why their sales pick up. We are confident we'll get back to where we were and more – it's all about customer confidence in getting out into stores again," says the brand's CEO Olivia Wollenberg.
Hopefully that consumer confidence will translate to confidence in the snack bars market, too. And next year, it won't be just a resilient few brands that are posting growth.
Innovations in snack bars 2021