Sustainability will top the agenda at Anuga 2017 as a growing number of companies convert it from buzzword to hard graft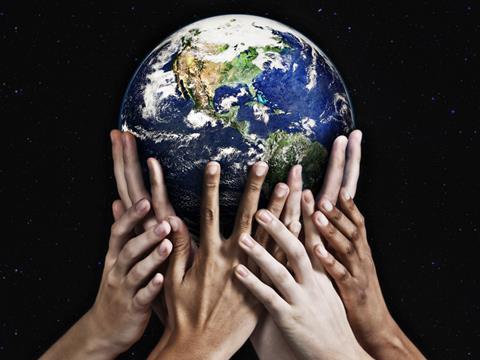 Donald Trump gained more than a few high-profile enemies this summer. After signalling his intention to pull out of the Paris climate agreement, charities branded the president a "pariah". Overseas leaders expressed their widespread "disappointment". Even Miss America got in on the act by slamming the "bad decision".
But there was a perhaps even more surprising opponent: Mars. The corporation not only vocally criticised the president, but also unveiled a $1bn sustainability plan to cut greenhouse gas emissions.
Anuga: What's on offer?
Dates: 7-11 October
Venue: Koelnmesse, Cologne, Germany
The lowdown: Anuga covers the entire Koelnmesse fair grounds in Cologne. A record 7,300 exhibitors from around 100 countries are expected to fill the food and drink show this year, showing off their wares to 160,000 trade visitors. A truly international affair, the share of foreign exhibitors will hit 91% this year (up from 89% in 2015). New vistors for 2017 include representatives from Ecuador, Ireland and the US in group participations in Anuga Chilled & Fresh Food, exhibitors from Norway in Anuga Fine Food, while India has become the official partner country of Anuga 2017.
For more info visit www.anuga.com
The move showed just how important sustainability has become to the food and drink giants. Green goals have been top of the agenda for everyone from Tesco to Danone this year, as the industry becomes increasingly keen to do 'the right thing'.

So it's fitting that sustainability is set to be the leading theme at the world's largest food & drink fair this week, Anuga 2017. Nearly 7,300 exhibitors will pack out Cologne's Koelnmesse, eager to show off their wares and ethical credentials. Spanning a wide range of areas such as dairy, meat and beverages - plus a specialist section for hot beverages for the first time this year - there will be plenty of different angles on the theme.

Yet sustainability has long been a buzz-word in the industry. So how will this year's producers stand out and ensure their ethical credentials are taken seriously?

Lu Ann Williams, director of innovation at Innova Market Insights (the corporate partner for Anuga's Trend Zone), admits sustainability is not a new topic. Yet it is taking on a fresh importance. "It is finally moving into the mainstream when it comes to driving purchasing behaviour," she says. "Fairtrade has been around for a long time, but it didn't affect purchasing decisions of mainstream consumers."

Williams believes every company now has to have "sustainability metrics". This doesn't necessarily mean third-party certifications, since "companies regularly can and will establish their own". (Although moving away from these schemes can generate negative publicity, as Sainsbury's has seen by ditching Fairtrade for its own Fairly Traded scheme on certain lines.)

English Tea Shop is a company that has chosen to focus on both external and internal standards. The company has stood out by not only gaining Soil Association and Fairtrade accreditation, but going beyond their minimum requirements. It pays farmers a premium on top of Fairtrade payments, and tea is hand-packed to reduce the company's carbon footprint. The English Tea shop site stresses that sustainable 'isn't just a buzzword to us - it drives everything we do'.

Chief executive officer Suranga Herath believes the key to communicating sustainable credentials lies in authenticity. "Lots of brands can talk the talk, but it's walking the walk that really connects with consumers."

An Anuga exhibitor since 2011, English Tea Shop has noticed consumer demand for ethically sourced food and drink "skyrocketing". "It is up to businesses - particularly agile, independent ones - to seize upon this demand and drive the sustainability agenda forward." The brand will be capitalising on its credentials at Anuga by launching a few new lines at the show, including a tea-based advent calendar.

For juice business Pip Organic, also certified by organic body the Soil Association, sustainability is all about the sourcing and quality of its ingredients. "We work with organic farmers every harvest to select great tasting crops of fruit and vegetables, ensuring that all Pip products are naturally balanced and never compromised by adding any nasties or added sugar," says its director Karen O'Neill.
Innovations at Anuga 2017
Under this premise, the London-based company is launching its Pip & Mix and Pip Rainbow ice lollies retail packs to trade at Anuga. Containing only organic fruit and a "little bit of cheeky veg", the launch reflects the ongoing demand for healthier alternatives with a 'clean' label, O'Neill says.

Innova's Williams confirms this is a hot trend. "Between 8 % and 9% of UK launches that we track are organic - that compares to 12% to 20% in Germany over the same decade," she says.

Confectioner Fudge Kitchen is a brand that relies on its own ethical policies to communicate sustainability."Fudge is a great product to work with," says MD Sian Holt. "There is virtually no waste and we recycle any waste packaging, which is minimal."

Holt actively seeks out opportunities to work with local artisanal producers, which in turn cuts down freight costs and air miles. "Traceability works hand in hand with sustainability and we are constantly looking for innovative means of reducing waste such as through our bespoke production database, which ensures that ingredients are used as and when needed," she says.
Multiple free-from credentials
Fudge Kitchen is also launching dairy-free Drinking Fudge this year, which taps another tenet of sustainability: vegan and flexitarian diets. As an increasing number of consumers are looking to limit their dairy consumption, Anuga exhibitors have responded.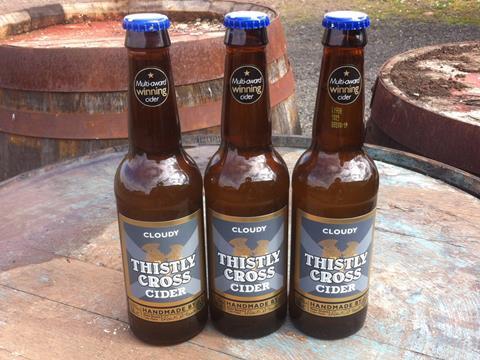 Making cider big on the world stage
The UK's thirst for cider is growing with pundits tipping it to be the new craft beer. But cider isn't necessarily such a staple among the 190 countries from which Anuga attracts delegates – something first-time exhibitor Thistly Cross is hoping to change.
"One problem is getting people to understand what cider is," says Luke Fenton, export manager at the East Lothian brewery. "They either don't know what it is or think it's something different to what it is."
For this nine-year-old business, whose cider production has rocketed from 9,000 litres in 2008 to a million litres this year, few other industry events offer the potential for exposure on such a grand scale. Currently, the US is its biggest overseas market. "It's booming," says Fenton. "We want to build on the international cider trend that's becoming big."
Breakfast brand Moma is set to launch its new vegan Almond Butter & Salted Caramel instant porridge pot at the trade show. Using British wholegrain jumbo oats, the product (exclusive to Tesco in the UK) is gluten and dairy-free and sweetened only with "a sprinkling of coconut sugar". Moma MD Pete Joubert is proud of the brand's "multiple free-from credentials".

Meanwhile, Drink Me Chai is being careful to cater for dairy dodgers with its launch at Anuga. Available in tub and sachet form, the sugar-free chai latte is being billed by the Farnborough-based company as a "world first". "Most sugar-free chai lattes use artificial sweeteners but we have used a blend of stevia and natural flavourings that can be enjoyed with milk or a dairy substitute," says founder Amanda Hamilton.

Meat-free alternatives are also set to make their mark. At the last Anuga, Innova's Williams saw a "notable number of change in the number of meat companies that have entered the meat substitute category".

The trend is likely to continue this year, she believes, as products improve "in terms of texture and taste". Germany's Lord of Tofu, for example, is exhibiting a vegan fish range (prawns, tuna and salmon style products). Currently stocked in Ireland, the company is exploring UK appetite for its products.

However you interpret sustainability, the focus on ethical food and drink is here to stay. So when Anuga opens its doors to an estimated 160,000 trade visitors this week, brands had better have the answers prepared to those green questions.