What's that sneaking into the confectionery aisle? Next-gen sports nutrition is muscling in on sugary treats by promising far more
It sounds like the stuff of Willy Wonka's wildest dreams: snacks that appear to be the height of indulgence - Jaffa Quake, Caramel Crisp and Birthday Cake bars to name a few - but are marketed as healthy options.

High-protein, low-sugar snack bars have become one of grocery's hottest sectors, up 27% in value in the past year [IRI 52 w/e 12 August 2018]. As sporty challengers such as Grenade, Sci-MX and Bounce Energy muscle in on chocolate's turf in impulse fixtures at front of store, the big brands are retaliating.

Mondelez has launched a high-protein, low-sugar version of Boost. Similar versions of Mars and Snickers will roll out in 2019. Such snacks will feature heavily in what Mars Wrigley boss David Manzini calls the 'portfolio of the future', he told us last month.
Download the PDF version of this report
---
Companies like Mars aren't just doing this out of the goodness of their hearts. They are taking close note of consumer behaviour. Brits' consumption of protein at home has surged 6.5% in the past five years [Kantar Worldpanel] and 2.8% in the past year alone [52 w/e 12 August 2018]. By contrast, consumption of sugar - the more common ingredient for confectionery - has fallen 3.2% since 2013.

Indeed, low-sugar and high-protein content are now the second and fourth most important factors when it comes to Brits' choice of snack, an exclusive poll of 1,200 consumers by Streetbees reveals. Nearly half (48%) said high protein content in snacks was quite or very important to them; 36% are buying more high-protein snacks than a year ago.

The fact all age groups polled placed importance on protein suggests it is no fad. Instead, it reflects more fundamental, structural shifts in society - namely, the obesity epidemic and the backlash against sugar it's inspired, the decline of the three square meals a day culture and the boom in the food-to-go sector.
"Because of their active, busy lives, consumers want snacks with real nutritional benefits"
"Protein is here to stay and is showing no signs of slowing down," says Kerry Foods snacking marketing director Victoria Southern. "When we were all eating three meals a day, snacks were a treat. Because of their increasingly active, busy lives, consumers want snacks that have real nutritional benefits."

In other words, because Brits are sitting down for fewer formal meals at home and grabbing more sustenance on the go, they're demanding much more than the empty calories of a standard Mars bar or Dairy Milk.

"The average commute for UK workers is now 54 minutes, so eating on the go is becoming ever more prominent," says Felipe Castillo, head of innovation at meat snacks brand Grabits, citing ONS and M&C Allegra Food Service numbers. "And with 43% of consumers seeking a healthy option, meat snacking is reaping the benefits. Prominent positioning of snack products in a clearly marked and accessible area is key."

Retailers' on-the-go ranges are changing. For example, Tesco's savoury snacking range has increased from 14 to 34 SKUs in the past year, according to Kerry Foods, whose Fridge Raiders meat snacks brand is now available in meal deals (until recently the sole preserve of the holy trinity of sarnie/crisps/chocolate) in Tesco, Morrisons, the Co-op and Boots.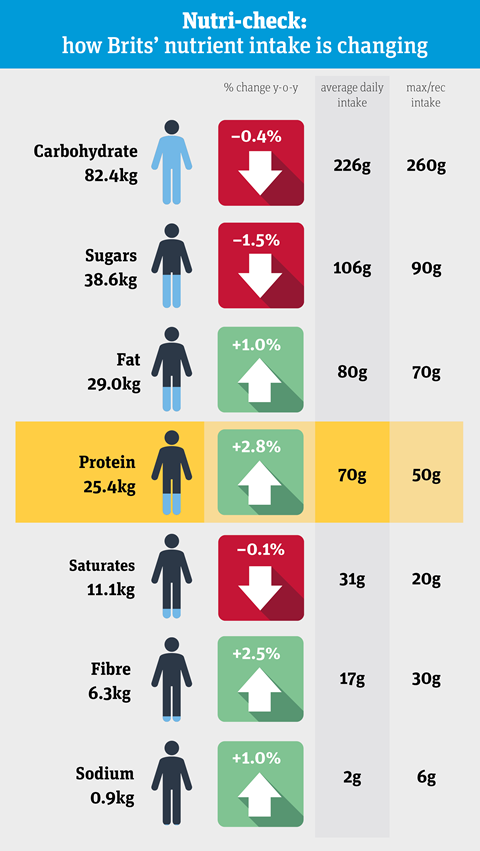 Find the full data at the bottom of this report
Snacking evolution
"There's been a dramatic shift in the snacking world that reflects wider trends towards healthy living and changing preferences around protein and sugar," says Pavan Chandra, marketing manager at Jack Link's. "The snacks consumers are purchasing are evolving and meat snacks' appeal to health-conscious consumers has increased."

So too have sales. "Meat snacking is up 7.6% in value terms," adds Southern, citing IRI data for the year ending 12 August. "We're seeing retailers increase space for snacking at front of store and this is helping to drive growth. Total front-of-store meat snacking is up 28% in the latest data. Tesco Express has been particularly bold."

Merchandising is being shaken up right across the store. Take milk, the second-greatest source of protein in food and drink consumer at home [Kantar], and the scene of a huge amount of added protein, health and sports-orientated NPD in recent years.
"The milk aisle has been transformed," says Jilly Whibberley, marketing director at A2 Milk, which comes from cows that naturally produce only the A2 protein. "Choice is ever growing so the fixture had to evolve. Free-from areas are now well signposted and, in some retailers, relocated to gondola ends. It will be interesting to see if added protein 'nutritional' products develop on a similar scale and manner."

Protein-enriched RTDs might not yet have had quite had the same impact as plant-based milks - see the dedicated free-from chillers rolled out by Tesco and others lately - but there's plenty of evidence to suggest retailers are giving them greater focus.

"In line with full-end fixtures being given to protein snack brands such as Graze and Grenade, the drinks offer is following suit," says Mark Neville, founder and MD of protein drinks brand Upbeat. "These healthful drinks are also being included in meal deals, forcing traditionally 'healthy' drinks such as Diet Coke to compete harder in the space."
"Accessible, high-protein snacks are becoming the mainstream snack of choice"
Indeed, brand manager of Weetabix On The Go Beth Reeve attributes much of the range's growth into an £18m brand to a growing presence in store, particularly in key grab-and-go chillers at front of store. "Protein SKUs make up 26% of the breakfast drinks category, while protein breakfast drinks are growing at 10%, driven predominantly by impulse grab and go convenience shopping missions," she says, citing Nielsen figures. "Making breakfast and protein drinks more widely available in front-of-store chillers will encourage more people to buy into the sector."

As protein-rich products migrate from the chilled cooked meat, dairy, sports nutrition and health aisles to front of store, many are rethinking their brands' positioning. For example, Fridge Raiders, a brand previously primarily aimed at kids, has been relaunched to appeal to adults. Sci-MX, meanwhile, has toned down its use of sports science references in its marketing to broaden its appeal.

"Increasingly, today's consumers live a healthy and active lifestyle, so accessible, high-protein snacks are becoming the mainstream snack of choice rather than a niche product for the elite athlete," says commercial & marketing director Steve Rich. "We've just launched a range of bars and protein crisps that meet sweet and savoury snacking occasions, positioned as an on-the-go snack."
Others have severed nearly all ties from their roots as post-workout snacks sold through gyms. "As the market has moved, so has our branding," says Juliet Barratt, co-founder and chief marketing officer at protein bar market leader Grenade. The brand claims latest IRI numbers put Grenade's Carb Killa as the UK's fourth-bestselling countline in supermarkets, placing it ahead of giants such as Mars, Kit Kat and Dairy Milk. Not bad going for a product that's about 2% sugar (Mars is nearly 60%).

"Protein isn't niche any more, so we've had to refine our packaging. Everyone else was trying to copy Quest bars (the number one protein bar in the US) but we wanted something that was an alternative to a chocolate bar, so that's where Carb Killa came from, which looks very much like a confectionery product. We've tried to move out of the sports nutrition market into the mass market."

It's working. Although Grenade's market is aimed primarily at the younger end of the spectrum, the brand has managed to extend its reach to the 45 to 54-year-old age group through growing distribution with M&S. And despite the brand's macho language and design, 52% of its consumers are female.
BCAAs set to be next big protein drink trend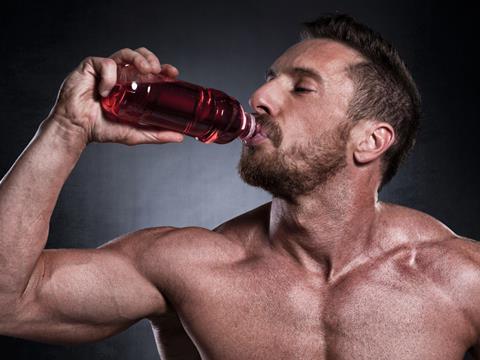 Milk-based protein drinks are starting to look old hat next to a new generation of health products, which have been reproducing like good bacteria in a healthy tummy of late. So what will be the next big thing in protein drinks?
One tip is carbonated drinks containing branch chain amino acids (BCAAs) leucine, isoleucine and valine. Unlike other essential amino acids, which tend to be broken down in the liver for fuel, BCAAs can be used as a direct source of fuel by muscle fibres during exercise and as a means of post-workout repair.
This makes them a hot ticket with the gym bunnies. "BCAAs, a more niche category normally kept for post-workout, is now catching up quickly with both a high level of engagement and a higher score," says Tom Morgan, market analyst at Lumina Intelligence, which analyses the volume and sentiment of online reviews in various global food and drink markets.
Lumina's research found a high level of consumer engagement and satisfaction with BCAA drinks in the US. Now Morgan tips the Nocco brand from the No Carbs Company - a seven-strong range of sugar-free fizzes containing between 3,000mg and 5,000mg of BCAAs per 330ml can - as one to watch here in the UK.
"Not all consumers will be tuned in to the health benefits of BCAAs, but by marketing themselves with simple messaging and distinctive colouring, they have a wide market appeal," says Morgan.
They're not the only ones pinning their hopes on the protein pop market. Kris Ingham, founder and CEO of the Rejuvenation Water brand (pictured below) claims to have launched the world's first amino acid enriched spring water.
"The drinks trends for 2017 and 2018 were all around hydration-plus," says Ingham. "As we move into 2019, the focus has already started on protein waters and further innovation in functional drinks."
How far the market has moved on from merely promising beefier biceps.
Chocolate hit hard
All this is hitting chocolate hard. "The rise of health-consciousness within confectionery and snacking is being driven by modern consumers who are redefining their approach to health; focusing on the fuel going into their bodies," says Clark Mcllroy, MD of Fulfil protein bar owner Red Star Brands, citing IRI figures. "This is impacting consumer choices and is a contributing factor to the long term volume decline of chocolate countlines, with 14.4 million fewer bars purchased in the latest year. That two-thirds of consumers are actively looking to avoid sugary snacks has presented the confectionery category with a positive opportunity to embrace change. Products need to offer benefits alongside the sweet indulgent flavours found in traditional confectionery."

As we've seen, the giants of confectionery are beginning to embrace that change. High-protein versions of Mars and Snickers were launched in 2016 and a year later a protein powder under the Mars brand hit the market. Next year's release of two more lower-sugar, higher-protein iterations of Mars and Snickers represents the next phase in this process.

You could argue the big confectioners have a key advantage over smaller sports brands when it comes to developing more mainstream high-protein low-sugar snacks: the size and experience of their R&D departments. They know how to make snacks that taste delicious and feel good in the mouth.

Analysis of online reviews of sports nutrition products by Lumina Intelligence suggests this can be a problem for protein bars, which tend to score less well in reviews than protein powders because of their taste and mouthfeel. Research by Mondelez, which launched Cadbury Boost + Protein in July, backs this up.

"Eighty-three per cent of consumers have admitted they're interested in protein but are not prepared to sacrifice on taste," says Cadbury senior brand manager Richard Weisinger. "This is where our new product comes in. Our recipe had fantastic results in consumer taste tests, with liking scores on a par with standard Boost. We believe this offer can attract consumers who want the best of both worlds - extra protein and taste."

Protein has another sweet spot: the hefty price consumers are prepared to pay for it. The new Boost product, which contains four times the protein and 32% less sugar than the standard Boost, carries an rsp of £1.49 for a 49g bar. The standard bar is currently selling for 60p in Tesco. The Mars and Snickers high-protein lines carry similar premiums.
"We know that shoppers are willing to pay for premium, added-value products, especially if they also deliver on the current health and wellness trend," comments Grenade's Barratt, adding that Carb Killa has achieved 122% value growth in the past year [IRI 52 w/e 12 August 2018]. "Shoppers state the main reason they don't currently purchase Grenade is because they can't find it in store, rather than it being a price-motivated reason."

But consumers expect a lot for their money. "Consumers are prepared to pay for bars with benefits which offer that additional hit of protein," says McIlroy. But taste is still crucial. "Fulfil's great taste makes the category much more accessible to wider audiences, both male and female. The days of having to choose between 'unhealthy and tasty' versus 'healthy and bland' are behind us."

Convenience is another key motivator for consumers, particularly at the start of the day. So says co-founder of the Fuel10K brand Barney Mauleverer, pointing to his brand's growing offering, which now spans protein-enriched breakfast drinks, cereals, porridge pots and peanut butter pouches (peanuts, of course, are naturally high in protein).

"Breakfast is big business and perhaps a category of contradictions," he says. "For some it's the 'most important meal of the day' but, as people's lives get busier, for others breakfast is more of a hassle than a sociable occasion. Younger consumers who roll out of bed and perhaps cycle into work are looking for ever-easier solutions. Protein is important, but we can't ignore the importance of less sugar, more fibre and vegetarian and vegan diets."
Beef squares up to take on plant-based protein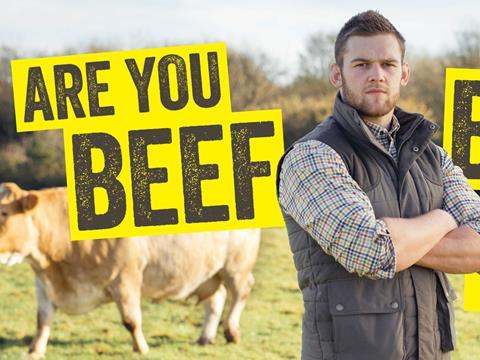 Meat's been feeling the heat of late, what with the current vogue for veganism and mounting concerns over the ethics and sustainability of meat production. So the country's growing penchant for protein couldn't have come at a better time for beef.
See Welsh red meat body Hybu Cig Cymru's (HCC) 2017 Beef Body Ready campaign (above) for an example of how the sector can divert attention from the growing number of plant-based products tapping the fitness and protein trends.
Fronted by Welsh rugby international and beef farmer (and beefcake) Dan Lydiate, the campaign was a bid to promote the idea that Welsh beef can promote strength and health. This year's campaign, which kicked off this month, is fronted by another Welsh rugby star: Elinor Snowsill.
The HCC says the campaign will "tap into a young, health and fitness" focused crowd. It will include point of sale material including recipe suggestions. "Welsh beef's superpower is that in addition to being naturally rich in protein, lean red meat has been proven to be good for bones, eyesight and mental function," says HCC market development manager Rhys Llywelyn.
But in an age when convenience is king, ensuring beef is as little faff as possible to prepare will be key to ensuring the sector makes the most of the current protein trend. See growing listings for cuts such as flat iron steaks for proof of how things are changing.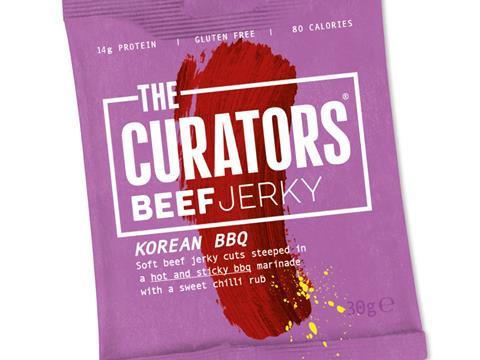 Of course, you could always hang it, cure it and add some interesting flavours. That's what jerky brand The Curators (pictured, above) and a host of other meat snacks have been doing to meet growing demand for protein-rich premium snacks.
In the past six months, the brand has won a nationwide listing with Sainsbury's and reports strong growth in the on trade through the BrewDog estate and a partnership with Meantime Brewing.
The vegan vogue
Indeed, according to a recent study by comparethemarket.com, as many as 3.5 million people in Britain now follow a plant-based diet and the number of those claiming to be vegan has soared by 700% in the past two years. The vogue for veganism is combining with the protein trend to drive a boom in sales of nuts and nut butters.

"Demand for protein-rich food from natural sources is at an all-time high, making it an incredibly exciting time for the nut butter category," says Kirstie Hawkins, Whole Earth brand controller at Wessanen UK, pointing to last year's category growth of 17.1% on volumes up 9.9% [Kantar Worldpanel 8 October 2017].
"We've seen a rise in the number of vegan and vegetarian consumers buying our nut butters. Those looking to increase their protein consumption also tend to look for foods that are rich in other nutrients. In addition to protein, peanuts are also high in fibre, vitamins and minerals and contain high levels of unsaturated fats, making peanut butter an overall great nutrition choice."

The move towards pure form plant-based diets is not without its detractors, however. As an army of bloggers, vloggers and assorted celebs - reportedly everyone from the Kardashians and Victoria Beckham to David Cameron and Meghan Markle - dodge dairy, medical experts are warning that the trend is not without risks.

TV journalist and author Dr Michael Mosley has spoken of his concerns over his daughter's diet. "What worries me is that she is part of an accelerating trend away from dairy, particularly among young women, that could have serious health consequences for the next generation," he's been reported as saying. "There are lots of nutrients that cows milk has in abundance that other milks, derived from soya, almonds or oats, don't."

For sports nuts, there's another reason to think twice about cutting out dairy, says A2's Whibberley. "Many consumers are unaware that plant-based added proteins derived from hemp, rice or pea differ from animal proteins in that they do not have a complete essential amino acid profile, meaning they do not effectively build and repair muscle and tissue as well as animal-based proteins like whey and casein found in dairy products," she says.

Proponents of plant-based protein claim it's possible to get the right balance of essential amino acids - that is, the nine that cannot be synthesised by the body and therefore must come from our diet - by combining a wide and increasingly exotic array of protein plant sources, such as hemp, pumpkin, alfalfa and spirulina.
"Every plant food source of protein contains all essential amino acids, they just tend to have lower amounts than animal foods, leading people to believe they can't meet their requirements on their own," says Bethan Hamilton, registered associate nutritionist at plant-based nutrition and protein powders brand Vega UK.
"There are many directions this category can move with further improvements"
"By combining multiple plant-based protein sources throughout the day, you can get all your essential amino acid requirements to build and maintain muscle, including post-workout. Here at Vega, we ensure all our protein powders are a blend of complementary plant-based protein sources to cover your essential amino acid needs."

Veganism might be in vogue now, but food trends are notoriously fickle. It was only a few years ago that the paleo diet - characterised by huge consumption of meat - was all the rage. And it's worth noting that, after five years of decline, fresh milk has returned to growth, having risen 4.1% on volumes up 0.5% [Kantar 52 w/e 22 April 2018].

That doesn't mean protein is a mere fad, says Fuel10K's Mauleverer. "There are many directions this new category can move with further improvements and fine tuning for existing products to the introduction of new variants that appeal and draw in to a broader consumer set," he says. "Protein is becoming less of a trend and more of a given."

This suggests Mars and Mondelez's new higher-protein lower-sugar offerings could one day usurp the place of their sugary forbears. Just think, it took a sugar tax to do that in soft drinks.
Innovations in protein 2018
Click on an image to expand