With pubs shut for most of 2020, Brits have brought home an extra half a billion litres of booze. Is this the 'new normal' for alcohol?
In any normal year, a near 20% spike in off-trade alcohol sales would give producers cause to pop the champagne corks.
Brits have bought and brought home an extra 498.5 million litres of booze in the past year. That's an 18.1% increase in volume. Value sales have spiked by 19.4% to almost £16.2bn [Kantar 52 w/e 4 October 2020].
Of course, 2020 has not been a normal year, and the industry is in no mood for celebrating. While supermarkets have reaped the benefits of their essential retailer status during the pandemic, the bigger picture for drinks suppliers is bleak.
Citing Nielsen data, the Wine and Spirit Trade Association (WSTA) says total alcohol volume sales – both on and off-trade – fell 20% in the first three months of lockdown. While on-trade volumes recovered slightly over the summer when pubs were allowed to reopen, the British Beer and Pub Association (BBPA) is forecasting a calamitous 54% fall in on-trade volumes for the full year.
So just how bad has it been for suppliers? And has the rise in home boozing helped to mitigate the on-trade losses?
For BBPA CEO Emma McClarkin, the answer is no. She says the increase in off-trade sales is "nowhere near enough" to make up for the loss of the on-trade, a statement supported by one of the UK market's biggest brewers. "When the on-trade is closed, we see around half of drinking occasions move from the on-trade to at-home consumption," says Kevin Fawell, off-trade sales director at Molson Coors Beverage Company. "For the brewing industry to thrive we need both sectors to be in good health."
"For the brewing industry to thrive we need the on-trade and the off-trade to be in good health"
For now, a return to health feels a long way off for the hospitality sector. WSTA CEO Miles Beale says it looks "impossible" for it to return to anything like its pre-Covid size in terms of the amount of business being done and the number of outlets trading.
Earlier this month, the British Institute of Innkeeping and UKHospitality joined the BBPA in revealing that 72% of hospitality and pub businesses expect to become unviable and close in 2021. The BBPA estimates around 5% of pubs have already closed their doors for good and modelling it has carried out in partnership with Oxford Economics suggests one in four pubs will close without more government support.
As a return to normality seems a long way off for the hospitality sector, it seems inevitable the divide between the on and off-trade – one that has been growing for several years – will widen further and faster. "That shift has been gradual – a couple of per cent each year, but I think this has fast-tracked it," says Adrian Lugg, former head of marketing at Fourpure and now MD of brand and marketing consultancy Hop Hut. "You're unlikely to see a major shift back to the on-trade potentially – there's going to be a hell of a lot of closures and businesses that don't survive."
Wine at home
Within the different drinks sectors, there have naturally been winners and losers from Covid – or, more accurately, losers and not such bad losers. Wine producers, in particular, paint a mostly positive picture. "The first lockdown saw many drinking occasions shift back into our homes," says Norbert Jozsa, head of category & insight – Europe at Accolade Wines. "During that period, we saw wine benefit more than other categories due to its heartland occasions, such as staying in as a couple and as an everyday drink, naturally becoming more important during lockdown."
Alex Price, category and insights controller at Concha y Toro UK, agrees that lockdown and social distancing measures have resulted in an organic rise in the number of "smaller, down-tempo occasions". As a result, its major brands Casillero del Diablo (+26.7%), Trivento (+71.7%) and Cono Sur (+10.7%) have all seen substantial off-trade year-on-year value growth.
And Freixenet Copestick says its core pillar brands of I Heart, Mionetto and Freixenet have performed well, with gains in the off-trade. That's despite the lack of hospitality sales affecting its wider portfolio, which includes many on-trade exclusives.
"There's going to be a hell of a lot of closures and businesses that don't survive after lockdown"
For beer, the picture is more mixed. Off-trade sales have unsurprisingly soared. Neil Baker, head of category management at Budweiser Brewing Group, says the brewer has seen "significant growth" across its portfolio with value sales of Stella Artois, Budweiser and Corona growing by double digits in the 13 weeks to 26 September.
Yet even large brewers who have a strong presence in the off-trade haven't been immune to the severing of the on-trade route to market. Heineken was hit especially hard in Europe, where it runs a vertically integrated business model, including wholesale in several markets as well as pubs in the UK. The brewer reported beer volumes in Europe had declined 8.5% in the second quarter; while in August, Carlsberg posted a 12.6% drop in first-half revenues and a double-digit (10.8%) fall in operating profits as the pandemic hammered its second quarter sales.
Regional UK brewers with a high exposure to the on-trade have suffered even greater losses. Despite record supermarket sales during the pandemic, St Austell Brewery plunged to a loss of £10m in the first half of 2020. Total turnover collapsed by 90% when all 178 of its pubs and hotels were forced to close in March due to lockdown.
Meanwhile, Suffolk brewer Adnams reported a pre-tax loss of £3.9m for the six months to 30 June as its pubs closed and beer sales plummeted. Turnover dropped to £21m, down from £34.7m the year before.
These are businesses that still have a reasonable presence on supermarket shelves. The thousands of local craft brewers whose trade relies almost exclusively on local pubs and restaurants have felt the force of the pandemic even harder. "We have regional brewers that are 98% in the on-trade so there's very little they can do," says McClarkin.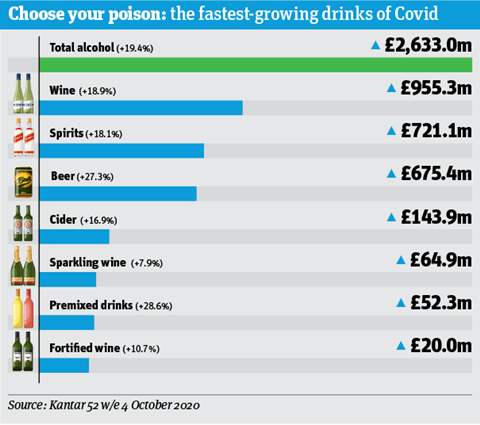 Although Brits have drunk alcohol on fewer occasions than they did last year, the fact that a far higher proportion of these occasions took place at home has fuelled huge growth in take-home booze sales, which surged 19.4% to just shy of £16.2bn. That means an extra £2.6bn has gone through the tills.
Still that's no excuse to pop open the fizz. Quite literally: in a year when almost every sector enjoyed double-digit growth, sparkling wine mustered a gain of 7.9%. Volumes were up 6.8% (in comparison, beer volumes grew 23.5%). This suggests, for obvious reasons, many of us were in a less than celebratory mood, though supplies from Italy were also impacted during the height of the pandemic.
Average prices rose in all subcategories as retailers scaled back on deals to manage demand. The higher price paid also reflects premiumisation in the BWS aisles, says Kantar analyst Richard Lee.
"There is a medium-term trend of shoppers buying slightly less but 'better' when they do," he says. "This has been exaggerated during the pandemic with more shoppers happy to trade up. This is evident in the growth of world beers and malt whisky."
Cask ale
Cask ale, in particular, has been devastated by the pandemic, with reports of millions of gallons of beer and cider going to waste. Brewers worked with the BBPA as part of the cross-industry 'Return Your Beer' platform, which aimed to safely destroy 70 million pints of beer and save licensees millions of pounds in excise duty from unsalable stock. A small amount of cask ale has been redirected to grocery but, as McClarkin notes, "mostly it's a specific product that needs to be sold in venue to be enjoyed to its fullest extent".
Some suppliers speak more positively about their ability to switch volumes from the on to the off-trade. "About two days before the country entered its first national lockdown, we made production changes in anticipation of what might happen and stopped keg production, changed our shift pattern and started on 24-hour production of our bestselling Henry Westons range," says Darryl Hinksman, head of business development at Westons Cider, which launched three new variants at the start of lockdown in March.
But as Lugg points out, "grocery only has so many spots on shelf so the opportunities are a lot slimmer for that channel".
WSTA's Beale believes the ability to redirect supplies has been overplayed, especially for smaller producers. "The smaller you are and the more dedicated you are to the on-trade, the more difficult it is to survive. You can't simply create a new channel, find new customers, change your IT systems and upgrade your website, given what your income generation looks like," he says.
"Grocery only has so many spots on shelf so the opportunities are a lot slimmer"
There are other operational challenges for those looking to switch volumes from the on to off-trade. Switching from kegs to cans, for instance, requires more people on the canning line, which has been challenging given the need to maintain social distancing, while logistics and transport infrastructure can be difficult to scale at speed.
Then there is the issue of margin. Lugg says Fourpure's pre-pandemic 50/50 on and off-trade split was "a good balance in terms of spreading volume around" but the brewer found profitability a challenge as it moved its volume into the grocery channel. "The growth in off-trade was strong and a couple of months into restrictions we found ourselves marginally up year-on-year in terms of volumes but profitability was down because of the [lower] margins in the off-trade," he says.
So it had to find new ways to boost margin. For Fourpure, that was direct-to-consumer sales, which soared 6,000% in the first six weeks of lockdown. It's one of many brewers to find innovative ways to keep afloat during Covid. "When the first lockdown happened, we saw pubs and bars open take-away services or off-licence shops," says Carl Middleton, VP national sales for Carlsberg Marston's Brewing Company. "More recently, and prior to this second national lockdown, we've seen pubs and bars become workspaces where people tired of working from home for a set price could rent a table."
Neil Anderson, retail brands marketing director for Quintessential Brands, notes there's also been "great innovation" in at-home occasions, with businesses bringing elements of the on-trade to the home with cocktail kits and pre-batched cocktail delivery services.
Healthier innovation
Indeed, innovation targeted at the off-trade has continued apace despite the pandemic denying brands the opportunity to test new concepts with on-trade consumers. Two areas in particular – low and no-alcohol products and hard seltzers – have been the focus for much of the year's NPD.
Budweiser Brewing Group has launched two new alcohol-free products this year – Budweiser Zero and Stella Artois Alcohol Free – as it looks to capitalise on the growth of the no and low category. "Even before lockdown, moderation was on the rise with 42% of drinkers having made efforts to reduce their alcohol consumption at some point in their lives, equating to nearly 20 million people in the UK," explains Baker.
"Even before lockdown, moderation was on the rise, with 42% of drinkers cutting down"
Others have taken note. In October, Beavertown created Lazer Crush, its first alcohol-free IPA, which contains 83 calories per can; and in August, Molson Coors took its Sharp's Doom Bar ale brand into low and no with Doom Bar Zero. Diageo has also jumped on the low and no bandwagon with the launch of Guinness 0.0. However, the newcomer suffered a disastrous start after Diageo was forced to recall the product as a precautionary measure over possible microbiological contamination.
In spirits too, suppliers are looking to capitalise on the consumer trend towards moderation. "There is a huge opportunity to drive further growth within the low and no spirits category, currently the fastest-growing segment at 33%-plus across the off-trade," says Hannah Dawson, head of category development off trade at Diageo, which plays in this space with its Seedlip brand.
The trend for permissive, healthier tipples also explains the surge in innovation in hard seltzers. Smirnoff, Kopparberg, Coca-Cola and BrewDog are among the brands to have launched products during 2020, while Molson Coors has taken the plunge via an exclusive distribution partnership with Bodega Bay.
"There is a huge opportunity to drive further growth in low and no spirits"
In normal times, hard seltzer products would have been tested extensively in the on-trade sector before reaching supermarket shelves. But, of course, Covid restrictions have forced suppliers to take a more direct route to market. This comes with risk attached. However, Molson Coors' Fawell is unfazed. "While it's still early days in the UK, we're expecting the hard seltzer category to follow a similar pattern to the US, and it presents a strong growth opportunity for retailers," she says.
Lugg also points to the success of hard seltzers in markets such as the US and Australia "which the UK tends to emulate" as reason for confidence in the products. "There's risk with anything that's unproven but the flip side of that is the likes of Tesco are making shelf space for it so what you're doing is driving new opportunity," he says.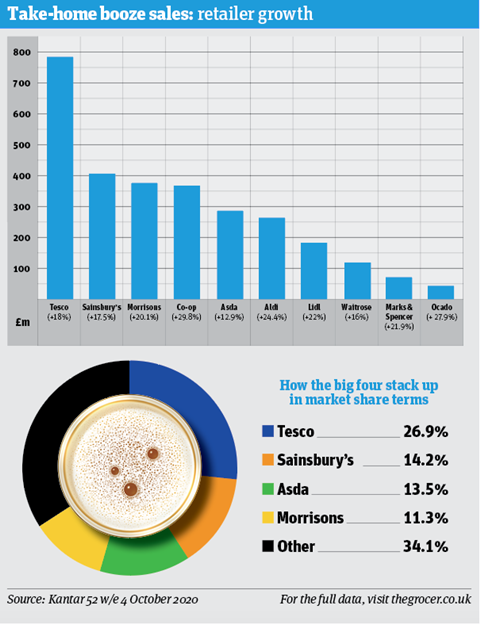 In percentage growth terms, the Co-op is the winner of the 2020 home booze boom. It has seen sales spike by 29.8% over the past year. That growth was worth around £360m at the tills, contributing 14% to the overall category's growth (these are approximate numbers due to rounding up). And the Co-op is punching above its weight; it commands a 7.5% share of the take-home alcoholic drinks market.
A key reason is the tectonic shifts in shopper behaviour in response to Covid-19. The Co-op, with its estate of neighbourhood c-stores, benefited from the rise in shopping local as punters sought to avoid the queues and empty shelves of visiting larger stores.
The other big shift driven by Covid was the migration of shoppers to online, which experienced a 91% growth in the four weeks to 14 June, according to Kantar. That's reflected in the 27.9% surge at Ocado, the market's second-highest percentage gain.
The next two fastest growers are Aldi and Lidl, with respective gains of 24.4% and 22.0%, driving strong growth in own-label spirits and sparkling wine (up 23.2% and 22.0% respectively). "This is outpacing growth in branded equivalents," says Kantar analyst Richard Lee. "This partly reflects the growing range and credibility of products on offer, particularly in the discounters."
Environment
Another driver of innovation has been the environmental agenda. Rather than taking a back seat during Covid, the war on plastic waste has heated up with major producers claiming new milestone achievements.
Heineken is in the process of rolling out its plastic-free cardboard topper, Green Grip, across its entire beer and cider portfolio. Budweiser Brewing Group announced in October it had removed plastic rings from its full canned beer range, including Budweiser, Bud Light and Stella Artois. Middleton, meanwhile, says Carlsberg Marston's Brewing Company's Snap Pack format, which replaces plastic rings with tiny dots of glue, and its 100% biodegradable cardboard rings on Estrella Damm are good examples of recent green developments.
In spirits, Diageo has created what it claims is the world's first 100% plastic-free paper-based spirits bottle. Made entirely from sustainably sourced wood, the bottle will debut on the Johnnie Walker brand in early 2021. Not to be outdone, rival Bacardí is planning to launch what it claims will be the world's most eco-friendly spirits bottle made from a plant-based biopolymer called Nodax PHA, which biodegrades in just 18 months without leaving behind any microplastics.
In wine, meanwhile, Accolade Wines recently released the first "flat bottle" for its Banrock Station brand made from 100% recycled plastic. That's part of a wider range of changes at the wine supplier. In March, it relaunched Hardys with a £5m investment in a new strategy and marketing campaign titled 'Certainty in an Uncertain World', which aims to distinguish the brand as a trusted wine focused on "quality and heritage". Accolade Wines has also rolled out a major new look for Echo Falls, designed to make the brand more "sophisticated" and broaden its appeal.
Then there's your more run-of-the mill innovation. Sparkling wine giant Freixenet has made a major play in still wines with the launch of a trio of new Italian wines; while Casella Family Brands has taken its Yellow Tail brand into sparkling wine with the launch of Yellow Tail Bubbles Rosé.
Convenient formats
The growth in RTD lines during the pandemic has also made formats a focus of innovation. "Convenience continues to grow in importance," says Ben Blake, head of marketing for Treasury Wine Estates Europe. "Pre-pandemic, sales of wine in cans grew 177.9% and these sales continue to rise."
Blake says the Blossom Hill Gin Fizz can format "fits into the 'on-the-go' lifestyle that consumers have adopted".
Spirits brands, too, have been cashing in on growing demand for RTDs. In October, Diageo launched two new SKUs – Gordon's Pink Martini and Smirnoff Passion Fruit Martini – with an eye to tapping growing demand for convenience. Molson Coors, meanwhile, has entered the space with a deal to distribute Miami Cocktail Company's RTDs across the UK – the latest in a series of moves from the beer giant to broaden its portfolio.
"Convenience continues to grow in importance for consumers; sales of wine in cans are rising"
Earlier this month, Bacardí launched a range of Nespresso-style cocktail pods called Twistails for shoppers wanting to recreate the bar experience at home. And Quintessential Brands has extended its Bloom brand with two new variants to the Fruit & Floral Fusion range – Bloom Passionfruit & Vanilla Blossom and Bloom Raspberry & Rose – following consumer research that identified cocktails such as the Pornstar Martini as a source of inspiration for flavour innovation.
The continued commitment to innovation, both in products and packaging, is a positive sign for the sector. But it's hard to escape the conclusion there are more dark clouds than rays of sunshine on the horizon.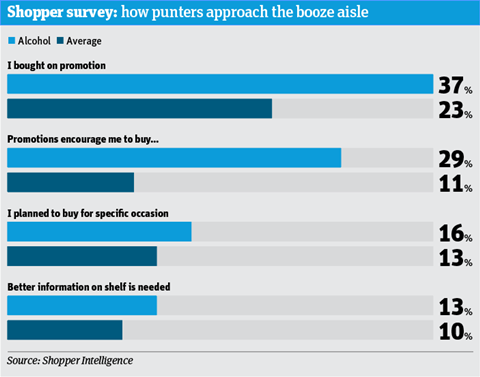 Deals matter in drinks. "They're an effective traffic-driving tool," says Chris Adkins, MD of Shopper Intelligence, which polled shoppers about their habits.
Indeed, 37% buy booze on deal versus a grocery average of 23%. Twenty-nine per cent say deals encourage them to buy versus a cross-category average of 11%.
Fifty-four per cent of shoppers say they buy booze to help them relax at home. "Interestingly, this hasn't significantly increased during Covid-19," adds Adkins.
Brexit
As the pandemic drags on, the potential chaos unleashed by a disorderly Brexit looms equally large. "We knew 2020 was going to be an incredibly difficult year to get the right answers out of governments so that we're prepared for 1 January, but we've lost any momentum or bandwidth to have any of those conversations for quite a lot of the year," says Beale.
Trade bodies including the WSTA have been able to secure temporary suspension of certain policies, most recently regarding the imposition of import certification (or VI-1s) for wines from the EU until 1 July 2021. But Brexit is still set to add product cost in most categories according to producers, at a time when consumer incomes are being squeezed.
"We've lost momentum or bandwidth to have conversations with government"
As and when coronavirus restrictions are eventually peeled back, industry experts believe it will take time for hospitality businesses to win back consumer confidence, which in turn will have implications for the supply chain. "I think for the next year it will be difficult for brewers to know how much to brew, what volumes to make, whether to keep their e-commerce going – but they will need to continue to focus on additional revenue streams," says McClarkin.
There are, it seems, only two sure bets as things stand: that the trend towards the off-trade will continue well into 2021 and probably beyond; and that the only businesses raising a glass this Christmas will be the supermarkets.
DTC & drive-throughs: how brewers faced Covid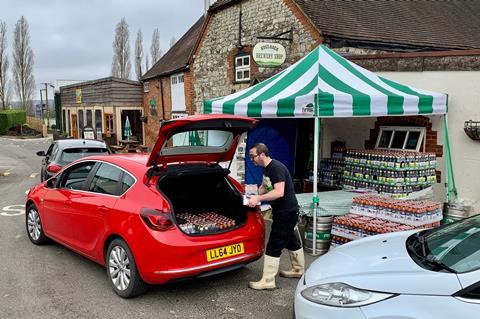 Covid-19 has been the ultimate test for the drinks industry. Some businesses have passed the test with flying colours, while others have been left hamstrung by the on-trade shutdown.
It took a matter of days, for example, for the ever-opportunistic BrewDog to launch its Barnard Castle Eye Test Hazy IPA following Dominic Cummings' now infamous press conference in the 10 Downing Street rose garden. Over in Australia, Otherside Brewing Co created Plan C: Simple Ale to drum up support for independent craft brewers.
There were further examples here in the UK, too. London craft brewer Fourpure released a mixed six-pack called No Passport Required in the middle of summer, helping to drive 6,000% growth in the brewer's direct-to-consumer online sales.
While the launch itself was relatively routine, the back story was anything but. At the start of the first lockdown Fourpure had half a dozen new beers, including a Jazz Age Espresso Martini Stout and Lantern Earl Grey SIPA, brewing in a tank.
The plan was to trial the beers in small batches in the on-trade with a view to achieving seasonal listings in the off-trade. "As soon as the on-trade closed we found ourselves with half a dozen beers without a home so we had to move incredibly quickly to figure out what on earth we were going to do with them," explains Adrian Lugg, former head of marketing at Fourpure and now MD of brand & marketing consultancy Hop Hut.
Hogs Back Brewery was also quick off the mark when Covid hit the UK in March. Sensing the risk the pandemic posed to the on-trade, the brewer opened a new drive-through service (pictured) a week before the first national lockdown was announced.
Customers can drive up to the brewery, located in Tongham, Surrey, and choose from Hogs Back's range of draught, bottled and canned beers. Orders are placed at a safe distance from the car window with shop staff on hand to load the beer into car boots. Customers can also pre-order online and collect after 10am the next day.
The brewer lost 70% of its business when the first national lockdown was introduced, but sales from the drive-through, which attracts an average of 150 cars a day, have helped it stay afloat. Now that's an example of passing the test.
Innovations in alcohol 2020