As Brits show an insatiable appetite for pizza delivery, grocery is getting in on the game. But can it take on established operators?
The Friday night pizza takeaway is broadening its horizons. No longer just an end-of-week treat, pizza is becoming a regular indulgence thanks to the rise of services such as Just Eat, Deliveroo and Uber Eats.
Indeed, the nation's takeaway habit was worth a whopping £4.2bn in 2018, according to information company The NPD Group. That's expected to rise to £5bn by 2020.
As the nation's second most popular takeaway - The NPD Group found Brits ate 171 million servings of takeaway pizza in 2017, compared to 179 million servings of Chinese - pizza is primed to grab a slice of the growth.
Never ones to miss a trick, supermarkets are now edging into the takeaway pizza arena. Sainsbury's started the ball rolling at the end of 2017 by opening a Zizzi concession in its Balham branch. Customers could either pick up one of Zizzi's Rustica pizzas with their shopping or place an order through Deliveroo for the full takeaway experience. In September, Asda teamed up with food delivery service Just Eat to offer its own-label pizzas as a takeaway option.
There have been plenty of more peripheral developments, too. In January, Chicago Town announced plans to launch a pizza-to-go format for convenience stores. That same month, Pizza Express revealed it would be launching its own takeaway brand - Za - in March. Offering its bestselling pizzas by the slice, it's a concept that could easily be imagined as a supermarket concession.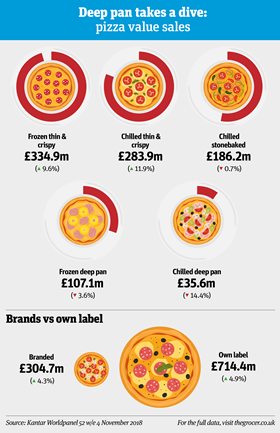 Yet the takeaway pizza market is no easy win. Facing multiple competitors, supermarkets will have to work hard to grab consumers' attention. A case in point is the Sainsbury's Zizzi counter in Balham, which closed last month to make way for a Mexican street food fixture. Sainsbury's remained tight-lipped over the reasons, but it seems safe to assume sales didn't stack up.

So how can supermarkets make a successful foray into takeaway pizza? How can they tempt customers to try their services? And what are the key lessons they can learn for their core pizza offering?

It's clear to see why supermarkets are looking to the likes of Just Eat and Deliveroo for growth. The pizza category is hardly faring badly in supermarkets, up 4.7% in value to top the £1bn mark this year [Kantar Worldpanel 52 w/e 4 November 2018]. But growth in delivery services has been far faster, prompting a flurry of partnerships with out-of-home pizza brands. Deliveroo, for example, reported triple-digit revenue growth in its latest results, having netted a raft of new partners such as Pizza Express, which came on board last March. Pizza Express managing director Zoe Bowley says Deliveroo orders "play a vital role in our business".
The power of convenience
Just Eat boasts similarly impressive numbers, having seen UK revenue pass the £300m mark last year. Brits ordered over 34 million pizzas via the app and website last year, according to UK marketing director Ben Carter. He says this is indicative of the booming takeaway scene. "We've seen the UK market evolve over the last few years," he explains. "The average UK consumer now has 29 takeaways a year, so supermarkets that haven't previously offered delivery now see a huge opportunity by offering their food as a takeaway.
"The busy nature of modern life means that, with competing priorities for time, people are using technology to ensure they can get quality products and services quickly and conveniently. Supermarkets can tap this by offering freshly cooked pizzas at competitive prices for their customers to enjoy at home."
So it stands to reason that Asda chose Just Eat as a delivery partner when launching its own-label pizzas as a takeaway option.
Having made its debut in Asda's Killingbeck branch in autumn, the service has since extended to three more stores: Beeston, Wakefield and Livingston. Asda is reluctant to say too much on performance as the trial is "still in the early stages", but a spokeswoman confirms it is "working well". So well, in fact, that Asda is looking to extend the delivery option to additional stores this month, to "probably around 12 in total".
Just Eat's Carter says partnerships such as these are a "win-win". "It's a win for supermarkets because they have access to our millions of loyal customers and they get instant volume lifts, which are incremental to their business. And it's a win for Just Eat's customers, too. They get more choice and a full cuisine offer with the brands they love."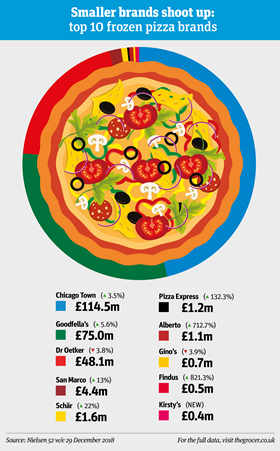 The increasing frequency of Britain's takeaway habit may also fuel demand for reasonably priced offers such as that of Asda, which offers a 16-inch pizza delivered to your door for just £6. The aim is to undercut the likes of Domino's and Pizza Hut.
Considering takeaway is no longer just a Friday night treat, it may be a sensible strategy. Henry Harding, Uber Eats' head of marketing in the UK, says pizza orders are coming in throughout the working week. "While pizza orders are still very popular at the weekend when you'd traditionally expect to see higher sales, we're also starting to see consumers order more during the week," he says. "Tuesday is the new Friday and 12am-4am is the new 'happy hour', with more than 16% of pizza orders taking place after midnight.
"We already work with many independent retailers and convenience stores across the country, and we strongly believe food delivery apps will increasingly play an important role in the grocery industry," Harding adds.
So far, it sounds like a solid strategy for supermarkets searching for extra pockets of growth. Yet it's far from a surefire hit. The case of the Zizzi pizza counter in Sainsbury's Balham, which closed roughly a year after opening, serves as a reminder. Sainsbury's says simply that it is "always trialling different services" and the results from Balham will "help us improve our range further".
But the short-lived nature of the counter indicates something didn't work. Bryan Roberts, global insights director at TCC, believes the location - close to the likes of Franco Manca, Pizza Express and various independents - was potentially an issue. "It's not going to be right in every location," he says. "Arguably it might work better in less built-up areas, whereas in London you've got other pizza brands 20 or 30 metres away."
Still, offering a full delivery service isn't the only way to get involved in the takeaway pizza market. Sainsbury's, for example, began 12-week trials of an own-label hot pizza counter in three of its stores - Cambridge Eddington, Redhill and Bradford - at the end of 2017. Customers at the stores could place food orders by phone and have a hot pizza ready for pick-up as little as 30 minutes later. There is no word as yet on how these trials went, but Sainsbury's concept store in Selly Oak suggests hot pizza remains part of its strategy. The 67,000 sq ft store, unveiled in November 2018, includes a food market section offering fresh pizza alongside bread, cakes and self-serve coffee. TCC's Roberts says fresh pizza counters also appeal to the takeaway crowd. "If you look at both Sainsbury's and Asda pizza counters, for an extra £1 they will heat them up. That makes absolute sense," he says.
Others are thinking along more traditional lines. Take Iceland, for example. It reserves a spot in its freezers specifically for 'takeaway pizza', featuring takeaway-style brands alongside its own Takeaway Stuffed Crust range to rival the much-loved Domino's offering. Costing just £2 per pizza, the range comes in cardboard box packaging for an added takeaway feel.
Iceland category manager Gareth Thomas says takeaway products such as these have helped fuel 2.4% growth in the company's frozen pizza sales. "Retail frozen pizza offers propositions to rival high street takeaways for a fraction of the price," he says.
Rivals have invested in similar offerings. Tesco has its frozen Takeaway range, with variants including Tex Mex Chilli Beef and New York pizzas. In Morrisons, BBQ Pulled Pork and Chicken & Bacon are just two of the options available in its own-label takeaway pizza range.
Branded moves
Over in branded, leading frozen player Chicago Town - up 35% to £114.5m [Nielsen 52 w/e 29 December 2018] - is looking for a slice of the same market. "Our challenge as manufacturers is how we can capture some of the spend from the high street takeaways," says Paula Wyatt, head of frozen marketing at parent company Dr Oetker.
Part of its strategy is to tempt convenience shoppers with the national launch of Chicago Town pizza to go. Through the initiative, c-stores will be able to sell the brand's hot pizza from an in-store branded cabinet. Chicago Town is also addressing the challenge through ranging and flavours.
"Our Chicago Town Takeaway pizza brand has been on the market for some time now and this year the stuffed crust, the main part of our range, is worth £32m and it's growing 15% year on year," says Wyatt.
So Dr Oetker's eponymous brand will be ­following suit with a range addition that Wyatt says consumers have requested for years: a cheese-filled crust. "The ways you can bring restaurant or takeaway food into the home with the growth of platforms such as Deliveroo and Uber Eats means there's a blurring of formats. So, we have to be able to compete on a taste and variety level to match what consumers can get from these outlets."
Claire Hoyle, head of marketing at Goodfella's, agrees in-store pizzas have to compete with options outside of the supermarket. "We've developed our ranges to deliver a high-quality product that compares with takeaway alternatives," she says. To this end, Goodfella's will be investing in its range from April to increase the quantity of cheese on its pizzas, among other things.
So whether supermarkets can get in on delivery action or not, keeping up to date with the takeaway market is crucial. Because 171 million servings a year is an opportunity too big to miss.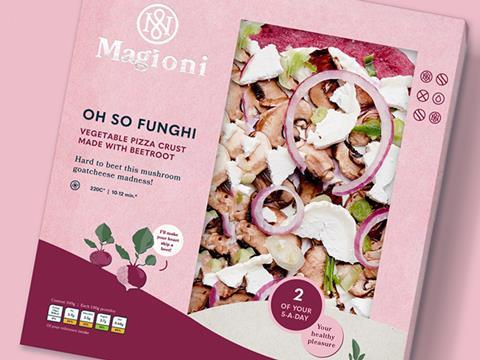 The brands giving pizza a healthy overhaul
With a doughy base and layer of melted cheese, pizza isn't exactly synonymous with health. In fact, it's one of the foods on Public Health England's watchlist. But brands such as Magioni are looking to change the image of pizza. The Amsterdam company swaps out some of the flour for veg in its pizza bases, which contain 30% less carbohydrates than traditional crusts.
In July, Waitrose and Ocado snapped up its customisable courgette and cauliflower bases. The plant-based supplier has since launched three topped variants: Oh So Funghi, Pitza Falafel and Shredded BBQ Beef.
"We're excited for our small brand to come to the UK and provide an option for anyone who doesn't want to choose between healthy eating and one of the nation's favourite foods," says founder Manon van Essen.
Magioni is not the only one rethinking the base. In June, pizza giant Dr Oetker launched Yes It's Pizza, a two-strong range of frozen vegetable base pizzas that target the more health-conscious shopper. "We think it's our job to push boundaries," says Paula Wyatt, head of frozen marketing at Dr Oetker. "These pizzas are an alternative to the norm and are slightly more permissible. We're seeing a different type of shopper buying the range - more vegetarians and shoppers with more fresh ingredients in their baskets."
However, Wyatt admits it's unlikely there will be any more veg variants in the near future. "Whether the retailers have the space and patience for varieties that perhaps don't sell or rotate as quickly as some of the bigger-selling varieties remains to be seen. There is definitely incrementality there but the difference in the sales potential is challenging."
Wyatt says this could potentially deter others from venturing into vegetable pizza bases just yet. But as health becomes an increasingly important attribute in food and drink, never say never.