Disruptor brands are muscling in on potato crisps with healthier ingredients. Who's throwing the punches and making a packet?
Put up your fists, potatoes! Chickpeas, fruit and corn are challenging your title as bagged snacks' heavyweight ingredient. Better-for-you brands like Hippeas, Emily's and Proper are squaring up to the category's spud-based champs. And they've picked just the right time to do it.
In the words of new report 'The Age of Progressive Fmcg' by Finn Communications, bagged snacks' disruptors "are exploiting profound shifts in consumer attitudes and behaviour, such as a growing interest among consumers in healthier and more ethical product ingredients – a desire for something different from the generic branded offer".
But once the novelty wears off, will snacks made from fruit & veg be left gathering dust on grocery shelves?
Hallam Wood, head of grocery at Peter's Yard, believes not. He points to a "clear trend for healthier foods that looks set to continue. The focus on mental and physical health and government work to tackle obesity means there is opportunity to develop healthy snacking brands."
Which would explain the October debut of Peter's Yard's Sourdough Bites in three variants, made from the brand's "signature sourdough starter that's slowly fermented for 16 hours". The trio boasts of containing "60% less fat than regular potato crisps". Meanwhile, Small Giants Crackers, which launched around the same time, shouts about the "nine grams of complete protein in every pack". Those nine grams from cricket flour will likely futureproof the brand, suggests co-founder Francesco Majno.
"The focus on health means there is opportunity to develop healthy snack brands"
"The upcoming decade is expected to witness an unprecedented transition from traditional meat-based proteins to a wider range of alternatives. Healthy snacks could play a big part in reshaping the way we gain protein," he says. "Insects are among the most promising alternatives, offering advantages in terms of nutritional values and sustainability."
Some body-conscious Brits will be fine with eating powdered crickets. Others won't. For them, there are traditional sources of protein, like peanuts, which are ideal "for those looking for a healthy snack with functional benefits," says Andy Riddle, commercial director at KP Snacks. "Seventy-six per cent of consumers recognise nuts provide a positive source of energy and 24% of shoppers are looking to increase protein in their diet."
That demand is largely why Real Handful unveiled its Craft Baked Nuts range in January. "There is a clear gap in the market for a better nut that meets the emerging needs of younger consumers.
"This can be evidenced already by the rapid rollout of our range," says brand co-founder Joe Taylor. "We're excited to be shaking up an established category with a differentiated proposition with baked, functionally better varieties."
Investment opportunities
Real Handful's story highlights an interesting point. Having begun as a fruit snack supplier, it was able to introduce savoury lines after smashing a crowdfunding target of £300k by over £112k in January last year.
It's illustrative of better-for-you snacks' appeal to investors. Small brands are worth a punt because "the size of the snacking category means the potential rewards are huge if these smaller brands manage to capture even 1% of market share", says Adam Draper, MD of Nurture Brands, owner of Emily fruit & veg crisps. "Plus the investment usually offers tax relief via EIS, which de-risks the investment."
The people putting money into the market typically want to "back businesses with products they rate to address the market opportunity – brands they believe stand out from the crowd", says Dafna Bonas, founder of Indie Bay Snacks. She should know, having launched the pretzel bites brand in 2017 with backing from heavyweights including former Tyrrells board member Hazem Ben-Gacem.
"Seventy-six per cent of consumers recognise nuts provide a positive source of energy"
Brave is another example of a healthy brand that has had no trouble securing funding. Its range of roasted peas and chickpeas attracted two rounds of investment.
"Our first was pre-launch, where we were fortunate to bring on board some amazing angel investors," says brand co-founder Amber Fraser. "The second round closed in November 2019, where our existing investors followed on and we partnered with Döhler Ventures."
More recently, Warburtons used its Batch Ventures innovation fund last month to invest a six-figure sum in Insane Grain, with the bakery giant's chairman Jonathan Warburton praising the startup's "innovative use of sorghum in place of maize to create a range of healthier puffed snacks".
It was preceded in January by private equity firm Exponent snatching a majority stake in Proper to build a powerhouse competitor in better-for-you snacking, combining the brand with the Eat Real portfolio that it acquired in June 2020.
"We are united in our ambition to take healthy snacking not just mainstream but global," says Proper founder Cassandra Stavrou. "We consider this partnership to be hugely important for our category, where both brands can set the agenda on health and sustainability."
Proper's team-up with Eat Real to supercharge the better-for-you sector means the likes of Walkers and Pringles should watch their backs, suggests Brave's Fraser.
"Crisps, in our mind, aren't really a snack, they're an indulgence and more people are understanding that as well," she says. "There's a lot of opportunity to be found in that shift and this is a trend that's very unlikely to reverse, so it holds good long-term prospects."
"Crisps are an indulgence and more people are starting to understand that as well"
So, better-for-you brands promise returns for consumers and investors alike. But there is one thing limiting those returns for now. As with regular potato crisps, lockdowns have dented healthier suppliers' sales across on-the-go and foodservice.
"The impulse side of healthy snacking has been heavily hit during the pandemic," says Hippeas MD Sophie Higgins. "We have been fortunate to have a strong grocery business on our sharing and multipack formats. We've also seen amazing results in our online business and launched our own DTC platform."
Many of its healthy snacking rivals have also made that pivot to the direct-to-consumer market – with positive results.
Take Cheesies. The baked cheese brand had "only been up and running a few months before lockdown hit", says co-founder & MD Craig Jones. "We pivoted quickly to a DTC model. We finished 2020 showing 868% growth and just had our largest monthly sales in February."
Similarly, Real Handful's DTC sales have grown 300% year on year, Taylor says.
Those are some healthy numbers. So makers of traditional potato crisps better get ready to throw a few punches.
Will Brits get obsessed with snacking on mushroom chips?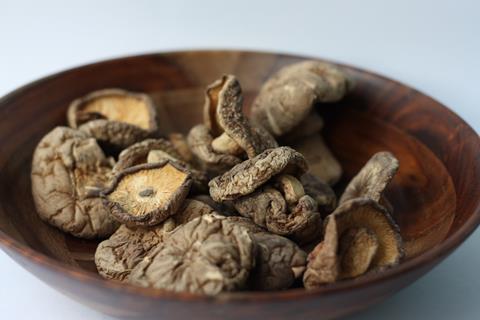 "Shoppers are obsessing over Aldi Australia's healthy mushroom chips," the Daily Mail reported last month. Each pack "is filled with crunchy, flavoursome umami mushrooms that are perfect for snacking" it added.
In fact, the product isn't exclusive to Aldi. It's from Aussie brand DJ&A, which offers a variety of veg-based nibbles – including four SKUs of the Shiitake Mushroom Crisps lauded by the Mail for being "100% natural" and "an excellent source of dietary fibre".
A bag of fungi may seem yucky to some. But for others, it's an appealing prospect.
In the US, for instance, mushrooms have been trendy for years among health-conscious consumers. That's led brands such as Roam to unveil shiitake snacks in variants such as Kansas City BBQ, Ranch and Sriracha.
For Brits who fancy snacking on 'shrooms, there's Crunchy Shiitake Mushrooms by UK supplier Other Foods. It's available via the likes of Ocado and Holland & Barrett. Although at around £6.30 for 100g, it won't suit everyone's wallet.
Of course, the veggie snack market isn't capped at pricey mushrooms. Cheaper vegetable-based options abound.
Take Brave, which made its debut in 2017 with a range of roasted peas.
"Our snacks are high in protein, high in fibre and contain fewer calories per 100g than popcorn," says co-founder Amber Fraser. "Pulses are super nutrient-dense and provide excellent sustained energy."
For a fruitier treat, there's Katie's Food Co's Banana Crisps, launched last May in four flavours including Mixed Herb, Salt & Vinegar and Thai Sweet Chilli.
The 'functional' savoury chips "taste like a potato crisp, counting as one of your 5 a day" says the brand's founder Katie Grennall. The lineup, she adds, is "completely unique to the UK".
Seems the market isn't totally shiitake.
Innovations in bagged snacks 2021


Daniel Selwood is The Grocer's special projects editor, managing Britain's Biggest Brands, Britain's Biggest Alcohol Brands, The Dairymen and Top Products – as well as contributing to news, features, analyses and category reports.

He joined the magazine in January 2016 as food & drink editor, having been at financial & legal publisher LexisNexis for eight years.

He began his journalism career in the mid-1990s at a general interest magazine in his birth city, Sheffield.

Follow Daniel on Twitter: @danielmcselwood