Rice and noodles appeal to shoppers seeking speed and ease, but this desire for convenience is coming at an environmental cost
Few things are quite as convenient as rice and noodles. Just shove in the microwave, add hot water or boil up for a few minutes and – hey presto – you have the basis of a hearty meal. That convenience factor is sending sales soaring. In the past year, the market has grown 3.7% in value and volume [Kantar 52 w/e 21 April 2019]. That's the sector's fifth consecutive year of volume growth.
But that convenience comes at a price. A 2018 study by the Environmental Defense Fund found rice farming accounts for up to 5% of global greenhouse emissions. That's double previous estimates. Many rice and noodle products come in similarly eco-unfriendly, plastic-based packaging.
It flies in the face of the growing number of consumers who say they've adopted more eco-friendly buying habits. So how come sales are still booming? And what are manufacturers doing to lessen the toll rice and noodles take on the planet?
The rising sales are proof of the gap between what shoppers say and how they behave at the tills. More than a quarter say they avoid certain products on environmental grounds, a rise of 65% since 2016 [Ethical Consumer Markets Report 2018]. Still, this concern over plastic waste and climate change doesn't seem to have dented appetite for quick meals.
And the more convenient the product, the less environmentally friendly it tends to be. Take instant snacks, many of which come in plastic packaging. Aware of the dilemma, many manufacturers have set a goal making their products more eco-friendly. One of these is Pot Noodle owner Unilever, which names plastic "one of the biggest topics surrounding the food and drink industry right now".
"We know this is a concern for our retail partners and consumers," says Hazel Detsiny, Unilever's VP for marketing food & tea. So it has pledged to make all of its plastic packaging, including the stuff used for its instant snacks, "fully reusable, recyclable or compostable" by 2025.
"Consumers are weighing up the convenience of pouches versus other factors. They're not yet voting with their feet."
Plastic is proving a similar challenge for rice pouches. A whopping 277.5 million of them were sold last year, according to our calculations. And not one of the major manfucturers has developed a recyclable pouch, which is made from multilaminate materials that can't be separated. It's something that Mars Food, owner of Britain's biggest rice brand Uncle Ben's, is working on. It wants to make all its packaging recyclable by 2025. But, given that the 119.1 million unrecyclable pouches Uncle Ben's shifted last year [Nielsen 52 w/e 15 June 2019] would have eventually ended up in landfill or worse, 2025 still seems a long way off.
"That's why we are working hard to get a recyclable pouch on to the market as soon as we possibly can," says Mars consumer & markets insight manager Liz Forristal. "But what we're seeing at the moment is quite strong penetration growth still coming through. Consumers are weighing up the convenience of pouches versus other factors. They're not yet voting with their feet."
Convenience is king
Indeed, pouch rice is the UK's bestselling rice format, now worth a whopping £216.3m. It was also one of the fastest-growing categories by volume in the past year, up 4.5%.
By contrast, plain rice is only up 1.4% in volume, with value boosted by price rises. That non-microwaveable rice tends to be more eco-friendly – Laila, for example, has rolled out 100% recyclable packaging across its entire range of smaller rice bags – doesn't seem to be influencing consumers.
Nielsen figures back up that point. More than 81% of consumers bought rice products in the year to 15 June, a marginal rise of 0.9%. Fifty seven per cent bought ready-to-heat rice, up a more significant 1.8%. So, the appeal of pouched rice – particularly that it's ready to eat after two minutes in the microwave – seems to be outweighing the negatives.
That quick appeal is one reason rice is outperforming other carbs. "Rice is still a growing part of the UK diet and doing well compared with other staples such as bread, potatoes or pasta, which are seeing declining volumes," says Alex Waugh, secretary of the Rice Association.
Plus, he sees a culinary reason behind the boom. "It fits well with consumer demand for food nostalgia – of revisiting dishes of their childhood such as chilli con carne – alongside a desire to be experimental with food and trying authentic dishes such as bibimbap."
The rising popularity of this Korean dish – usually served in a bowl containing rice and a mix of veg, meat, egg or tofu and topped with kimchi – is just one food trend that's favouring the category right now. "A multicultural society and an increasingly connected world are piquing consumer interest and driving the demand for products that offer flavourful and authentic experiences," says Anna Beheshti, brand lead at Tilda.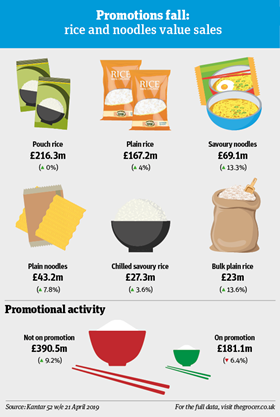 "Consumers are becoming more aware of cultural cuisines and want access to products that will help them to recreate these dishes in the home. To stay current, brands need to respond to this with relevant NPD."
Mars' Forristal says certain cuisines are proving particularly popular. "We're seeing much more Caribbean with people talking about jerk, which is coming through really strongly in condiments, and a move away from Tex Mex to a more authentic, lighter, fresher kind of Mexican."
Oriental no longer only means Chinese chow mein or sweet and sour, either. "Seventeen per cent of consumers are actively looking to try new and inventive Asian food," says Anke von Hanstein, brand manager for Amoy at Kraft Heinz, quoting Nielsen figures. "Consumers returning from ethnic travel hotspots such as Thailand and Bali, where street food is popular and noodle-based dishes feature on most menus, are driving this trend."
Instant snacks are proving particularly innovative in this area. Premier Foods is launching Japanese bestseller Cup Noodle to capitalise on growing demand for more authentic far-flung products. Unilever has unveiled Jerk Chicken and Thai Green Curry variants for its Pot Noodle brand. It took a similarly exotic approach for the resurrection of Pot Rice, which includes "improved recipes inspired by flavours from India and Japan including Vegetable Curry, Chicken Teriyaki and Chicken Risotto variants."
Premier Foods is also spotting an opportunity in exotic rice. That inspired the launch of a range of Sharwood's Curry Rice Pots in chicken tikka, korma and jalfrezi variants. "The rice pot snack sector is now worth over £10m," says Naomi Shooman, brand director for quick meals, snacks & soups at Premier Foods. "The launch brings a well-known and loved brand to help further increase retailers' sales within the category while attracting new shoppers to pot snack products."
As shoppers get more adventurous with flavours, they are also experimenting with new formats. That means there's plenty of room for growth outside of instant snacks, too.
"While much of the category growth in recent years has been driven by pot snacks, which continue to grow, noodle blocks are now growing at a faster rate of 6% in value," says Shooman, quoting IRI numbers for the year to 13 July. "Our Nissin Soba brand is the UK's number one authentic noodle [IRI], with a range of flavours in our pot snacks portfolio, from chilli to teriyaki. Soba's repeat purchase rate is the second highest in the category [Kantar], demonstrating that when consumers taste it, they love the brand and keep coming back."
"We have seen a growing interest in handmade noodles"
And Chinese supermarket chain Wing Yip is seeing a rise in fresh noodles. "Previously, fresh noodles were seen as a weekend, restaurant or takeaway treat, but consumers are now utilising fresh noodles as an everyday healthy lunch and dinner time alternative," says director Ennevor Yap.
"More recently, especially due to increased media coverage and accessibility to cookery shows, we have seen a growing interest in handmade noodles, with budding cooks trying to recreate these for themselves. Basic ingredients such as flour, eggs, water, oil and seasoning allow scratch cooks to easily make these in their kitchens at home."
Meal kits
As Yap suggests, it seems there are consumers who are willing to put in a little more effort for a culinary reward. That is driving growth in products aimed at foodies who want the satisfaction of cooking a meal themselves, just with slightly less faff.
With that in mind, Mars has launched Uncle Ben's One Pot Rice Kits – meal kits containing rice, flavouring, herbs and spices. "It gives you a great home-cooked meal that you don't have to spend all evening in the kitchen preparing," says Mars' ready to heat marketing manager Ian Nundy.
Italian rice brand Riso Gallo is going after the same crowd with the relaunch of its Pronto brand of risotto meal kits, under the name My Risotto Perfetto. "The core consumer for Gallo is the home cook," explains UK MD Jason Morrison. "Our focus is on helping consumers feel like they are cooking, but at the same time helping them along the way with pre-flavoured risotto meals that give a guarantee of quality and allow you to add extra ingredients," he says. "The growth of meal kits has confirmed that consumers want quality products that cook relatively quickly with the least amount of stress."
That insight inspired Symington's to launch its Hungry Elephant range of two-stage meal kits, including a marinade and sauce. "The brand offers a convenient alternative to traditional cooking sauces and will appeal to consumers looking for new and different flavours in the Indian sauces aisle," says Kevin Butterworth, marketing director at Symington's. He hopes consumers will pair the kits with plain or bulk rice, both of which are seeing growth.
Or they could even go more exotic with fare such as wild rice. EHL Ingredients reports growing sales of specific varieties such as sushi rice, wild rice, Arborio for risotto and paella, and black and red varieties. "Consumers don't just want regular white rice, they want an authentic rice from the country they're eating food from, so it's important to offer rice from around the world," says joint MD Tasneem Alonzo.
This quest for something a little different has also led to a "surge in popularity" of ancient grains, Alonzo adds. Quinoa is the most mainstream example, but she also sees freekeh, teff, bulgur wheat, millet, amaranth, buckwheat, kamut and sorghum gaining ground among consumers, especially with their perceived health credentials.
Brands have responded accordingly by blending their rice products with ancient grains. Uncle Ben's has a number of products that blend wholegrain rice with quinoa; the Tilda Super Grains range uses millet, pumpkin seeds, quinoa, sorghum and wild rice; and Symington's recently launched Twistd, a 25-strong range of microwave rice and grain blends.
Butterworth says the launch was based on "in-depth consumer research" that found a growing desire for culinary experimentation. "The brand appeals to hectic young professionals, culinary explorers and health-minded shoppers and will deliver a truly authentic taste sensation," he says.
Meat reduction
These "hectic young professionals" are fuelling another trend that is benefiting the category: meat reduction. No longer simply a basis for chili con carne, rice and noodles are increasingly forming part of veggie dishes.
"The flexitarian diet really lends itself to rice and noodles because when you are eating less or no meat, flavour and protein become really important," says Forristal at Mars. "So, in a way, rice and noodles are piggybacking on the growth of flexitarian diets."
Gourmet instant noodle brand Mr Lee's also sees potential in meat reduction. The brand has two vegan flavours: Zen Garden Vegetables and Dragon Fire Vegetables. Their success has left founder and CEO Damien Lee "thinking about more product development in this area". "The rapid growth in vegan convenience food has been a contributory factor to our rise in sales," he says.
Plus, Mr Lee's noodles boast 'premium ingredients' and a low sugar content, which means they don't fall into the trap of being empty junk food. "We provide the ideal solution for vegans who don't want to have to compromise on quality, nutrition or flavour," says Lee.
That's an important point. Instant snack brands have hardly been a healthy option in the past – Pot Noodle, for one, has actively embraced its guilty pleasure status – but that is starting to change.
More wholesome products are coming onto the market and attracting new audiences as a result. Take Kabuto's new kids range, for example . B&B Studio, which helped Kabuto come up with the range, sees potential among these more premium brands.
"These brands understand that, in addition to strong flavours, today's consumers are seeking healthy, natural, authentic and sophisticated products," says B&B strategy director Lisa Desforges.
That shift in behaviour prompted Unilever to go beyond Pot Noodle with the launch of its PrepCo brand last April. "We saw a clear gap in the market for a healthier lunch option that also tastes great," says Unilever's Detsiny. "High in protein and made with natural ingredients, PrepCo is a brand that's simplifying healthier choices in the mini meals segment, and the range is helping to bring a new demographic of consumers to the category, which has resulted in incremental sales."
Premiumisation
That quality comes at a price. PrepCo retails around the £2 mark, double the price of its more budget Pot Rice brand. Similarly, Mr Lee's retails at a higher point than market leader Pot Noodle.
Lee believes that isn't a deterrent. "Consumers are more astute than ever and understand they get what they pay for," he says. "With high nutritional value, quality ingredients and authentic, gastronomic flavours that have taken time to develop and perfect, we won't compromise just to meet a lower price point. Plus, we know shoppers are willing to pay more for a premium product."
Still, not everyone is willing to pay more. That Tesco and Asda are no longer stocking PrepCo – it disappeared from their shelves in May and June respectively – suggests it may not be a universally popular proposition.
"Consumers are more astute than ever and understand they get what they pay for"
Plus, the performance of rice brands appears to be strongly linked to how much they cost. Ready-to-heat market leader Uncle Ben's sold an extra 1.2 million units last year amid a marginal decrease in prices. By contrast, second best-selling brand Tilda shed a whopping 2.3 million units as prices increased 1.2% [Nielsen]. In plain rice, Kantar points to Laila as a particularly fast-growing brand with a 32.1% value increase. That it's significantly cheaper than rival Tilda can't have hurt.
This price sensitivity is reflected in the ongoing growth of own label. Across the rice and noodle market, it grew 7.7% to be worth £258.5m. Meanwhile, branded edged up just 0.7% to £313.1m.
That trend is particularly evident in pouch rice, where own-label lines have enjoyed value growth of 14.5% while branded has fallen 6.3% . A look at the average prices tells the story. Branded pouches weigh in at £3.93 per kilogram, while own-label variants come at £2.24. That's a difference of £1.69.
For that reason, Kantar analyst Bianca Draghici can't see the rise of own label stopping anytime soon. "As the quality and variety of own-label ranges continue to improve, brands will struggle even more to justify their premium prices," she says. "Own-label pouch shopper numbers are up 8.1% and shoppers are purchasing more often, a rise of 6.6%."
Falling promotions
Given all this price-driven switching, you might expect brands to be promoting more. Not so. Across rice and noodles as a whole, sales on promotion have fallen 6.2%, driven by a sharp decline in volume deals. That's partly down to the growth of own label, which tends not to run promotions. But brands such as Tilda are also actively moving away from trading on price credentials. "The percentage of volume sold on promotion on ready-to-heat rice has declined from 57% two years ago to 45%," says Beheshti at Tilda, quoting IRI figures.
"While the growth of own label has pushed prices down and some brands have resorted to heavy price promotions to help drive volume, we have shifted our strategy to focus on building the brand and bringing new shoppers to the categories in which it operates," she explains.
Still, even in this brand-building strategy, there remains a place for promotions. At the time of writing, Tilda 250g pouches of Basmati and Basmati Pilau were on a £1 deal in Tesco, down from £1.59. Many Uncle Ben's 250g flavoured pouches were selling for two for £3, versus a standard price of £1.69 per pouch. Tesco's now expansive range of own-label ready-to-heat pouches sell for just 69p for a 250g pouch, or 99p for a blend of quinoa and wholegrain rice.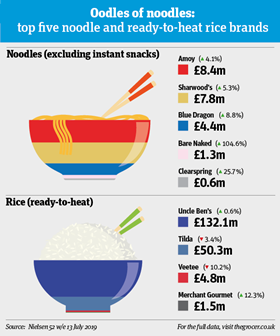 Mars says these promotions are a way of attracting new shoppers. "For some people, critical price points like £1 will be the trigger that gets them to come into the category because a lower price removes the risk for them," says Nundy. "They stay with us because they enjoy the taste and convenience of our products." Once they have secured that loyalty, full-price sales are more likely. A total of 60% of Uncle Ben's sales are at full price, Nundy adds.
Commodity costs
That may not last long, though. For the threat of own label is set to become even stronger as rice gets more expensive. Rising commodity costs are being driven by the weakness of the pound, trade tariffs and the waxing and waning of global supply and demand. Mintec notes that the price of Indian basmati rice, for example, has inflated by 42% year on year.
"Overproduction of basmati rice between 2016 and 2017 caused prices to dip and encouraged farmers to switch plantation to other non-basmati varieties," explains Mintec analyst Alana Barros. "As a result, carryover stocks have been depleted in the past year, pushing prices higher amid strong demand from Saudi Arabia and Iran."
High prices could threaten future growth, warns Yap at Wing Yip. "This sector remains challenging with ongoing price levy increases on US long grain varieties inevitably having an effect on consumer purchasing habits," he explains. "Most consumers are looking to cheaper alternatives with rice sourced from Italy and Spain. However, prices there are also beginning to rise as farmers struggle with recurrent dry crops and face the temptation to move to more profitable crops."
The heatwaves across Europe this summer suggest that temptation will only grow. They also suggest consumer concern over the environmental cost of our food is going to rise. Which means the category will no longer be able to rely solely on trendy flavours, convenient products and low prices to drive growth. It also needs to show a real move towards becoming more sustainable.
That may not wait until 2025.
Innovations in rice and noodles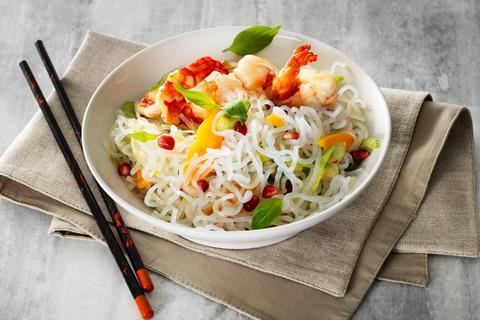 How devil's tongue is heating up noodle sales
Konjac root is low in calories and high in fibre, making it an appealing ingredient for health-conscious shoppers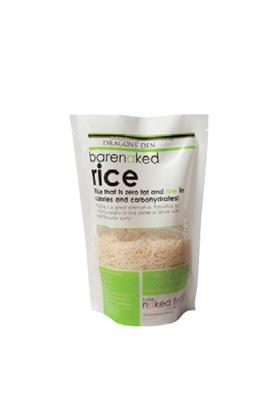 As far as tasty-sounding names go, it's fair to say that devil's tongue, voodoo lily and elephant yam miss the mark. Yet these nicknames are behind one of the hottest properties in rice and noodles today: konjac root.
Its low-calorie, low-carb and high-fibre content are making it an attractive proposition for health-conscious shoppers. Plus, it is among the few ingredients approved by the EFSA to make weight-loss claims.
"The appeal lies in its biohacking ability – after eating a konjac-based food, your body believes its natural set points have been reached and feels full, despite the calorie content being low," explains Veronica Troy, behavioural analyst at insight consultancy Canvas8. She says konjac root is becoming "more popular as Brits are increasingly eschewing carbohydrates".
That popularity has led to a bumper year for Bare Naked, which emerged as the fastest-growing player in rice and noodles this year [Nielsen 52 w/e 13 July 2019]. Its range of konjac-based rice, pasta and noodle lines, which contain less than 19 calories per 100g, landed listings in Tesco. That helped its noodles more than double in value this year to be worth £1.3m, while its rice lines grew 13.3% to £375k.
It's not the only brand reaping the benefits. Fellow player Saitaku has reported a 40% increase in sales of its konjac shirataki noodles this year. "Our typical shopper for shirataki noodles is a female between 20 and 40 years old who is interested in Asian cuisine and reducing her calorie intake without changing the meals she cooks at home," says David Binns, director of Saitaku distributor R&D Foods.
That's inspiring new players to enter the market. Aussie brand Slendier has high hopes for its konjac pasta, rice and noodles, which hit UK shelves in October last year. So long as its marketing avoids mentioning devil's tongue, it may be on to a winner.
How much harm does rice do to our environment?
Rice production is incredibly damaging to the environment, and volumes are predicted to rise
Rice gives much to the world. It is the staple food of 3.5 billion people, or more than half the world's population. Globally, one in five people rely on the cultivation of the grain for their livelihood. There are 200 million rice producers across the world.
But it also takes a heavy toll on the planet. It is responsible for between 5% and 10% of global methane emissions and up to 5% of greenhouse gas emissions. Rice cultivation uses about 40% of global irrigated water. And consumption of the grain is soaring. It is expected to grow by 44% to 650 million tonnes a year between now and 2050.
With the UK eating more and more of the stuff too, domestic producers need to do more to limit the impact the raw materials they rely on have on the world. Mars, owner of Britain's biggest rice brand Uncle Ben's, says it is taking action.
"We are committed to sourcing 100% of our rice from farmers working towards the Sustainable Rice Platform (SRP) standards by 2020 and currently we're at 97%," says head of corporate affairs Chris Dugmore.
Tilda is also supporting the SRP. Plus, the brand makes much of the Farmer's Advisory Cell, a project completely funded by Tilda that provides advice to farmers of basmati rice in India and Pakistan to help reduce the environmental impact of their crop.
And that's not all. "Tilda has managed to create a 17.5% energy and CO2 saving versus 2014 thanks to a programme of investment in new, more efficient technology in its rice mill on the river Thames," says brand lead Anna Beheshti. "By-products of the milling process are used either for animal feed or energy."
But amid all these initiatives, what constitutes best practice is open for debate. Last September, a report by US advocacy group the Environmental Defense Fund (EDF) suggested techniques intended to reduce emissions and water use may actually be increasing production of certain greenhouse gases.
Several organisations have advocated the intermittent flooding of rice fields to cut methane emissions. But the EDF says this results in 45 times more nitrous oxide, commonly known as laughing gas, being released. The body says the additional gases could be equivalent to 1,200 coal power plants.
Not a laughing matter.