Ethical chocolate is suddenly all the rage. But can virtuous brands convince consumers their wares are worth a premium?
The first time Dutch journalist Teun van de Keuken told police to arrest him for gorging on chocolate bars they smiled and wished him a pleasant day. Then he asked again. And again. In fact for two years van de Keuken attempted to persuade authorities that by buying and consuming chocolate bars he was complicit in an illegal slave trade deeply intertwined in the global supply chain. His claims followed an investigation into cocoa production in West Africa, with van de Keuken travelling to Burkina Faso to track down former child slaves sold to work on farms, and bringing one back to testify against him in court.
Download the PDF version of this report
---
"If I am found guilty of this crime, any chocolate consumer can be prosecuted," he claimed. "I hope that people will stop buying chocolate and thus hurt the sales of big corporations and make them do something about the problem."

The Dutch courts were having none of it, and chucked out the case in 2007. But not before van de Keuken had generated global publicity for the cause and cooked up his first batch of 5,000 Tony's Chocolonely Fairtrade bars, each brightly wrapped bar unevenly divided to reflect the widespread inequity of the supply chain.

Perfectly planned PR stunt? Perhaps. Some certainly think so. Either way it worked, with worldwide sales of the ethical chocolate brand totalling €44.9m (£39.4m) last year - up 53% on the previous 12 months - amid rollouts across Belgium, the US and, most recently, Sweden. Now the brand is set to launch into the UK in 2019 to fight for a segment of our £2.9bn and growing chocolate confectionery market [Kantar Worldpanel 52 w/e 17 June 2018].
"Ethical should be the norm. Making profit should be a means and not an end goal"
In many ways the launch couldn't have come at a better time. Consumers are increasingly buying into premium brands, which helped drive the 4.6% increase in the value of chocolate confectionery seen by Kantar Worldpanel (volumes were only up 0.8%). That's undeniably good news for Tony's, which retails at a premium €3 (£2.68) for a 180g bar in its Holland homeland.

Even more encouragingly, ethics is one thing consumers seem to be willing to pay a premium for. According to a survey by Harris Interactive for The Grocer, the next generation of consumers are particularly keen to know the ethics behind their cocoa fix, with one fifth of 18 to 24-year-olds citing it as the most important element when buying a chocolate bar. The same number across all age groups said they would definitely stop buying their favourite bar if they discovered it wasn't ethically produced, while 49% said they'd consider it.

For head of marketing at Tony's, Pascal van Ham, it's about time that ethics took centre stage in the chocolate world. "Just like in any category, ethical should be the norm. Making profit should be a means and not an end goal. We believe in direct equal business relations in the total chain and also at the very start of the chain, where people have less power and live in extreme poverty. That's why Tony's Chocolonely wants to change the cocoa industry."

Ethical is a seriously broad adjective, though. So what does it mean to be an ethical chocolate brand in 2018? Is it purely an avenue for smaller, premium brands? And what other trends are driving growth across the chocolate confectionery category?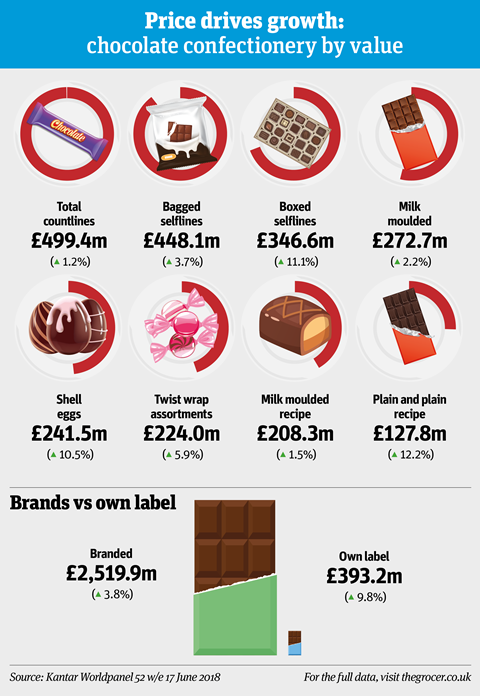 Find the full data at the bottom of this report
The ethical challenge
Even for a brand such as Tony's, ethics aren't straightforward. Though widely lauded for being 'slave-free' that isn't quite the case yet, says the brand. Instead, it says, it is "our mission to make 100% slave-free the norm in chocolate. Although we haven't found recent cases of modern slavery at our partner co-ops as we make economic and social contract agreements with our partners, we operate in an area where there is always a risk it occurs, especially at new partners."

Tony's believes ethical chocolate is essentially a brand working directly with farmers to ensure conditions and pay are fair. But there are other approaches. At Irish brand Lir Chocolates, certified by the Bord Bia Origin Green scheme, ethics include limiting food waste and investing in sustainable packaging sources. Montezuma's says "transparency is key" while at Gnaw it's a holistic approach to the supply and sale of chocolate. "We're very big on local now, all the energy in our factories is renewable and we recycle 95% of all our waste," says Matt Legon, founder of Gnaw Chocolate. "It's not just about sticking Fairtrade on the packaging but running a business in the right way." All of which is laudable but logistically challenging. Particularly for a business operating at the kind of volumes generated by the three branded market leaders Cadbury Dairy Milk (worth £505.5m), Galaxy (£211.4m) and Maltesers (£180.5m) [Nielsen 4 August 2018]. And particularly when you're looking at the cocoa supply chain.
"It's not just having Fairtrade on pack, it's about running a business the right way"
"In the mass market cocoa sector there are still a lot of challenges," admits Katie Burgess, head of commercial partnerships at Fairtrade. "Our primary reason for being is to increase the sustainability and economic viability of cocoa farmers, some of which aren't able to achieve a living income due to the low price paid, alongside a lack of enabling factors that industry needs to provide support for."
Even at Divine Chocolate, one of the early pioneers of ethical cocoa, "one big challenge is securing traceability in the supply chain," says marketing director Sophie Loveday-Davies. "You're looking at having relationships with farmers and farmer organisations", she says, sometimes in countries "where English isn't a spoken language and where it's a conflict zone, which adds to the difficulties".


Only last month Aero owner Nestlé warned that proposed legislation in Australia requiring large businesses to report on their efforts to combat modern slavery could add significant costs to production, despite the company reiterating a 'zero tolerance' for slavery in its cocoa supply chain.

Such challenges have meant that until now the shift toward ethical chocolate has largely been driven by small premium brands, the likes of raw chocolate brand Ombar and 125-year-old Whitakers - both of which have recently announced ethical certification from leading NGOs.
There are signs that could be changing though. In 2017 Mondelez scaled up efforts on its Cocoa Life initiative, which reached 120,500 farmers in 2017 (a 31% increase) across 1,085 communities. Thirty-five per cent of its cocoa is now sustainably sourced, with the brand owner moving away from Fairtrade accreditation to focus on its own scheme.

Ferrero too says "ethical isn't a category, it's our whole business". For customer development director Levi Boorer "today, like never before, it is essential to confirm our ethical vision and to state clearly our principles, values and responsibilities". Its plan to source 100% sustainably certified cocoa by 2020 is "on track" it claims. "More than ever, the ethics of a business can have a direct impact on reputation and consumers' willingness to purchase."

And the arrival of medium-sized Tony's Chocolonely into the UK market could act as a "bridging brand" to further catalyse these efforts, suggests Fairtrade's Burgess. "It will push the boundaries of what is possible in terms of physical traceability. I'm not sure yet that we'll see the likes of Nestlé or Mars being able to implement full physical traceability, but they might well start doing it on individual lines."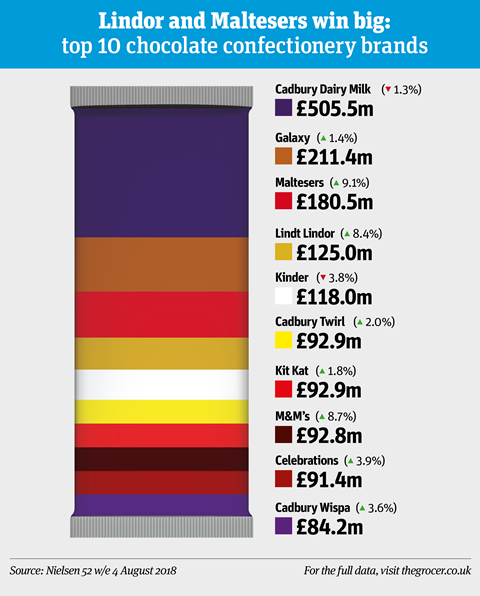 Find the full data at the bottom of this report
This is something that could tie in with the parallel trend of premiumisation in the category, she suggests. Only last month the unveiling of Mondelez's Cadbury Darkmilk bar, its new premium chocolate, arrived with the green Cocoa Life logo on pack. "Key to the added value in the segment is the ongoing trend for premiumisation," says Susan Nash, the brand owner's trade communications manager. "Consumers are really looking to enjoy their treats, and are willing to trade up to do so."

That is echoed elsewhere in its portfolio. The premium Green & Black's brand is up 11.1% in value, it says, with "this fast-growing premium chocolate segment bringing in new, higher value shoppers". That extends to countlines too. The brand launched two new singles bars in August, which may just prove canny considering the premium singles market is up 46.7% year on year, according to Nielsen.

Green & Black's isn't the only premium brand venturing into countlines. High-end entrants into this format include the likes of Buttermilk, Mighty Fine and Godiva. Buttermilk marketing manager Olivia Keen says "there was never really a premium section within countlines before". That's all changing. "Consumers are looking for clean products with heritage and these new entrants answer this." All this has driven a (modest) comeback by countlines, which were down 2.2% last year, and are now up 1.2% in value sales [Kantar Worldpanel].

Jonathan Chapman, director at Raw Halo, says his brand is seeing "rapid growth" as a result of this mindset. "The trend for premiumisation is meeting consumers' appetite for more authentic, better-tasting and higher-quality chocolate."
Worth the money
It extends to the gifting market too, says Ferrero. Sales of its Grand Rocher (a 125g hollow version of the chocolate containing two additional chocolates) grew 20% over the Christmas period, adding £540k to the novelty category alone, according to Nielsen data. "We are seeing a continued trend towards premium confectionery products, as this is one of the few categories where customers are willing to pay more for a brand they have an emotional connection to," says Ferrero's Boorer.
The message is clear: if today's consumers are going to splash out on chocolate, it has to be worth the money (and the calories). Health is one driver behind this quality over quantity mindset. "People are choosing better treats, but consuming less. As the war on sugar has taken hold, consumers are just opting to eat less, but when they have a treat it must be good."
In keeping with this healthy mindset, high cocoa contents are proving increasingly popular. Sales of plain chocolate shot up 12.2% in the past year [Kantar Worldpanel]. Montezuma's, which offers everything up to a 100% Absolute Black cocoa bar, has noticed this trend first-hand. "Our dark ranges have always been popular but we have seen real growth with very dark chocolate, particularly in the last few years," says co-founder Helen Pattinson. "Our dark chocolate ranges now account for more than half of the sales of our popular Giant Chocolate Buttons bags and nine out of our top 10 bestselling bars are now dark chocolate."
Dark and plain chocolate often ticks the plant-based box too, a cross-category trend driven by growing focus around health, sustainability and ethics.

Chapman of Raw Halo says the brand has seen a "rapid increase" in demand for free-from and plant-based chocolate. "Once considered specialist and only found in health food stores, free-from chocolate can now be found in mainstream confectionery aisles in supermarkets. Not only that, but there's now a large demand for better quality free-from chocolate - something that has been hard for consumers to find in the past."

It's not just about dark chocolate, says Mary O'Rourke, head of product development at Lir Chocolates. "Consumers are increasingly informed and determined to reduce the amount of sugar in their diets and the high-cacao label is a trend characterising even other types of chocolate, not just dark," she says. "Demand for high-quality fine flavour cocoa is an increasingly important factor with consumers."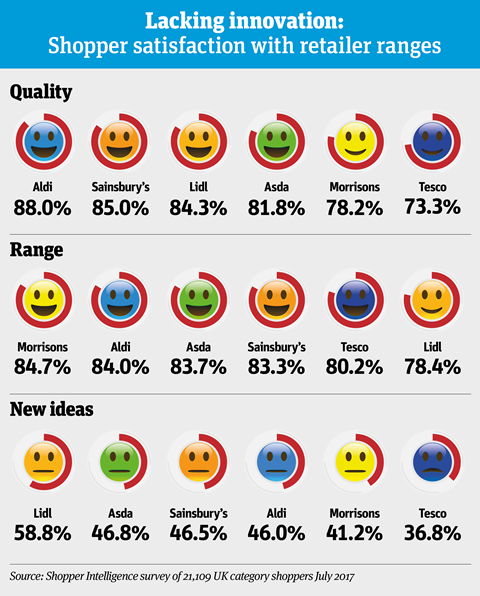 Find the full data at the bottom of this report

High cocoa content isn't always easy for the lower-price brands to achieve, though, on account of it costing roughly 10 times more than sugar. So many have looked for an alternative means of making their treats healthier. Ferrero balanced out its sugar-rich Nutella spread with wafer and puffed wheat crispies to create its Nutella B-Ready bar, which weighs in at less than 120 calories. Launched in 2017 as a permissible mid-morning break, the bar is now worth a cool £15m.

Others, such as Mondelez, have looked to portion size. "Mondelez has maintained its efforts to promote mindful snacking, and single portions such as countlines are a key consideration," adds Nash. "Most of us know that chocolate should be enjoyed occasionally, as part of a balanced and active lifestyle, and all Mondelez singles are now under 250 calories. We know that consumers appreciate clarity when it comes to portion sizes and calorie intake."

It goes without saying that they also appreciate clarity on price. Yet the perceived absence of clarity in this area has plagued the confectionery industry over the past two years, with stories of shrinkflation becoming frequent fodder for the mainstream media. The insinuation is that money, rather than health, is behind smaller pack sizes.

Mondelez is keen to point out that it is not simply charging more for less. It is facing rising costs on its end. "Rising costs can be driven by factors outside of our control, such as changing commodity costs and foreign exchange, which are making food products more expensive to make," says Nash. "We carry these costs within our business for as long as possible. However, we sometimes have to make changes to ensure that people's favourite chocolate brands remain on shelf, at affordable prices, whilst also making sure we look after our manufacturing footprint in the UK and continue to support the 4,500 people we employ."
"The younger generation will move away from brands if they feel ethics are being compromised"
Montezuma's Pattinson has "some sympathy" with that argument, but stresses "customers aren't stupid and they do notice so there has to be good reason" for any price increases. Equally, shoppers need to realise that premium chocolate brands can't be "pushing out 100g bars at around the £2 mark or even less. This is not a sustainable retail price for a real quality bar made with premium cocoa and inevitably leads to huge pressure on the cocoa growers to reduce quality and cut costs, leading to a vicious downward spiral in ethical standards."

Considering this is something consumers say they want to avoid, they may have to accept that they will have to dig a bit deeper for their favourite brand in the long term. Luckily, the next wave of chocolate eaters is increasingly on board with this idea. "The younger generation will move away from brands if they feel like they're being compromised on ethics," says Burgess. "They're seeking this out as a choice."

"It doesn't matter if you're premium or a mainstream producer - I really do think people are becoming wiser and have an expectation of where their products come from, not just in chocolate but food in general," says Gnaw's Legon. "There's no place in this industry for a brand that doesn't do the right thing." Tony's is likely to agree.
Innovations in chocolate 2018
Click on an image to expand