Schools are increasingly policing kids' lunchboxes. With jam sandwiches and biscuit bars out, what can brands do to adapt?
If Paddington Bear were around today he might have more to worry about than being stranded at a busy London station. For jam (or marmalade) sandwiches are among the growing list of kids' favourites banned from school lunchboxes, along with sausage rolls, biscuit bars and - in some cases - crisps.

The so-called lunchbox police are forcing brands to think outside the (lunch) box with lower-calorie, healthier options. Classics such as the jam sandwich and sausage rolls have needed reinventing for the new generation. Take Wall's, with its launch of sausage thins, containing just 70 calories and 40% less saturated fat than standard Wall's sausage rolls. Then there's Mission Deli, which has responded to the jam sandwich ban with strawberry-flavoured wraps instead.

You could wonder whether it's worth the effort. After all, this policing of food choices is only occurring among children in reception, year one and year two across England and Wales.
"Choosing the perfect at-school lunch for children can be a tough decision for parents"
But it could prove a canny strategy. These healthy habits are likely to stick as children get older, especially as the population gets increasingly health-conscious. And children are a sizeable market: kids up to the age of 15 had 378.4 million lunchbox servings last year [Kantar 52 w/e 24 February 2019].

That sizeable market is growing, too. Having suffered a dent after the introduction of free school lunches - children's lunchbox occasions fell from 440 million in 2014/15 to 367 million in 2017/18 - there are now shoots of recovery. Over the past year, the number of occasions has increased 3% to 378.4 million [Kantar]. That comes in the wake of the government changing the criteria for the free school meals initiative and revising who can receive the benefit.

So how can brands get in on the healthy lunchbox action? Who stands to benefit most? And how can less healthy items adapt to become a friend, rather than a foe, of the lunchbox police?
"Choosing the perfect at-school lunch for children can be a tough decision for parents," admits Rosanne McDonnell, brand manager at Yoplait Kids. "Parents are looking for high-quality, nutritious snacks that are also tasty and fun to ensure that all of the lunchbox contents have been eaten by the end of the school day."
Easier said than done if you've got a fussy eater on your hands. The task is only made tougher by the lack of official rules around what food is deemed appropriately healthy for schoolchildren.

The Department for Education leaves it to individual schools to decide their own policies - and those policies vary wildly. Where crisps and biscuit bars get the green light in one establishment, they'll be confiscated in another. And unfortunately for time-pressed parents, you can't hide an emergency sandwich under your hat like Paddington.
Adapting to guidance
One beacon of clear guidance comes in the form of Public Health England's Change4Life campaign, which recommends two 100-calorie snacks a day maximum. It's a welcome bit of lucidity for parents and schools.

"In what was once an ocean of confusing mixed messages for parents, public information campaigns offer clarity when it comes to purchase choices for healthy lunchbox items," says Bel UK group brand manager Gaëlle Vernet.

Of course, Bel UK is naturally well positioned to benefit from the guidelines. Mini Babybel is 62 calories per cheese, while The Laughing Cow is 42 calories per Original triangle. Last June, it went one further in tempting health-conscious parents with the launch of Mini Babybel Organic to "tap the £2bn organic food and drink segment".
"Public information campaigns offer clarity when it comes to purchase choices"
Now other brands are adapting to get a slice of the 100-calorie action. Burton's Biscuits, for example, has added a permissible 97-calorie 'jam and yogurt sandwich' to its Jammie Dodgers lineup.

"Biscuit portion packs are outperforming the total market, with the number of children consuming biscuits as part of a carried-out lunch increasing by 32% year on year," says Burton's category & insights controller Isabel Lydall.

It's a move that could pay off. Because those who do conform to the Change4Life recommendations appear to be reaping financial benefits. Lunchbox loaf brand Soreen is a case in point. After badging packs with Change 4 Life's 'good choice' sticker in January, Soreen says 50% more households are buying into the brand than the previous year. "We are seeing penetration growth at twice the rate of the cake category for our lunchbox loaves - up 13% year on year," says Soreen's marketing director Beth Brown.

Yoghurt brand The Collective reports similar success after earning Change4Life accreditation for its Suckies range of children's pouched yoghurts in 2018. Co-founder Amelia Harvey says sales are up £1.3m - or 26.5% - despite an overall decline in children's yoghurts.
"Involvement with the Change4Life scheme has been a great way to fuel growth"
"Involvement with the Change4Life scheme has been a great way to fuel the growth of Suckies alone," she says. "Featuring the Change4Life icon across the Suckies range has had a positive effect on sales as it signposts the unique selling point of the products in an easy-to-recognise way, which is so important for a time-strapped parent."
Getting the message right
Signposting is, indeed, vital to succeed in such a crowded and confusing market. The Change4Life badging is one easy way to flag up your health credentials. But it's not the only way of getting noticed. Others are embracing the Department of Health's voluntary front-of-pack nutrition labelling system, combining colour coding with percentage reference intakes.

Adelie Foods is one of these. It is relaunching its core sandwich range including its Urban Eat Roots brand with a traffic light system in August. "In the past the industry hasn't been as transparent as it might have been, and transparency is key," according to Wayne Greensmith, head of category marketing.

"Consumers aren't stupid and there's no point hiding nutritional information. It's about being honest with consumers and it's got to really stand out on the front of pack - consumers don't have time to look at every different angle to see what the nutritional content is."

Fox's Biscuits, which has just put its Rocky chocolate bar into 61-calorie 'fun' packs, has also taken the plunge with traffic light labelling.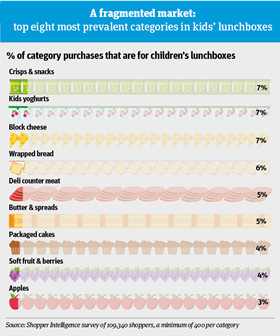 "With brands under constant scrutiny in the media to create products to fit within the government's under-100-calorie initiative, parents are becoming more aware of providing kids with nutritious snacks," says interim marketing manager at Fox's Matthew Wilson.

"To meet consumers' demands and ensure this new behavioural shift is being maximised, messaging on pack needs to be simple and easy to read in a busy fixture with time-pressured parents," he says.

If manufacturers don't help parents with their choices, the consequence is simple: they'll vote with their feet and switch to products they do perceive as healthy, he adds.

However, not everyone can so easily adopt traffic light labels and accreditations. After all, a host of red traffic lights is hardly a tempting prospect. So for less healthy options, a more radical rethink is needed. Wall's did just that after a Bradford school hit the headlines in April 2018 for banning sausage rolls from lunchboxes. That month, Wall's unveiled its sausage thins, boasting just 70 calories per serving. Parent company Addo Food Group describes the NPD as a 'win-win'.

"Kids get to enjoy a 'thinner' alternative to the classic sausage roll, and parents have peace of mind," says Addo's brand marketing manager Michael Holton. "Aside from health, convenience is key for parents. Everyone is struggling to handle increasingly busy lifestyles, and parents most of all as they try to juggle work with their home life - it's tough. They want quick and easy solutions, while also being safe in the knowledge that they are providing a nutritiously balanced lunch."
"Trusted brands and products are particularly important in this segment"
This reinvention of a classic seems to be a recurring theme. Take sandwiches, which were in 14% more children's lunchbox occasions last year [Kantar]. These sandwiches aren't always the traditional white bread variety (and especially not with jam).
Kingsmill owner Allied Bakeries says the appetite for something more wholesome is reflected in sales of its 'healthier bakery' offerings. It cites Kingsmill 50/50 Vitamin Boost - two slices of which provide at least 30% of the recommended daily intake of vitamin D, iron and niacin, as well as 38% of calcium - as the best performing innovation in plant bread last year.
This summer, the vitamin-enriched loaves will be the subject of marketing investment. The print and digital campaign will feature bread superheroes in capes, highlighting Vitamin Boost as the 'bread with super baked in'.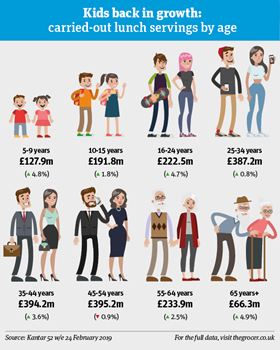 "Trusted brands and products are particularly important in the segment, providing reassurance to parents of the benefits of hidden whole grain but in a product that kids will eat without fuss," says Allied Bakeries' director of marketing Matthew Cullum.

Another brand putting a healthy twist on a popular format is Mission Deli with its range of mini wraps, including flavours such as tomato ketchup and strawberry. As an alternative to the jam sandwich, Mission Deli suggests serving the strawberry-flavoured wrap with whisked cream cheese, fruit juice and a drizzle of honey.

Made under its Disney Kitchen brand, the packs feature Disney characters from films such as The Incredibles and Toy Story.

Strawberry wraps may sound a little wacky. But experimental, healthy NPD has a part to play in tempting new shoppers, says Adelie Foods' Greensmith. "Some of these flavours are never going to feature in the top 10 from a sales perspective, but they do re-engage consumers with a brand," he says.
Retailer role
Still, it's not all about what the brands are doing. Retailers also have their part to play in pushing healthy lunchbox options.

"Savvy retailers are aware of the need to offer more choice to discerning parents and they have been quick to update their shelves to make healthier options more visible and available," says Britvic's marketing director Bruce Dallas. "Many have opted to separate healthier products into their own distinct category or to utilise additional point of sale to point customers in the right direction."

Among those is Sainsbury's, which is rolling out dedicated 'health aisles' to create better visibility and increased space in store for healthy brands. It's created a platform for brands such as Boka, which has gained a nationwide listing with Sainsbury's thanks to its healthy credentials, including all-green traffic lights.
"Savvy retailers are aware of the need to offer more choice to discerning parents"
Those credentials have also helped it become one of only a handful of snack brands allowed to advertise on kids' TV. Boka won a two-year deal with Nickelodeon this year until June 2021. "The TV campaign uses the four green traffic lights messaging at its centre, reinforcing to consumers what to look for when they choose an everyday snack product that still tastes delicious," says Boka's founder Franco Beer.

It's not just Sainsbury's championing newcomers such as Boka. Dan Kaminski, head of food tech at healthy treat brand Wheyhey, says these healthy brands are gradually gaining ground over unhealthier options in terms of retailer space.

"There has been a progression within retailers to offer these healthy alternatives and we've seen healthy brands become present at front of store in areas notorious for housing chocolate bars and packets of sweets. This in itself is a big step to make healthier products more available," he says.

So it seems the lunchbox police have had the intended effect. Brands that can make themselves obviously healthy, while still appealing to kids, are the new rising stars of the children's lunchbox arena. Those that don't fit the bill need to adapt. In the meantime, the search is on for a marmalade sandwich with fewer than 100 calories.