Fats have put on the pounds. And not the type that creep on after a bout of overindulgence. Block butter prices have soared a huge 33% over the past year - pegging the average price per kilo at £5.58 - as the delayed impact of milk shortages hit the market. Forget Marmite, butter has become the new, reluctant poster boy for price rises.
True, there haven't been any actual shortages (predictions that Christmas would be a miserable affair devoid of buttery mince pies never came to pass) but shoppers were forced to pay a premium for their festive dose of fat. Some turned entrepreneur, taking to social media with promises to buy the stuff on promotion and sell it on for a profit. Others simply felt butter wasn't worth the extra pounds and looked elsewhere for their spread needs. So what has been the long-term impact of rocketing prices on butter sales? Will other spreads benefit? And will prices continue to be the main influence on buying habits?


Given the eye-watering price hikes, it's hardly surprising that block butter value sales have increased over 28% in the past year to over £398m [Kantar Worldpanel]. Spreadable butters, which experienced a lesser price hike of nearly 15%, were up 12.9% to just shy of £500m. These apparently positive figures are disguising a far less palatable picture for butter: consumers may be paying more per pack, but they're buying less. Volumes of block and spreadable butters fell by 3.8% and 1.9% respectively, meaning shoppers took home 4.5 million kg less butter than they did last year. Price was a likely factor behind this downward shift. Nearly three in 10 shoppers believe the price has gone up too much, according to a poll of more than 2,000 consumers conducted on behalf of The Grocer by Harris Interactive.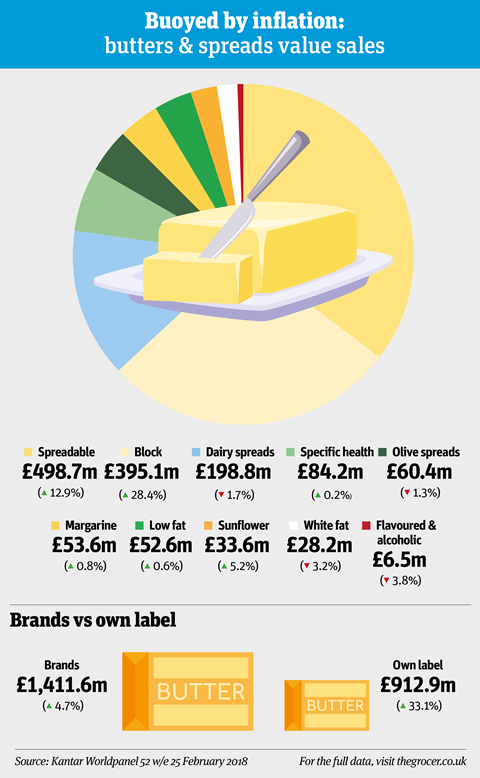 Pop up: Butter category snapshot 2018
All this was largely out of the control of brands. In fact, prices on the traded market near quadrupled over the course of the year to jump from circa 85p/kg to a high of £3.20/kg, says David Wells, marketing director of Joseph Heler, which is behind the Cheshire Butter brand. Since the height of the butter shortage last autumn, commodity prices have eased off, but retail prices are yet to reflect the happy news. Dairy Crest believes this pressure has been the defining characteristic of the year. "2017 will be remembered as the year butter turned into a super commodity, with squeeze on supply driving promotional de-escalation and dramatic inflation of retail price points," says butters & spreads marketing controller Neil Stewart.

As he points out, own label has been a key beneficiary of this dramatic change. Volumes of own label spreadable butter have rocketed by 44% over the past year (though it is still less than a fifth the size of the branded market) as consumers looked for a cheaper deal. This bargain-hunting culture meant butter, spread and margarine sales soared particularly at Aldi and Lidl, up 47.2% and 42.7% respectively. At the beginning of 2017, the discounters sold some of the cheapest on the market, with a 250g block of unsalted butter retailing at 95p. That didn't last. By the end of November, both had been forced to up prices by more than half to £1.45 and haven't budged since [Brand View w/e 2 June 2018].
Rationalisation bites
So if even the discounters can't stave off price hikes, there seems little hope for brands to go on the price offensive. As a result, the majority of big name brands, including Lurpak, Flora and Country Life, have seen volumes dwindle. Some have fallen victim to rationalisation. Just last month, Tesco dispensed with Kerrygold Spreadable as part of Project Reset.

Owner Ornua admits the move by Tesco is disappointing, but "in our experience, the category is very inelastic," says Mike Harper, marketing director for Kerrygold. "Though we haven't been able to promote as much as we had planned, we've found penetration has only fallen 1.7% despite the high prices.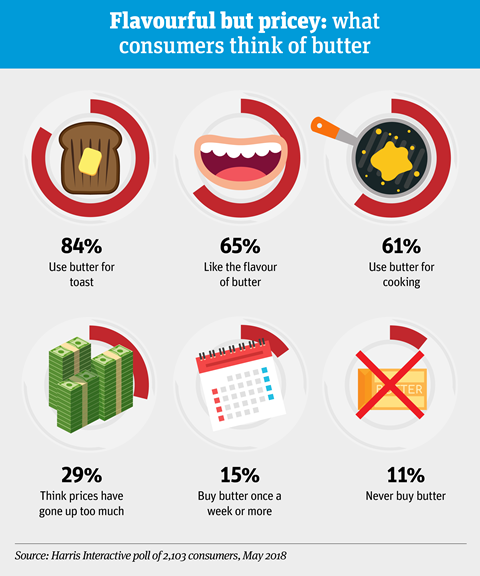 Pop up: What do consumers think of butter?
There are some exceptions. Christian Kragholm Borregaard, senior brand manager for BSM at Arla, is quick to point out volume declines in butter are slowing. Its market-leading brand Lurpak may have followed the general trend with a 9.6% increase in value and 3.6% fall in volumes, but sister brand Anchor is a different story. By raising prices at a lower rate than rivals, increasing advertising and investing in a rebrand, Anchor managed to rack up 9.2% volume growth and 21% value growth. Not bad considering consumers bought 6.9 million kg less of branded butter last year.

Other brands are going down the well-worn route of smaller pack sizes. "We're seeing a gradual shift away from larger formats with consumers increasingly turning to smaller block and spreadable butter," says Lactalis McLelland sales director Mike Chatters. Cheshire Butter has been quick to jump aboard, introducing a 125g block format commonly seen in premium European imports just before the more traditional 250g. Smaller blocks mean smaller prices and less waste, says Wells at Joseph Heler.
Disruption by innovation
Innovation is another way of fighting back, as demonstrated by Müller. May marked the launch of its first branded spreadable butter into Tesco with the aim of disrupting the category. That the two-strong range is being backed by a multimillion-pound marketing campaign starring Nicole Scherzinger, set to air this month, demonstrates clear confidence in its potential. Müller is adamant the market is rife with opportunity, especially given under half of British homes currently buy spreadable butter [Kantar]. "We have identified a £201m opportunity that centres around driving value back into the category by trading people up by reconnecting with taste," says Rebecca Oliver-Mooney, head of customer value at Müller Milk & Ingredients.

The mix of 73% butter with rapeseed oil & buttermilk promises to deliver a distinctive taste, but also versatility. Oliver-Mooney stresses how vital this is in the current climate. "There are an increasing number of alternatives for occasions historically taken by butter and margarine - oils and other sweet & savoury spreads in particular," she says. "Butter is reliant on other categories such as bakery and bread, which are seeing a decline, and hasn't innovated or evolved to be suitable for evolving habits like the rise of wraps."

Müller's seismic launch won't be without competition. Launched on the same day as Müller's Spreadable was Lurpak's latest innovation, which claims to be its softest spreadable yet (aside from those in its Lighter range). The NPD is a response to Mintel research that suggests softness trumps taste when purchasing a spreadable.

It's not just about what's in the pack, though: it's what's on the pack too. In this case, home-grown credentials are bang on trend. Anchor rebranded to put the Union Flag boldly on the front of pack in summer 2017. Country Life underwent a similar transformation, going from quietly English to flag-bearing British. "British provenance is increasingly seen as a signifier of quality, a key driver of choice," explains Country Life senior brand manager Emilie Grundy. Results were mixed. While Anchor was this year's success story, Country Life saw volumes nosedive by 25.4% and not even soaring inflation could totally take the sting out of its value performance, which fell 9.6%. It suggests Anchor's performance was more to do with its competitive prices than burgeoning patriotism. That said, there has been an undeniable resurgence in local butters. Cheesemakers Joseph Heler and the Wensleydale Creamery have brought back regional butter in recent years, and Cheshire Wensleydale is eyeing further production of its Yorkshire Butter, with plans to expand its creamery later in the year. Customers of all ages are enticed by the provenance and traceability offered by smaller brands, says Wensleydale MD David Hartley.

Again, this isn't necessarily down to patriotism or even regional pride. These products tap consumer demand for natural and less processed produce, an area which has been in consistent growth for the past three years, says Kantar analyst Annabelle Gough.

This is likely to explain why Dairy Crest has revamped Clover (up 4.8% and 3.8% in value and volume respectively) to do away with any artificial ingredients. As Clover Lighter prepares to relaunch with no artificial ingredients later in the year, Dairy Crest anticipates adding further value to the brand in 2018.

This focus on minimal ingredients spells bad news for a host of new spreads that have aimed to get as many flavours as possible into chillers. Lurpak saw its Infusions range of flavoured spreadables - including sea salt & pink peppercorn, chilli & lime and smoked chipotle - delisted within a year of launch.
Free-from potential
Another powerful on-pack claim is free-from. The boom in plant-based has created a fresh feeding ground for health spreads, the only subcategory in volume growth bar sunflower spreads, sneaking in an extra £200k at the tills and selling 100,000 additional units. This has seen brands jostling for a slice of the action. Dairy Crest was in already in pole position with Vitalite, in circulation since 1983. This was followed by Vitalite Coconut in early 2017, providing another alternative to soya spreads. Not to be outdone, Unilever launched Flora Freedom, now known as Flora Dairy Free, in 2016, followed by three walnut, avocado & lime and coconut & almond variants in May 2017. It was bold considering the number of delistings even in this booming part of the market.
Flora's three extensions were quietly removed between December 2017 and April of this year. Vitalite Coconut lasted until May, when it lost its final three listings in Ocado, Morrisons and Sainsbury's until Dairy Crest decided to withdraw the SKU as it was "too large" and had "niche appeal". Dairy Crest admits it was a tough sell. "While consumers are using Vitalite for baking and cooking, the majority of usage is still in spreading and a sweet flavoured coconut spread in sandwiches and on toast can be polarising," it says.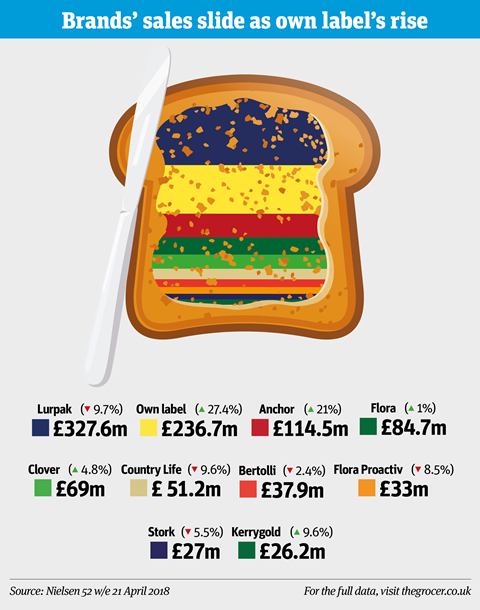 Pop up: Top 10 butter and spread brands
The issue potentially goes even deeper than that. Despite the health credentials of free-from spreads, they risk alienating the clean-eating brigade they are targeting. Retailers have launched a host of similar flavoured SKUs under own labels, but the cacophony of listed ingredients, often including palm oil and emulsifiers, struggled to resonate with health-conscious consumers.
Flexitarian trend
Saying that, Dairy Crest is sure dairy-free brands such as Vitalite are vital to recruiting younger shoppers. Given that 15% of 25 to 34-year-olds said they would prefer a dairy-free option in Harris Interactive research, compared with 10% of over-55s, it seems a fair statement. Unilever agrees. "We are seeing a large increase in consumer demand driven by the growing trend for flexitarian diets," says Steven Hermiston, general manager BCS at Unilever UK & Ireland.

So confident is Unilever it is launching a new vegan-friendly 100% coconut oil Stork block, hoping to draw in a new demographic of veggie bakers. It has also unveiled a new range, Meadow, which aims to be a gateway product between premium butters and lower-priced spreads.

All this innovation is certainly encouraging. There could be more to come. Despite the overriding health agenda, CEO and founder of Moose Maple Farrah Charania-Boutia says she regularly hears requests for the kind of whipped butter commonly available in the US - almost a butter mousse - as well as sweet butters flavoured with cinnamon.

As some experts predict yet another rise in butter prices, it will certainly take a compelling offer to make consumers part with their cash. Whether through a distinctive taste, standout packaging, 'clean' ingredients or dairy-free formulas, brands will need to make their mark or miss the mark.
---
Innovations in butters and spreads 2018