Stuck-at-home consumers are tiring of scratch cooking and looking to treat themselves. So which categories are benefiting?
No, Brits aren't regularly sitting down in front of the telly with silver platters of sushi. But the picture above does illustrate how the big night in occasion has evolved during lockdown. People are no longer happy with just 'Netflix and whatever'. They want to recreate the special evenings out they sorely miss.
The closure of pubs and restaurants has led to concerted efforts to alleviate dinnertime FOMO, suggests Aldi buying MD Julie Ashfield. "Since lockdown, we have all been looking for different ways to recreate the things we've missed," she says. "Whether that's the favourite takeaway we've not had for months or the feeling of a big night out at home, our customers are clearly prepared to make a little effort to recapture what they've not been able to enjoy for real."
Kantar figures back up her point. "During the eight weeks to 17 May, there was a 42.1% increase in the number of special evening meals eaten at home, with shoppers spending £147.5m to treat themselves – £50.7m more than in 2019," says analyst Richard Allen. Saturday nights drove the most growth, he reveals, up 65.4% on last year.
The Saturday night takeaway is the most obvious winner from this phenomenon. According to Kantar figures, takeaways are up 250% year on year since lockdown began [4 w/e 19 April]. That sharp rise in sales is to be expected, insists Just Eat MD Andrew Kenny. "It's no surprise that during this unnerving time, people are looking to retain a sense of normality by getting delivery from their favourite local restaurants and takeaways," he says.
"It's no surprise people are looking to retain a sense of normality by getting deliveries"
A growing number of Brits are making a real meal of it by adding extras and afters, too. "There's been a 36% rise in dessert orders," Kenny says. "We have also seen a rise in sides and drinks."
But takeaways are only one way to get that dining out feeling. "Shoppers are now increasingly looking to supermarkets to plug this gap and help replicate these dining out experiences," says Natalie Sugarman, marketing director for grocery at Itsu.
And that is influencing what they buy. It is pertinent that Itsu is both an out-of-home brand – offering a taste of what consumers are missing – and one that specialises in Asian flavours. Because as consumers look to recreate dishes from their favourite eateries, world cuisines "are more popular than ever" claims Maeve Judge, marketing manager for meals & baking at General Mills. "Mexican meal kits, like our range from Old El Paso, are ideal for creating the 'big night in' feeling with minimum effort but maximum flavour and fun."
She makes a significant point. Overall, Brits are scratch cooking more often during lockdown. But in the case of the big night in, they still value convenience over slaving away in the kitchen. That explains why frozen pizzas are still seeing significant gains, up 17% in the past month [Kantar 4 w/e 17 May 2020].
Even with more opportunity to cook, the "amount of time it takes to prep a main meal has remained the same at 23 minutes" notes Paula Wyatt, head of marketing for pizza at Dr Oetker UK. This suggests "consumers still value convenience and products that help save time".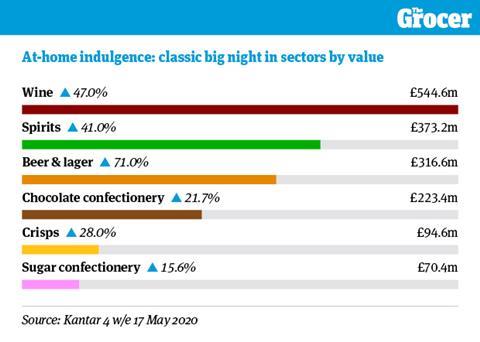 No surprises here: booze has been the biggest winner of the past month, as the pubs are shut and Brits grapple with lockdown. Take-home sales of alcohol reached £1,441.5m, a rise of 49.9% on the same period in 2019.
That represents an acceleration on the previous four-week period, when booze sales grew more slowly at 26.6%.
In the latest four weeks, all alcohol sectors enjoyed powerful double-digit growth as pubs remained closed, more hot weather hit the UK, and May saw two bank holidays.
Beer and lager sales grew fastest in percentage terms, by 71%. Wine and spirits weren't far behind, both growing more than 40%.
But big nights in aren't just about boozing. Treats associated with a night in front of Netflix are also performing well. Crisps shot up 28% in value, accompanied by a 33.3% rise in ambient dips. Meanwhile, chocolate confectionery added 21.7% to its value and candy enjoyed a 15.6% increase.
In terms of main meals, frozen pizza generated an extra £7.7m over the four-week period, showing some appetite for convenience.
However, frozen ready meals shed £3.6m, making it the only category in this data set to suffer a decline.
High-end dining
Another thing they value is a premium proposition, if posh pizza brand The White Rabbit is anything to go by. It has been flying through the tills since Covid-19 hit. "In the first couple of months, we saw a 50% increase in sales," says co-founder Nick Croft-Simon. "We were hitting promo-level volumes without being on promotion. Now it's still about 10%-15%."
To him, it makes sense that people should go high-end for big nights in. They will pay for White Rabbit, which retails for as much as £6.50 for 10 inches, because "people want to treat themselves, and if you compare what you'd be spending out of home with a night in, you're saving a load of money anyway".
It's a suggestion backed by Charlie Bigham's recent fortunes. The brand is bucking the overall decline in ready meals – sales of frozen SKUs fell 7% in the past month as consumers turned to scratch cooking [Kantar] – with a strong proposition. Indeed, the posh ready meals brand has "yielded an 18% year-on-year sales increase during lockdown" says CEO Patrick Cairns.
"Bigham's is well-placed to meet the needs of shoppers looking for traditional or world cuisine flavours," he says, pointing out they are "comparable to quality meals found on the menus of a gastropub or smart restaurant."
Posh pud brand Gü says the desire for a premium affair is starting to extend to desserts, too. Following a "steady" March, the past couple of months "have shown a very different picture", says Amy Heap, marketing director at Gü. "In the latest four weeks, chilled desserts remained flat," she says. "However, the premium end of the market increased in size by 9.5%, driven completely by Gü."
"We've seen double-digit growth in our e-commerce sales during lockdown"
Another dessert choice in growth is ice cream. The wall-to-wall hot weather has yielded a "significant rise" in sales, says Andre Burger, VP of foods & refreshments at Unilever. "In April alone, we saw a strong double-digit increase in sales across our brand portfolio. In fact, ice cream is now the fastest-growing frozen category in the UK."
It's important to note that those gains haven't simply been organic. Unilever is a prime example of a company making the most of the big night in. To capitalise on takeaway sales, Unilever is offering deliveries of Ben & Jerry's and Magnum ice cream through partnerships with Just Eat, Uber Eats and Deliveroo. "And it's proving to be a huge hit; we've seen double-digit growth in our e-commerce sales during lockdown," Burger adds.
Brands in other categories are similarly getting in on the appetite for delivery. Spirits maker Mast-Jaegermeister, for instance, has extended its partnership with Deliveroo through to July, citing "clear demand for drinks, in particular virtual big nights in".
Nathan McGivern, marketing manager at Kingsland Drinks, agrees those 'pub nights' via video conferencing platforms like Zoom had driven booze sales – which Kantar shows are up 49.9% in the four weeks to 17 May.
"Consumers are grabbing a bottle of wine and trying to imitate the out-of-home experience in-home," McGivern says. "It will be interesting to see if this is a trend that sticks post lockdown, especially when you also consider the growth in consumers imitating the dine-out experience in the house."
In essence, the key to nailing the big night in is recreating the out-of-home experience as closely as possible. As hospitality will continue to face restrictions, even when pubs and restaurants reopen in July, that appeal is unlikely to go anywhere yet.
Perhaps silver platters will be the next item to see a rise in sales.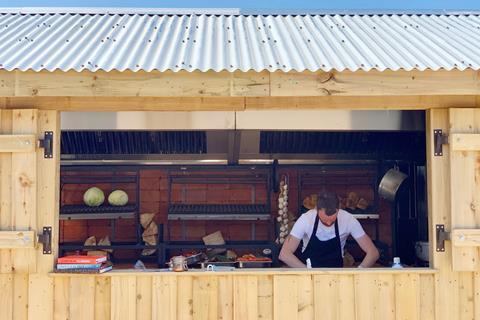 How restaurants are getting involved in the 'big night in'
Forced to close their doors amid the Covid-19 crisis, some of the UK's independent eateries have come up with inventive ways to continue feeding their local customers.
Take The Bothy Bistro (pictured above), which claims to be one of the busiest restaurants on Scotland's Moray coast. It's opened Bootleg Bothy, which is "a Covid-compliant, fully equipped outdoor kitchen". Seafood dishes, steaks and burgers are prepared in two converted shipping containers, while drinks are served from a vintage Citroën H Van.
The venue served more than 5,000 customers in its first two weeks and has proved so popular that "people are queuing for over a hour" say Bothy Bistro co-founders Ruth and Barry Scott.
Meanwhile, about 530 miles south of Moray, entrepreneur Marukh Akhtar has been making sure the people of Cambridge still have access to Indian fine dining. As coronavirus hit, her restaurant Atithi launched 'feast boxes' for delivery. Available for one or two people, they were priced from £14.50 and featured "a full dine-at-home Indian experience" she says.
The boxes were vacuum-sealed in bags to prevent spillages, tampering and contamination during transit. "At the beginning of the pandemic we wanted to make sure our clients were feeling safe to order," Akhtar adds. Her restaurant has since significantly expanded its takeaway offering.
London's Pizza Pilgrims chain has taken a less traditional approach to food delivery after being obliged to close its dozen branches.
Using e-commerce platform Shopify, the business has gone from having no online presence to providing a direct-to-consumer offer called Pizzas in the Post.
The DIY kit for £15 contains the same ingredients used in the restaurants, and makes enough Neapolitan pizza for two people.


Daniel Selwood is The Grocer's special projects editor, managing Britain's Biggest Brands, Britain's Biggest Alcohol Brands, The Dairymen and Top Products – as well as contributing to news, analyses and category reports.

He joined the magazine in January 2016 as food & drink editor, having been at financial & legal publisher LexisNexis.

Follow Daniel on Twitter: @danielmcselwood