Coffee pods were the rising stars of hot beverages. Now growth has begun to slow down. So is the sun setting on their success?
Has the pod had its day? Once the rising star of hot beverages, the coffee pod now looks to be approaching its sunset years. Value growth of the format slowed to 4.1% last year, equating to an extra £7.6m [Kantar 52 w/e 19 May 2019]. Granted, it's not exactly a poor performance. But it's a far cry from the 19.8% growth - or £31m gain - seen the previous year [Kantar 52 w/e 20 May 2018].

The change in pace is shown in branded sales. Nielsen doesn't collect data on Nespresso, as its sales are outside of retail. But rivals Tassimo and Dolce Gusto are down 4.1% and 10.6% respectively, together shedding a combined £10.5m [Nielsen 52 w/e 13 July 2019].

That's taking its toll on the wider hot beverage market. "Pods have been driving hot beverage growth for several years, so their slowdown will have an impact," says Kantar analyst Wandi Zhang. Indeed, total coffee, tea and hot chocolate sales stagnated this year, down 0.1% to £2,169.4m.

So what role have pods played in the downturn of the category? Is the sun setting on their meteoric rise? And what is happening to sales of other hot beverage formats?
"Own label has started to implement its tier system of 'good, better, best' into pods"
On the plus side, pods are still selling well. Total sales amounted to just shy of £195m in the past year. And volumes were up 8%.

As the volume figures suggest, price is one important factor in the value slowdown. It fell an average of 3.8% per kilo, which was caused by two things: own label and promotions.

Own-label pod sales shot up a staggering 53.4% to £15.4m over the past year, according to Kantar data. And these retailer lines tend to come cheaper than branded. A pack of 10 Tesco Finest capsules retails at £2.50, the same price as Sainsbury's Taste the Difference capsules. That means they're undercutting both Cafepod and L'Or, which carry a full price of £3 for a pack of 10 in Tesco.
Aldi is also getting in on the game at an even cheaper price of £1.49 for a pack of 10 Nespresso-compatible pods. That has helped the discounter secure more than half the own-label pod market since the launch of that range in January 2018, claims MD of buying Julie Ashfield. She says the later launch of Dolce Gusto-compatible pods towards the end of last year has already racked up a respectable £2.9m.

Phil Smith, head of category at retail and foodservice manufacturer UCC Coffee, says this demonstrates the power of own-label pods. "It's a very new sector, but it's starting to shape itself into a real player," he says. "Own label has started to implement its tier system of 'good, better, best' into pods, and it's proving effective."

Faced with this fresh competition, brands are upping their spend on promotions. That's pushing down average pod prices even ­further. Take Jacobs Douwe Egberts' L'Or brand, whose packs of 10 capsules have fluctuated between a price point of £2 and £3 over the course of the year [Edge by Ascential 52 w/e 19 August 2019].

These promotional tactics aren't necessarily a bad thing for the market. L'Or has grown a staggering 22.6% to be worth £52m, which Nielsen attributes largely to its pod range.

The positive effect goes beyond the performance of individual brands. "Fewer pods being sold at full price has been successful in attracting new ­customers to the market," says Kantar's Zhang.
Roast and ground rise
However, there are more pressing issues causing the pod slowdown. There is the question of just how many more people will buy into pod machines. According to Horlicks, one in four households already own a pod machine. So arguably, the market may be beginning to plateau.

Instead, other formats are gaining ground. An extra 3.5 million kilograms of coffee were sold last year, and pods are no longer the driving force behind that gain.

Instant was responsible for 1.6 million of those extra kilograms alone. Competitive pricing meant that didn't translate to any extra value, as it edged down 0.6% to £917.1m (see left), but it was still a large driver of volume. In value terms, the roast and ground segment was a big winner with a 5.9% climb, equating to an extra £11.7m. And the standout performer in percentage growth was coffee beans, which shot up 24% to £45.8m.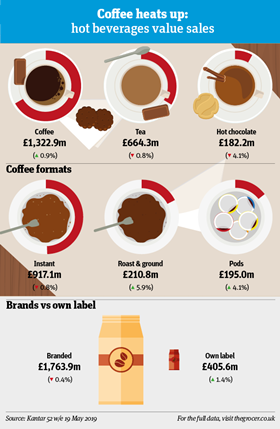 That's because pod machines are no longer the only way of getting an affordable coffee that goes beyond an instant brew. "The price of bean-to-cup home coffee machines has dropped enormously over the past few decades," says UCC's Smith. "They used to be the cohort of the wealthy, but you can now get a decent one for a relatively low price. That's driven more people to buy ground coffee and whole beans."

Once consumers have forked out for the machine, it could work out cheaper. Even taking into account the heavy promotions on pods, beans are far easier on the wallet. According to Kantar data, they come at an average price of £11.25/kg. Ground is similarly priced at £10.93/kg. And both pale in comparison to the average cost of pods, which weigh in at £22.06/kg [Kantar].

Considering how important price is to consumers, that could be a weighty factor against the pod. A poll of 1,157 consumers by Streetbees revealed 58% of respondents who didn't use coffee pods were put off by the price of the machine. The same proportion said the capsules themselves were too pricey.

Roast and ground coffee is not only cheaper, but carries certain quality connotations. "People perceive beans that they've ground themselves to be fresher than a pod, and they're looking for the highest quality coffee at home," says Karen Yates-Hills, commercial director of own-label coffee supplier Lincoln & York.

Cue a flurry of coffee brands angling for a slice of that market. Kenco made its first move into the roast and ground sector in February with new Smooth and Rich ranges, and Costa Coffee is set to expand its range in September with new Single Origin Colombia Character Roast & Ground. Retailers are getting in on the act too. "We've seen private label increasingly add new whole bean lines this year," says UCC's Smith.

Outside of price, there is another reason why brands and retailers may be keen to go down this route. For in the pods market, there remains a weighty elephant in the room: the environmental impact. The general lack of recyclable options has made for many a critical headline.

Sunna Van Kampen, co-founder of food and drink development agency LVK, believes this is influencing consumer habits. "As a culture we're in a phase of environmental awareness," he says. "Sustainability and waste have become generational issues that the public know need to be addressed."
"People perceive beans that they've ground themselves to be fresher than a pod"
Consumer surveys back up the theory. Mintel's 2018 UK Coffee Report found 44% of coffee drinkers think pods are bad for the environment. According to a survey of more than 2,000 consumers by sustainable coffee brand Percol last year, 16% believe it's up to manufacturers to come up with a more eco-friendly solution.

Until now, the major brands have countered these arguments with their own recycling schemes. Nespresso partnered with recycling group Tandom in 2010 to allow customers to either drop off their used pods at a collection point - there are now 7,300 across the UK - or arrange a home collection.

JDE brands Kenco and Tassimo joined the TerraCycle scheme in 2009, which includes 130 public collection points across the UK. Latest to join the recycling ranks is Dolce Gusto, which announced a new partnership with CollectPlus in January that allows customers to dispose of their used pods in 7,000 stores across Britain.

But critics say that's not enough. Eco-charity the Eden Project, which has its own home compostable coffee pods, estimates Brits got through 760 million Nespresso capsules last year. "The majority of those end up in landfill," says Steven Phelps, commercial director of Fresh Coffee Shop, the company behind Eden's compostable pods.

Not even Nespresso can deny that. The brand reports a recycling rate of just 28%. Guillaume Chesneau, MD of Nespresso UK & Ireland, says that's because "there is a difference between people saying they want to recycle and actually doing it."
Eco-friendly options
Still, others believe it needs to be made easier for consumers. Chair of the British Coffee Association Tom Blackwall is one. He is pushing for kerbside collection of pods. "It has been trialled in some London boroughs, and we hope this will scale up in the coming months to become a nationwide system," he says.

Until then, smaller players are hoping to reduce the environmental impact through innovation. Coffee pod brand Cru Kafe believes it has found a solution to the recycling conundrum with its 100% aluminium pods, launched last September. "We tried every option on the market and found the best for the environment was aluminium, which can be popped into the household recycling just like you would a used tin of beans," says marketing manager Katie Colvin. Waitrose is also due to roll out recyclable pods "early next year", after finding its compostable capsules didn't work "as we would have liked".
Others are sticking with the compostable route. The Eden Project, which launched its pods into Waitrose and Amazon last March, was one of the pioneers. That was followed by the October launch of Halo Coffee's home compostable coffee pods, which are able to "degrade anywhere".
Then there's Dualit, which introduced its industrially compostable pods in 2016. And earlier in August, Lavazza joined the party with its own industrially compostable Eco-Caps. (Although it's worth noting only certain local councils will accept these pods in their kerbside collection schemes.)

Sales figures suggest the eco-friendly route is not just good for the environment - it also pays dividends. Cru Kafe reports a doubling of its sales across retail and foodservice in the past 12 months. Dualit reports a "definite shift" towards its compostable range, with sales rising 47% over the past year. And the Eden Project claims its eco-credentials have helped drive over five million capsule sales since launch. "The majority of our Amazon feedback tells us sustainability is a major reason for purchasing our capsules," says Phelps. Finally, Halo Coffee says the compostable nature of its pods is driving 20% growth in subscribers every month.

Plus, there is plenty more opportunity for innovation in this area. Refillable pods are one other potential avenue for growth. Among the champions of this format is Netherlands brand Bluecup, whose Nespresso-compatible pods can be filled with ground coffee and reused a minimum of 200 times. Mintel research found 45% of coffee drinkers were interested in reusable pods, a number that rises to 69% in pod machine owners. "The availability of such 'greener' pods should support the long-term demand for pod machines," says Mintel food and drink analyst Anita Winther.
Still, eco-friendly isn't the only way of winning over shoppers in the pod world. The format has also been home to a high level of innovation across the board. "Pods were one of the strongest areas of NPD and innovation across hot beverages," says the British Coffee Association's Blackwall. Much of this innovation has focused on replicating the indulgence of the out-of-home experience. Considering the coffee shop market is now worth over £10bn, according to Allegra, it's an area full of potential.

There's no shortage of innovative examples. L'Or is set to introduce new Double Shot pods in autumn, developed to tap demand for coffee shop-style brews. "Consumers' quest for coffee shop quality is driving premiumisation across all coffee formats," says Michael Haynes, category team leader for parent company Jacobs Douwe Egberts.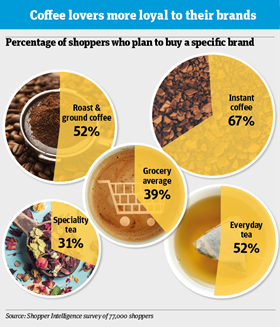 That same insight inspired Costa Coffee to introduce a Brazilian Blend Ristretto pod in August, which coincided with the launch of Kenco's flat white pods. Out-of-home appeal was also a driving force behind Nestlé's £5.5bn deal with Starbucks last summer. That resulted in a 24-strong range, expanded earlier in August with eight "iconic" Starbucks blends in a Nespresso format.

And that's just the giants. Smaller brands are also making pioneering moves to replicate the coffee shop experience. Rokit Pod, for example, launched turmeric blend capsules in March to capitalise on the turmeric latte trend.

The concept seems to be capturing the imagination of consumers. According to Kantar data, Tassimo's limited edition Costa Gingerbread Latte pod made a cool £2.4m over last year's winter months. Streetbees findings back up the appeal. Nearly two thirds of coffee drinkers agreed they loved trying new flavours, and 34% said they often tried out new ones.

"As Brits become more knowledgeable about coffee they're looking for different ways to experiment, which is driving them to explore different origins and flavours," says Lincoln & York's Yates-Hills.

So this spirit of innovation is spilling over into other coffee formats, which are looking to mop up a bit of the coffee shop magic. In August, Nescafé unveiled a three-strong ­lineup of non-dairy latte mixes to tap the rise of coconut lattes and oat milk macchiatos. The range will "bring the plant-based trend out of the coffee shop and into the home", says Neil Stephens, head of Nescafé UK & Ireland.
Price wars
That these plant-based offerings come at a price premium - they are £2.98 for a pack of six in Tesco, while an eight-pack of its regular latte mixes is £2.50 - is good news for Nescafé. For at a total brand level, it is suffering the impact of its price war with Jacobs Douwe Egberts.

The focus on slashing prices meant 56% of instant coffee was bought on temporary price reductions last year. That's dragged down Nescafé's value by 4.5% on volumes down 2.1%, according to Nielsen. Most of that value loss was down to its standard instant coffee. Azera, on the other hand, made gains. It's emerging as a prime area of focus for Nescafé, which unveiled an £8m push for Azera and a new coffee bag format in July. Considering coffee bags are up 19.2% to £7.1m, that could prove a savvy move.
But even Azera's gain is partly price-related. It has regularly been on promotion across the big four this year. A 100g jar of Nescafé Azera Intenso, for example, has only sold at its full price of £5.49 for half of the past 34 weeks at Tesco [Edge by Ascential 34 w/e 21 August 2019]. It's a pattern that Nielsen analyst Robin Tahiri has noticed across the board. "Premium instant coffee products became increasingly accessible through aggressive promotions this year," he says.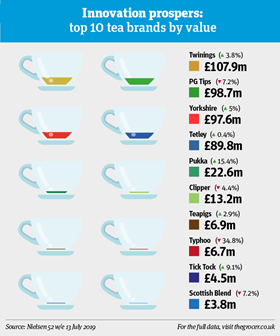 This consumer focus on price doesn't bode well for the wider coffee market. For diminishing coffee prices have driven numerous farmers to stop producing coffee in recent years. Oliver Richmond, trade manager at Percol Coffee, believes more will follow suit if shoppers don't put their hands in their pockets. "Coffee prices have reached record lows over the past 12 months, which means several South American farmers are being paid less," he says.

Schemes such as Fairtrade are helping. But the entire Fairtrade hot beverages market is only worth £191m in the UK [Kantar 52 w/e 7 October 2018], which is a small dent in the £1.3bn take-home coffee sales. Richmond sees this as a problem. "If shoppers aren't willing to pay extra for coffee certified by the likes of Fairtrade, which protects farmers' pay, they will continue to leave the industry."
That could impact shelf coffee prices within the next four or five years, Richmond ­predicts. "It's difficult because the love of coffee is ­continuing to grow, but if shoppers aren't prepared to pay extra and ensure their coffee is sustainable, they're basically stealing from their own future coffee purchases," he warns.

Whether consumers will listen is another matter, though. The BCA's Blackwall doubts Brits will be open to spending more on anything at this moment. "For shoppers, Brexit and the current climate of economic uncertainty it has caused has meant being more conservative with their spending choices," he says.
"For shoppers, Brexit uncertainty has meant being more conservative with their spending"
So it's unlikely Brits will fork out extra for their coffee now to avoid future pain. Still, even if consumers do end up being priced out of coffee, it need not be the end of the pod. Tea and hot chocolate players are increasingly moving into the format. Unilever was one of the first major brands to take the plunge with its PG Tips pod back in 2015.

Now the pace of innovation is stepping up a notch. In March, Nestlé unveiled a new range of tea pods that marked a collaboration between the Special.T and Kusmi Tea brands. It's not just your standard brew, either. Variants include the 'Anastasia', a blend of white and green tea, as well as an apple and peppermint 'Be Cool' infusion.

On the hot chocolate side, Horlicks is set to unveil a new pod in September (p54). And Aldi began stocking Twix and Mars-flavoured pods at the beginning of the year, which promised all the taste of your favourite chocolate bar in a creamy drink that contains just 70 calories.

Now if that isn't worth paying more for, what is?
Functional, fruity and decaf: innovations in tea
It's not just coffee that's trying out new flavours and formats. As black tea sales continue to decline, the brew is getting more experimental.
Functional blends that promise everything from better sleep to 'superfood' properties are looking to drive growth back into the sector.
It certainly could do with a boost. Tea sales have dropped by one million kilograms in the past year, equating to a £5.3m fall [Kantar].
The main factor was a 3.4% decline in black teabag sales, driven by "a rise in shoppers adding more variety to their baskets", says Kantar analyst Wandi Zhang. That spelled a major downturn for PG Tips, which lost £7.7m [Nielsen 52 w/e 13 July 2019].
That desire for variety is resulting in a more positive picture elsewhere. "Fruit & herbal and decaf teas are the silver linings in the category," says Zhang, who reports growth of 10.5% and 4.4% respectively.
Suranga Herath, CEO of the English Tea Shop, says this is driven by changing consumer demands. "Consumers are seeking effective food and drink choices that will help to promote good health and wellness alongside their busy lives," he says.
As such, Herath reports an increase in sales of its functional range, including wellness and pregnancy blends.
The sheer number of ranges along these lines suggest others are seeing the same. Pukka has everything from a Supreme Matcha Green (pictured) that promises to leave your 'super powers recharged' to a sleep-promoting blend. Clipper Teas category director Bryan Martins says its functional range, which includes sleep and detox blends, is attracting younger shoppers.
That will be critical to tea getting out of its rut, admits Peter Dries, director of customer marketing at Tetley. "Penetration is really high with tea, but we do need to secure younger drinkers," he says. With this in mind, Tetley launched new Decaf Sleep Easy tea in June.
It could pay dividends. Kantar's Zhang says innovations that "can fill unmet needs" will drive growth in tea. And if there's one thing tea needs, it's growth.
Innovations in hot beverages 2019