Energy drink brands are looking far and wide for functional and exotic ingredients. Can they give the market a sustained buzz?
Energy drinks have often been a magnet for the weird and wonderful. Swiss brand Louis XIV once added 24-carat gold flakes to its caffeinated drink. Bazaar in the US sells a fruit punch-flavoured energy shot as a pouch of 'vampire blood', and Austria's Bomba puts its drinks in a bottle shaped like a grenade.
Such kitsch hasn't yet taken hold in the UK (though Bomba does have a British distributor). But a new generation of energy drinks is definitely showing a thirst for adventure, using exotic and unusual ingredients from the Far East and South America to promote functional benefits that go far beyond a brief caffeinated high.
So what formulations are on trend? And what's driving the change?
To sustain category growth and widen appeal, suppliers are aiming to appeal to a more diverse set of shoppers and need states.
Once the preserve of (mainly male) students and gamers pulling all-nighters, energy drink occasions are now far more diversified. According to analysts Research & Markets, 32% of consumers reach for energy drinks after exercise, 17% use them to keep alert at work and 16% sup them during leisure activities.
"With a growing demographic and increasing opportunity for product development, energy drinks are becoming more of a mainstream beverage," says Vicky Berry, business development manager at Synergy Flavours, a maker of extracts and flavourings. "This is driving innovation from brands as they seek to appeal to a broader range of consumers and stand out in a crowded market."
"Energy drinks are becoming more main-stream… this is driving innovation"
That means a greater focus on wellness, relaxation and exotic ingredients. Take Purdey's Natural Energy, which Britvic relaunched in March with a focus on helping drinkers "burn bright, not out".
The range now comprises Rejuvenate (grape, apple & ginseng), Refocus (dark fruits & guarana) and Replenish (raspberry, rose & essential minerals) – all containing the likes of oak bark and promising a hit of "energising B vitamins".
"Developing propositions within the wellness space is a key strategic priority for Britvic," says MD Paul Graham. "Wellness drinks' penetration sits at just 14% despite double this proportion of consumers wanting premium drinks with added benefits."
This is a target market for which many brands are eschewing the classic buzz provided by a heady mix of caffeine, taurine and beet sugar (or sweeteners). Like Purdey's, they're looking to offer a 'natural' boost.
Nootropics: a brain boost without a downside?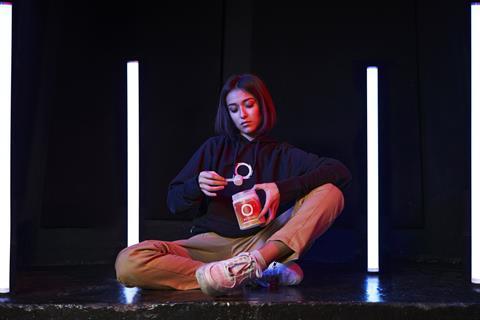 Prior to founding 'smart drug' brand Brite Drinks, Simas Jarasunas was dependent on countless cups of coffee to get him through a long work day.
"It caused stress and anxiety, and so I started looking for a more effective and healthier alternative," he says.
What he came across was an emerging category of ingredients known as nootropics. They're substances that have been shown to improve mental performance in users, with natural plant-based varieties gaining traction. Those include gingko, guarana and L-Theanine, which is found in tea.
"Nootropics are natural supplements widely studied due to their ability to improve cognitive function," adds Jarasunas.
Brite's aim "is to improve productivity in the working environment, so we used organic matcha and guarana, which are known to improve focus and brain function" he says.
While high sugar or caffeinated drinks promote a peak and crash, nootropics provide "that ultimate synergy where you feel both alert and focused but don't have the downsides of anxiety and increased blood pressure" Jarasunas says.
It's no wonder several brands are flagging their nootropic ingredients.
Take Beyond NRG. Its gaming-focused drinks powders (pictured above) include six key nootropics "at a significantly higher level than in other energy drinks, so gamers can maximise their performance with next-gen ingredients" says brand founder Billy Webb.
Mintel says nootropics are set to be one of the biggest trends in the category over the next five years, with a forecast value of $4.9bn (£3.5bn) by 2025.
Brands looking to capitalise on the trend must lead with transparency and science, says Jarasunas. "Consumers are really educated now, and they'll only return if the product works. That means you have to use the premium dosage of any active ingredient."
Jenki, for instance, uses ceremonial grade matcha from the foothills of Uji, Japan. Currently only available as a powder that consumers mix with water, an RTD version of Jenki is now in development as an alternative to traditional caffeinated drinks.
"Caffeine is being produced synthetically or provided in very strong quantities, over-stressing the nervous system, and offering a jittery energy that ends up causing a chaotic mind," says Jenki co-founder Claudia Stevenson. Matcha, conversely, allows for a slower release of energy over a longer period of time, she adds. "Our aim is to make it more digestible to the modern consumer."
Similarly, Virtue's USP revolves around being a cleaner source of energy than classic options. Some of its portfolio uses yerba mate, "a naturally emerging leaf retrieved from the native species of evergreen holly tree" and traditional in several South American countries.
Sport connections
In ditching classic ingredients for clean label alternatives, energy drink makers are challenging perceptions of the category and appealing to a new set of consumers. Such has been the evolution that many brands now align themselves closely with sport, exercise and wellness.
In fact, Virtue's cleaner energy kick has seen it partner with athletes, with investors including Roma and England centre-back Chris Smalling. "Many other footballers drink yerba mate ahead of a match, including Messi, Suarez and Lamela," says a Virtue spokeswoman.
"Brands are seeking to appeal to a broader range of consumers and stand out"
At plant-based energy brand Tenzing, a focus on naturalness in both flavour and formulation has seen it expand into sports nutrition with the July launch of on-the-go energy powder sachets. The new range is set to be given the OK by sports supplements certification body Informed Sport, to allow professional athletes to incorporate them into their fitness regimes.
"Many of our dedicated drinkers were asking us to launch a product specifically designed for adventure and endurance activities," says Tenzing founder Huib van Bockel. Brits are increasingly "taking on endurance activities and looking for easily digestible and on-the-go energy options" he adds.
None of which is to say traditional areas of growth for energy drinks have disappeared. In fact, another key area driving innovation is gaming, as "gamers seek products to help their focus and tackle fatigue" says Barry at Synergy Flavours.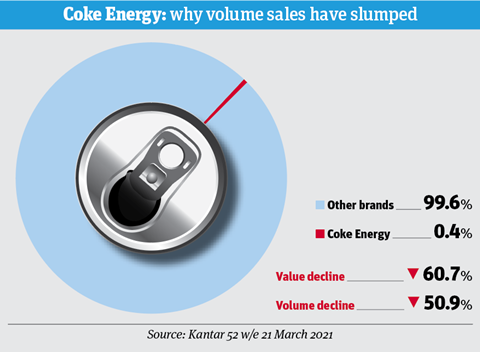 Kantar's data shows its unit sales have plunged by 50.9% in the year to 21 March 2021.
That's largely because Energy comes only in a 250ml can for on-the-go occasions. It doesn't offer larger formats aimed at take-home – making it highly vulnerable to the collapse of impulse occasions caused by Covid.
Even figures from Nielsen [52 w/e 26 December 2020], which include on-the-go sales, show Energy selling 3.1 million fewer packs.
That's because the virus ruined plans for the drink, CCEP insists. "We had big plans to communicate our taste credentials to consumers via media and sampling activity," then commercial development VP Simon Harrison told The Grocer in April. When the pandemic hit, CCEP "put our plans on hold".
Launched in March 2019 in full-sugar and no-sugar versions, Energy contains caffeine, vitamin B and guarana extract but no taurine – making its formulation closer to that of its trendy 'natural' rivals. A Cherry variant followed in March 2020.
The UK hasn't been the only market to pose a challenge. Last month, Coke said it would discontinue Energy in North America.
Gaming opportunities
Some trendy brands' energy has been entirely dedicated to the 2.7 billion gamers reportedly active globally. One example is Beyond NRG, which targeted esports in 2020 with its lineup of sugar-free energy drinks containing nootropics – vitamins and minerals that have been found to not only provide energy, but improve cognitive function too.
"Beyond NRG's key focus was to make a superior formula for the gaming community," says founder & CEO Billy Webb.
The brand's drinks are "a pre-workout supplement but for non-physical activity, putting the brain into the right gear with a rush of natural energy and zero crash" he adds. "Whether it's for a streamer looking for a boost on long sessions or a competitive gamer that needs to sharpen up focus."
"Gamers are seeking products to help their focus and tackle fatigue"
Catering to typical energy drink consumers doesn't mean old-fashioned flavours and formulations, Webb insists. "A typical energy drink that tends to fuel anxiety and a sugar-induced high followed by a crash is only going to negatively impact performance."
Instead, Beyond NRG uses caffeine extracted from green coffee beans, vitamins, minerals, amino acids and botanicals for an energy boost "that is three times more advanced than the current market leader" he says.
The brand is illustrative of how energy drinks' predictable flavours and neon colours are slowly fading, being replaced by exotic, natural and clean formulations that cater to a more discerning palate. Short sugar rushes are being exchanged for a range of functional benefits.
Suppliers and retailers will no doubt be banking on this evolution giving the category a longer-lasting high.