While the country has been suffering from the effects of months of winter storms, the tobacco industry has been facing a deluge of its own - legislation that is likely to have a monumental impact on the way tobacco is sold in the UK.
Just before Christmas, health ministers from the member states of the EU agreed to back proposals in the European Union Tobacco Products Directive 2 (TPD2) that will ban 10-packs of cigarettes, set a minimum limit of 30g on the size of packs of roll-your-own tobacco (RYO), ban characterising flavours and require 65% of the front and back of packs to be covered by pictorial health warnings.
The measures have yet to be formally adopted by the EU parliament and council, but this could happen as early as next month, giving each member state two years to adopt these new rules into their national law.
"The next year is going to be packed full of innovation, design changes and tweaks"

Alan Graham, Scandinavian Tobacco
While all this continues in Brussels, the UK government has put the thorny issue of plain packaging firmly back on the agenda, with Sir Cyril Chantler's independent review set to be concluded next month.
These changes are clearly exercising the minds of suppliers and retailers alike, but the next significant change they are preparing for will come on 6 April next year when the shutters come down on tobacco displays in c-stores across the UK. The date marks the end of the three-year exemption from the display given to small shops, and will mean tobacco products can no longer be on show to the public anywhere in the UK.
Suppliers are predicting the result will be a surge in sales of illicit tobacco, but it is also likely to effect the way the category functions in other ways too. Indeed, some of these impacts are already being felt as suppliers jockey for key positions on retailers' gantries and try to reinforce their brands in the minds of consumers before the category goes completely dark.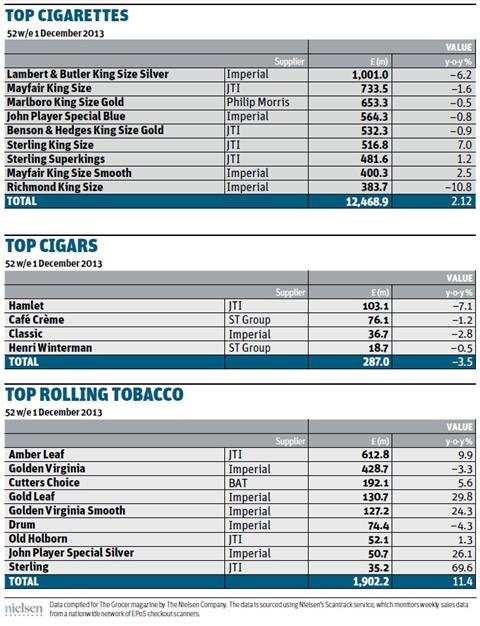 "The next year is going to be packed full of innovation, design changes and tweaks as suppliers gear up for the display ban next April," believes Scandinavian Tobacco Group UK marketing director Alan Graham, who predicts the first three quarters of the year will be the busiest in terms of NPD as suppliers look to maximise impact ahead of the ban. STG has been one of the first to move with the redesign of its leading cigar brand Café Crème in January in a bid to ensure greater shelf standout and drive market share before next year.
There is also a danger for suppliers that in the dark market retailers will look to stock fewer brands, preferring to deal only in well-known bestsellers. The message from suppliers is that smokers want choice and will go elsewhere if their preferred brand is not stocked, but Graham confirms that in the last range reviews before the shutters came down for supermarkets in 2012, around 50 cigar SKUs disappeared.
"Knowing where your products are located on shelf will help when tobacco is out of view"

Richard Wood, BAT
As for the major suppliers, they are all striving to ensure distribution of their brands remains strong, and are working with retailers to ensure they are prepared. "Three things will drive shopper loyalty when tobacco is out of view," says BAT customer marketing manager Richard Wood.
"First, they'll need to know they're getting a good price. Second, they're going to need a knowledgeable retailer who can answer their questions. Third, adult consumers never want to wait - so knowing where your products are located on the shelf will help reduce the time it takes to serve customers."
Category management
Japan Tobacco International UK has come up with the catchy-titled Artist category management programme for retailers to adopt in readiness for the ban. The acronym stands for availability, range, training, innovation, sales and technology, and has been developed to focus retailers' minds on all aspects of the category to grow sales.
As well as the more obvious hints about keeping shelves well stocked with a good range, it encourages retailers to support new products, keep on top of the trends that have inspired those products and use technology to closely monitor sales and profits.
"Retailers shouldn't wait for the display ban to happen," cautions JTI UK head of communications Jeremy Blackburn. "It sounds obvious, but it's important to monitor sales and ensure the basics of category management are put into practice."
The key trend, which JTI is keen for all retailers to keep on top of, remains downtrading for the time being. While there appear to be the early signs of a wider economic recovery, many smokers are still feeling the pinch and so growth remains the preserve of the value-for-money sub-sector of cigarettes, RYO and even value-for-money RYO.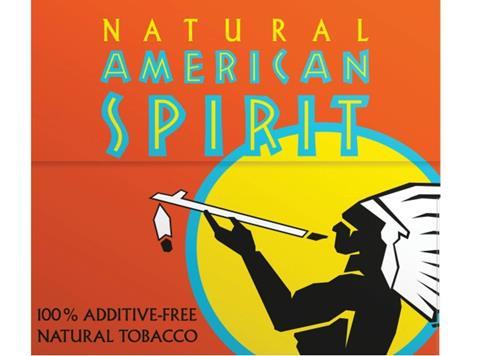 Natural American Spirit Orange
Launched: January 2014
Distributor: Scandinavian Tobacco Group
A rare launch in premium cigarettes, Natural American Spirit Orange (rsp: £7.99/20-pack) taps the trend for smoother flavours. The variety is being soft-launched in London and the South East, where NAS is currently most popular. If successful it could be rolled out to other areas where the brand has strong sales such as Manchester and Glasgow. Previously in soft packs, the entire NAS range has recently moved to hard packs "to give improved product protection and flavour preservation".
Sovereign Smooth Flavour
Launching: February 2014
Manufacturer: JTI UK
Sovereign Blue has been one of the fastest-growing cigarette brands since its launch last March, racking up sales of £135m. The new flavour offers the value for money smokers are increasingly looking for as well as a smooth flavour. It will be available in 10 and 19-packs, with price-marked packs at £3.39 and £6.28 respectively.
JPS Duo
Launched: December 2013
Manufacturer: Imperial Tobacco
When flavour-changing capsule technology cigarettes first hit these shores in 2011, they were dismissed by many observers as a gimmick. However capsule cigarettes now account for 2.2% of the total factory-made cigarette market, according to Imperial, and are now available across all price points. Rsp: £6.64 for 20.
Ultra Slim Swan filters
Launched: May 2013
Manufacturer: Republic Technologies
The only part of the industry not subject to the display ban, accessories are seeing increasing NPD and, according to Republic, roll-your-own smokers are becoming more discerning about their filter. Ultra Slim (rsp: 95p for 126) is Swan's thinnest-ever filter designed to give a smoother taste and enhanced tobacco flavour.
All of the top 10 cigarette SKUs are currently in volume decline, according to the latest figures from Nielsen for the year to December, with just four in value growth - Sterling King Size, Sterling Superkings, Mayfair King Size Smooth and Windsor Blue Superkings - all value-for-money products.
By contrast, five of the 10 bestselling RYO lines are in volume growth and eight are growing by value.
"Since the recession hit in 2008, inflation has tended to be above wage growth, meaning less disposable income for consumers, and while net income has grown by 2%, other standard living costs have increased beyond this," notes Imperial Tobacco UK communications manager Gayatri Barua-Howe. "The impact of this squeezing of consumers' spend has been continued value-seeking. This has led to more than one in 20 packs of RYO tobacco sold in the UK being less than 12.5g, and sales are growing month on month. Consumers still want to buy good-quality products, and smaller pack sizes allow them to purchase their preferred brands while controlling their spend."
As suppliers continue to deal with price engineering and cash-strapped customers, we have not only seen the arrival of 10g packs of RYO but 9g packs. While these packs could be consigned to history by the TPD2 in the next few years, they are expected to remain a key tool for suppliers until then, says STG's Graham.
Another key trend likely to play a significant role this year, and even more so as the dark market sets in, is price-marked packs (PMPs). According to the latest BAT figures, 32.1% of total cigarette volume sales were PMPs compared with 28.2% in 2012. In independents and symbol stores, the importance of PMPs is even more pronounced accounting for 59.4% of volume sales in 2013 compared with 54.6% the previous year. This is further evidence that value is key and that the premium brands will continue to come under pressure.
The next year is likely to be a very interesting one for the tobacco market as the industry looks to fight the threat of plain packs and prepare for the display ban in the face of continuing economic pressure and the undoubted threat posed by the rise of e-cigs.
Retailers may well take much of the manufacturers' advice on board. How amenable they will be to all the NPD they are set to chuck at them is another question.