Covid has created a nation of clean freaks, sparking fears over our 'toxic load' and soaring plastic use. Can 'safer' brands cash in?
There's a grim irony to the UK's housework boom. Locked-down shoppers have been stocking up on cleaning products in an effort to keep their homes spotless and Covid-free. But here's the kicker: while our kitchen counters may be clean enough to eat our dinner off, the craze for domestic cleanliness is driving concerns about Britain's physical health.
Some fear that increasingly frequent use of household cleaning products – which has driven sector growth of 9.2% on volumes up 7.7% [Kantar 52 w/e 27 December 2020] – could be increasing people's 'toxic load'. That's the term to describe a body's supposed build-up of potentially harmful chemicals, unwittingly absorbed or ingested from food, personal care products and, yes, household cleaning products.
Toxic load isn't a scientifically proven phenomenon, but it's still a growing fear, especially among families with young children or animals. And worries are already prevalent enough for suppliers to capitalise on them, with brands such as Method, Botanical Origin and EcoGurus touting their safer, naturally derived ingredients. Indeed, EcoGurus promises its Cleaner & Limescale Remover is "suitable for homes with babies and pets".
The newest brand in the fight against toxic load is the UK's Spruce. It debuted this month with Bathroom Cleaner and Multipurpose Cleaner. They're made from mostly food-grade and cosmetic-grade ingredients, with organic essential oils for fragrance.
"It can't be good that we are constantly inhaling disinfectants in poorly ventilated spaces"
Spruce is the brainchild of Mahira Kalim, who warns of the dangers of indoor air pollution caused by chemical-filled cleaning products. She points to a 2017 report by Harvard University and the French National Institute of Health & Medical Research, which linked regular use of bleach and disinfectants to a higher risk of developing fatal lung disease.
"We can't help but wonder if disinfectants are lethal," Kalim says. "It can't be good that we are constantly inhaling them in poorly ventilated spaces."
Helen Bee, CEO of Clean Living, is similarly concerned about indoor air pollution. "Often, the air in homes can be more toxic than if you're in the street near traffic," she says. "And household products are probably the most toxic things in our homes." It's not just our home environment that's concerning these new brands. The likes of Clean Living and Spruce are also keen to tackle the plastic pollution generated by the household cleaning market. According to Nielsen data, a staggering 7.1 billion units were sold last year [52 w/e 5 September 2020] across the cleaning, air care, dishwashing and laundry markets – most of them packed in single-use plastic.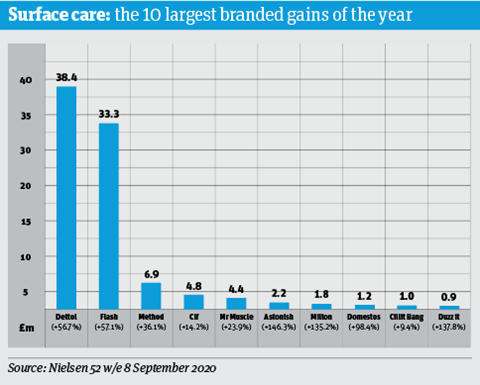 The above graph shows the 10 fastest-growing surface care brands by absolute value. They've added £94.9m between them over the past year.
That's the vast majority (80.5%) of the £117.9m extra value that surface care has generated overall. The sector is now worth £446.1m – up 35.9%. And unit sales are up by 21.4%.
The main driver has, of course, been the Covid-19 pandemic, with greatly increased demand for antibacterial products.
"The desire to stay safe and hygienic has been amplified," says Jennifer Vieira, senior analytics executive at Nielsen. "Antibacterial has become increasingly important and seen highest growth."
As such, brands have gained through their claims of efficacy, improved formulas and being multipurpose cleaners, she adds. "Consumers have shifted their need for both everyday and thorough cleaning practices to trusted brands."
This has benefited the likes of babycare brand Milton, which is up £1.8m. Its antibacterial surface spray has EN14476 certification, meaning it's guaranteed to kill coronavirus.
Brands innovative on fragrances have also performed "exceptionally well" Vieira says.
'Refill revolution'
It's for this pressing reason that Spruce has launched in aluminium spray bottles, which can be refilled from paper sachets lined with bioplastic and containing concentrate to which users add water.
This nifty innovation is part of the growing refillables trend in household. Both Clean Living and Eco Drops have offers similar to Spruce's – while Ecover and Nevoli both offer lines via the Loop e-store of refillables. Even Müller's Milk & More grocery delivery service added refillable cleaning products in glass bottles in October.
"The refill revolution is just picking up; people are just getting started," says Spruce's Kalim, pointing to an Ellen MacArthur Foundation report in November, which claimed refillable packaging accounted for just 1.9% of the consumer goods market.
Clean Living's Bee also anticipates refillables taking off. Since its August 2018 launch, her brand has sold its aluminium bottles empty, requiring users to fill them from an accompanying pack of concentrate. "It gets people into the refill habit from the outset," she says. It's a habit that could take hold if supermarkets give greater focus to refillables and "the bigger boys get on the bandwagon".
"The refill habit could take off if some of the bigger boys get on the bandwagon"
Of course, there's already one very big boy on household's refillable bandwagon: Unilever. In July 2010, the fmcg giant unveiled an Eco Refill for its Cif brand, which was worth £38.8m last year [Nielsen]. The recyclable plastic pack attaches to existing Cif Power & Shine spray bottles through a 'twist and click' mechanism, and aimed to remove 1.5 million plastic bottles from the waste stream in its first decade.
Eco Refill is just one of a number of green moves by Unilever of late. In September, it switched its £184.7m [Nielsen] Persil laundry brand to 100% recyclable bottles. They're made with 50% post-consumer recycled plastic, and the plastic dosing ball previously provided with every bottle has been axed. It will reduce the amount of virgin plastic by 1,000 tonnes annually, Unilever believes.
The change is all part of the company's 'Clean Future' initiative. The main focus of the €1bn (£888m) project is replacing 100% of the carbon derived from fossil fuels in Unilever's cleaning and laundry product formulations with renewable or recycled alternatives by 2030. Currently, 47% of the carbon footprint of Unilever's global household portfolio is the result of fossil fuel-based ingredients. That's a no-no for consumers, says its home care brand experience lead, Nadine Slyper. "Shoppers are demanding products that are effective and kinder to the planet."
Clean and green
Ecover senior brand manager Charlotte Snelgrove can testify to that mindset. "Sustainability remains a key priority for shoppers, with 78% of people believing environmental issues are bad enough to justify going out of their way to be green. What's more, 70% believe that the environment should be the number one priority in our recovery post-Covid."
So much so that Ecover brand owner SC Johnson is adopting that approach across its portfolio. It expects "a resurgence of sustainable consumerism, as there is more awareness and conversation on 'building back better'" says a spokeswoman for the company, which last year launched Mr Muscle Platinum Window & Glass cleaner in a 100% recycled plastic.
"Shoppers are demanding products that are effective and kinder to the planet"
With that in mind, Matt Stanton, head of category and insight at distributor DCS Group, is optimistic about household getting greener. "With continuous product innovation across the fmcg sector, brands are working as fast as they can to produce products and packaging that are both environmentally friendly and sustainable," he says. "We are seeing an increase of biodegradable products, along with refillable packaging."
So, the future looks green for household. But right now, the category's shoppers are likely to have a different focus while the pandemic continues to rage: hygiene. According to Jamie Rosenberg, global household & personal care analyst at Mintel, "cleaning products are now part of consumers' survival strategy because, in the era of the pandemic, lax germ management can lead to negative health consequences".
This strategy has, predictably, translated into greater sales for suppliers of antibacterial and disinfectant products. "There has been a higher demand for disinfectant cleaning products since the pandemic, with people now not only cleaning their households but also more conscious of disinfecting their homes," says Lewis Ames, spokesman for disinfectant maker Ocean Free.
"We recommend positioning homecare lines for cleaning and as a wellness activity"
That desire to disinfect is a potential boon for retailers that get their ranging right, suggests DCS's Stanton. "It is a good opportunity for retailers to ensure they stock antibacterial variants within key homecare categories." He cites Dettol Surface Cleanser Antibacterial Spray and Flash Extra Large Lemon Antibacterial Wipes as examples of lines that "should be featured as part of an all-year-round core range".
So high is the demand that SC Johnson goes as far as describing homecare a "wellness activity" in the current climate. "We recommend positioning homecare products both for cleaning and as a wellness activity and leveraging out-of-aisle displays to help greet shoppers," it says.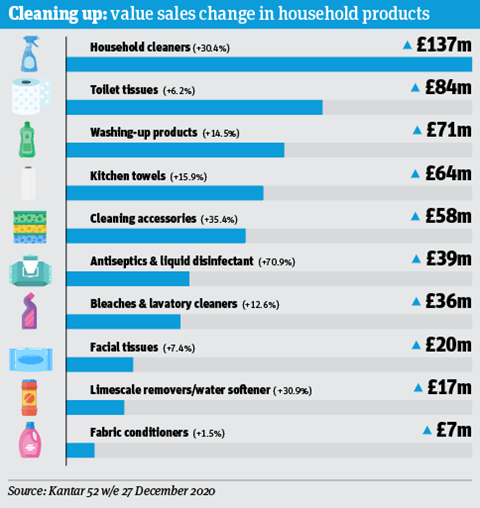 Shoppers have splashed out an extra £595m on household cleaning products, toilet paper and laundry detergents this past year. That's a rise of 9.2% on volumes up 7.7%.
"In a year when shoppers found themselves spending much more time in their homes and focusing intensely on hygiene, the household category has seen high levels of growth," says Kantar analyst James Henson, pointing to strong sales of household cleaners (up 30.4%), accessories (up 35.4%) and disinfectants (up 70.9%).
"We saw shoppers reach for trusted brands, particularly early in the pandemic, to provide high-quality products to ensure their living space was clean and to keep their homes as safe as possible," he says. Indeed, brands have grown 10% in value on volumes up 8.5%, while own label grew at a slower rate of 7.7% on volumes up 6.8%.
Henson points to Dettol and Fabulosa as brands that have turned in particularly strong performances. "Dettol is a great example of a trusted brand that's built its reputation on strong hygiene credentials," he says. "Fabulosa has thrived with a different approach – offering low prices to compete with own label."
Brands benefit
Not that brands need much help getting sales. They grew ahead of own label last year – and there's no sign of that changing, suggests Jamal McCleary, UK general manager at Zoono, which makes surface sanitiser.
"We predict consumers will favour quality over quantity in the future," he says. "In a world post-coronavirus, they will want to be reassured of the effectiveness of products and so will opt for premium products over cheap alternatives." This in turn will help drive "big innovations for household cleaning products in 2021 as companies battle for share of the market".
There's already been a far bit of household NPD sparked by Covid-19. In September, Persil added Antibacterial Laundry Sanitiser, which claims to kill 99.9% of viruses and bacteria at temperatures as low as 20°C. Similarly, Dettol's Spray & Wear, unveiled in July, promises to kill 99.9% of nasties, as well as giving a "freshly-laundered smell without using the washing machine".
Then in November, Kleenex launched its hygiene-focused Proactive Care range, which includes Antibacterial Wipes and Hygiene Hand Towels – as well as Hygiene Masks and Antibacterial Hand Gel. "Consumer demand for household products that deliver against an elevated standard of hygiene remains steady, with a particular role to be played for brands consumers trust," says brand owner Kimberly-Clark.
Proactive Care marks something of a departure for Kleenex, known for its core facial tissue range. And there may be a good reason why. Its success as facial tissue's leader is nothing to be sneezed at, with a £15.7m boost in value last year [Nielsen], but it's relatively modest compared with the gains made elsewhere in the market during Covid.
See Kleenex stablemate Andrex, which added £28.1m. It's a sign of a buoyant toilet tissue market, now worth almost £1.2bn across grocery [Nielsen], following the panic-buying in March last year.
"Many suppliers tell me they have stockpiled loo roll for a year in advance"
In fact, keeping up with demand was the main challenge. "It wasn't easy, with consumer stockpiling causing us challenges in terms of the speed with which retailer stocks could be replenished", says Gareth Lucy, communications manager at Cushelle owner Essity. "But we managed to keep supply rolling and grow our brands." It did this by ramping up production and deliveries, as well as running a national PR push to reassure shoppers about supply.
Demand for toilet paper settled down as people settled into the spring lockdown – but sales shot up again as lockdown two loomed in the autumn. And it wasn't just regular loo roll that enjoyed a bonanza. "The moist toilet tissue category saw a significant shift in interest last year," says Kimberly-Clark's spokeswoman, pointing to the addition of the 'Fine to Flush' accreditation in March on Andrex Washlets. "Being the first major brand in the UK to receive this certification encouraged purchase and removed one of the main barriers of consideration for consumers."
Be it moist or dry, toilet tissue could see another surge. With Brits restricted for a third time to using only their own lavvies and the government considering stricter lockdown measures, suppliers aren't ruling out more hoarding. So says Paaristha Oomadath, director of business development at sustainable household goods supplier ShearWater Eco. "Since the loo roll panic-buying started at the beginning of the pandemic, I have had many suppliers and larger companies tell me they have stockpiled for a year in advance," she says. That's not an easy job. "From discussions with my manufacturers, there is definitely pressure on resources, with many citing increases in prices due to Covid, Brexit and other countries increasing orders," Oomadath adds.
Supply and demand
Should panic-buying occur again, paper products supplier WEPA UK will rely on lessons learned in the first lockdown, says joint MD Mike Docker. When shelves were stripped bare of loo roll "our agile approach and strong relationship with retailers enabled us to respond almost immediately. This resulted in 24/7 production at our Bridgend Paper Mill, which ensured we could keep up with roaring demand."
As 2021 unfolds, "supply chain visibility remains high on our agenda" he adds. "Transportation and logistics are a key element of our business; moving products from warehouses to distribution centres and into stores requires a complex web of disparate companies to work together in perfect harmony. We can implement various fail-safe measures, which we can use should another disruption occur, while embracing new technologies that can assist us in this mission."
"We can implement various fail-safe methods should another disruption occur"
Even if the latest lockdown didn't spark another mad rush for toilet tissue, some suppliers still anticipate a big year ahead. Take Essity, which expects to capitalise on an "acceleration in demand for high-quality, soft and luxurious toilet tissue".
The company will also be giving Plenty a push. The kitchen roll brand rose 22.3% to £106.8m last year [Nielsen], and March will look to build on that with the launch of its 'Love Is Messy' campaign. "This multimillion campaign will deliver a fresh and humorous approach to the 'things we do for love' and how Plenty's superiority and versatility ensure that we can celebrate the wonderfully messy situations that we find ourselves in," Lucy adds.
The campaign underlines how it's not just lavvy paper that's doing a roaring trade. With Brits trapped at home, kitchen towel has upped its value by 12.8% and is now worth £418.9m [Nielsen]. Like every other sector of household, it's clearly on a roll.
Mrs Hinch: The serious business of being a cleanfluencer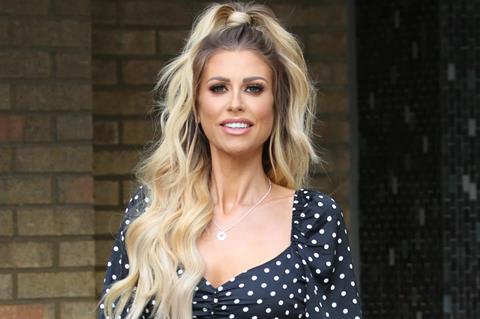 Don't panic! Mrs Hinch hasn't really left Instagram. That's a relief for her 3.9 million followers – some of whom were sent into a tizzy earlier this month by the cleaning influencer's brief absence from the platform.
Neither she nor her BFF, Stacey Solomon, posted for more than 24 hours, leading fans to tweet the likes of: "@StaceySolomon and Mrs Hinch haven't posted any insta stories for like 2 days and I don't know what to do with myself".
They were soon back – and the duo's return to social media was breathlessly reported by the likes of The Sun and OK.
Such is the popularity of the 30-year-old Mrs Hinch, aka Sophie Hinchcliffe. The tabloids love her. Regular shoppers drew fire for stockpiling ahead of lockdown. But not Mrs H, whose garage was stacked high with cleaning products. "Her love of everything from Zoflora to Minky is legendary – and it seems Mrs Hinch has ensured she's never caught short when it comes to keeping her home spotless," raved The Sun.
When Hinchcliffe gave followers a glimpse of her home this month, the Express was thrilled. "The cleaning influencer's kitchen has grey cabinets with silver handles, white counters and walls and a stainless steel sink," it drooled.
But being Mrs Hinch is a serious business. She reportedly earns as much as £1.4m a year from Instagram posts alone. Then there are the royalties from her four books, which include the Sunday Times bestseller 'This is Me'.
Plus, she's likely earning more than a few quid from her partnerships with P&G. She teamed up with the household goods giant twice last year – first to encourage shoppers to combine the use of Bold and Lenor products with the Spring Awakening scent, and then to launch the limited edition Bold Rose Wonderland All-in-1 laundry pods and Lenor Rose Wonderland fabric conditioner.
Seems like Mrs Hinch is really cleaning up.
Innovations in household 2021


Daniel Selwood is The Grocer's special projects editor, managing Britain's Biggest Brands, Britain's Biggest Alcohol Brands, The Dairymen and Top Products – as well as contributing to news, features, analyses and category reports.

He joined the magazine in January 2016 as food & drink editor, having been at financial & legal publisher LexisNexis for eight years.

He began his journalism career in the mid-1990s at a general interest magazine in his birth city, Sheffield.

Follow Daniel on Twitter: @danielmcselwood