We had hedgehog flavour crisps in the 1980s, scampi & lemon Nik Naks in the 1990s and vanilla ice cream Monster Munch in the 2000s. Snack players have always had a flair for innovative and head-turning limited editions (even if the hedgehog crisps were actually flavoured with pork fat). 
Today, the sector's NPD pipeline resembles a conveyor belt dialled up to 11, rattling out weird and wonderful new products at a blistering rate. The past year has seen the launch of the UK's first microwaveable crisps, crisps flavoured with everything from prosecco to salted caramel and snacks made with an ever-widening array of veg, fruit, nuts and grains.

But just as the hedgehog, vanilla and scampi & lemon examples above soon disappeared from shelves (the latter, reportedly dropped in 1997 for being 'too smelly', has since returned in a slightly less whiffy form), many recent launches have failed to go the distance. As one year's NPD lands on the conveyor belt, too often the previous years' fall off. It can feel as though suppliers are simply throwing everything up in the air and seeing what sticks.

Examples abound. Mix Ups, Walkers' big launch of 2015, is down 25.8% to £11.2m [Nielsen 52 w/e 30 December 2017] and 2016's Tear 'n' Share fell 52.1% to £9.3m as focus switched to new lines Stax and Max Strong. Jacobs Oddities also went, in July, to make way for NPD.

So why do so many new launches in this sector seem to lack legs? Given the sector is generally in good shape - take home sales are up 3.7% on volumes up 1.9% [Kantar Worldpanel 52 w/e 28 January 2018] - does it really matter? Is this churn of NPD actually driving category growth? And what does it take to make a new snack stick?

First, it's important to distinguish flavour experimentation from genuine format innovation. Both are dictated by market trends and will fail if not based on solid consumer insight. But their purposes are quite different: completely new products such as PepsiCo's veg-based Off The Eaten Path range are clear attempts to tap new snacking options, whereas some of the more outlandish flavour innovations are about rekindling consumer interest in established sectors.

If interest is the goal, bold flavours are scoring. As commercial director at ethnic snacks supplier UK Snacks Richard Mew (former Tesco head of CSN) explains, the publicity garnered by flavours such as Kettle Discoveries Salted Caramel & Double Cream or Tesco Finest Candy Cane can be as valuable as the sales they deliver. "Cheese and onion and ready salted are the number one flavours, but can you build growth on them? No."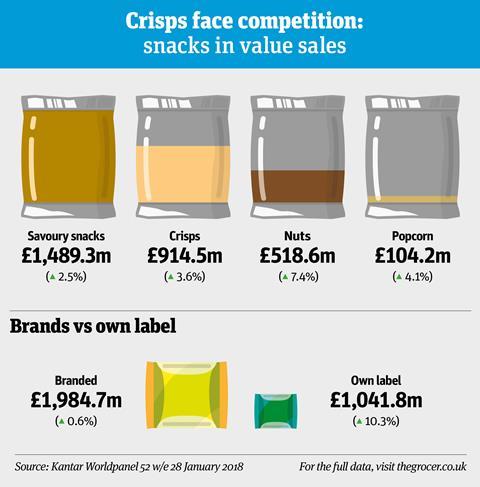 Tyrrells follows the same line of thought. "Seventy per cent of our business comes from our top four variants," explains marketing manager Sarah Lawson. "But consumers are always looking for new flavours. They're getting more curious and willing to try new things. New flavours and limited editions bring news and the buzz retailers are looking for." Indeed, the brand is launching two new flavours this month: a cheeky royal wedding-themed Ginger & Sparkle variant and 'posh' prawn cocktail with a dash of brandy.

Many of these flavours are only available for limited periods and should be viewed as part of a rolling roster of innovation, rather than permanent additions. That said, sometimes new flavours stick.

"A good example of this would be our Black Truffle & Sea Salt Crisps, which we launched into a couple of accounts before Christmas and are now becoming a permanent fixture in Waitrose and a strong fifth performer for us," says Lawson. "The weird and wacky has a place - more people talking about the category and engaging with it can only be positive."
Broadening flavour horizons
It's not all attention-seeking, though. Flavour innovation increasingly reflects Britain's broadening culinary horizons. The more we travel, the more we want to see flavours from around the world making it into the nation's crisp packets. Walkers Sensations, the fastest-growing premium crisp brand with sales up 13.2% on volumes up 14.4% [IRI], has been a key driver of this trend. Its world-spanning repertoire includes new Japanese Sweet Wasabi & Ginger crisps, Chargrilled Steak & Chimichurri crisps and Mango & Red Chilli Chutney poppadoms.

"The Sensations range has performed exceptionally for us since relaunch last year," says Sharon Barraclough, marketing director at brand owner PepsiCo. "Consumers are becoming more adventurous, seeking out bold new flavours, and we have responded with a range of innovations."

That includes Walkers Max, which launched a 'Strong' lineup designed to be paired with beer in January and has seen sales almost double in the past year.

PepsiCo isn't alone in its search for new and exciting flavours. KP is in the middle of a big push for its new paprika flavoured McCoy's - a spice that it points out "nobody had even heard of" a decade ago. KP Snacks sales director Andy Riddle stresses the importance of appealing to more adventurous consumer tastes. "The number one purchase driver is flavour at 51% of all purchase decisions," he says. Riddle points to the When Flavour Calls campaign KP is running for its bestselling brand McCoy's, following a reformulation to boost the taste credentials of the product in 2016. It's paying off. The brand is up 13.1% to £138.8m on volumes up 11.9% [IRI].

Another keen experimenter is Kettle, which in July launched its four-strong Discoveries range, including the aforementioned caramel crisps and a Wensleydale & Apple Chutney variant.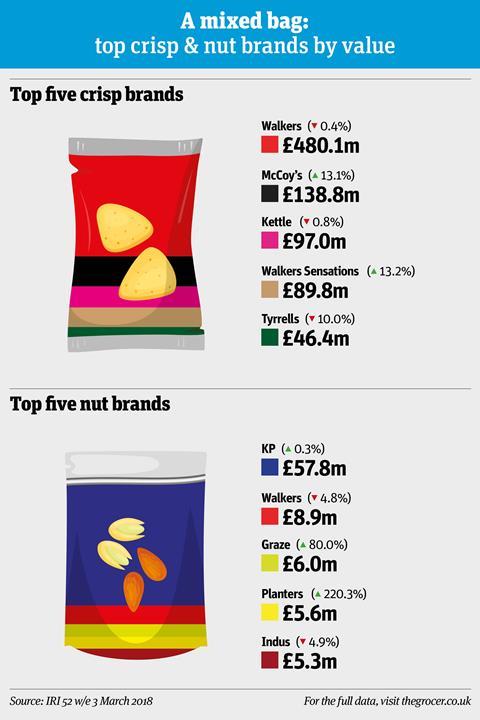 "Since its launch, Discoveries has achieved sales of £1.2m and almost 60% of customers who bought were incremental, demonstrating that the range is successfully attracting new consumers to the Kettle brand," says commercial director Nicky Robinson.

"Innovation will continue to play a strong part in the growth of the category and we're in a strong position to offer that to consumers, as the only brand with our own chef, allowing us to create exciting recipes. Discoveries' seasonings are all designed to satisfy the growing 'discovery' motivation that's especially prevalent among younger foodies."

Kettle and its peers definitely seem to know the young consumer. According to a poll of more than 1,840 consumers conducted by Harris Interactive on behalf of The Grocer, 60% of 25 to 34-year-olds regularly or always try new and adventurous snacks. That compares with only 18% of over-55s.

Own label has taken note of this adventure-seeking generation. Many of the retailers are now bringing out flavours that could give the boldest of brands a run for their money. The Sainsbury's Taste the Difference range currently includes an Aberdeen Angus Steak & Shallot variant and Tesco Finest boasts four limited editions, including Chicken & Tarragon and Creamy Brie & Cranberry.

Asda has taken a similar tack with launches including hand-cooked pulled pork and vegetable crisps. "We're adding more lines to Asda's own label hand-cooked range," says the retailer's product manager for biscuits & snacking Edward Sowerby. "We worked hard to get the flavours right for our customers, offering traditional favourites, along with innovative new options."

The Co-op also attributes much of its 3.2% category growth [Kantar] to its upper tier Irresistible own label, which includes variants such as Gourmet Burger and Chipotle & Mango Salsa. "Success of the category has been driven in part by our focus on own-label product innovation through our premium limited edition sharing range," says snacking buyer Ash Luxton. "Introducing first to market flavours and offering something fun and unique has helped our snacks range stand out on shelves and encourage trial."
Tough competition
Many retailers are drafting in the help of experienced branded players such as Burts, which produces the Finest hand-cooked crisps range for Tesco (a key driver of own label's growth in snacking). It seems to be paying off. Kantar's analysis shows that, at total category level, own label is growing at 10.3% on volumes up 8.6%, versus brands' 0.6% gain on volumes down 1.8%.

The growth in own label isn't just down to the astonishing gains made by Aldi and Lidl in this category (both have seen sales surge by 17%, says Kantar, driving overall own label prices down). IRI, which bases its analysis on EPoS data from all the major multiples but not the discounters, says sales of own label crisps are up 17% on volumes up 19.6%. That equates to an extra £18.5m through the tills, growth that's greater than any brand. Part of it could be down to price. Own label crisps are on the whole over £2 cheaper than their branded counterparts, having widened the gap from £1.79 last year. But the aforementioned innovation is also likely to have played a part.

There is a real incentive for retailers to invest in these new flavours, says Kantar analyst Rebecca Dunlop. "For most retailers, the higher margins on own label remain attractive and they are gaining shelf space," she says. "We are also seeing them innovating with flavours, particularly at the premium end of sharing crisps, where ranges like Tesco Finest and Sainsbury's Taste the Difference are particularly strong."

KP Snacks recognises the retailers have brought in "some really good propositions". "Tesco, the Co-op and Sainsbury's have been the key drivers of this," says KP Snacks sales director Andy Riddle. "They have done a really good job of tiering their propositions and developing really good products. They're really influencing the shape of the category."

Between them, Tesco, the Co-op and Sainsbury's account for 51.8% of the crisps, snacks & nuts take-home market [Kantar], a fact that partly reflects these retailers' strength in the convenience sector.

Burts Chips sales & marketing director Simon Knight says this falls in line with general shopper patterns. "The high street convenience channel - including stores such as Tesco Express, Sainsbury's Local and McColl's - is outperforming the market, benefiting from more people using local outlets to shop little and often."

The Co-op's Luxton stresses success in this channel is down to catering for what the shopper wants. "Sharing remains a key focus in the category where space has increased both within the fixture and from feature. Brands continue to play an important role too, through multipacks and sharing bags. We know customers are short on time so understanding their shopping missions is a real driver of success."

This is a crucial point when it comes to understanding the pros and cons of the sector's busy innovation conveyor belt. On the one hand, a constant stream of unusual limited edition flavours helps maintain interest in the category and keeps shoppers coming back. But the more traditional flavours are still in many cases the best selling. (The top two bestselling single-serve crisps and snacks for Walkers are still its standard cheese & onion and ready salted.) So when there's a proliferation of different flavours, particularly when there are numerous similar branded offerings with little to differentiate them from each other, it can clutter the shelves and slow the shopper down.

That's when products fall off. "When too much NPD comes into the market it can create too much complexity," says Riddle at KP Snacks. "When there is too much that's new as a manufacturer, you potentially spread your resources too thin and as a retailer you can do the same and create too much noise for the consumer. If you're unclear on brand architecture you can end up just creating churn and complexity."

The idea of spreading resources too thinly gains pertinence when looking at PepsiCo's big brands. The relaunch of Sensations last year coincided with a big marketing push. Analysis from Ebiquity shows PepsiCo has forked out nearly £3m on traditional ad space alone for Sensations in the past year. As the focus switched to Sensations, PepsiCo's other premium sharing offering, Market Deli, has fallen by the wayside. (The range saw sales slump by 46.4% to £3.9m in 2017 [Nielsen], raising serious questions about its long-term future.)
Top 10 snack brand advertisers
Click for popup table
Tear 'n' Share and Mix Ups' declines can partly be explained in a similar way. "Mix Ups has had less media over the last year, which has had an effect," confirms PepsiCo's Barraclough, adding the variant has returned to growth since January. "We are continuing to support Mix Ups, with the brand being featured in the Walkers Win Live promotion."

Despite the difficulties of some spin-offs, the overall Walkers brand is in solid growth, suggesting all this churn is paying off for the market leader. In our Britain's Biggest Brands report in March, in which we ranked the nation's top 100 grocery brands, Walkers climbed one place to number four on growth of 4.3% to £694.2m. The brand shifted an extra 17.2 million packs in 2017, a rise of 2.6%.

But KP's Riddle argues it is better to remain focused. Rather than diluting its resources on a wide range of projects, KP has concentrated on five core brands (McCoy's, Hula Hoops, KP Nuts, Pom-Bear and Butterkist).

It's an approach that makes sense, given KP doesn't have PepsiCo's vast global portfolio of ready-made brands at its disposal.

"We've been the fastest-growing snacks manufacturer for the past two years and are growing at 7.5% in a market that's growing at 4% and a branded market that's growing at 1%," says Riddle, pointing to brand extensions such as McCoy's Chips, Hula Hoops Puft and Big Hoops as key growth drivers, though he concedes an attempt to move McCoy's into sharing bags failed to hit the "sweet spot".

"We're not about banging stuff out into the market and hoping and praying it will work," he adds. "As a manufacturer we are trying to bring sustainable NPD that has a clearly defined place in the market."
"When too much NPD comes into the market it can create too much complexity"

When it comes to bringing out NPD that will last, it's not just flavour that matters. It's size. And for all the buzz around sharing formats - Barraclough says Walkers' key sharing formats are up by more than fifth in the past year - single-serve bags still account for three quarters of the market. When you take into account multipacks, they are actually growing faster than sharing bags in terms of value sales.
Maximum savings
Brands are quickly learning larger single-serve packs are the size of choice for meal deals, as punters look to maximise the savings they can make at a sub-£4 price point.

Take the McCoy's 47.5g grab bags (as opposed to the standard 40g), which have struck a chord with the lunch on the go crowd. KP's Riddle claims the brand's Flame Grilled Steak and Salt & Malted Vinegar variants are now the bestselling snacks in Tesco's meal deals. Convenience, symbol groups and forecourts remain a key focus for the brand.

Tyrrells has noticed the trend, too. "Consumers look for maximum bang for their buck - they max out and look for the most expensive salad or sandwich, drink and crisps," says Lawson. "You see the guys buying McCoy's or Walkers on meal deal because there's bigger grammage. For the same reason you see people buying more expensive coconut water on meal deal."

It's for this reason that some suggest Sainsbury's introduction of its smaller 40g Taste the Difference crisps into lunchtime meals has fallen flat. "They just weren't achieving the same rate of sale as the brands," says one source. The single bag format is also trickier for retailers to promote, he adds. "In sharing, people are more than happy to go into own label because there's not as much risk and own label provides a good entry level for people trading up from standard crisps." Indeed, value sales of sharing bags shot up 15.8% in own label, while branded sales of these formats actually declined 3.3%.

Still, clever formats and flavours aren't the panacea for all the problems in the world of crisps. Traditional snack brands are facing fresh competition from new, 'better-for-you' options. Some crisp brands have responded with an increase in advertising. Ebiquity's analysis shows KP has doled out more than 50% more on traditional advertising space for Hula Hoops in the past year; spend on McCoy's is up by more than a third. In September, Tyrrells forked out on ads for the first time in its 14-year history. Ebiquity says the brand is now the fourth-biggest spender in the sector, having spent £2.4m on advertising space.

Others are relying on promotions, which accounted for 3.7% more value sales this year. It all seems at odds with the rise of everyday low pricing. But Burts' Knight says many household names are trading on deals. "Some big name brands are relying on price cuts of more than 20%, with more than 80% of their total sales on promotion," he says. "These brands are significantly more dependent on promotions than Burts."

It's easy to see which brands Knight is referring to. Walkers accounted for around a quarter of all crisp promotions at the big four over the past three months [Brand View, 90 days to 20 April 2018]. Standard Walkers was responsible for 14% of all promotions, while healthy option Sunbites accounted for 3.5% and even popular sub-brand Sensations was pretty heavily promoted, making up 2.6% of all crisp offers. Other brands are at it too. Despite its relatively small size, Tayto accounted for nearly 10% of all promotions in the sector. Kettle was third most heavily promoted across its both core and Discoveries lines, responsible for 5.7% of all offers. It seems everyone is looking to capture the bargain-hunter.

Yet advertising and promotions won't be enough to counteract diminishing physical space in store. That's being squeezed by the new generation snacks, which include everything from flavoured and coated nuts through to newcomers positioned as healthier alternatives to the traditional potato crisp.

Nuts have been a particular focus for Asda, says Sowerby. "In September last year we had a big range change where we moved the majority of nuts into the snacking aisle to make it easier for our customers," he says. "Previously some lines were also found within produce or baking too. We redesigned the whole range and introduced some new and innovative lines to create a one-stop nut shop, allowing customers to shop raw nuts, fruit, seeds and mixes, as well as roasted and salted nuts."
The 'healthier' gold rush
Richard Mew at UK Snacks says the growing space retailers are giving nuts and other products perceived as 'healthier' than crisps has created something of a gold rush. "The biggest dynamic in this sector is space allocation," he says.

"Brands like Graze (whose nuts are up 80% to £6m, according to IRI) have stolen a march on the space relinquished by confectionery. As pester power space has been reduced for Mars and Snickers, the retailers have moved to plug the gap. They have thrown a lot of stuff at the wall to see what will stick. There's a huge opportunity but I don't think all the products have worked. For example, gaps still exist in ethnic snacks from around the world that have not yet been fully exploited."

There's no shortage of players looking to exploit Britain's growing appetite for snacks that are perceived as either better for you or more exotic, of course. There's the growing range of coconut based snacks from Ape, Seagreens & Oaty Thins from Arden Fine Foods (which has proclaimed that seagreens are the 'new samphire') and organic chickpea puffs from Hippeas, to name a few.

It's not that the crisp is dead. As Kantar points out, crisps have arrested their decline in share of the wider snacking category in the past year (it's levelled out at 30.2% of take home sales). But many of these new players predict a bright future for alternatives to the traditional potato-based snack, as retailers continue to diversify their portfolios and consumers demand a wider range of options.

Itsu, for example, is launching prawn crackers into retail after being buoyed by the performance of its crispy seaweed snacks. "It's not surprising to see our Itsu Crispy Seaweed Thins' sales up by more than 28% year on year as consumers continue to swap out crisps for healthier snacking options," says Itsu assistant brand manager Georgina Bolton Carter. "Not only are they looking for low-calorie options, but also for snacks that are going to nutritionally benefit them, such as the added iodine our seaweed provides."

There are some caveats to this supposed healthy snacking boom, though. "Healthy eating is here to stay - more than two thirds of shoppers in the UK (72%) are buying healthier foods," says Laura Strathern, owner of crisps manufacturer Fairfields Farm, which launched its Heat & Eat range of microwaveable crisps last year, but is yet to secure a listing for the product outside of the independent sector. "On the other hand, consumers are willing to write their own rules when it comes to healthy eating. It's all about moderation and permissible snacking. People will indulge in a packet of crisps or a chocolate bar if they go to the gym or eat more fruit the next day to make up for it. This balancing act means there is still plenty of opportunities for crisps and snack brands."
"Brands like Graze have stolen a march on the space relinquished by confectionery"

Some go as far as arguing that the amount of space retailers are dedicating to 'healthier' snack products is disproportionate to actual consumer demand for such products. "Popcorn went into growth as retailers began giving it greater shelf space, but once shelf space was reduced, sales started to slow down," says Seabrook Crisps commercial director Jon Wood.

"The same is true for healthier products and for sharing snacks and crisps. As shelf space for nuts has increased recently, the sales of nuts have also increased. It shows that most of our category is driven by shelf space creating sales increases. However, on rate of sale such as units per store per week and value per store per week, these new-fangled categories are over faced compared to crisps, which have stood the test of time."

Indeed, popcorn value sales are up just over 4% this year, still healthy but a slowdown from the stellar 11% last year. So could the popcorn bubble be about to burst? "Definitely not," says Propercorn co-founder Cassandra Stavrou, pointing out that 19% of total CSN growth in 2017 came from popcorn. "Growth in 2017 was impacted by two unsuccessful launches from bigger players in the market."

It's clear who Stavrou is referring to. Tyrrells' 2010 launch Poshcorn has seen a quarter of its sales wiped out in the past year; combined sales of 2014 launch Walkers Sensations and 2016 launch Walkers Sunbites Wholegrain Popcorn are down 28.7% to £3.7m. All have suffered distribution losses in the past year.

"Popcorn was having phenomenal growth but that is starting to slow down now as more people come into the market to ride the health trend," says Tyrrells' Lawson. "It's a difficult market because it's becoming more cluttered. "We're working on improving the recipe of Poshcorn and positioning it more in the premium end of the market because there are so many people in the health."

The true test of consumer appetite for such products could be rising commodity costs for manufacturers, which could result in further price rises at the tills. "Global maize (the raw material of popcorn) prices have been driven up by poor weather conditions in the US and Argentina," says Mintec senior market analyst Jara Zicha. "Furthermore, it's been reported that US farmers are expected to plant fewer hectares of maize for the upcoming season than was previously expected. This has put further upward pressure on global prices."
Paying for peanuts
Peanut prices are rising too. "Global prices have been increasing lately due to drought-related concerns in Argentina as yields there are expected to fall substantially this year. In addition, the US is set to plant less peanuts for the upcoming season," says Zicha. "Cashew prices still remain relatively high due to strong global demand. For this year, global crop is developing well, meaning prices could ease in the upcoming months."
"Consumption of nuts is still growing across the globe. People don't seem to be able to get enough"

Regardless of what happens with prices, many contend that the nation's burgeoning love affair with nuts - sales of which are up 13.1% on volumes up 2.1% at take home [Kantar] - will continue to blossom. "It's not a flash in the pan," says Simon Brown, MD of nuts, seeds and fruit supplier John Morley, which has launched the Drive Me Nuts range into service stations across the country.

"If you look at the last five years, nut use is just going up and up. It's not just the UK where it's happening - consumption of nuts is still growing year on year across the globe. People don't seem to be able to get enough of them. Not only that but they're very portable and have a long shelf life."

That said, cost management will be crucial in the coming year. "As inflation rises, consumer confidence drops and manufacturers struggle to manage commodity costs, price and promotions will be the most important factor this year," says Kantar's Dunlop. "A return to recessionary behaviour is likely, where shoppers swap evenings out for evenings in."

So the gathering economic gloom isn't all bad for this sector. If there's one thing more evenings in mean, it's more snacks.
Innovations in crisps, nuts and bagged snacks
Click on the picture for full product information