Meat's place at the heart of a roast dinner could be under threat as side dishes gain a starring role.
The traditional meat & two veg roast could use a revamp. Roast dinner occasions fell 11% over the past year, meaning Brits tucked into 157 million fewer roasts [Kantar Worldpanel 52 w/e 26 March 2017]. What's more, the roast has fallen out of the nation's top five dishes, overtaken by soup.

"Traditionalism is great, but the roast needs shaking up," says TV chef Rachel Green. "Veg are becoming the star of the show - a roast doesn't need to contain meat."

We're not talking bogstandard boiled carrots and broccoli either, as Green highlights smoked paprika & lemon cauliflower steaks, blistered onions and even Brussels sprouts & apple salad. "People don't have time for the full shebang," she says. "This speeds up the process and offers a lighter form of eating. So, we're preparing vegetables differently, adding spices and herbs. Instead of gravy, we might have aioli. We're stepping away to healthier, lighter and more flavourful roasts."

"People don't have time for the full shebang. Vegetable roasts speed up the process"

The move is particularly pertinent given nearly one in five Brits reduced their meat intake over the past year [Harris Interactive].

So could a starring role for veg, meat-free options and even fish revive the roast? What are retailers and suppliers doing to encourage shoppers to indulge in a roast? And how does convenience fit in?

Convenience is indeed key, and it's where vegetarian and pre-prepared accompaniments have the upper hand, with the midweek roast down by 116 million occasions. "Last year weekday roasts were driving the growth of roasts but this has suffered due to young families and older people moving away," says Helen Touchais, brand director, flavourings & seasonings, at Premier Foods.
Roast meats: which has seen the biggest drop in occasions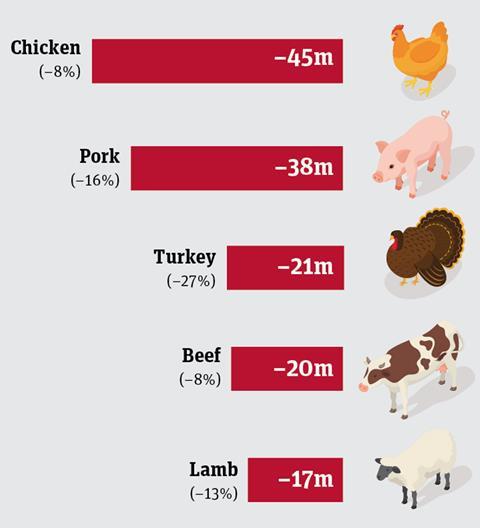 The manufacturer is trying to draw consumers back by focusing on health and convenience with NPD such as Bisto Best gravy (available in ready-to-heat pouches) and Oxo ready-to-use stock. Mr Crumb is also focusing on convenience, with its new microwaveable stuffing (see p50) and further NPD to follow. "Recognising that the roast dinner occasion is declining and that there are nearly eight million UK single person households, we are currently developing a new line of 100g packs of fresh stuffing, ideal as an accompaniment to a single portion of meat, fish or veg," says Mr Crumb MD Jason Coyle.

Vegetable suppliers, meanwhile, are switching things up with flavourful alternatives to serve with the roast dinner. Tesco rolled out new prepared product lines, including Rainbow Vegetable Couscous and Potato Wedges with Japanese Katsu Dip & Quinoa, as part of a shakeup of the fruit & veg aisles. Aunt Bessie's jumped on the low-carb trend with vegetable chips, while Mash Direct rolled out sweet potato fries and Caribbean-style sweet potato mash served with salsa.

"The rise of non-traditional veg shows that consumer habits are changing"

There's still a place for tradition, says Mash Direct director Jack Hamilton, noting 8.4% value growth for its mash and a 10.5% increase for green cabbage. "While many things point to a decline in traditional tastes being a factor in the decline of weekday roasts, it is the move towards more convenient options that customers are looking for. On the other hand, the rise and growth of NPD in non-traditional vegetables shows that consumer habits are still changing."
Flexible eating
Roast proteins are also changing. "The wider increase in vegetarian and flexitarian trends is impacting the consumption of traditional roast dinners, where meat is a key ingredient," says Matt Lee, director at shopper media agency Capture. "Brands with a meat alternative offering, for example Quorn, which has a family roast frozen meat alternative product, are likely to continue to grow if they can make the roast dinner relevant to shoppers again."

Fish is also giving red meat a run for its money, particularly at big occasions. "Fish did extremely well at Christmas, enjoying the best sales in the last four years over that period, and at Easter fresh fish saw its best sales for the last three years," says Kieran Westbrook, communications & marketing office at Seafish. "We believe there really is an opportunity for fish to challenge the traditional roast and Sunday dinners."


This, Westbrook argues, is due to the faster cooking time and the "showstopper feel" it provides, as well as the popularity of fish on a Sunday in the out-of-home arena.

Other meats fared less well at Christmas, with a 38 million drop in the number of festive roasts [Kantar Worldpanel Usage 12 w/e 1 January 2017]. "Roasts in general were less popular last Christmas (-11%), though this was impacted by Christmas Day 2016 falling on a Sunday and roughly equated to the loss of one Sunday's worth of roasts," says Kantar analyst Annabel Monteiro.
Chicken hit hardest overall
Pork suffered the most over the festive season, with nearly a quarter fewer occasions, followed by turkey and chicken. Chicken, the nation's favourite roast, was hit hardest in the year overall, with a loss of 45 million occasions (see p48).

"The past year has seen a significant level of price and promotional activity on chicken breast fillets," says Darrell May, head of convenience sales at Moy Park. "This has resulted in shoppers moving away from purchasing whole birds to buying fillets instead, coupled with decreasing meal preparation times and the increasing demand for more convenient products."

Roasts were also hit when the AHDB's three-year long mini roasts campaign ended. "The campaign created an £18.6m 'halo' effect of incremental sales for beef, lamb or pork joints," says a spokeswoman, noting an additional £1.3m added to mini roast sales. "Retailers backed the initiative with new products, bringing 28 mini roast joints to market over the last two years."

"The past year has seen significant promotional activity on chicken breast fillets"

Retailers are now turning their attention to sous vide meats, she says, as they deliver value for money, quick cooking and interesting flavour profiles. The Co-op recently launched two sous vide mini roasts, while Asda last year revamped its meat merchandising, with ready-to-cook products placed alongside fresh meat. Marketing also has a part to play. "Some retailers have sought to invigorate the occasion through emotive marketing campaigns, emphasising the multi-generational nature of the meal," says May.

Think Tesco Food Love Stories and Sainsbury's Food Dancing, which are providing dinner for tonight inspiration alongside a convenient shopping experience. "Sainsbury's has executed this through designated gondola end bays with all the meat, herbs, veg and sauces you need with a recipe barker in one place," says Lee.

A move such as this, plus some interesting vegetables, could just be enough to bring the roast dinner back to the table.